With its street-level, fine dining the Matheson restaurant and its more casual Roof 106 rooftop bar and lounge, The Matheson has quicky become a Healdsburg favorite. Offering cuisine, cocktail, and wine options for every palate, the two-year old establishment finds itself a destination for both locals and for tourists who pilgrimage to the charming Sonoma County town in search of farm fresh cuisine and some of the nation's best varietals—all of which can be found within The Matheson's inviting interiors.
Located directly across from picturesque Healdsburg Plaza, The Matheson is a celebration of the region's abundant bounty, and a love letter to Sonoma County, signed, sealed, and delivered by Chef/Vintner Dustin Valette, a Healdsburg native who honors his ancestral agrarian past not only via The Matheson's location on the former site of his great grandfather's bakery, but also with the large, colorful murals that line the walls of the dining room. Each was commissioned of muralist Jay Mercado of San Francisco to celebrate Sonoma County's agricultural heroes, including Valette's father Bob, a Cal Fire tanker pilot whose fire-fighting flights over the vineyards have been colorfully captured within one of Mercado's paintings.
Designed by noted architect Cass Calder Smith of San Francisco and New York, the entirety of the tri-level space includes a craft cocktail bar, a wine wall with 88 wines on tap, a vast, open kitchen, a dining loft, a rooftop cocktail bar, and lounge with Plaza views. The vaulted, curved ceiling in Matheson's dining room is constructed with beams stained both natural and red in three bands, similar to the way Bordeaux wine barrels are intentionally stained down the middle with red wine. Native woods, such as the handcrafted redwood tables hewn by Andrew Somawang of Sebastopol, add visual interest. The host stand is made from an antique Italian wine barrel.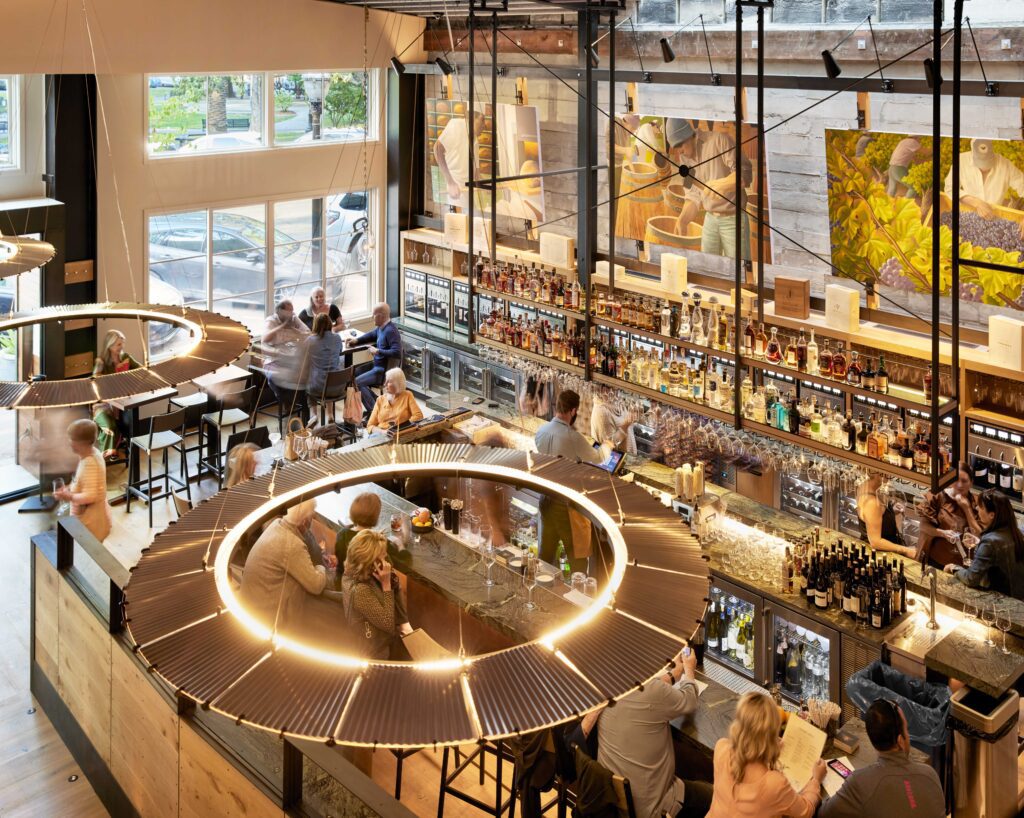 Upstairs at Roof 106, a curved copper bar takes center stage above which whimsical light fixtures flicker, and beside which low slung leather couches invite lounging. Fire pits and heat lamps warm the outdoor terrace, allowing for all-season dining. And a bar-stool lined counter provides a front row seat to Plaza action.
The dual vibes are warm, inviting, and convivial—ideal environs in which to enjoy the outstanding offerings from chefs de cuisine Matt Brimer downstairs and Brian Best upstairs. At Matheson, Chef Brimer delivers fresh, seasonal dishes, many with Asian inspiration, such as rich and satisfying Pumpkin Thai Curry over forbidden black rice, Yellowfin Tuna Ceviche with coconut milk and habanero chile, or Tamanishiki Rice Porridge with day boat scallop, shishito, and preserved lemon. Carnivores find plenty to love with two corn finished beef offerings: Snake River American Wagyu, or Prime Braised Beef Short Rib, each served with potato pave and umami hollandaise. Go a la carte, or choose the six course "Allow Us to Cook For You" tasting menu—punctuated by a rich and creamy Butterscotch Pudding with salted toffee, spiced wafers, and bites of cark chocolate—to experience the full breadth of Briner's genius.
Upstairs, Chef Best has perfected varied pizzas, blistered to perfection in the restaurant's 3,800-pound wood-fired Mugnaini oven. Go light with 'Snacks' such as the Warm Sesame Crusted Ahi Tataki with Kombu emulsion, barrel aged soy, puffed rice, and sesame snow, or choose larger plates such as Whole Roasted Branzino. Whatever your appetite, save room for the sweet and salty Warm Chocolate and Potato Chip Cookie, served with an espresso martini shot.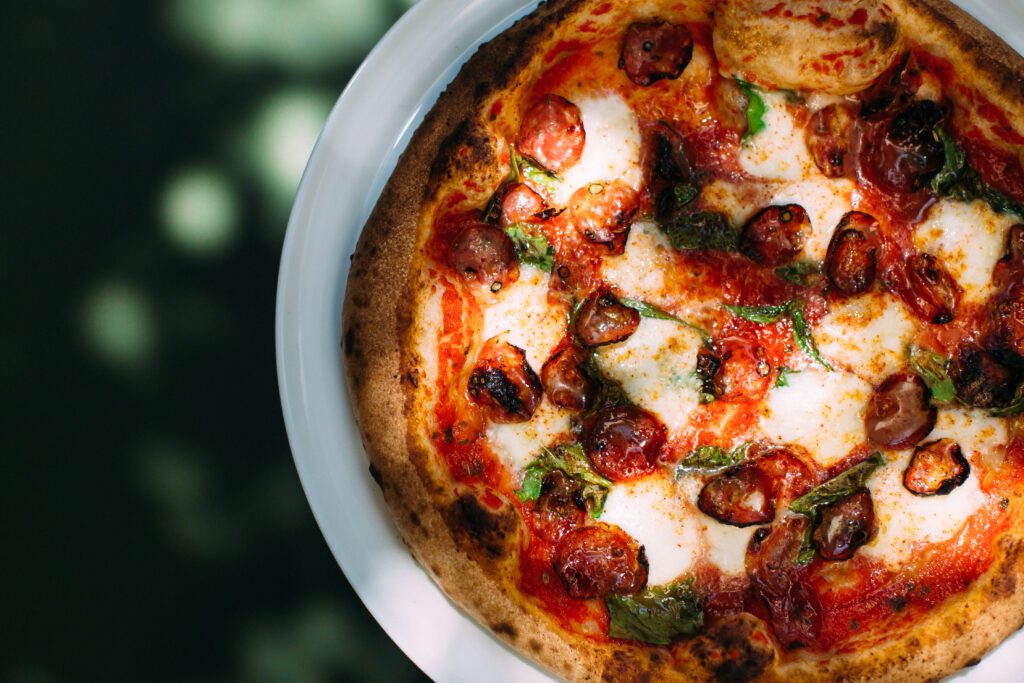 It goes without saying that The Matheson's wine-centric locale results in a stellar wine list of more than 400 bottles, including several from the Valette label, each varietal made by Sonoma County primo winemaking talent. Additionally, at both the upstairs and downstairs bars, iconic classic cocktails are crafted to perfection.
"The Matheson is an expression of our community, of our passion and dedication not only to our farmers and ranchers, but to our way of living here in wine country," says Valette, who also owns and operates his eponymous Valette restaurant just around the corner from The Matheson. "Healdsburg had an influx of immigrant Italian and French families in the early 1900's, and my great grandfather Honoré, a French immigrant, was among them. The legacy that was created, or what we like to call, a 'normal way of living' for us, includes having wine with lunch, curing charcuterie in the cellar, tending a small garden in the backyard, raising animals, and taking care of our community. That style of living is translated into our restaurants — and we hope that guests can feel it in their experience."
Valentine's Day at The Matheson: Tuesday, February 14, 2023
Offering a special five-course Chef's Tasting Menu in the main dining room in celebration of Valentine's Day. Highlights from the menu include Kampachi Crudo, Local Dungeness Crab Melt, and Beef Tenderloin. Optional supplements and wine pairings available.
Galentine's Day & Valentine's Day at Roof 106: Monday, February 13 and Tuesday, February 14, 2023
Enjoy an exclusive Galentine's Day experience at the Roof 106 Fire Pits. $100 a person includes a VIP 'Best of Chef Best' Menu (caviar course included) with a bottle of bubbles and a pitcher of margaritas. For groups of 6-10.
The Matheson and Roof 106: 106 Matheson Street, Healdsburg