Discover the latest in lighting, featuring hand-picked collections from world-renowned designers.
The new year is all about beginnings, and there's no better way to freshen your perspective than with changes to your home. Lighting, in particular, is at the forefront of our minds for 2023. Whether you're setting a scene or creating a mood, lighting can help you transform a space from a relaxing sanctuary to the backdrop of a lively fête at the flick of a switch. This year, take a closer look at the ways you're illuminating your life and spark inspiration with our forecast of lighting trends.
Taking Charge
Luxury is flexibility, and collections built for customization allow you to go the extra mile in making your mark on a home. One such collection is Cipher, created by award-winning, global designer Yabu Pushelberg in collaboration with Lasvit, a Czech-based lighting designer and manufacturer. This modular system—made up of delicate, hand-blown crystal shaped into slender cylinders and joined by polished champagne gold connections—offers endless configurations. "It is a really flexible piece, and we are able to customize its patterning and rhythm like never before," says Pushelberg. Combining clean, contemporary lines with heritage techniques, Cipher offers limitless possibilities.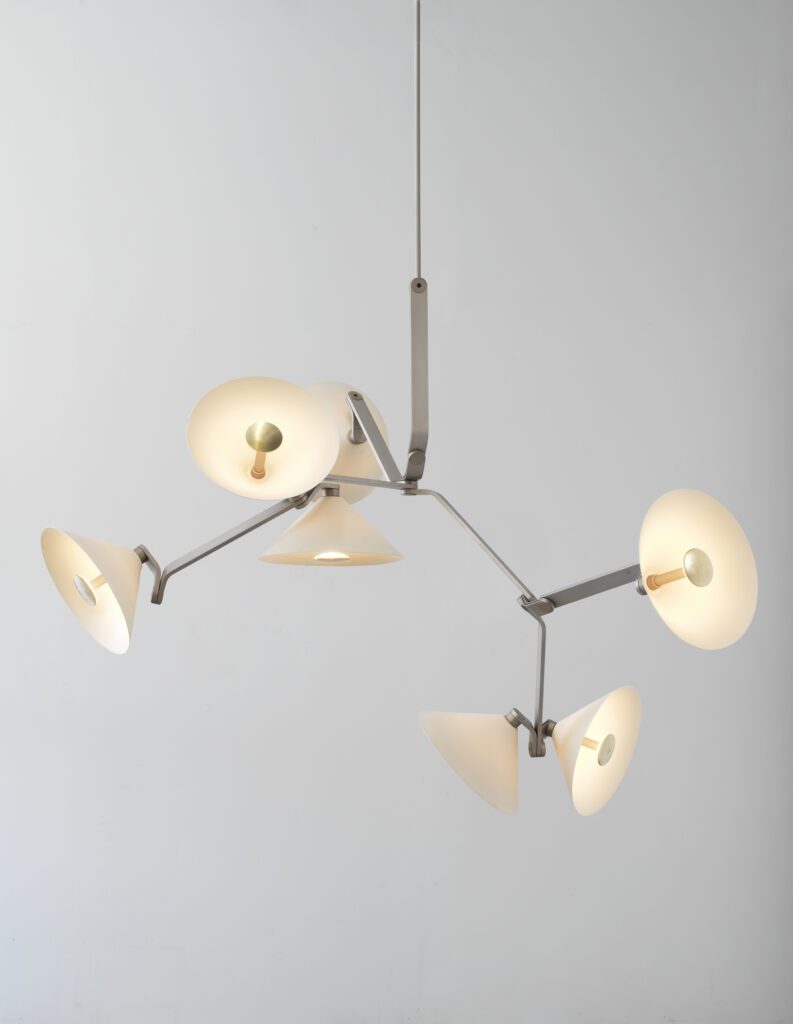 Lighting as Art
No longer just functional, light is fast becoming a centerpiece. More thought is being given to its form and the materials used to capture and create it—even mediums traditionally reserved for works of art. "In the past couple of years, ceramics have seen a lot of activity," says James Dieter, whose eponymous brand offers hand-cast porcelain elements and textiles in its collection of sculpted chandeliers, pendants, and sconces. Collections such as Elbo and Cone showcase porcelain diffusers, complementing Dieter's inclination for design that is clean and simple, yet striking to the eye. "I find porcelain, in particular, very beautiful due to its translucence. I look forward to experimenting further to see how far we can go with it." Not unlike contemporary painters or sculptors, some of today's lighting designers are experimenting with new materials and techniques and seeking to push the boundaries of what lighting can be.
Embracing Nature
The simple beauty of nature strikes an inspirational chord for some designers, which manifests in collections that bring the outdoors in. Escapist designs such as Constellation, David Rockwell's new collection for Lasvit, celebrate the celestial forces of space and nature. Combining inspiration from "sparkling constellations in the night sky" and traditional glassmaking techniques, Constellation celebrates the wonder and magic of ancient constellations.
Closer to earth, a newly introduced collection from BOMMA sources inspiration from the seas. "Shells, and particularly mussels, always fascinated me with their simple, yet sophisticated, shape," says Václav Mlynář, BOMMA creative director and designer of Mussels. "They carry a sense of elegance and organic nature, as well as a bit of mystery." Light is nestled within two delicate, rippled crystal shells, creating a shimmer that mimics light reflecting on the surface of water. Clear, alabaster, dark pearl, and smoke colored shells also provide a finish for every style—whether you're finishing a sensual, velvet-draped study or a bright, modern foyer. Though trends may come and go, high design and craftsmanship remain timeless. In 2023, explore lighting with the artisans who are uncovering the innovative, elegant new forms it can take. For Lasvit, BOMMA, James Dieter, and other cutting-edge products, visit Poliform in San Francisco's Design District.