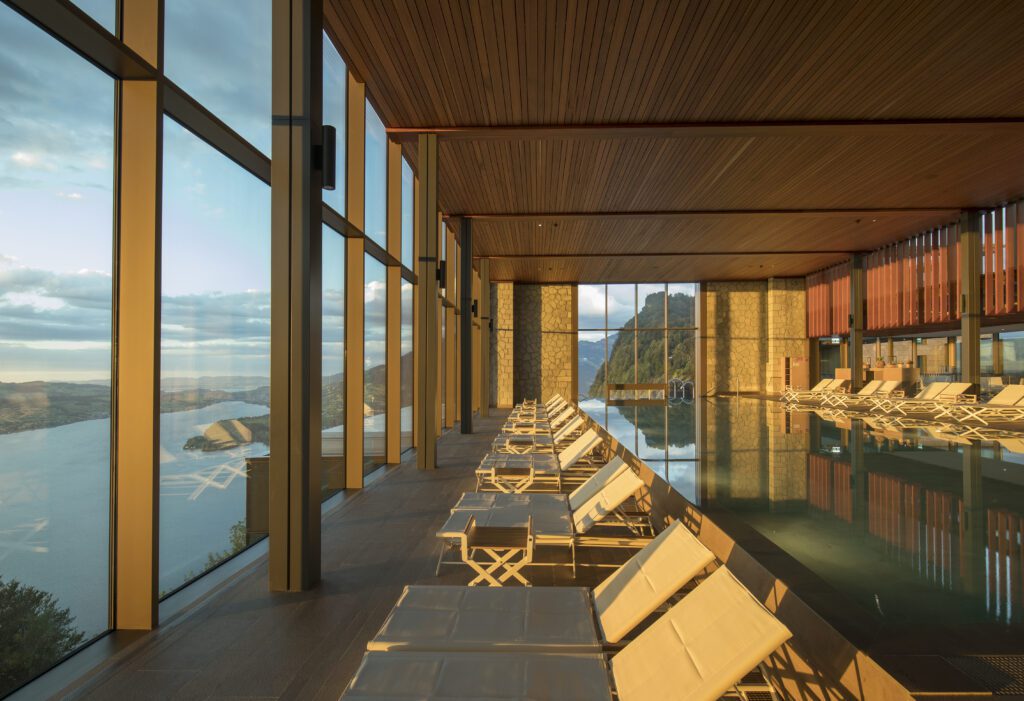 Nearly two thousand feet above shimmery Lake Lucerne at five star Bürgenstock Hotel & Alpine Spa, which crowns a cliff, I bide time in what most people call the most Instagram-worthy infinity pool on earth. Peering over its edge, I'm enveloped by a  Swiss vista that stretches far and wide, an expanse that encompasses Mt. Rigi (beloved by Mark Twain), Mt. Pilatus, and Lake Lucerne's limpid, swan-brimming waters, awash with sailboats, sleek catamarans and vintage-style steamboats. In the pool, hydrotherapy features surround me: jets, waterfall massagers and fountains galore—all willing me to relax. It's all so glamorous—and nearly impossible to resist. But, I've got a date  . . .  with the sauna. I'm off to join an Aufguss ritual inside the co-ed Panorama Sauna, one of many saunas inside Alpine Spa's colossal complex, a three-story marvel that spans 100,000-square-feet. At Switzerland's best wellness center, with so many options,  one must always make choices, and today Aufguss wins.
What is Aufguss you ask? Translated from German aufguss means "infusion." A popular wellness activity in both Nordic and Germanic countries, the practice isn't for everyone. For one thing, nudity is involved—though you can always hide behind a towel. For another, instead of sitting in a sauna alone, ruminating in silence, sweating, waiting for the hour glass timer to empty, you join a group, led by a well trained master. The Aufgussmeister (or sauna master) uses aromatherapy oils chosen for their effect (pine for relaxation, eucalyptus for invigoration, lavender for calming, etc.) to scent the air. Then, with a flourish, often with bravado, usually with choreography that involves whipping and brandishing a towel through the air, the sauna master leads the session, essentially motivating the participants to sit longer, breathe deeper, perspire more.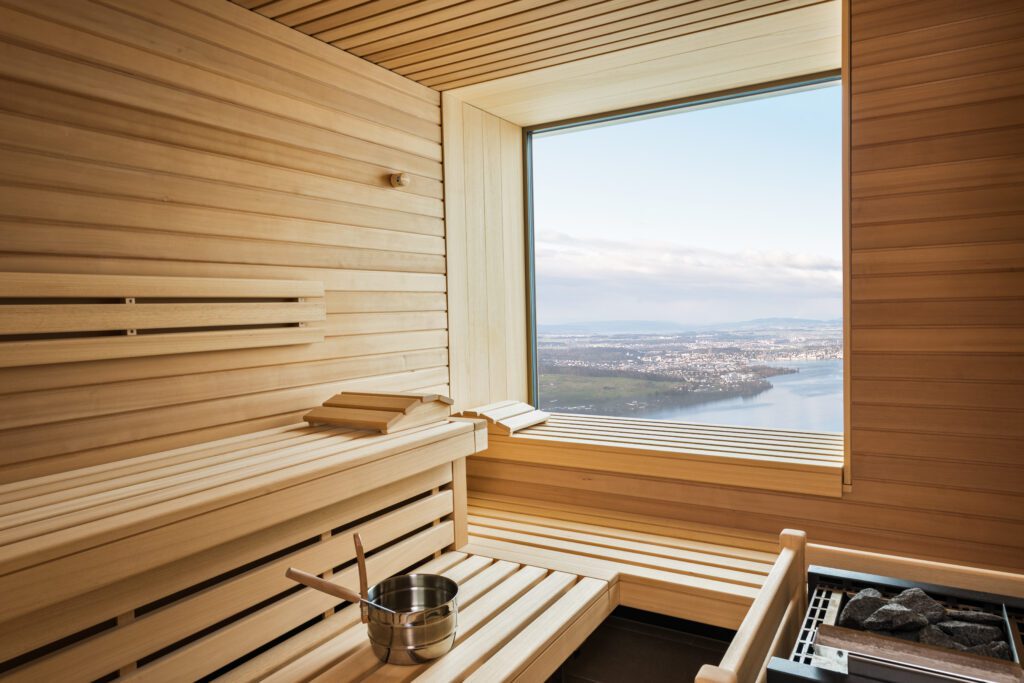 During my session at the Alpine Spa, my sauna master uses pine oil derived from the adjacent forest and camomile from the meadows beside it. Before the session, I hang my robe and swim suit on a peg by the Panorama Sauna, where the practice takes place. Once inside, I grab a seat on a warm wooden ledge atop a towel. While I wait for the ritual to begin, I gaze at the mesmerizing mountain and lake view shown through a large window wall. Calmly, the session begins. The master pours water and oil on the hot stones, then whips his towel through the air, sending the scent specifically into each person's direction. As the hot, perfumed steam encircles me, I inhale deeply, happily, heatedly, and begin to drift into a pleasing meditative state. It's bliss, really. Each person in the sauna stays in their wellness cocoon, inhaling and exhaling over and over again. When Aufguss ends, the participants don robes and prepare to disperse around the spa. Our Aufguss instructor reminds us to cool down. He suggests a tepid waterfall shower, a rest in the serenity room (that tranquil corner of the spa replete with waterbeds, a fireplace and loungers facing floor-to-ceiling windows) or a dip in the freezing cold plunge, chilled water pumped up to the resort from the glacial lake below. Ever attracted to extremes, I choose the icy water. It's a shock to the system, of course, but almost immediately I feel that endorphin surge, and gratitude overwhelms me. 
During my visit at Bürgenstock Hotel & Alpine Spa
, I do a number of Aufguss sessions, including some where we exfoliate our bodies with scented salt while in an herbal steam room, then hose ourselves off. I also take advantage of the spa's myriad stations, such as an infrared cabin, nap pods, a saline floating bath created to mimic the Dead Sea, an Alpine Rasul steam area, an Alpine Eco pool—and, of course spa treatments from facials to massages, executed by well trained therapists using topnotch Swiss, French and British brands. Needless to say, I never stay far away from the picturesque infinity pool, where the view might be said to be a spa treatment in itself.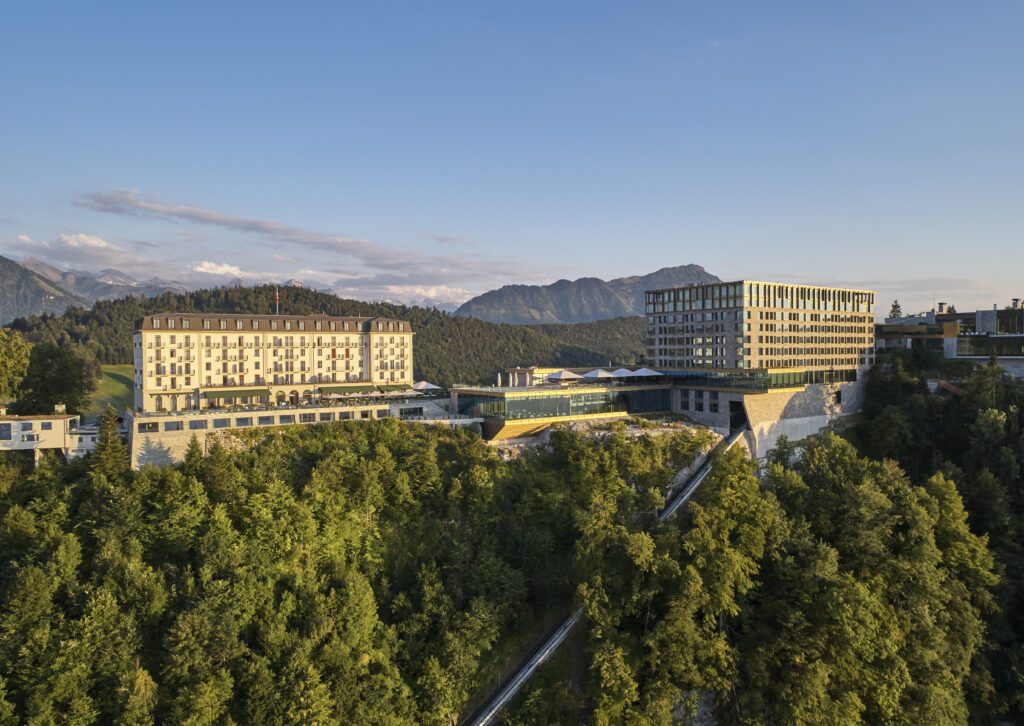 Sidebar 1  
Known Benefits of  Sauna Therapy:
Leading to the release of endorphins, saunas provide a place for reflection, relaxation and in many cases, a sense of community. Most studies show that sitting in a sauna helps lower blood pressure, combats chronic pain, staves off Alzheimer's disease, enhances exercise performance, boosts the immune system, increases metabolism and promotes detox.
More About Bürgenstock Hotel & Alpine Spa and the Bürgenstock Resorts
Long a destination beloved by A-listers, the mountaintop retreat above Lake Lucerne is where Audrey Hepburn married in a small chapel and lived for many years, where portions of Goldfinger were filmed and where Sophia Loren and Carlo Ponti spent time. After a $626 million renovation, the Bürgenstock Resort on Lake Lucerne, essentially a quintessential Swiss village, reopened in 2017. The gently developed retreat, set among a forest, poised on the cliff and opening to a pastoral meadow (home to bell wearing cows) occupies 150 acres. Arrive by boat from Lucerne. You'll ride a funicular to the top, home to Bürgenstock Resorts three hotels: Bürgenstock Hotel & Alpine Spa, Waldhotel Health & Medical Excellence (a Matteo Thun-designed wellness hotel that focus on recovery and longer term stays), and the classic Palace Hotel (ideal for conventions.).  An array of restaurants tempt, including the exceptional Spices Kitchen & Terrace, which juts over the water, high above the lake. I stayed in Bürgenstock Hotel for easy access to the Alpine Spa. I still dream of its elegant suites, which feature floor-to-ceiling windows, two-sided fireplaces and  sunken bath tubs with views that embrace the lake.
We Love These Healthy Supplements for 2023
There are many glorious, effective products from this company, part owned by Venus Williams, but my favorite is the magnesium-loaded, capsaicin-spiked Melt Pain Away, an incredible body butter which naturally relieves aches and aids sleep. 
I had results in just seven days with Armra, an amazing product that harnesses the curative abilities of more than 200 nutrients from colostrum. Trumpeted to be "more effective than a flu shot," the immune booster comes in easy for travel individual serving packets.
With prebiotics and probiotics, plus leafy greens and metabolic enhancing ginger and turmeric root, this easy to use  wellness drink nourishes the gut.