When designing or redesigning a home, great attention is typically paid to central spaces dedicated to entertaining. Smaller spaces are often an after-thought. But it's within some of these more diminutive regions of the home that mood and vibe are most accurately conveyed. A wall of elegantly displayed varietals effortlessly expresses culinary sophistication; a wardrobe with an 'everything in its place' motif articulates order and a sense of serenity. While San Francisco's StudioBecker designs and executes every facet of a home, it's within these more personal spaces that the design studio's unique talent is so beautifully demonstrated.
"Designing wardrobes is both challenging and extremely rewarding. It's like working with a myriad of puzzle pieces that need to be effectively arranged so that the end result is the perfect balance of functionality and aesthetics." Gabriel Zaga, StudioBecker designer
Founded in Norway in 1946, StudioBecker soon grew into the largest kitchen and bath retailer in Scandinavia. In 1987, the family-owned company established its US headquarters where it quickly became known for its fine, pre-sized, modular German cabinetry. As the industry evolved, so too did StudioBecker. Their product development team developed a line that could meet any design challenge in any room of the home, and by 1998, they introduced the Private Collection line of bespoke, German handmade furniture. Today the third generation continues the family tradition of innovation and excellence utilizing expert designers and craftsmen who transform the finest materials into innovative furniture and exclusive accessories for any room. Wine storage and wardrobes are two of their specialties, and StudioBecker has created patented product designs for these specialty areas of the home.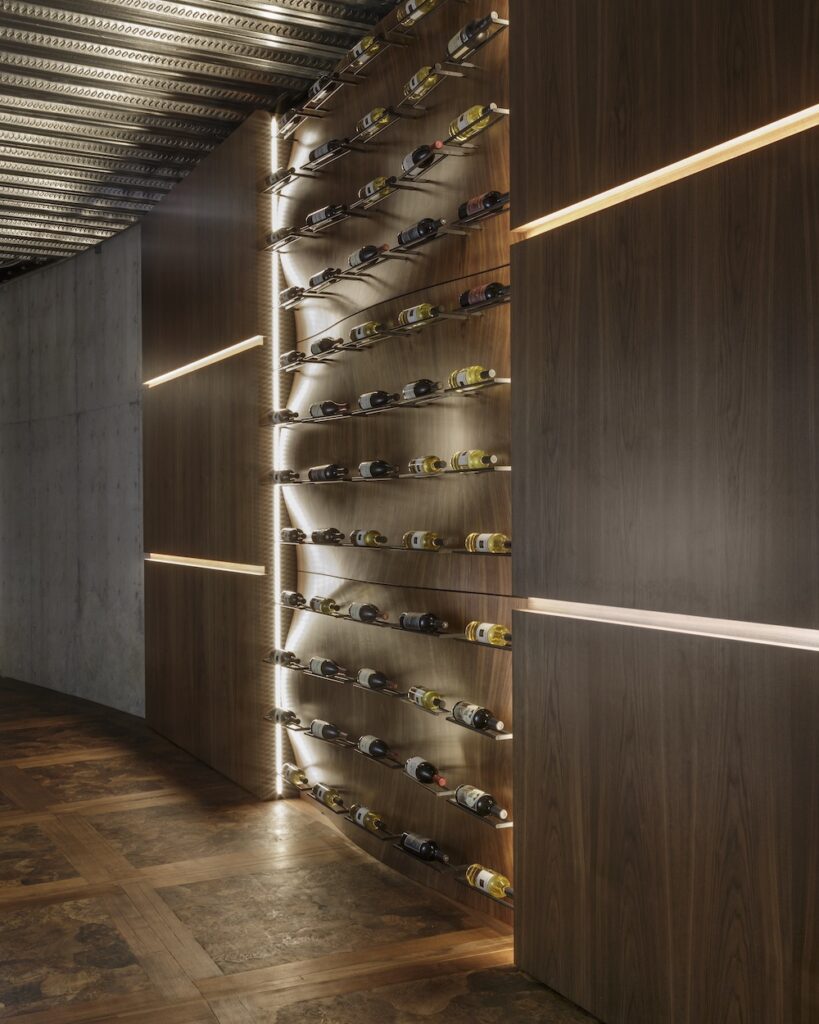 Wardrobes tend to be very personal spaces that are an expression of the homeowner's style. A well designed wardrobe makes getting ready for the day, or a night out, a delight. Every individual StudioBecker wardrobe design begins with an extensive review of a homeowner's storage needs for short, long, and folded items, belts, boots, shoes, etc. Then, each need is addressed with the company's extensive accessory program carefully designed to beautifully display items while maximizing organization. A room too small for a walk-in can be outfitted with a statement piece such as a walk-up wardrobe, featuring the client's choice of graphic exterior artwork and individualized interior organization. A wardrobe designed with a corner carousel maximizes hard to reach corner space,  and the addition of dedicated tie and belt storage, and pull-out pant and shoe racks add the finishing touches. A narrow space proves perfect for a bespoke design featuring sculpted matte white lacquer art cubes for purses and shoe storage, and contrasting mahogany wood and specialty museum lighting to create a boutique-style space.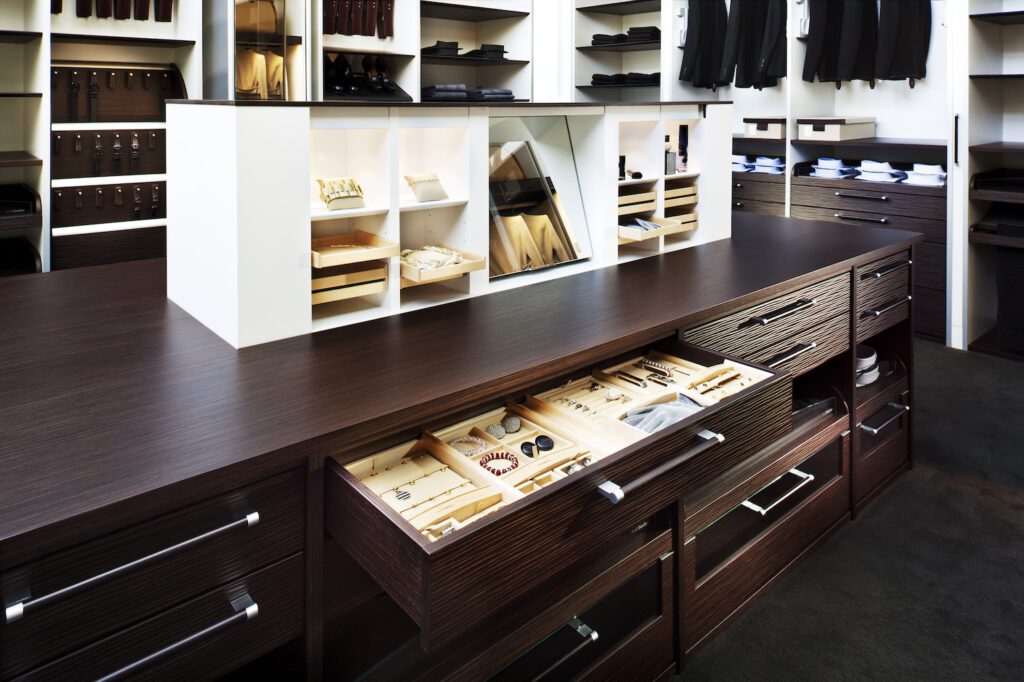 In creating its patented wine systems, StudioBecker consulted with expert wine makers to address key elements of proper wine storage. Designs incorporated into bespoke furniture pieces include the ability to remove a single bottle without disturbing other bottles, separation and cradling so that labels are visible and remain pristine, and gently gliding wine bottle drawer inserts with felt-lined cradling scoops, ideal for wines that don't require aging. Patented shelving includes a scalloped shelf that perfectly stores a case of wine with identifying display space for a single bottle.
StudioBecker is adept at designing for specific customer requests, and was able to fulfill a client's desire for a unique wine partition to separate living room and hallway, by utilizing wire suspension and chamfered walnut blocks to create the appearance of floating bottles. Dramatic, backlit shelving can be used to highlight a wine collection, as can a curved wine wall that allows each bottle to become an objet d'art. For a bolder presentation, the StudioBecker Piano Bar is the ultimate entertainment piece that can be custom-designed. At the push of a button, this playable, programmable grand piano opens to reveal a stunning bar wrapped in supple Italian hand-stitched leather. The piano holds all the equipment, utensils, and beverages for entertaining, including glasses for martini's, champagne, red and white wine, and for mixed drinks. Also included are compartments for cigar cutters, a lighter, and an ashtray.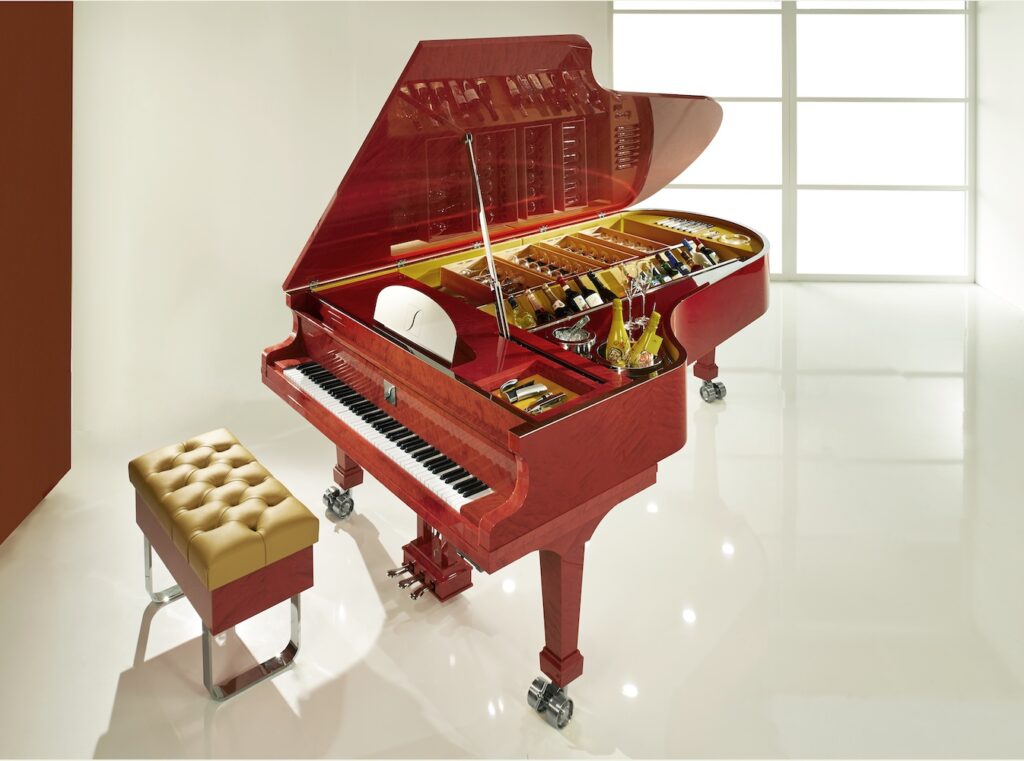 "Designing wardrobes is both challenging and extremely rewarding," said StudioBecker designer Gabriel Zaga. "It's like working with a myriad of puzzle pieces that need to be effectively arranged so that the end result is the perfect balance of functionality and aesthetics…leading to the ultimate reward of a delighted client. Wine cellars were once more specifically for practical storage and are now 'wine rooms' that have become something to be displayed, even showcased. While there are still many functional aspects to be incorporated, they are great spaces for creativity with materials and unique designs."
Photos courtesy of StudioBecker