It's common to think only of beef when encountering the word 'wagyu.' Most regularly associated with succulent cuts of melt-in-your-mouth steak, wagyu, in the hands of Chef Marc Zimmerman, takes on expanded meaning. At his San Francisco restaurant Gozu, Zimmerman and his team employ a "nose-to-tail," full-set utilization experience where diners can explore wagyu beyond the primal cuts of rib eye, New York, and tenderloin. The experience is sublime, surprising, and delicious.
That experience (12 courses at $225/pp and four courses at $125/pp) takes place within the minimalistic, charcoal-shaded dining room where high table counter seating surrounds the Robata grill-centric open kitchen, allowing a front row seat for the intricate preparation of dishes such as Caviar Soba (Kaluga caviar-topped silken tofu with wasabi in wagyu shoyu foam), Tenbrink Farm tomatoes with Hokkaido scallop and verbena, and Brown Butter Custard with abalone and celtuce. Course offerings change frequently, at the whim of the season's bounty, but each utilizes wagyu in some form or another, whether it be foams, sauces, broths, etc. The menu's pièce de resistance is the Wagyu Teishoku, a show-stopping platter presentation featuring that for which patrons primarily pilgrimage: a wagyu beef kushiyaki with accompaniments including two salt selections, pickled vegetables, and rice. To further elevate the experience, add a pairing of rare and under-the-radar whiskies, or global wines and sakes, for an additional cost; each selection is consciously curated and thoughtfully presented, enhancing every bite.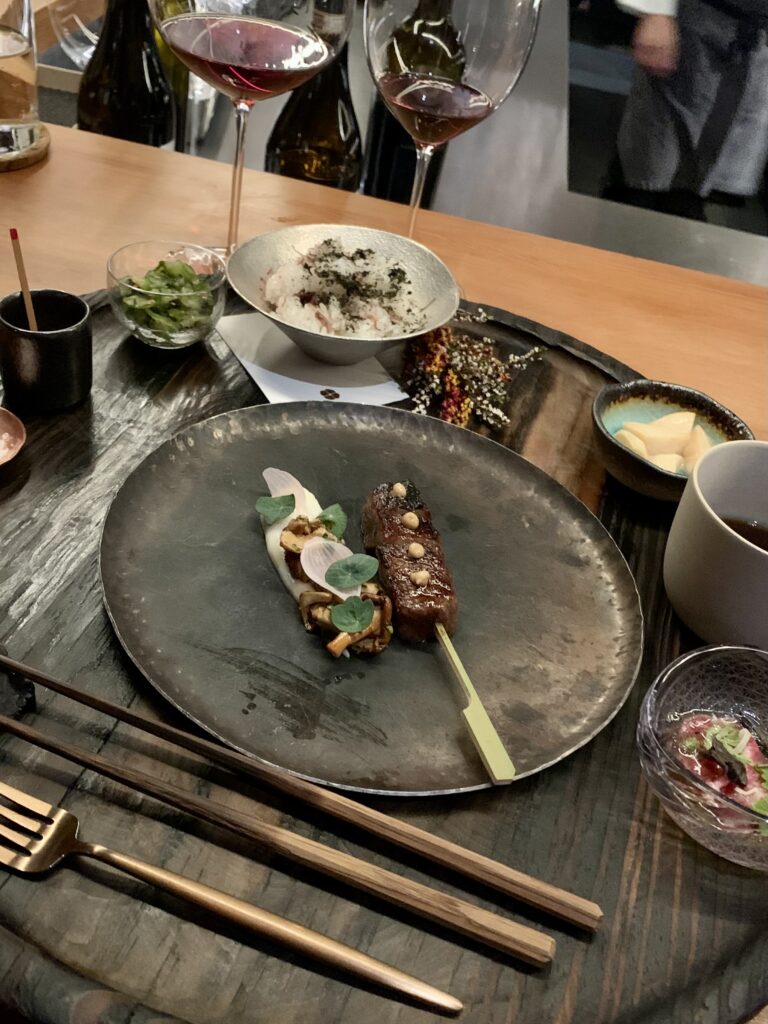 Zimmerman's culinary career spans the globe. He launched locations of Alexander's Steakhouse in San Francisco, Tokyo, and Taipei, and has worked in high-profile Las Vegas restaurants including Nobu, Okada Japanese Restaurant, Social House, Restaurant Guy Savoy, and Lutèce. A graduate of the Culinary Institute of America, he and Benjamin Jorgensen formed MZ Dining Group in order to create Gozu, where he uses Japanese kappo-style cooking techniques – grilling, steaming, frying, and simmering – to guide guests through two multi-faceted tasting menus featuring Japanese and local sea life, wild foods, and of course, wagyu. Each dish is skillfully and artfully prepared, making a Gozu meal a feast for the eyes as well as the palate.
"Wagyu is seen as a luxury item, and at Gozu, we are serving it in a way that allows guests to taste it in new, different, and approachable preparations," said Zimmerman. "We honor the animal by serving it in its entirety. By doing so, we hope to shift the perspective of whole-cow use specifically in the wagyu breed."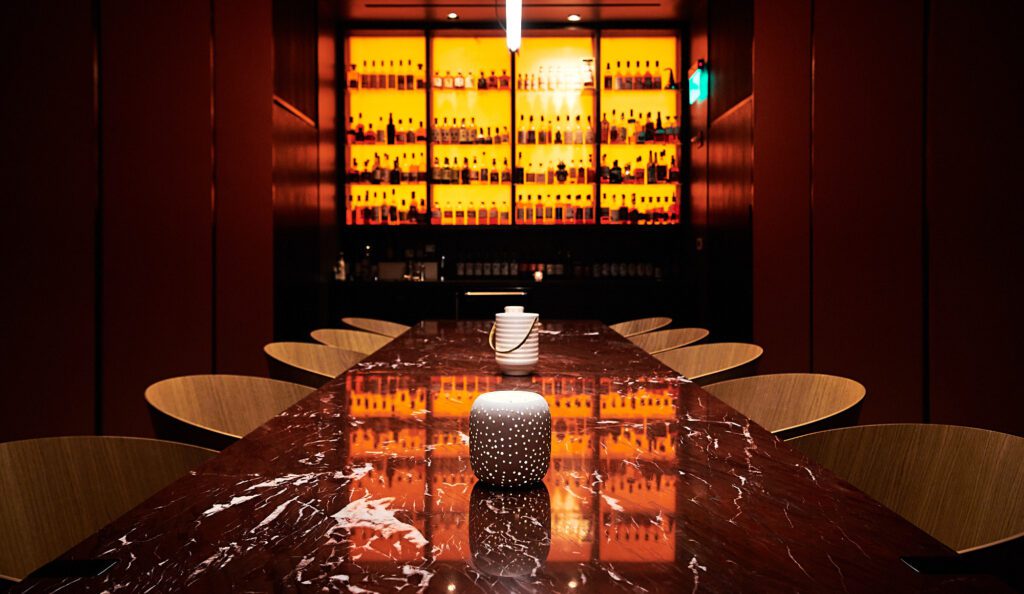 Gozu is also home to the 12 seat Whisky Lounge, open to walk-ins, and serving innumerable iterations of the amber elixir, along with a la carte menu options. As of January 17, 2023, the Whisky Lounge will also serve as an introduction to Zimmerman and Jorgensen's newest venture, Yokai, set to open spring of 2023. Meaning 'spirit' in Japanese, Yokai will be located in the circa-1907, five-story building at 545 Mission St., four blocks from Gozu and steps away from Salesforce Park, and will pay homage to Japan's audio bars and after-work food and drink culture with a menu that focuses on shareable plates and skewers. Prior to Yokai's official opening, diners can enjoy a pop-up version at the Whisky Lounge, Tuesdays-Thursdays from 6 p.m. to 8:30 p.m., where the menu of binchotan charcoal-cooked hearty Japanese-style skewers can be previewed. Showcasing fish and seafood selections, vegetables from Tenbrink Farms, and wagyu beef, the a la carte menu ranges from $14 to $40. Warm up with a rotating menu of Japanese-inspired cocktails to feature whisky, brandies, cognacs and an introduction to the Japanese gin scene. For more information and to reserve a seat, click here.
Gozu, 201 Spear Street, San Francisco. Reserve at tock.