El Mangroove, where luxury and nature bond
"We'd been looking for a vacation home for years," Anne shares with me as we wait for our lunch to arrive. "Then we decided to take a quick trip to Costa Rica for a few days. It's an easy flight from California, and we found this darling boutique hotel just twenty minutes from Liberia International Airport on the Gulf of Papagayo."
I take a bite of my salad and continue to listen.
"The airport in Liberia was as sophisticated and modern as SFO. Getting through customs was a breeze, and the ride to the hotel was quick. When my husband Doug and I arrived, we were greeted with such hospitality and warmth. We were so impressed by the genuine kindness of the Costa Ricans and how well the staff managed everything that after one full day at El Mangroove boutique hotel, we decided to look at properties."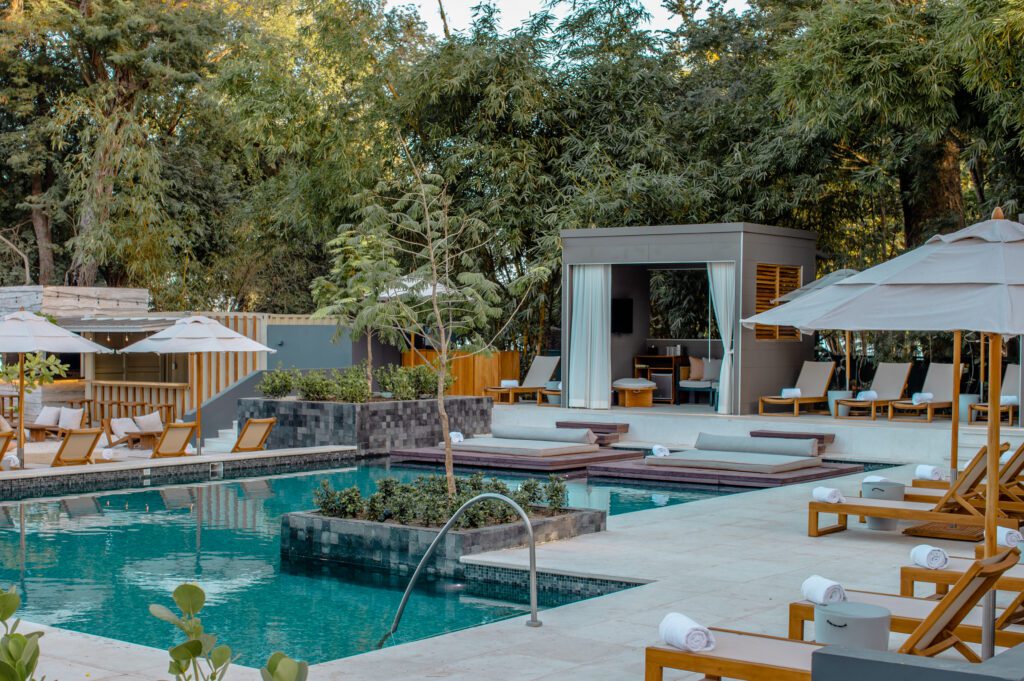 Anne smiles and continues her story, "The management at El Mangroove introduced us to some real estate agents, and we were off and running. Within days, we found a beautiful home with great amenities, and we bought it! We also loved El Mangroove so much that we stayed there for the 30 days that it took to close escrow."
I'm impressed. It's rare for individuals to invest in a new home and stay at a hotel for a month, especially since they had only been in Costa Rica for one whole day. So, I thought to myself that this place must be spectacular.
"Come with me. I'm returning to El Mangroove while we get the appliances set up in the house. You will love it."
So, I did. The flight from SFO to Liberia International Airport was effortless, and the drive to El Mangroove was a breeze. Anne was right. The airport was clear and well-organized, and the customs officials were incredibly efficient.
The all-suite El Mangroove is nestled in the peaceful Gulf of Papagayo's Playa Panama, hidden on 17 acres of beachfront forest surrounded by lush mangroves. Although the boutique hotel is incredibly close to the airport, it feels as though it is tucked away in some deserted jungle paradise.
The surrounding environment inspires the property's chic, contemporary design, including two restaurants, a spa, and, at its center, the adults-only, 130-foot-long, freshwater, black-tiled pool facing the beach. Four more pools and private cabañas for families and children past the restaurants add to the hotel's charm.
Unlike typical hotel rooms, the partially open-air suites at El Mangrove created a real connection with nature. The first room of my suite was a sitting area with a floor-to-ceiling window replete with a screen that opened onto the mangroves. Sounds of nature floated into the space, making it feel like I was more outside than inside—the main living area being appointed with all the trimming of a 5-star hotel.
Anne and I gathered poolside for a post-arrival cocktail and met a friendly couple from Colorado, who frequently stay at the hotel. I was amazed that with all the places in the world people could visit, why would they return to the same place time after time?
By the end of my stay, that question was answered.
Retreating into our cabañas, our cabaña attendant greeted us with a friendly, broad smile and asked what our pleasure would be. Under the shade of each cabaña's canopy, we enjoyed the gentle sounds of wind, water, and birds while sipping our cocktails. Along with cocktails, we enjoyed a few appetizers from Matiss. This casual, open-air beachfront restaurant features seafood specialties, a fresh catch of the day, ceviche, pokes, sandwiches, and grilled meats.
Deciding to be adventurous, we took off the following day for a 3-hour snorkeling excursion arranged through the hotel. Our first stop was a coral reef in the Gulf of Papagayo. We swam with a host of colorful tropical fish and a few turtles. Next, the captain learned that there were whales nearby, so we climbed back aboard the boat and sailed into the open sea. Not only did we witness majestic whales breaching near the boat, but when we went silent, we could hear their beautiful sounds as they communicated with each other, deep under our boat.
A cruise followed that incredible experience to a tiny inlet where we watched howler monkeys play on the beach. Then we went for one last snorkel in the clear water and found giant eels hiding among the rough crevices of coral.
On the way back to El Mangroove, we listened to music and drank local Costa Rican beer, enjoying our morning's epic adventure. When back on land, we feasted on a multi-course lunch of local delicacies, including Costa Rican versions of poke, sushi, tacos, and grilled fish flavored with local spices.
One of the underlining philosophies resonating throughout Costa Rica is preservation of its natural resources. The locals love and respect the land's beauty and treat it with care. El Mangroove shares this care for nature. Through American Express Premier Hotel Programs, I learned about the Leave your Leaves program through which guests can take part in conservation work with the Leave Your Leaves ritual in which guests plant their own trees. Of course, I had to do that. I named the tree Esperanza (Hope), and I will be notified when and where the tree is replanted in the forest.
That night for dinner, we dined at Makoko, El Mangroove's award-winning restaurant. The restaurant poetically fuses local cuisine with contemporary dishes. The menu relies heavily on fresh produce and proteins available daily. The bar boasts a full array of signature cocktails and mocktails that incorporate indigenous fruits, herbs, and flowers.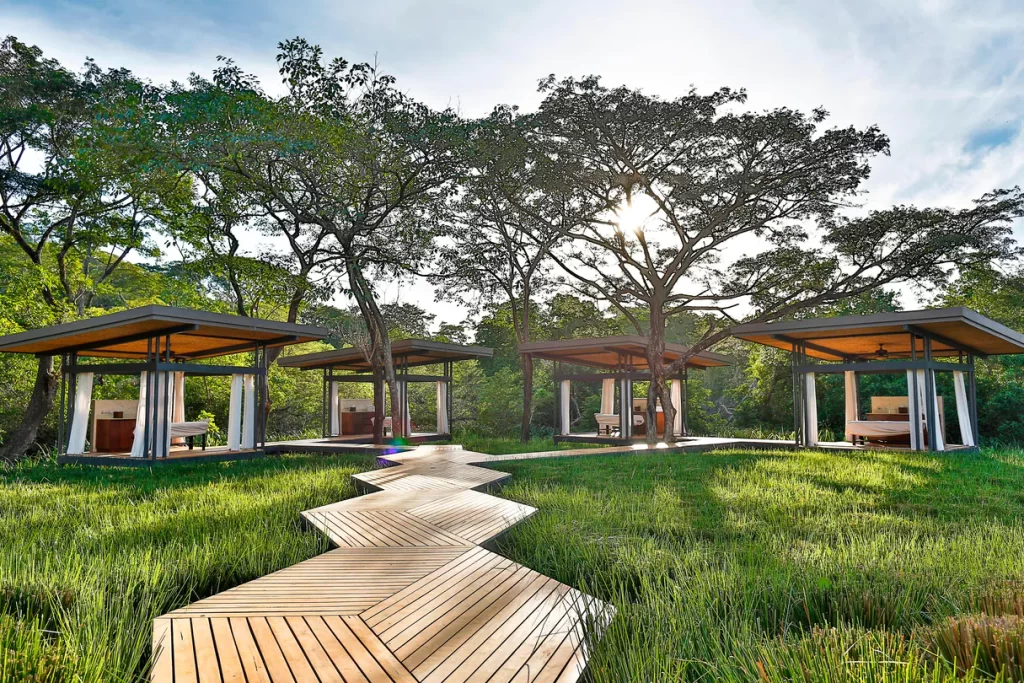 On our last full day, we indulged at the spa. Bringing the essence of outside in, Bearth Spa offers serene outdoor relaxation terraces amid the mangroves, treatment suites, massage decks, and various therapies utilizing ingredients from the region, like seaweed, coffee, and tropical fruits. I enjoyed a deep-tissue massage with local essential oils. The aromatic scents of the oils mingled with the sweet tropical air, creating a sense of connection between me and Mother Nature. For a moment, nothing separated me from my surroundings.
At the end of our stay, Anne asked, "So, can you see why we love it here?" Yes, it was clear to me why El Mangroove was so beloved. While being there felt like being somewhere far from civilization, there was also a sense of peace and assurance that the attentive staff would provide every luxury I wanted.
Due to high demand by guests wanting to purchase residences at El Mangroove, the property now offers 3- and 4-bedroom private homes for sale. Find more information at elmangroove.net.