San Francisco Opera's 100th season opened on September 9, 2022, with the year's most anticipated event. Guest from around the world attended the Opera Ball: The Centennial Celebration, a benefit gala at City Hall co-produced by San Francisco Opera and San Francisco Opera Guild. The esteemed co-chairs, Maryam Muduroglu and Jack Calhoun, worked diligently to create an event that captured the glory and history of the Opera's 100th anniversary. On the red carpet, guests were entertained by musicians and flappers reminiscent of the 1920s. Then, guests were swept away by the grandeur of City Hall, resplendent with towers of colorful flowers and dramatic feathers.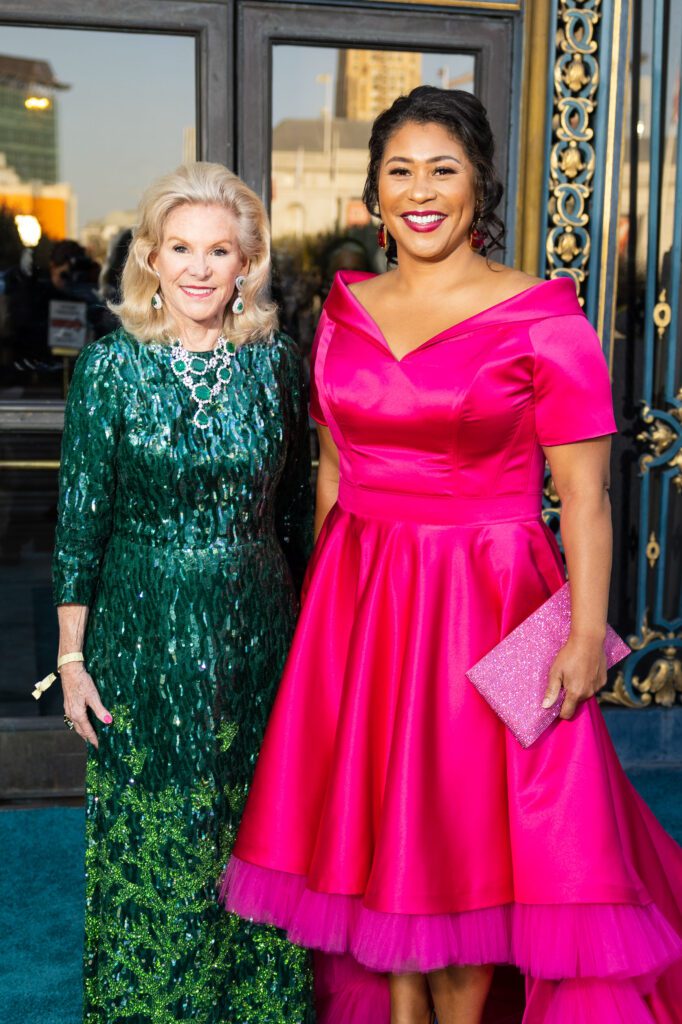 Muduroglu shared, "As I stood at the top of the steps with Jack greeting hundreds of guests entering the City Hall, I could not stop my feelings of excitement and pride to see such a wide-based Bay Area community come together for this once-in-a-lifetime celebratory event in our beautiful city. We are truly grateful for the generosity of our arts supporters as we continue our efforts for the future of opera and music education. I encourage all to join us for at least one of this season's operas. It is invigorating."
The Opening Night Concert featured Eun Sun Kim conducting the San Francisco Opera Orchestra and soloists Nadine Sierra, Michael Fabiano, Pene Pati, and Lucas Meachem. Post-show, guests were invited back to City Hall, which was transformed into a modern nightclub on the south end replete with deejay and mixed drinks. Those who preferred more traditional music enjoyed a big band in the north annex. Guests danced the night away in their couture gowns, bedazzled dresses, and dapper tuxedos.
"I am inspired by the San Francisco community showing up in such a spectacular way to celebrate the 100th year of SF Opera. The night was a tremendous success, and everyone had a great time late into the night. It was an honor to co-host this special event that supports the work of our great opera company," said Calhoun.