Disconnect to reconnect at Costa Rica's Punta Islita
The morning's clouds opened, and the sun's reflection cast vibrant rainbows throughout the Costa Rican sky. Perched atop a horse named Rabbit, my daughter smiled at me and pointed to the rays of color that swept across the horizon. We were slowly riding through a lush grove of mango trees, giant leaves dappled with raindrops from the night before. Trusting the surefootedness of my horse, I looked up as a flock of scarlet macaws took flight and filled the air with their mischievous squawks. Finally, I exhaled, and a sense of ease filled my body.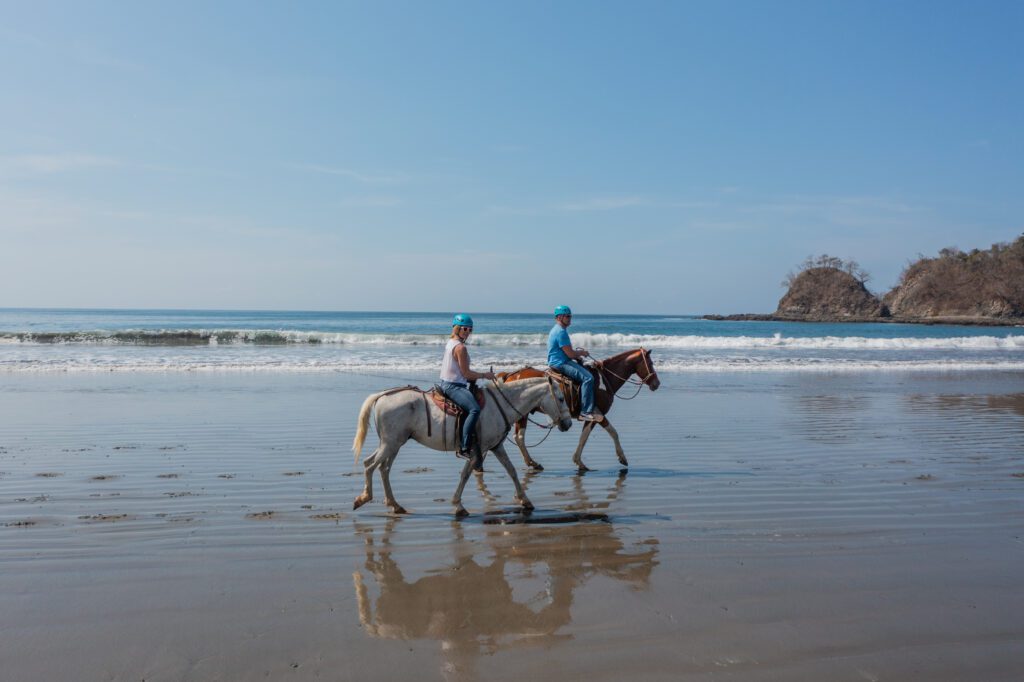 Traveling with an 11-year-old can be tricky business. It's an age where Disneyland is now passé, but a museum-filled European vacation would only invite eye rolls and dramatic sighs. Then there are the needs of Mama, because we all know "if mama ain't happy, no one's happy." So, how do you find that sweet spot where your preteen children and you can have a rewarding and memorable vacation?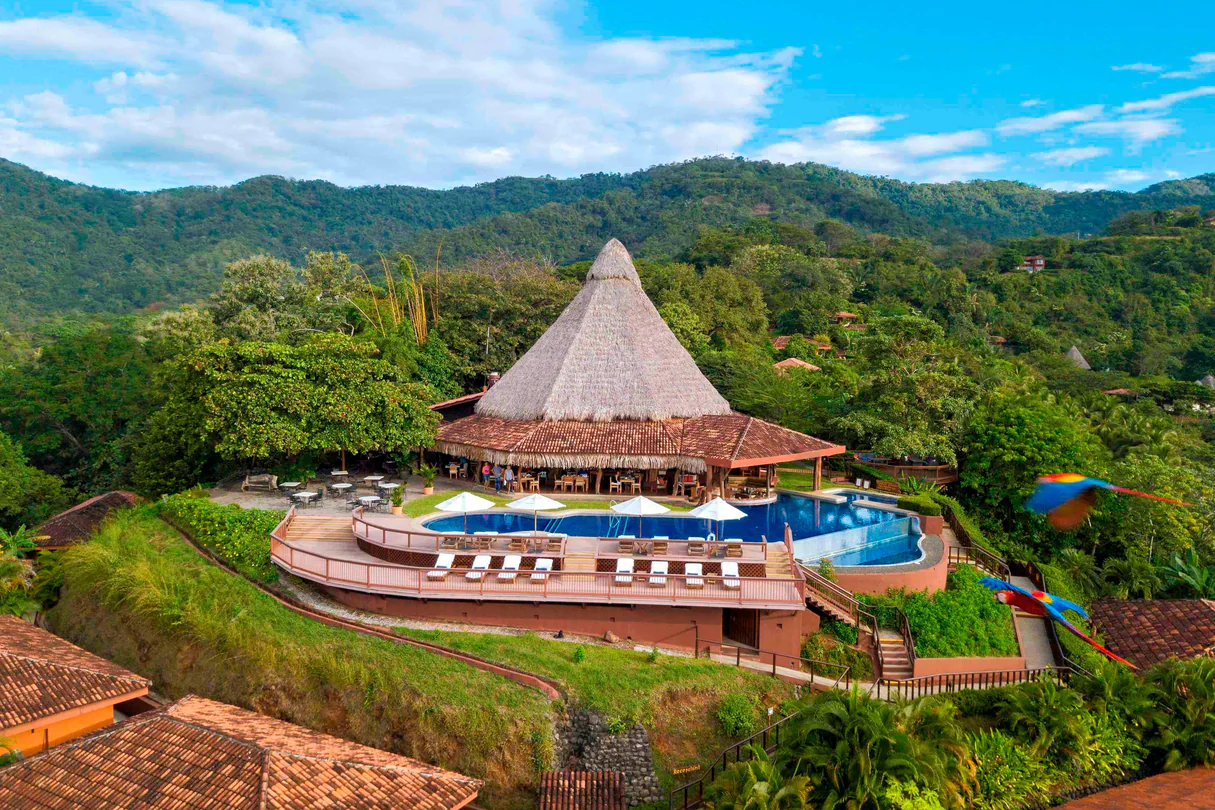 Think purpose.
The purpose of our trip was to disconnect from the frenetic pace of life and reconnect with each other.
Scanning the globe, the internet, and random articles on health and wellness and places to take a preteen all led to the same place: Costa Rica. However, diving deeper into destinations that focus on healing and bonding, the Blue Zones popped up. Once again, there was Costa Rica, specifically Nicoya, Costa Rica, one of the world's five Blue Zones.
So, what is a Blue Zone? Based on Healthline, Blue Zones are regions of the world where a higher proportion of that population live for more than 100 years. Their inhabitants' longevity is partly credited to their diets, lifestyle, and other factors, such as exercise and social environment. Coincidentally, this area of the world has something called "plan de vida,"' which roughly translates to "sense of purpose."
After hours of reading reviews and researching the area, we settled on Hotel Punta Islita, a charming resort nestled in the hillside of Guanacaste. Getting off the beaten path can be a delicate balance. While I like peace and quiet, I still want my champagne and turndown service. So, I was pleasantly surprised to learn that while Punta Islita is far from civilization, it is still very much connected to the lovely, rarefied amenities that make staying at luxury resorts so scrumptious.
In all honesty, I appreciated the Blue Zones' ethos, but I didn't think that a visit to one of these places would be a life-changing experience. I was wrong.
Back on the horse, I felt a connection to nature and my daughter. We were sharing something special. This moment in time was fleeting, but I knew that I would long cherish the memories. As our horses moved closer to the shoreline, a family of howler monkeys gathered on the high branches of an ancient guanacaste tree.
Ready to eat after our long ride, we arrived at Aura Restaurant for lunch. The resort's chef, Federico Lizano, strolled through the outdoor restaurant, greeting guests with his effervescent smile and bright eyes. When he came to our table, I asked what he recommended.
"Definitely the octopus ceviche," he answered with passion.
Chef Federico was on point with that recommendation. The ceviche was a delicious treat of fresh octopus, thinly sliced coyote cilantro, tiger's milk, chimichurri, lemon, and toasted rice.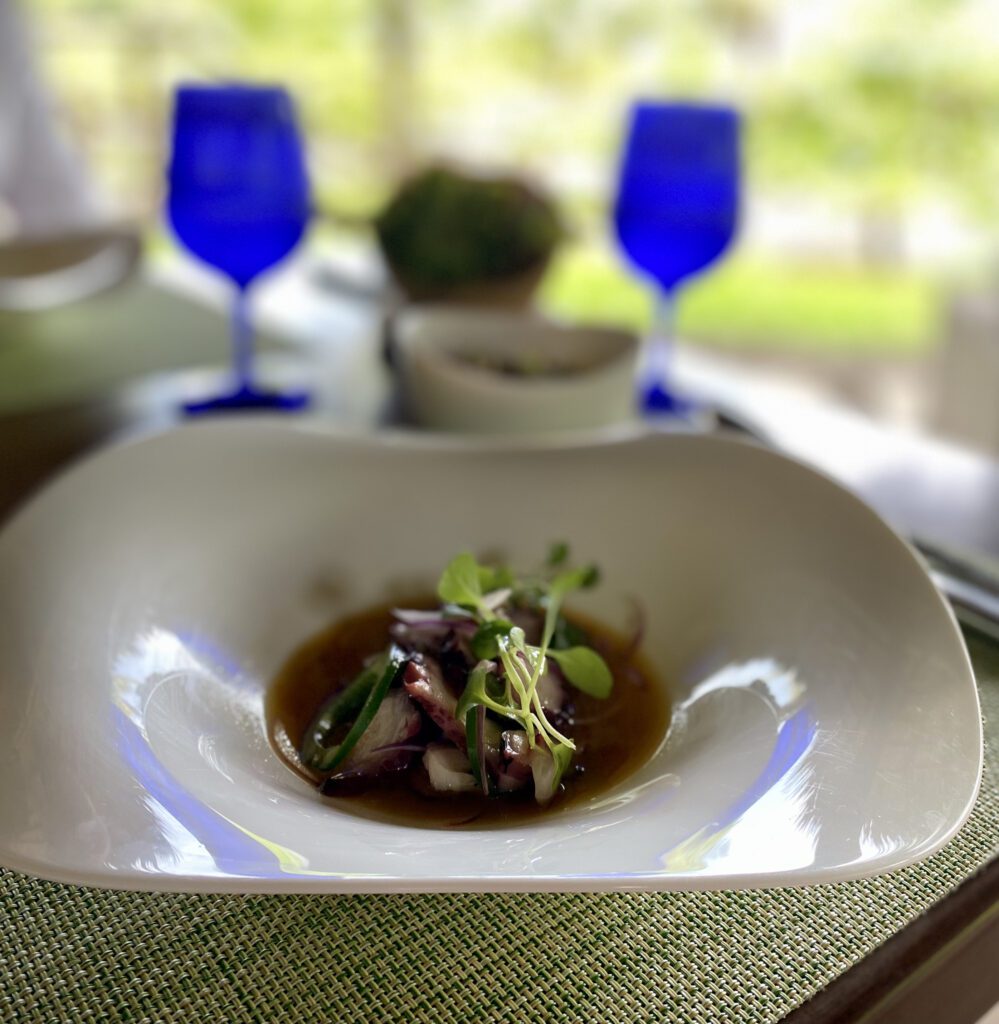 When he returned to ask about lunch, I had to ask him about his influence on the menu and how it aligned with the Blue Zone. Along with the hotel's kilometer zero concept (he uses ingredients produced sustainably within a kilometer or less of the hotel), he also implements the pillars of Costa Rica's Blue Zone diet: "They are called the four sisters: beans, corn, rice, and squash. These are the essential foods used in most meals in this area."
After lunch, we returned to our villa with our private plunge pool, yard, and panoramic views of the green mountains rising from the calm ocean below. A few hours later, with renewed vigor, we ascended the steep slopes and ziplined above deep, verdant valleys rich with blooming flowers and noisy birds. Hearing my daughter squeal with glee as she sped across the ziplines bought me so much joy.
Each night, we played Monopoly, my daughter enjoying a "mocktail" while I sipped perfectly chilled rosé. On one of these evenings, the general manager, Otto Lopez Vergara, took a moment out of his busy schedule to sit down and ask us about our stay. His kind eyes and genuine smile were a delight, and we talked about how much fun we were having.
He asked, "Have you visited Punta Islita's Open-Air Museum of Contemporary Art?"
We hadn't, and he said that the hotel offered free shuttles there, and at the Museum House, artists teach various workshops and activities for guests.
"There you can meet the people of the Blue Zone and their incredible way of life," Otto continued.
Of course, we had to experience it. So, the next day we had the fantastic opportunity to see how and why life was so good for these incredible people.
"Contento," an old man said when I asked how he was.
Happy, satisfied, or content is the meaning of content in English. I liked that: satisfied.
Otto also shared that the locals have a beautiful vision of the universe and a thoughtful way of living. While hard work is essential, family is always number one. Along with family, traditions and customs are deeply rooted in their way of life.
"Most of our employees were raised here, so they bring their sense of contento to work with them and share it with the guests," he said.
I admit that I felt it. Every person I met greeted me with a genuine pura vida! and a broad smile.
Chef Federico brought the cuisine of the Blue Zone into focus at the resort. Dinner, served at the mountaintop palapa named Alma, which means soul in Spanish, is a delicious experience. Along with the sweeping views and an infinity pool, the restaurant serves up a Blue Zone tasting menu created especially by Chef Federico. The courses included an appetizer of charred jumbo shrimp served with traditional corn pudding, starfruit crackers, and dragon fruit caviar. The center was red snapper with smoked fennel puree, served on a bed of tomatoes and basil salsa. Dessert was a star fruit sorbet with sweet plantain flan. The contrast of flavors was phenomenal.
The star fruits are grown on the expansive property, so Chef Federico does all he can to incorporate them into his dishes when they are in season.
We happened to be there when giant leatherback turtles were coming to shore, depositing their eggs. So, close to midnight, we gathered with a small group from the hotel and followed our guide, who led us to two massive turtles digging holes, laying their eggs, then returning to the sea in the pitch dark of night. He used dim red lights that didn't disturb the turtles. We all watched silently, witnessing one of the most intimate moments in a turtle's life. After our spectacular dinner and experiencing the miracles of nature, we slept soundly in our canopy bed, replete with gossamer curtains that gently swayed from the light ocean breeze.
The next day, I lounged in a cabaña while my daughter splashed in the ocean's playful waves. I could feel the restfulness and well-being of Islita embracing me. The warm breeze off the Pacific Ocean was a gentle reminder that our only moment is 'now.' Nothing else exists beyond that. 
So far, we have experienced the Blue Zone's natural wonders, hospitality, cuisine, and people. Next was their wellness treatment. And, as a spa junkie, I couldn't have been more excited.
Hidden above the main resort and enclosed by lush tropical gardens, the Nanku Wellbeing Center showcases natural ingredients and ancient Chorotega healing wisdom. My daughter and I signed up for a Blue Zone experience that took us on a magical journey that included a body scrub made from tropical fruits, outdoor shower ritual, local essential oils massage, and a refreshing bubble bath with hibiscus tea. After our treatments, my daughter and I floated back to our villa, where we indulged in an afternoon of silly games and laughter.
As a seasoned travel writer and author of two books for solo women travelers, I rarely find a place that truly feeds my soul and tames my chaotic mind. But after descending into the feathered nest of Hotel Punta Islita and experiencing the power of their Blue Zone, I am convinced that there is a place where you can go to disconnect from the chaos of your life and reconnect with something more profound, calmer, and truly timeless. hotelpuntaislita.com