Helmed by a new chef, the dishes at the destination restaurant of Bernardus Lodge & Spa in Carmel Valley impart a sense of time and place.
A luxe escape nestled in the bucolic setting of Carmel Valley, Bernardus Lodge & Spa is a 28-acre wine country retreat offering 73 guestrooms, suites, and villas tucked among picturesque vineyards and gardens. Feathery clouds roll in over the Santa Lucia Mountain range in the early morning, best viewed from the resort's tranquil rose garden. However, the garden's not limited to just these blooms—a chef's garden spans two acres between pops of bright pink and sunset orange dahlias, well-serviced by three hives of buzzing Italian honeybees. It's fitting, then, that the resort's restaurant takes its name from the mountain overlooking the expansive garden that provides the fresh, flavorful produce for its homegrown dishes.
Following an intensive, nationwide search, chef Christian Ojeda took the helm of Lucia Restaurant & Bar in February. Born in Utah with Chilean roots, Ojeda grew up in New Mexico, and his training took him worldwide before he landed at Montage Deer Valley where he served as executive chef prior to Lucia. He attributes his classic European technique to time spent in France and Italy, which he now unites with California's farm-to-table approach, championing the relationships between chef and producer, food and terroir.
Dusk creeps into the valley, and Lucia transforms into an intimate space with a cozy patio and flickering firepit (the better to enjoy the restaurant's ample list of wine and cocktails, including nightcaps such as the apple spiced Fireside Snuggler). The menu highlights local and seasonal produce along with the region's artisans and producers, serving guests a culinary experience that "takes them back to the land."
We start with a seasonally inspired soup, warming and buttery, a pumpkin and ginger concoction topped with local olive oil, pumpkin seeds, and chives. It's not just a taste of the current time—early autumn—but also the place. Just that morning, I had passed the small patch of pumpkins in the rose garden no more than 200 feet from my seat, and in front of Lucia is the herb garden from which the chives were freshly picked.
Next is an appetizer that celebrates the transition from summer to fall, a bright heirloom tomato carpaccio with splashes of mozzarella cream and sweet bursts of local strawberry, topped with a heap of petite greens and finished with aged balsamic and brioche crumble lending a welcome crunch. The braised beef short rib is a taste of the approaching winter—a comforting dish with its rich flavor and melt-in-your-mouth texture, hard won by its lengthy cooking process. It sits atop a bed of silky aligot—potatoes combined with Point Reyes Farmstead Cheese Co.'s sweet and nutty Toma—amid swirls of au jus. Sweet and sour onions, roasted asparagus, and a garden herb gremolata finish the divinely indulgent dish.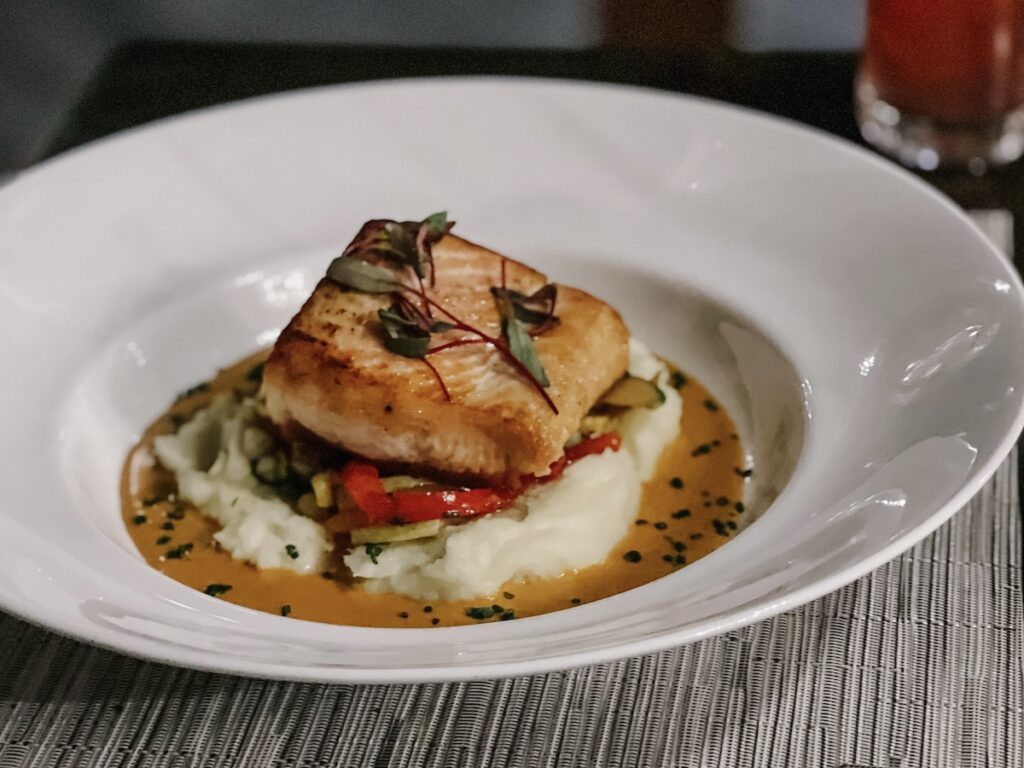 The entrees further pull from the region's producers and garden's riches: a Monterey-fished king salmon served with summer corn succotash, cherry tomatoes, golden potatoes, patty pan squash, and a scallion and red pepper emulsion and a local beet ravioli with artichokes, wild mushrooms, asparagus, squash, and tomato fondue. The double-cut lamb chop is served with a crispy goat cheese polenta cake and guajillo chile jus—a nod to Chef Ojeda's childhood.
He speaks of these Southwestern influences from the hand-ground polenta we witnessed in New Mexico to the oft-used guajillo chile prized for its smoky-yet-sweet quality. He enjoys testing out various ingredients, depending on what's in season, and curating a menu that showcases the flavors of Carmel Valley at each ingredient's peak. "That's very important to me as a chef," he says.
Just the day before, he paired up with Dick Swank of Hollister's Swank Farms for an organic heirloom tomato lunch-and-learn held at Lucia. Among the offerings were a tomato and lavender lavash, a green chili and wild mushroom macaroni and cheese, and even a house-made tomato and basil sorbet. "Hearing his passion behind the tomatoes and his farm—that's what excites me," he says.
Lucia's dessert menu also changes with the seasons, and we're fortunate to experience the burnt Basque cheesecake as our finale, which I've never quite had with this treatment: served alongside a surprisingly potent piña colada foam, vanilla pineapple compote, and toasted coconut.
"Coming here, I wanted to get back into what I joined this industry for, and that's to get a little more personal with our guests," says Ojeda. He leads a tour of the herb and vegetable gardens, vineyards, and orchards on Saturdays, alongside renowned horticulturist Mark Marino who tends the property's gardens.
Guests are invited to explore the gardens with a glass of Bernardus Winery's award-winning Chardonnay in hand. From squash to white lavender, and even Persian mulberry, there's a bounty of surprising ingredients that inspire Lucia's flavorful dishes, so unique to this region and time of year. "I'm still of the old school manner [where I] like to know the farmers, know where things are coming from, and how they're processed," he says. "That's what brought me here. It's a little bit more hands-on, more hyperlocal—where the farmers come right to your back door."