Savor the moment at Michael Mina's restaurant where guests can experience the heartfelt hospitality and vibrant cuisine of Greece at its finest.
One of the most breathtaking beaches in Greece, Ornos lies along a dreamy isthmus bridging the tranquility of the seaside with the urbanity of Mykonos. San Francisco's Estiatorio Ornos, a restaurant that transports diners to the breezy Mediterranean isles, celebrates the spirit of this beautiful paradise.
Led by Michelin-starred chef Michael Mina in partnership with chefs Girair "Jerry" Goumroian and Nikolaos Georgousis, executive chef Daniela Vergara directs an inspired served in the warm yet elegant space. Its storied location at 252 California Street was previously home to the flagship Michael Mina restaurant and, prior to that, the iconic Aqua where Mina rose to renown. It continues its culinary legacy with Estiatorio Ornos, a 76-seat restaurant that pays homage to Greek cuisine, hospitality, and sensibilities while representing Chef Mina's continued innovation in San Francisco's culinary scene. Columns of stark white drapes flow from the ceiling to the floor, separated by oversized floral arrangements spilling over their ivory vessels. Cozy, coral-colored banquettes flank one side of the airy dining room next to a series of wall niches featuring handmade Grecian sculptures. The setting is luxurious but playful and inviting, combining upscale dining with a lively atmosphere.
"I grew up with large, nightly tableside meals being at the epicenter of family gatherings," says Chef Mina. "Ornos' menu is reflective of this spirit, as dishes are meant to be shared while connecting with loved ones, discovering new flavors, and fully embracing the celebratory spirit of the Greek Isles." Inspired cocktails and an extensive wine list complement shareable plates that are simple, fresh, and flavorful—Greek food at its epitome. Fish selections are flown in daily from around the world, and diners can even consult the in-house fish sommelier for recommendations. "We wanted to create the unique position of the fish sommelier to serve as a knowledgeable expert in their craft and be at the forefront of sourcing, preparation, and cooking every piece of fish we serve at Ornos," says Chef Vergara.
Though each preparation has been highly thought out to showcase the delicate flavor and qualities of each fish, guests can also request their selection simply grilled whole over natural oak and finished with oregano, lemon, and Santorini capers. The mild, sweet Mediterranean sea bass is grilled with steamed greens or offered oven-roasted with a savory eggplant and tomato briam—a roasted vegetable medley. There's a salt-crusted variation on the meaty Mediterranean sea bream, cracked tableside to reveal the moist, perfectly seasoned fish within. Meanwhile, petrale sole comes phyllo-crusted with skordalia—a traditional potato and garlic spread—and caviar sauce, complementing its delicately nutty flavor. Salmon is served grilled with a generous heap of a refreshing Aegean cucumber salad perched atop. Finally, sweet, succulent lobster cooked in Greek brandy crowns an Athenian-style pasta punctuated with perfectly ripe tomatoes.
While the seafood might appear to be the draw, visitors would be remiss to skimp on Estiatorio Ornos' appetizers and entrées featuring lamb, beef, chicken, and even vegetarian dishes. Despite declaring myself somewhat on the other end of the scale when it comes to eating vegetarian, I'm enamored by the grilled manouri salad with stone fruits and hazelnuts and drizzled with honey balsamic dressing. It is divine—the slight tang of the manouri and floral sweetness of peaches are reminiscent of a languid summer by the Aegean Sea where the warm sun seems to slow time itself. Another similarly transcendent vegetarian dish is the wild mushroom and eggplant moussaka. Unbelievably creamy, the béchamel is so rich and the mushrooms so indulgent, it holds up to the non-vegetarian entrées on the menu—and then some.
Other highlights include the grilled octopus, exceptionally tender and paired perfectly with briny capers, marinated white beans, and red onion—another tastefully balanced dish that conjures memories of a sun-soaked vacation in the Mediterranean. The hamachi crudo is another delectation topped with a hint of heat with serrano, dill, and a delightful kiwi salsa verde. The piquant sauce cuts through the fatty fish. The appetizer menu also pays tribute to Greek's famed dips, including tzatziki and hummus as well as lesser-found spreads, such as the smoky melitzanosalata; spicy, feta-based tirokafteri; and rich, umami-flavored taramasalata.
Be sure to save room for dessert. "The Lemon," a picturesque sponge cake delicately shaped into its namesake fruit and filled with tart lemon jelly, is served with vanilla bean crumble. The star of the show and a fitting finale to a phenomenal fest of fine food is the baklava sundae. In a dramatic tableside presentation, crisp baklava is served with freshly scooped frozen Greek yogurt, toasted pistachios with a punch of preserved citrus Amarena cherries, and a crumbly sesame crunch. The grand confection is finished with luscious drizzles of 23-karat gold-infused honey.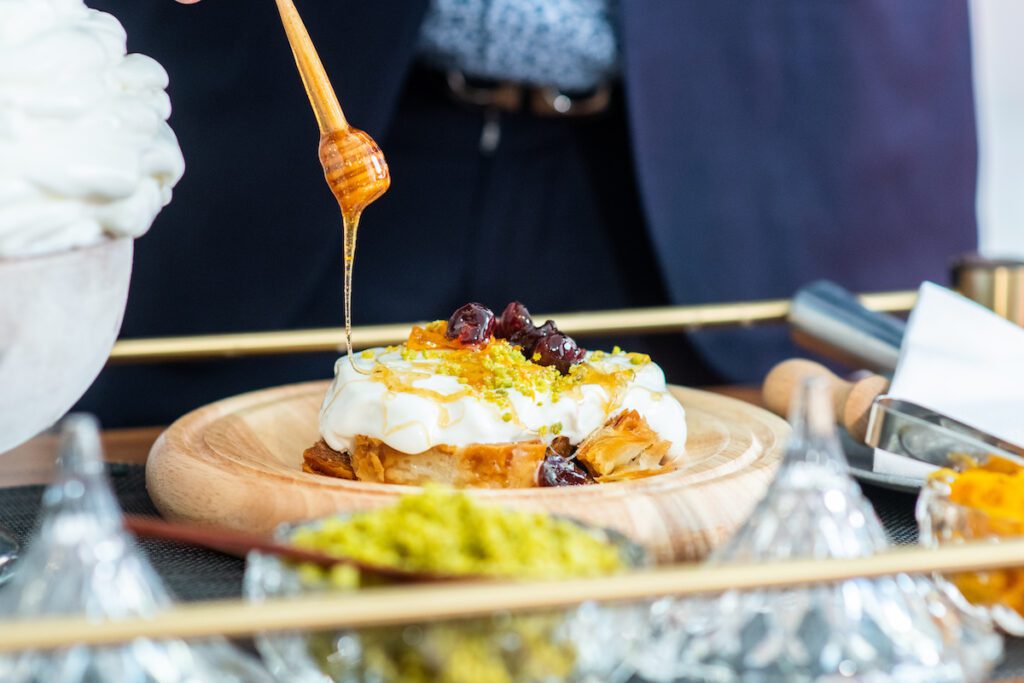 Estiatorio Ornos' menu showcases dishes with flavors ranging from subtle to full-bodied and textures from melt-in-your-mouth sea urchin to crisp zucchini fritters. They all pay homage to Greek cuisine's roots, embodying both simplicity and elegance. "I want guests to walk away from their dining experience at Ornos feeling excited to return and with the intention of bringing other people in their life to have the same experience," says Mina. Estiatorio Ornos is a destination to experience Greek food and hospitality at its most inspired, reveling in both the generous spirit of its culture and the delicious synergy of high-caliber ingredients.