As the seasons change, Highland Park Whisky is a reminder to sip, savor, and celebrate.
Swirling the glowing amber liquid in my glass, a velvety wave of smoky-salty-sweet flavors roll over my tongue. It's a Friday afternoon, and this twist on an Old Fashioned—made with Highland Park Whisky's 12-year-old single malt, honey syrup, Angostura bitters, and smoked sea salt, finished with Applewood smoke—is the quintessential end to a long week. Smooth and spicy, it evokes the salty air of Orkney, where Highland Park's distillery is based. It's the northernmost whisky distillery in Scotland, located in Kirkwall, the largest of Orkney's islands. The whisky has layers to it, tasting of the rugged and remote island and its storied history.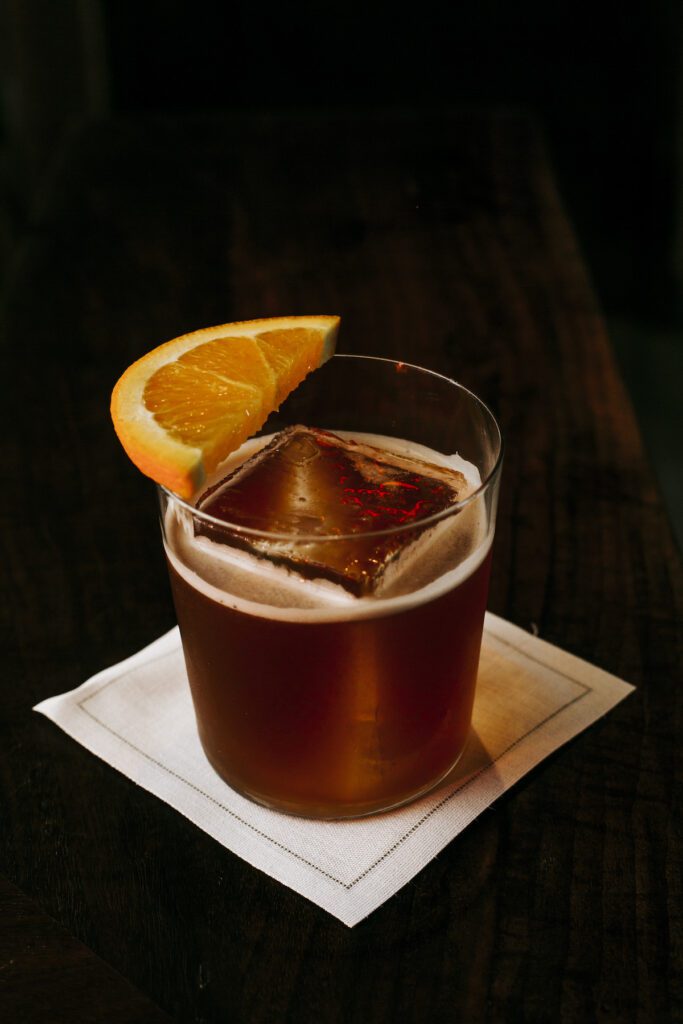 Highland Park distillery was founded by Magnus Eunson—a beadle and butcher by day, and whisky smuggler by night. (His nerve might be attributed to his Viking ancestors.) Nearly 30 years after being caught, Highland Park received an official license to distill whisky in 1826. The island's geology contributes to the brand's whisky and its singular flavors—from water drawn from the spring just below the distillery, to the uniquely treeless Orkney peat used to smoke the malted barley.
One sip takes me back to Highland Park's collaboration dinner with Angler in San Francisco, and the first time the brand's 15-year-old single malt was introduced to the U.S. by Martin Markvardsen. Highland Park's soft-spoken brand ambassador, who was named the 2022 Scotch Whisky Brand Ambassador of The Year by the Icons of Whisky & World Whiskies Awards, considers himself more Scottish than Danish. You might be able to tell by his forearms, inscribed with the tattoos of Scotland's national motto and Orkney's Coat of Arms. On the left: Nemo me impune lacessit (No one provokes me with impunity). On the right: Boreas Domus Mare Amicus (The North our home, the sea our friend). Formerly a Danish boxing champion, Markvardsen now travels the world for his dream job—200 days a year, on average—spreading the word about Highland Park Whisky and its intriguing history. (Markvardsen says of Eunson, "he didn't believe in god—he believed in whisky.") At the launch, Markvardsen leads a tasting of the brand's 12-, 18-, 21-, and 25-year old whiskies, as well as the first-ever U.S. tasting of the brand's 15-year old single malt. The evening's custom farm-to-table menu highlights Angler's signature live fire cooking techniques and seasonal ingredients, which pairs especially well with Highland Park Whiskey and its complex smoky-sweet flavors.
Highland Park's 15-year-old Viking Heart is served with a generous heaping of Angler's private batch caviar, bull fat brushed Parker House rolls, and in-house cultured seaweed butter. The brand's most highly-awarded single malt whisky, its 18-year-old Viking Pride, is paired with a hearty radicchio salad with radicchio X.O. sauce and antelope tartare. Highland Park's 21-year-old whisky is smoky and spicy, offering a complexity that pairs well with a number of dishes. Served family-style, the feast includes grilled hand-dived scallops, dry-aged American wagyu strip, wood oven roasted chicken, potato with sauce from Sonoma Cheeses, Brassicas with garum, and grilled sunchokes with sunflower praline and chicken jus. Last but not least, the distinctive character profile of rich vanilla and honey fudge in Highland Park's 25-year-old whisky perfectly pairs with a soft serve sundae and chocolate bar—plus, it packs a punch from the sherry seasoned casks hand-selected by Master Whisky Maker, Gordon Motion.
Highland Park is also bringing food and whisky pairing to home gourmands, just in time for the food-focused holiday season. As the official U.S. Scotch partner to Big Green Egg, Markvardsen has curated a selection of recipes developed with Big Green Egg to pair with three of Highland Park's most popular whiskies. "Our Orkney Island home gives our whisky its unique smoky sweetness—and that contrast is also often found among grilling and BBQ techniques," says Markvardsen. For a collection of all recipes, visit Highland Park Whisky's website.
For Highland Park's 12-year-old Viking Honour, pick up some creamy oysters from the North Bay to pair with the full-bodied whisky. Its notes of dried oranges, warm spices, heather honey, and the aromatic peat smoke balance the brininess of the oysters which, when grilled or smoked, complement the whisky's smokiness perfectly. Another unexpected pairing is sushi, served with freshly grated wasabi. Not a fan of seafood? The 12-year-old whisky also pairs with venison or a pan-fried ribeye. Meanwhile Highland Park's 15-year-old Viking Heart offers intensely fruity notes that pair well with Asian cuisine, especially a mahi-mahi prepared with soy sauce and sesame seeds. Fresh pineapple and lemon zest accompany aromas of freshly-baked sponge cake, crème brulee, and toasted cinnamon. Motion created these flavors using a combination of sherry seasoned European oak casks to deliver notes of spice and American oak casks for vanilla notes. Last but not least, Highland Park's most highly-awarded single malt whisky is its 18-year-old Viking Pride. For this sweet and spicy spirit—featuring notes of cherries, bittersweet cocoa, honeycomb, and candied orange peel—only a hearty dish like barbecued beef ribs can stand up to its bold flavors.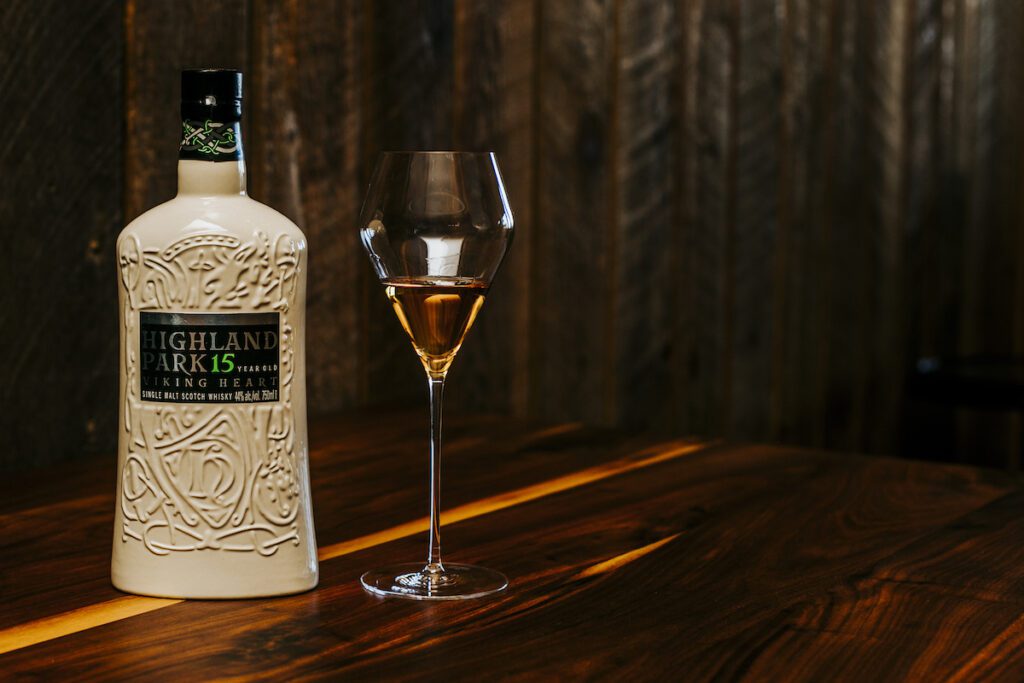 As we head into winter, Highland Park's whiskies are the perfect accompaniment for the warm and comforting dishes that reign supreme during cooler seasons. Stay tuned to HighlandParkWhisky.com for more recipes and ideas this holiday–and don't forget Markvardsen's hard and fast rules for enjoying whisky: 1) Forget about all the rules you've ever heard. 2) Enjoy it.
Skål!