The 2022-2023 season honors the company's storied past and bright future with Opera Ball: The Centennial Celebration, Opening Night, 100th Anniversary concerts, and more.
Since its inaugural performance of Puccini's La Bohème on September 26, 1923, San Francisco Opera has persisted through the Great Depression and World War II, the rise of technology and competing media to earthquakes and recessions, and the recent COVID-19 pandemic. Only the third American opera company to reach its centennial milestone, San Francisco Opera's longevity is a testament to its tireless dedication to preserving the art of opera while also expanding its boundaries. "From the moment Gaetano Merola raised the first curtain on San Francisco Opera, this has been a company of possibility, of excellence, of innovative spirit," said Matthew Shilvock, the opera's general director. From commissioning thrilling new works by leading composers to introducing new voices and supporting the next generation of operatic artists through its training programs, the company has long been a pioneer in its field. Now, San Francisco Opera is set to celebrate its dazzling legacy in spectacular fashion this upcoming year—from the beloved Opera Ball to the return of a full season of mainstage productions.
The season kicks off September 9, 2022 with the city's biggest night of the year. Opera Ball: The Centennial Celebration, co-hosted by San Francisco Opera and San Francisco Opera Guild, will be held in conjunction with the Opening Night Concert at the War Memorial Opera House, starring soprano Nadine Sierra, tenors Michael Fabiano and Pene Pati, and baritone Lucas Meachem under the baton of music director Eun Sun Kim. The once-in-a-lifetime program will range from operatic arias and duets significant to the company's history to pieces that have special meaning to the artists themselves, plus musical surprises.
Co-chaired by Jack Calhoun and Maryam Muduroglu, the benefit gala will feature a lavish cocktail reception and dinner at San Francisco's City Hall, followed by the spectacular concert at War Memorial House and after-party in the City Hall rotunda. "With our centennial, we are honoring the Bay Area community that helped to build a world-renowned opera company in our city and a leader across the world of opera," said Calhoun. "We are also excited to be looking to the future and continuing to produce grand opera at the highest level, while also trying new things to excite our current and new audiences."
Opening weekend continues September 10, 2022, with the world premiere of Antony and Cleopatra by internationally renowned composer and Bay Area resident John Adams. Commissioned for the company's centennial, this highly anticipated work will take center stage with a cast starring Gerald Finley and Amina Edris as the titular lovers. Set against a glamorous backdrop inspired by 1930s Hollywood, the legendary tale comes to life through Adams' powerful and evocative score. Performing through October 5, this will be the first operatic presentation of San Francisco Opera's season, which marks a return to full strength with eight mainstage productions and several concerts scheduled through July 1, 2023.
A long-standing tradition, San Francisco Opera's free Opera in the Park concert at Robin Williams Meadow in Golden Gate Park will also return September 11, 2022, as part of San Francisco Opera's historic opening weekend. The annual concert will feature artists from the company's fall season with the San Francisco Opera Orchestra led by Kim.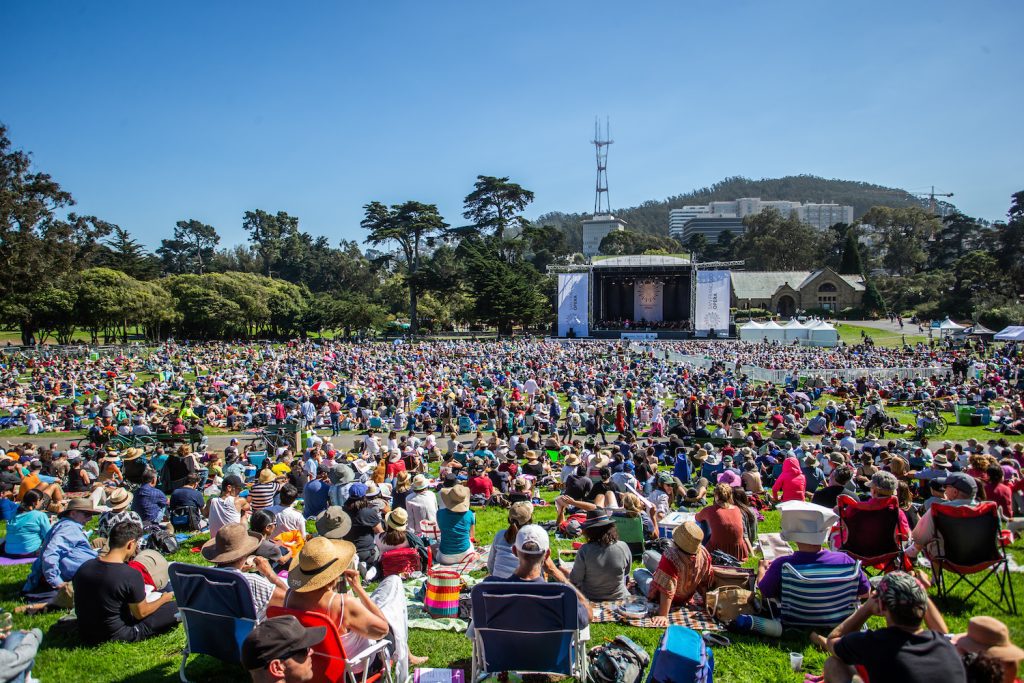 The 2022-2023 season will see a host of other special events to celebrate San Francisco Opera's major milestone, including a free community open house, showcase concerts, and outdoor performances—including the return of the ever-popular Opera at the Ballpark—culminating in a 100th Anniversary Concert on June 16, 2023. This historic evening of music and memories will feature a roster of treasured San Francisco Opera artists with the San Francisco Opera Orchestra and Chorus in a program that spans the company's rich history.
"In the next 100 years, I hope to see a San Francisco Opera that continues to excite and delight our community," said Calhoun. "I also hope that we continue to find ways to attract new people into the world of opera … it really is an all-encompassing, multi-sensory experience and an incredible way to spend a special evening."
These sentiments are reflected in San Francisco Opera's partnership with the Dolby family on a new ticket initiative that aims to make the opera experience accessible to more people. Another project, slated for early 2023, is Bohème Out of the Box—which will bring a condensed version of Puccini's La Bohème, performed live on a shipping container to audiences outside. "We are taking opera into communities around the Bay Area and meeting people where they live and work," said Calhoun.
New San Francisco Opera productions this season include Verdi's La Traviata (November 11-December 3, 2022) staged by director Shawna Lucey and starring soprano Pretty Yende in her company debut; the return of Gluck's Orpheus and Eurydice (November 15-December 1, 2022), only staged once before by the company, in 1959, in an energetic new production by Matthew Ozawa; and a new interpretation of Puccini's Madame Butterfly (June 3-July 1, 2023) by director Amon Miyamoto, a co-production with the Tokyo Nikikai Opera Foundation, Semperoper Dresden, and Copenhagen's Det Kongelige Teater. Celebrating the aesthetic that defined San Francisco Opera's first century, two influential masterpieces return to the stage where each enjoyed its American premiere in the 1950s: Poulenc's profound Dialogues of the Carmelites (October 15-30, 2022) and Richard Strauss' fantastic Die Frau ohne Schatten (June 4-28, 2023). Tchaikovsky's Eugene Onegin will also be presented in the Bay Area premiere of Robert Carsen's lauded production September 25-October 14, 2022, marking a return to Russian repertoire for the first time in 14 years. Finally, the San Francisco Opera co-commission of El último sueño de Frida y Diego by Gabriela Lena Frank and Pulitzer Prize-winning playwright Nilo Cruz will receive its first performances at San Diego Opera before its local premiere at the War Memorial Opera House from June 13-30, 2023.
"Music's powerful language inspires us to better understand our world—and each other," said Kim, who made history as the first woman to serve as music director of a major American opera company following her appointment in 2021. "I'm deeply honored to be a part of the legacy built over the first 100 years of San Francisco Opera, and I look forward to engaging with our community in so many ways during this celebratory year." Kim will lead all performances of Antony and Cleopatra, Dialogues of the Carmelites, La Traviata, and Madame Butterfly, in addition to the Opening Night Concert, Opera in the Park, and the resident artist Adler Fellows concert. She will also be among the maestros in the pit for the 100th Anniversary Concert. San Francisco Opera's 2022-2023 season honors the company's first 100 years and kicks off an exciting new era under Kim's music directorship, along with a renewed dedication to growth and innovation. "Our centennial will honor the extraordinary people who shaped our first 100 years, and also be a stepping-off point into the incredible, creative possibilities that lie ahead," said Shilvock. "As we begin our second century, we want to be a place where our community feels that their stories are being told, where we are energizing new conceptions of the art form, and where we continue to create experiences so profound that they reverberate for a lifetime."