There are trips you reminisce about, then there are places that captivate your very being. Sojourn to the sunny island country for an experience that will also warm the heart.
While Fiji conjures images of stark white sand beaches, impossibly clear water, and coral reefs teeming with brilliant aquatic life, the tropical archipelago is more than just a picturesque destination for honeymooners. The mystical island country brims with rich culture, intriguing cuisine, and a heartwarming sense of community that extends far beyond simple hospitality. It's the ideal country for a soul-stirring vacation after two years of social distancing.
Despite its reputation as a faraway land, Fiji is blissfully accessible from San Francisco. Fiji Airways offers a direct flight from SFO to Nadi International Airport on Fiji's main island, Viti Levu. The 11-hour trip feels even shorter thanks to an extended siesta, courtesy of the fully reclining seats in its luxe business class cabin. As we descend into the lush verdure of Viti Levu, dawn illuminates the cabin, the sun just risen over the archipelago of more than 330 islands. Over the week, I'll discover three of Fiji's best resorts, curating experiences centered on Fiji's incredible culture, cuisine, and—most importantly—its people.
Turtle Island Resort
Our speedboat begins to slow as it approaches the Yasawas, a cluster of islands in northwest Fiji. Two boats suddenly appear—each with a Fijian warrior clad in a grass skirt, holding a war club, stationed on the bow. As part of Turtle Island's traditional warriors' welcome, they accompany us to the landing dock of the 500-acre, 14-villa private island. Stepping foot onto the dock, underneath which crystalline water gently ripples, I'm greeted with a cool towel for my brow, a fresh tropical juice dripping with condensation, and a chorus of angelic voices from Turtle Island's welcome choir. Met with enthusiastic greetings of bula!—more than just "hello," it's an infectiously exuberant phrase that translates as "life"—resort manager Bill Mualele welcomes me home to my new palm-fringed paradise.
I'm shown to my oceanfront bure—the Fijian word for a hut—which is anything but. The private villa boasts views of the beach out front, an outdoor shower and daybed, and jacuzzi planted into the floor of the very suite. Over the door is an oval of mahogany inlaid with my name, carved from the trees on the island. Each bure is assigned a private attendant—a bure mama—who handles every personal request. Meanwhile, the staff refers to themselves as "my Turtle Island family," addressing me personally as they sidle up with trays of fresh-squeezed soursop juice and the resort's rotating menu of delightful daily snacks. I'm inducted into the family upon arrival via a kava ceremony, the first of several on my trip, which showcases a tradition still routinely practiced by Fijians. Made from the ground root of a native pepper plant, kava is an earthy drink served in coconut shells. The ceremony follows a ritual that observes the social hierarchy, as Fijians do with their chief and elders, and signifies respect and unity between those participating.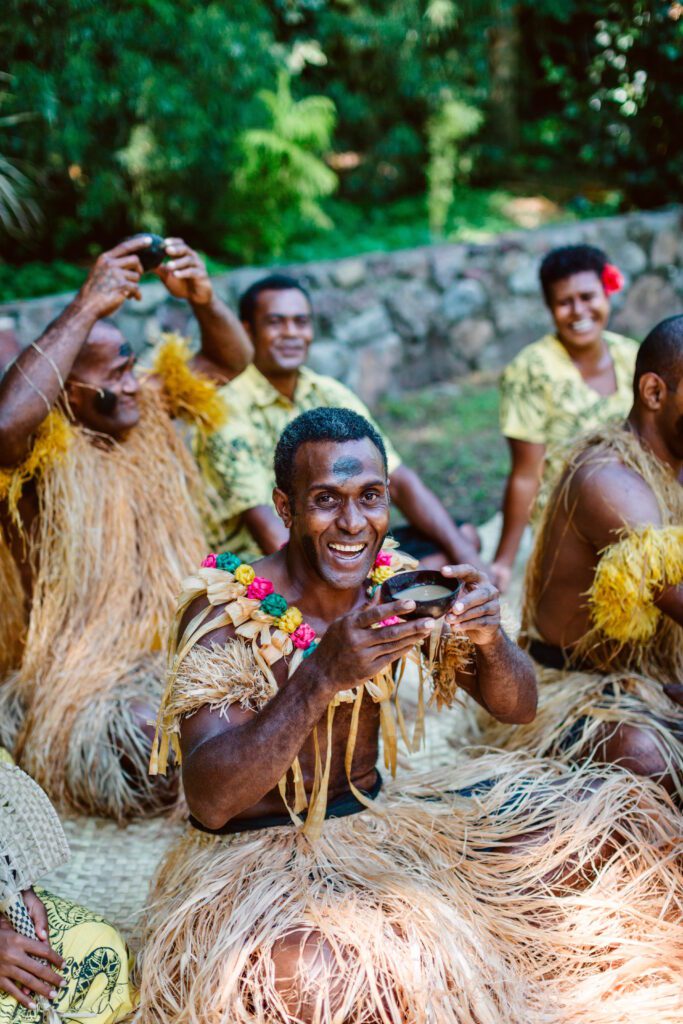 By the end of the week, I'm ready to become one with Turtle Island, much like its beloved founder did 40 years ago. Of course, the resort's fishing excursions, in-bure massages, and al fresco feasts—from mountaintop communal dinners to picnics on the island's 12 private beaches—certainly don't hurt. Richard Evanson's legacy lives on through his son who kept the majority of Turtle Island's workforce employed during the pandemic by championing initiatives to increase the island's already impressive self-sufficiency.
As we tour the island with Richard, Jr., I'm reminded of the cutting-edge regenerative farming practices and farm-to-table cuisine in Sonoma County. Turtle Island's crop is so bountiful that 80 percent of all food prepared on the island comes from its own gardens, livestock, and the surrounding ocean. Resident chef Beni Nasaumalumu can also conjure up nearly any type of cuisine: the island is bursting with eclectic produce such as okra and taro, curry leaves and fennel, soursop and papaya. If you're as spoiled as we Californians are with seasonally inspired cuisine, here it is—even on a remote island.
Turtle Island has an undeniable charm, a sentiment echoed by other couples on the island (a majority of whom are returning visitors). I soon find myself wondering how I'll ever sleep without the occasional thud of an errant mango falling gently onto the thatched roof of my bure. On the day of my departure, my Turtle Island family gathers once again to sing "Isa Lei," a traditional Fijian farewell song, and my bure mama fastens a garland of hibiscus and aromatic basil around my neck. "It's not moce—it's sote tale," Mama Wainise assures me with a kindly smile. In other words, it's not 'goodbye'—it's 'see you later.'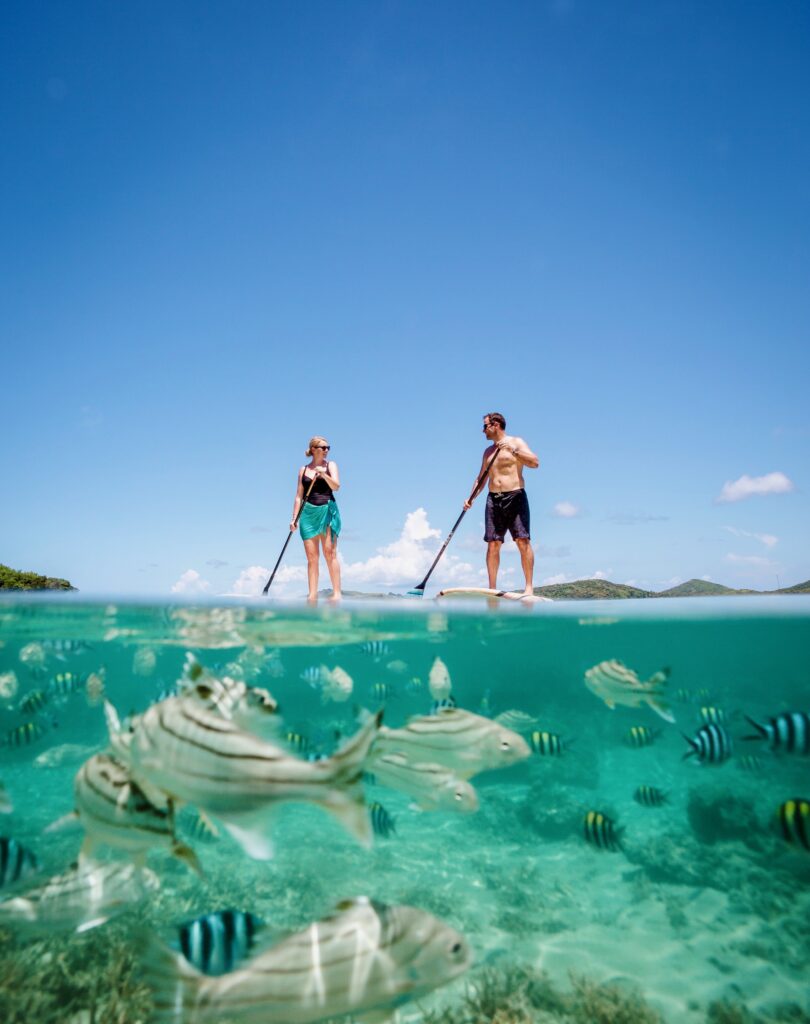 Wakaya Club & Spa
Deciphering my notes post-trip, I find one amusing phrase: "amazing spinach." It seems a bit absurd to describe it as such, and yet I vividly recall its otherworldly taste at the Wakaya Club & Spa. It's futile to adequately describe its inimitable, just-picked flavor—so fresh I was convinced it was harvested seconds before. Enhanced by miso, leek, truffle oil, and shaved Parmesan, it highlights my belief that the pinnacle of culinary genius is an ability to achieve perfection by simply letting a few exceptional ingredients shine. Wakaya's executive chef, Marielle Hajj, epitomizes this: her Lebanese and Mexican background, combined with international training and inspiration from Fijian cuisine, drives remarkable dishes that create synergy with ingredients harvested from the island and beyond. It's no wonder Wakaya prides itself on being one of the preeminent culinary destinations in the South Pacific.
Just a few hours earlier, our prop plane circles over the breathtaking, cerulean waters that surround the airstrip sandwiched between the island's lush rainforests. East of Viti Levu, we prepare to land on the 2,200-acre private isle, part of the Lomaiviti group of islands and the ultimate destination for those seeking comfort and seclusion. Wakaya's two private villas are the height of luxury, one boasting a 125-foot infinity edge pool and guest house with separate pool, while ten bures are accessed via a path that winds its way through towering palms and shrubs blooming with rosy hibiscus.
My oceanfront bure offers private access to a pristine beach—inconceivably quiet. My only companions are sea turtles, heads bobbing no more than 25 feet from shore. As one guest at Wakaya puts it, the beauty of staying on the exclusive island is that you can do anything you want, anytime you want. "Sega na leqa," she exclaims, the Fijian phrase for "no worries." I'm so accustomed to routine that it's almost paralyzing to choose between doing nothing at all—enjoying the natural soundtrack of lapping waves and chirping birds in my bure's oceanside hammock, for instance—or taking advantage of all that Wakaya has to offer—from guided morning hikes through the island's rainforests to exploring the untouched ocean on daily diving excursions.
While awaiting transport to Wakaya's beach house, I share a heartfelt chat about the secret of Fiji's appeal with Monika Pal, Wakaya's guest services manager. "If you try to do what everybody else is doing, it's not special," she says.
While many tropical destinations have become diluted by Western tastes and needless excess, Fiji is dedicated to carefully preserving its local culture. What's more, Fijians share their traditions proudly and authentically, encouraging guests to participate in local customs. Aside from warrior welcomes and kava ceremonies, there's also traditional Bobo massages, meke dance—which we get a spectacular glimpse of from VOU, Fiji's premier dance company—and much more.
Cultural enlightenment is not just an afterthought, but an integral part of the Fiji experience. Over lunch, another stunning meal from the mind of Chef Hajj made a reality by Wakaya's talented local team, resort manager Antonio Aja elaborates further. As we savor breadfruit chips and smoky baba ganoush, he explains the reason Fiji is a one-of-a-kind destination is also because of the Fijians themselves, exceedingly warm and genuinely caring because it's simply in their nature. "It's just who they are."
On my final morning, I tuck into cazuela oven-baked eggs with jocoque, mint, and green chili, another deceptively simple dish that blows me away—much like the experience at Wakaya has. Amazing spinach and cuisine aside, what makes Wakaya Club & Spa a veritable paradise is absolute immersion in the island's natural beauty while providing every conceivable comfort. Exceeding the expectations of even the most discerning traveler, it is the ne plus ultra of the islands for those seeking exceptional food, thrilling adventure, cultural enlightenment, or simply just some peace and quiet.
Nanuku Resort
Back on Viti Levu, kava bars and fruit stands selling heaps of pineapple pass by in a blur as we drive past lime green huts and bubblegum pink stilt houses. For those who don't want to stray from the main island—though I'd argue it's well worth it—resorts along the coastline offer equal parts luxury and convenience. One such resort is Nanuku, offering an owners' residence with a wraparound deck that features the rare combination of both sunrise and sunset vistas. At the resort's restaurant, Fijian cuisine is showcased in delightful dishes such as a trio of kokoda (Fijian ceviche) made with lobster, tuna, and crab and roro soup, a local delicacy made from coconut milk and taro leaves. Nanuku also offers family-friendly opportunities to immerse yourself in local culture, such as a Warrior Cooking Class, which demonstrates a traditional method for cooking prawns directly in fire by nestling them inside bamboo. Tours such as river safaris and railbike tours can also be found in abundance on Viti Levu.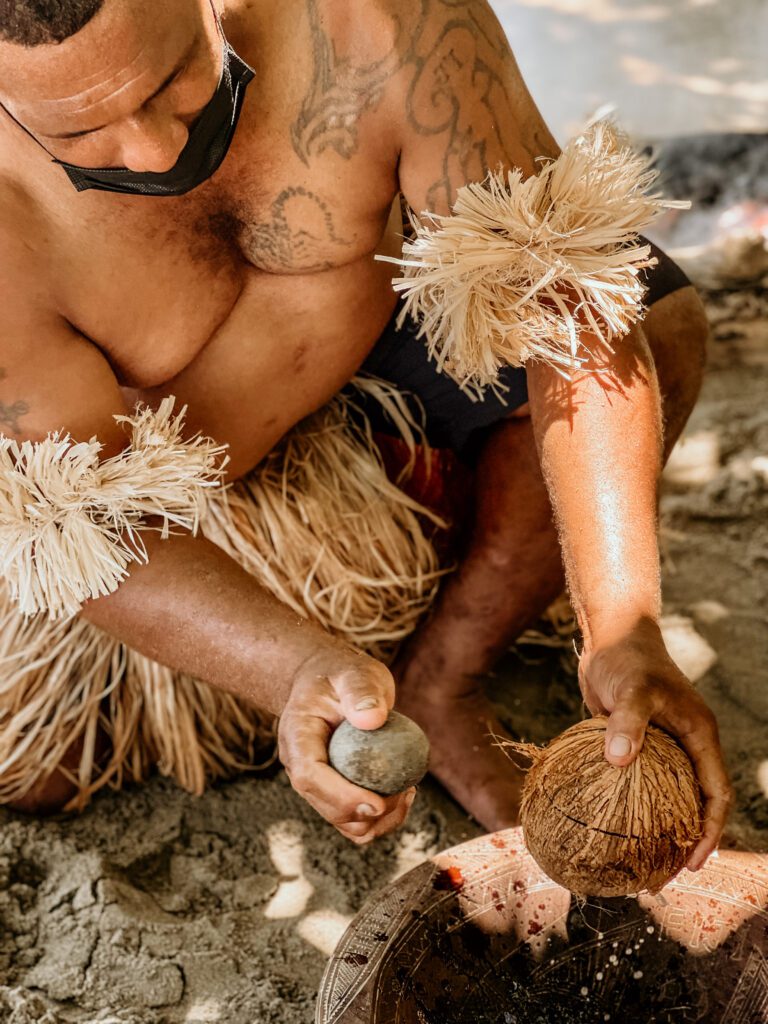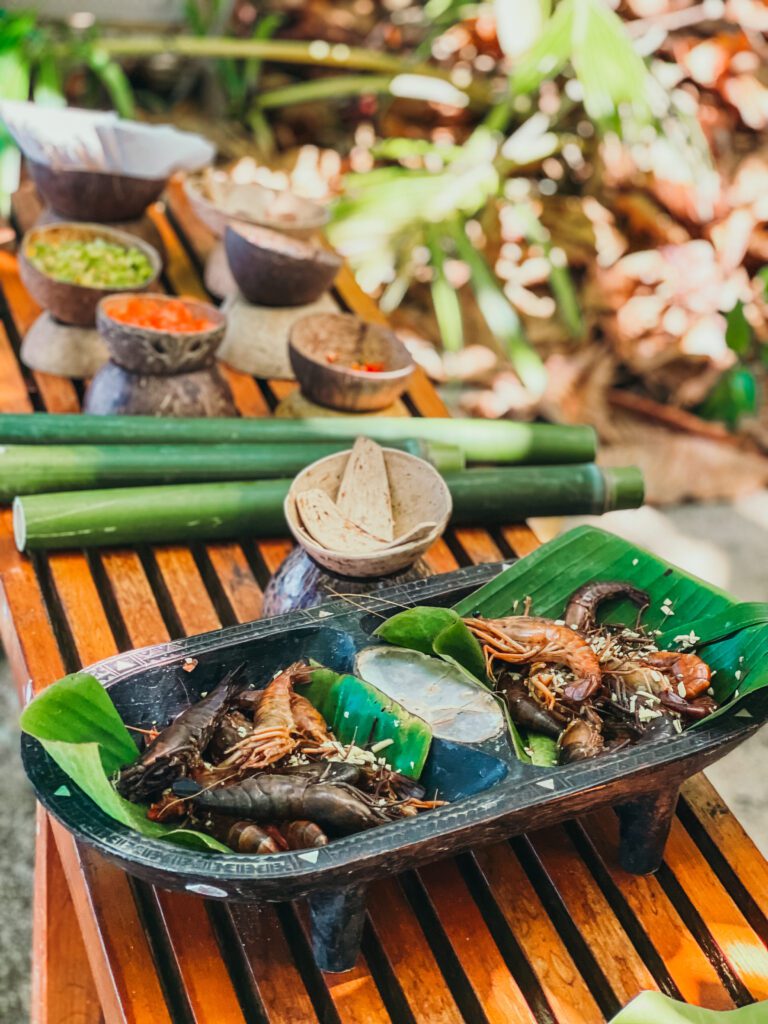 As we return to jet-setting after two years, it's an opportunity to reflect and return to our reasons for traveling. Personally, I travel for experiences in which time itself seems to freeze: where all there is is the here and the now and a profound appreciation for the moment. To close my eyes and feel my hair whipping gently on my cheeks as I sail through the azure waters of the South Pacific, the warmth of the sun spreading over my skin. To be awed by sea turtles in their natural habitat, suddenly gliding alongside me during a spontaneous snorkeling trip. To come to understand words in other languages that embody a feeling more than a meaning: bula!
From the innate hospitality of Fijians to the authenticity of their culture and the richness of their agriculture to the originality of their cuisine, Fiji is a destination that offers experiences that can't be bought, only found. Travel with intention and, in return, you'll be rewarded handsomely with moments of breathless wonder that remind you of this extraordinary earth, this extraordinary life.