A rare combination of small town charm with award-winning wine, cuisine, and luxury hospitality makes this city one you'll fall in love with time after time.
"Is this your first time in Healdsburg?" You'll inevitably be asked by a friendly server, sommelier, or shopkeeper in the charming city, located in the heart of Sonoma County. Though I've visited several times now, somehow it always feels like the first. It's a place where you return to revisit favorite restaurants, hotels, and wineries, but also to explore the exponentially growing list of new ventures.
How do I love thee? Let me count the ways. Healdsburg honors its past by continuously innovating in ways that incorporate its history. It's novel, yet familiar. Couples stroll alongside ivy-covered walls and under wisteria-draped terraces, living in harmony alongside cutting-edge, intentional design. Even familiar faces are always trying something fresh. It all ties together here in Healdsburg, a place that's not only exciting to foodies and oenophiles, but also Bay Area locals seeking a "staycation" that still offers the novelty of a trip abroad. Healdsburg is the best of food, wine, and community. It's innovation, made even more appreciable next to the preservation of the city's history. It's the charm and familiarity of a small town that's also ever-evolving. What's not to love?
Ahead is a first look at a former Victorian estate that received a lavish makeover while retaining its historic charm—and a few gorgeous relics—from a 141-year-long past. There's a collective of world class wineries seeking to redefine the tasting experience by putting the focus on community and camaraderie. Next, a restaurant that's securing Healdsburg's foothold as a world class culinary destination. Finally, we take a look into a trio of local hotels driven by art and sustainability.
The Madrona
The Madrona is a stunning new boutique hotel and restaurant just on the other side of Highway 101 from downtown Healdsburg. Previously known as Madrona Manor, the new owners have kept what made the institution special—Michelin-starred chef Jesse Mallgren, perhaps best of all—while breathing life into the historic property with design that celebrates sheer beauty by acclaimed interior designer Jay Jeffers. Perfectly melding the old and the new, the gorgeously renovated property has been revamped with the utmost detail to attention—ideal for a romantic getaway or even celebrating the start of a lifelong commitment (it's already been booked for weddings within the first couple months of opening).
Energy buzzes in the air ahead of its mid-April opening. Strolling through the wooden double doors of the mansion, the property's original structure built in 1881, guests will be transported to another era. The Madrona combines the elegance of Britain's Aesthetic Movement with Southern charm and hospitality, apparent from the moment visitors make their way up to The Madrona's grand wraparound porch. High-touch service will set the tone for a visit that inspires wonder and curiosity the moment guests drive through its wrought iron gates. Furniture original to the estate has been lovingly refurbished, restored, and reupholstered. Little surprises—such as the etched doorknobs and intricate door hinges—have been kept, begging you to notice them, inspiring unexpected moments of beauty. Other curios sourced from the famed Round Top Antiques Fair create a curated feel, much like a special collection of eclectic pieces one has amassed from exotic travels.
Wander through the 8-acre property, replete with treasures such as a garden bearing pears, persimmons, and more (used in The Madrona's excellent bar and restaurant program) and a knockout front parlor that should almost be roped off for its impeccable decoration—but, of course, The Madrona wants you to explore. Partner Cory Schisler hopes the property will continue to evolve even after guests first step foot on the finished property. He's interested in seeing where guests will gravitate—whether the stunning outdoor Grecian pool or the enchanting terrace that overlooks the expansive lawn. On The Madrona's centrally located citrus grove, Schisler envisions easy Sunday mornings, where a bartender will be hidden amid the trees, at the ready with a bottle of champagne and ripe oranges for Sonoma County's freshest mimosas. Another structure might become a Japanese whisky bar pop-up for a few months before transforming into a French champagne bar.
In this wonderland of surprises, guests will be inspired to use their imagination, much like its new owners have. Two dozen guest rooms have been designed with care, including the luxurious Owner's Loft, which features an honor bar and other touches that makes it Jeffers' personal favorite. It's the only suite that can be reserved specifically—that's how you know it's special. Several of the rooms in the mansion feature patios with views of Healdsburg's stunning vistas, and all were designed with unique touches that make each one distinct—no two are alike. Will you request a previous suite you've anointed a favorite, or venture to discover another suite—much like the way I feel torn between the old and the new whenever I visit Healdsburg? If you've ever wanted to feel as though you're living in a Wes Anderson film, this is the place to find it: a destination for fascination, a little piece of heaven tucked in the hills of Dry Creek Valley.
Bacchus Landing
"Mi casa es su casa." This was the atmosphere Monica and Francisco Lopez's mother, Dina, wanted to emulate when her family founded Bacchus Landing. Since opening last April, the intimate tasting destination has expanded to seven boutique wineries and tasting rooms that showcase a diverse range of grape varietals and winemaking styles. The one thing they all have in common? A passion for high quality wines and belief that its enjoyment should be shared far and wide. Just a few minutes from the heart of Healdsburg is this 3-acre retreat offering open-air tasting rooms surrounding an outdoor piazza with olive trees—transporting visitors to the Mediterranean the instant they walk through its grand stone arch entrance. Its concept couldn't make more sense: rather than shuttling between wineries, why not curate a collection of world class wines people can access in one place?
Each winery tells the stories of the incredible partnerships that led to their inception: such as the Lopez family's own label, Aldina Vineyards, named after parents Al and Dina as Monica and Francisco's way of honoring the values of family and hard work instilled in them from a young age. It shares a tasting room with 13th & Third, a boutique winery from a husband-and-wife team named after the corner in New York City where they first met, and Dot Wine, born when artist and gardener Shawn Phillips dared his wife and viticulturist Lise Asimont to create her own Pinot Noir. Next door, Smith Story Wine Cellars is operated by another inspiring couple, Alison and Eric Story—though many of the winery's fans came courtesy of their Instagram-famous goldendoodle, Lord Sandwich. More stories await at Montagne Russe, a tasting salon decked out with mid-century modern furniture and a vinyl record collection, and The Setting, a label created by three friends and driven by relationships spanning decades from Napa to Sonoma County. Across the way is AldenAlli, the first tasting room for the collaboration between legendary Pinot Noir vintner Dan Kosta and the Lagasse family restaurateurs.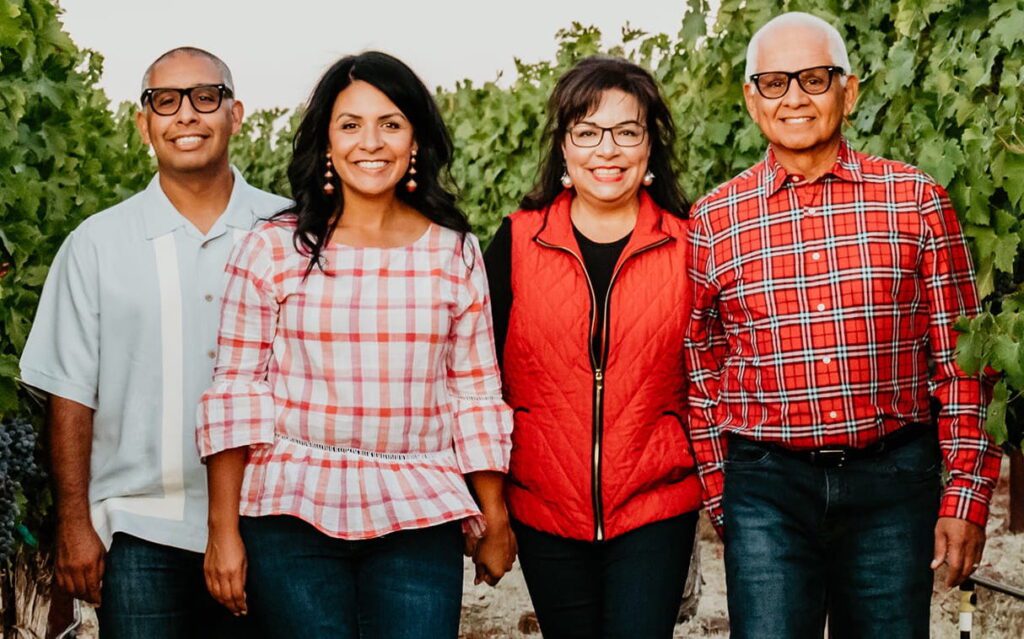 "There are amazing wineries everywhere," says Monica, whose family wanted to highlight the gems hidden all over wine country while also creating a space where couples, friends, and families could gather. Bacchus Landing hosts weekly "Sip & Savor Sunday" food truck events in "Frank's Place," named after Francisco, who came up with the idea for a communal picnic space with bocce ball courts and gardens. An escape for locals and visitors alike, Bacchus Landing combines classic Mediterranean architecture and Old World charm for a one-stop shop of intimate tasting experiences that will create lasting memories—and perhaps even new partnerships.
The Matheson
When chef Dustin Valette leaped at the opportunity to purchase the building on 106 Matheson Street, he received an outpouring of support for his vision to turn it into the dining destination that now overlooks Healdsburg's town square. Though its opening was relatively recent—September of 2021—and its design modern, it seems almost strange to think that The Matheson hasn't always existed here. Abuzz with activity, it seems fated to be a spot for locals and visitors to gather, celebrate, and simply relish great food with great company. A building that began as a bakery opened by Chef Valette's great-grandfather, The Matheson was simply the 110-year-old site's natural conclusion.
Dishes are inspired by the micro-seasonality of Healdsburg's ingredients and aims to showcase local farms and producers. A kona kampachi ceviche is made with avocado, kohlrabi, and yuzu kosho—the citrusy and peppery flavor a perfect complement to the nutty fish. Meanwhile the confit egg yolk—cooked at exactly 63 degrees Fahrenheit for a just-airy-enough and just-dense-enough consistency—will leave you speechless. If you're a diner who likes sharing plates, this is one you'll hesitate to part with, an exquisite dish you're compelled to sit with and savor just a little while longer. It exemplifies the finest balance of not only flavors, but also textures: the brininess of Osetra caviar cuts through the ultra-creamy yolk, sitting on puffed rice and a vegetarian spin on "XO" sauce that allows the meaty, savory quality of shiitake mushrooms to shine. It's this treatment of ingredients that makes it clear Chef Valette has the utmost appreciation for these ingredients and their individual characters, tinkering with each to achieve their greatest potential while showcasing multiple flavors in harmony.
A potato and green garlic soup is rich and fresh all at once, honoring potato soup's reputation as a comforting dish, yet made distinctly Californian by the incorporation of the freshest herbs. It personifies the change of the seasons, winter turning into spring, as well as a place: Healdsburg in the springtime. The purity of the potato's earthy flavor is distilled into a silky broth, highlighted by wild nettles, smoked trout roe, and crème fraîche. The mains are just as fulfilling, from an unbelievably tender wagyu beef short rib that melts in your mouth to aged Sonoma duck, richly flavored and contrasting with bright satsuma, Tokyo turnips, and young broccoli. It's a place you must visit with a partner in tow, so you'll have a chance to sample the variety of plates inspired by Healdsburg's micro-seasons—the couple seated next to us raves to us about their meal. They aren't celebrating a birthday or an anniversary, but it's still a special occasion here at The Matheson—where all can eat, drink, and be merry.
Hotel Healdsburg & Harmon Guest House
According to Piazza Hospitality President Circe Sher, guests at the company's hotels—h2 Hotel, Harmon Guest House, and Hotel Healdsburg—have been booking stays of four days on average, an increase of an entire day from before the pandemic. The eco-friendly hotels have contributed greatly to Healdsburg's walkability, and their designs couldn't be more thoughtful. h2 Hotel's living roof is as practical as it is picturesque, while Hotel Healdsburg's 60-foot swimming pool, hidden just off Healdsburg's main street, is an oasis tucked among blossoming olive and fig trees. Driven by values of beauty and sustainability, visitors can explore the city through the hotels' programs that spotlight local artists and the outdoors.
Hotel Healdsburg prides itself on authentic experiences that are tuned to the seasons, such as its Wildflower Walks. The private tour with local trail guide Karen Austin to discover Sonoma Valley's stunning blooms—including blue iris, orange poppies, and yellow buttercups—finishes with a gourmet picnic from the hotel's acclaimed restaurant, Dry Creek Kitchen. In April, the hotel opened its "outdoor living room" with live music, and in May, it will host wine seminars as part of the city's first-ever Food & Wine Experience, taking place May 20-22, 2022, a perfect opportunity to explore the city for the first, fifth, or hundredth time.
Just down the street, Harmon Guest House infuses art into the guest experience with a unique collection of temporary pieces by local artists that visitors can appreciate as they wander the hallways of the LEED Gold-certified hotel. Quirky and engaging art from emerging California artists, commissioned especially for the hotel, highlights novelty in the everyday. Its latest commission will be unveiled in May, adorning the canvas of Harmon's stairways with native Healdsburgian artist Jake Messing's bold and arresting designs influenced by the simple yet profound beauty of nature. Whether your aim is a culturally enlightening trip, a deep dive into nature, or an elegant poolside escape, there's a home away from home for you in Healdsburg.
When global travel ceased during the pandemic, a trend that emerged was digging deeper into our local surroundings, many of which deserve praise equal to international destinations. We often hail exotic and faraway places but have forgotten that travelers the world over have made California the most visited state in the United States. So, perhaps there's more than meets the eye in our very own back yard. This is Healdsburg: a city where a transformed estate seeks to transform you in return, and a world class tasting destination will insist you make yourself at home with restaurants where you can taste the spring equinox, as well as hotels that are alive with the sound of not only music, but also art and nature. It's a place that exists as a dichotomy of familiar favorites and new adventures that await, and one you'll always wish you had just one more day to explore.
Executive Producer: Teresa Rodriguez
Assistant Producer: Krisha Chhaganlal
Photographer: Vincent Gotti
Lighting Assistant: Danny Villan
Hair and Makeup: Ozzie Mendoza
Model: Charleston Pierce and Cheriann Glab with Stars Model Management
Model manager: Gioi Tran
Wardrobe Louis Vuitton's Pre-Fall Women's Ready to Wear