Dr. Karen Horton specializes in cosmetic and reconstructive surgery for women. She is well-known for providing beautiful, long-lasting, and natural- looking results at her private practice in Pacific Heights, San Francisco. Dr. Horton has also been a plastic surgery patient herself, and we are excited to announce that she will be regularly contributing articles to our website.
Topics will include dispelling plastic surgery myths, trendy treatments, and products and services that produce the best results, including her personal, go-to treatments for a youthful appearance. Recently, Dr. Horton was kind enough to sit down with us and chat about her life, career, top cosmetic treatments, and giving back to the community.
HL: Let's start with your charity involvement, Dr. Horton. What causes are you passionate about?
KH: I have always given back to community events and women- centered charities. One example is the Sparkle Foundation. My dear friend, Samantha Tradelius, inspired me to get involved to help women in need in the Bay Area, and now throughout California.
I have also donated my time, expertise, and passion to breast reconstruction awareness events and education about options available to women facing breast cancer.
In 2012, I was grateful to host the first-ever Breast Reconstruction Awareness (BRA) Day in San Francisco, and I devoted a portion of my practice proceeds to breast cancer reconstruction for women who cannot afford to have reconstructive surgery.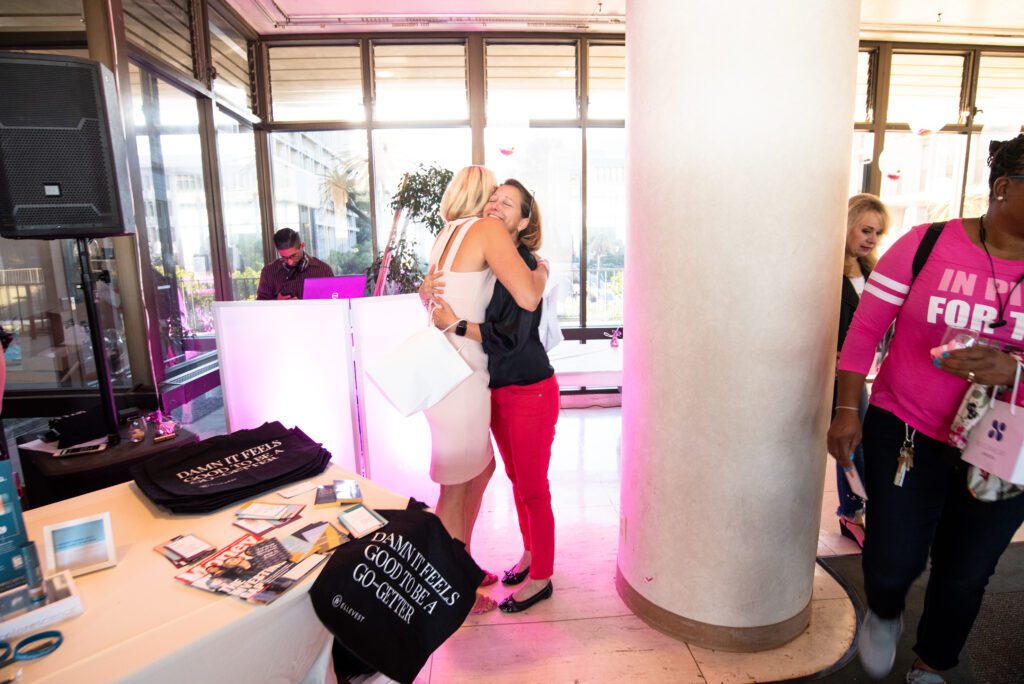 HL: We appreciate how open you are about your personal journey with plastic surgery. Tell us more about that and the cosmetic trends you're seeing.
KH: Bigger isn't always better. I'm excited that people want to look NATURAL, even though they're "having work done." Natural is my personal aesthetic. In fact, I was a surgical patient myself a few years ago! My goal was to have proportional, natural- looking results that wouldn't interfere with daily exercise and would not be obvious to others. I documented my breast augmentation journey on my blog (drkarenhorton.com/blog) in a 10-plus-part series. I share it all, from how I chose my surgeon, preparing for surgery, and recovery to talking to my 11-year-old twin daughters about my decision, to getting back to exercise, body image changes, and my final results. In addition to my blog, I also share my personal favorite cosmetic treatments on Instagram (@drkarenhorton). It's a fun community with before and after photos, top recommendations, reviews, and so much more.
HL: What are popular, non-surgical procedures at the moment?
KH: It seems like everyone is getting "tweakments" such as "baby Botox" in young women and men, strategically placed fillers that rejuvenate the face but don't cause distortion or puffiness, and truly "lunchtime" IPL photofacials to correct pigmentation changes. Non-surgical fat reduction continues to be popular, especially in the winter as patients are looking to prep for spring travel. However, there's no one-size-fits-all approach to any aspect of plastic surgery. Each patient has their own unique aesthetic, and their goals become my goals. I get to know patients head to toe, inside and out, to ensure I understand in detail their aesthetic goals for their procedures and so that I can plan the strategies to help them best achieve their ideal outcomes.

HL: Your medical credentials and achievements are impressive. Share your pathway to plastic surgery.
KH: Originally from Toronto, I trained in both the United States and Canada, and completed a Bachelor of Science with honors and Master of Science in molecular biology/cancer research in Kingston, Ontario before embarking on my medical career. After graduating medical school at the University of Toronto, I trained in plastic surgery for five years, becoming a fellow of the Royal College of Physicians and Surgeons of Canada (FRCSC). I moved to the Bay Area in 2005 to complete my final fellowship year in reconstructive microsurgery in San Francisco. I'm a designated fellow of the American College of Surgeons (FACS) and diplomat of the American Board of Plastic Surgery (ABPS), also serving as a ABPS examination question writer and reviewer for aesthetic surgery.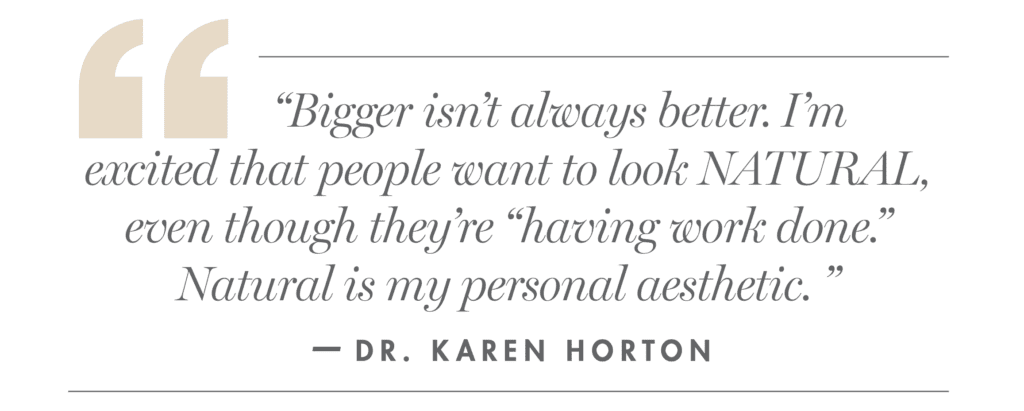 HL: You have a passion for sharing the latest tips and recommendations. Has education always been a part of your mission as a plastic surgeon?
KH: Education is key in all aspects of life, especially plastic surgery! Medicine and surgery truly encompass life-long learning. I learn something new every single day—from my patients' journeys, at professional conferences where I also contribute to education via lectures on having a responsible social media presence, aesthetic and reconstructive surgery, and from challenging surgeries where I use my creativity, skills, and experience to create the best possible results.
I help to educate medical students and plastic surgery residents and fellows in training, and I participate in STEM events (science, technology, engineering and math) for girls in Marin County. Giving back throughout your career is so important. You never know whom YOU might be influencing or acting as a mentor for.
HL: Do you enjoy living in the Bay Area?
KH: I love it! After living here for just two months for my fellowship year in 2005, I knew I had found home. I can exercise outdoors year-round, drive three hours to ski on the weekends, visit wine country or the ocean, and enjoy the endless cultural experiences all around me. I really feel like I'm living the American Dream.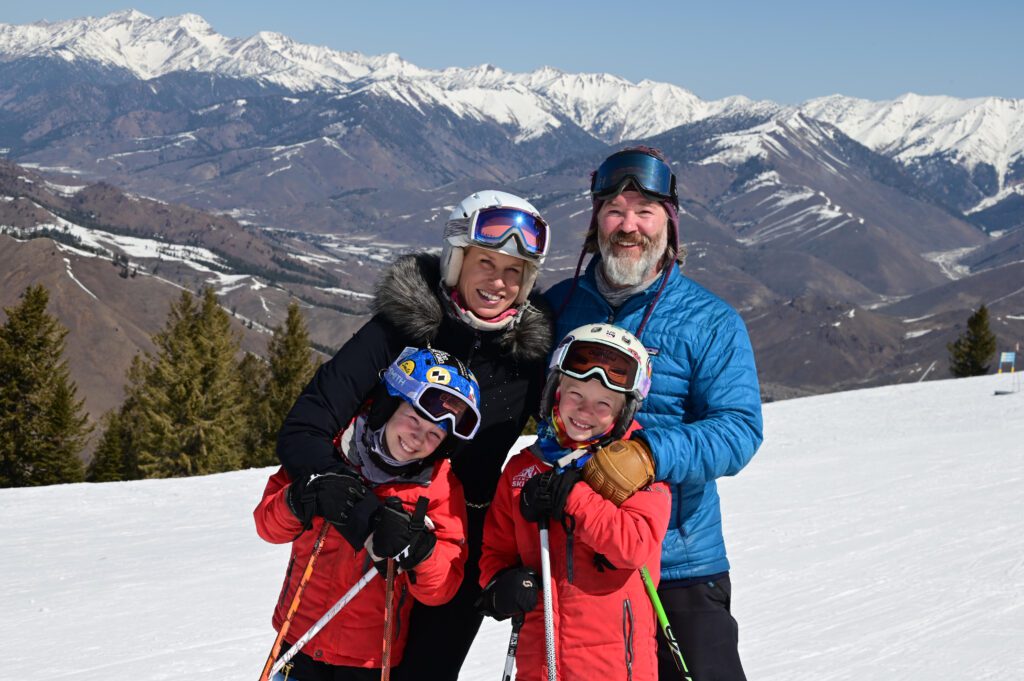 FOLLOW DR. HORTON:
Website: www.drkarenhorton.com
Instagram:  @drkarenhorton  @drkarenhortonbeforeandafters 
Facebook: drkarenhorton