As second-generation farmer/owner of Northern California's beloved K&J Orchards, Aomboon Deasy has long supplied some of the nation's best restaurants (i.e. The French Laundry and Per Se) with bounty from her farm. One of her favorite clients was Homestead, the warm and welcoming Piedmont Ave. eatery where owners Fred and Elizabeth Stassen utilized Deasy's stone fruits in their delectable offerings. When the Stassen's decided to sell Homestead, they approached Deasy. Would she be interested in buying their space?
The idea of running her own restaurant, featuring true farm-to-table cuisine with ingredients from her own orchards, was appealing. Within the Julia Morgan-designed building, she refreshed the interior space with a rich blue color scheme and she polished the wood-burning grill's copper venting to a high shine. She added a butcher block table with counter-height seating, and large scale black and white photos of K&J Orchards. She named it Pomet, meaning 'orchard' in Roman terms, in homage to her pomologist father who, with Deasy's mother, founded K&J in 1982. And then she assembled her team.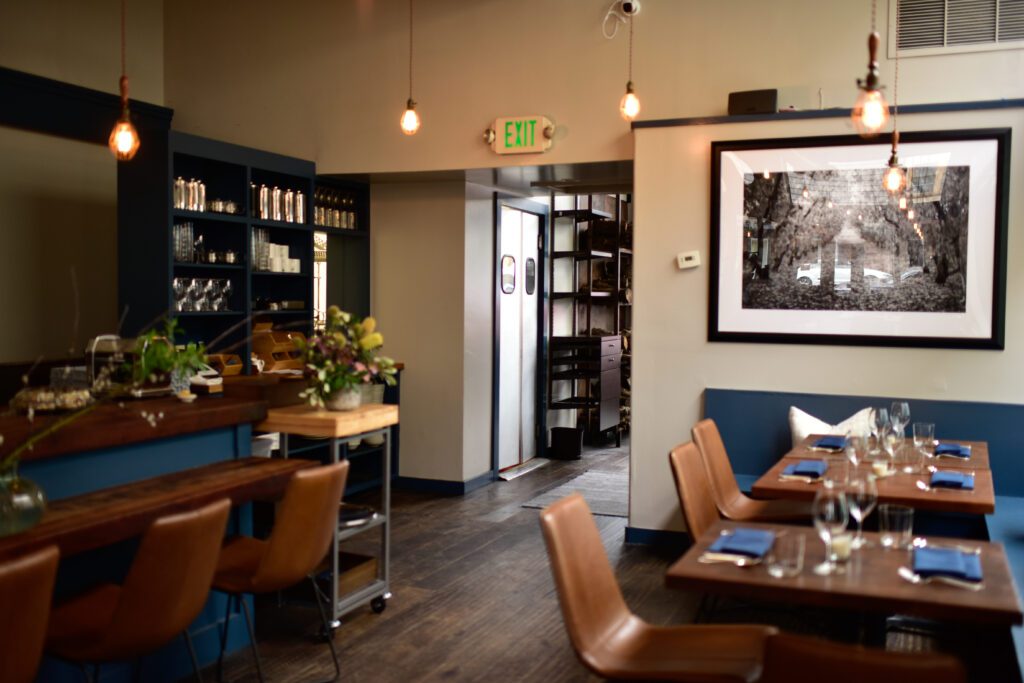 Deasy immediately called on good friends Alan Hsu and Paul Einbund, whom she has known for years, having sold produce to their restaurants. Chef Hsu began his career at Chef Corey Lee's three-Michelin-starred restaurant Benu, where he spent five years and worked his way to sous chef. Most recently, he was served as chef and culinary director at Sagra Farms at Stemple Creek Ranch, a startup focused on sustainable agriculture and regenerative practices. Consulting Sommelier Paul Einbund spent time as the beverage director at Frances and was a partner at the Michelin-starred Coi, both in San Francisco.
At Pomet, Hsu creates a California seasonal à la carte menu using different flavor profiles, layers, and textures. He lets the product and the season dictate the food and the dishes. His menu features high-quality ingredients, including dishes such as the Shin Li Salad with bitter greens, kohlrabi, pomegranate, and roasted pecans, Aged Bodega Rockfish Crudo with fermented pepper, radish, pickled chilies, and purple sesame leaf, Salt and Pepper Wolf Ranch Quail with pickles, Stemple Creek Ranch Short Rib with brassicas, fried garlic, tallow, charred lemon vin, and so much more. Even a simple Scallion and Sesame Seed Roll is sublime. This is Insta-worthy cuisine that photographs almost as beautifully as it tastes. On the sweet side, the bold orange flavor of a Satsuma creamsicle pie transports, and the rich, peanut butter, cocoa nib miso cake is wholly original.
On the beverage side, Einbund compiles an approachable beverage program that features local and regional wines. Begin your meal by reading his whimsical wine descriptions – friendly little notes that set a nice tone for the entire dining experience. Example: Of the 2020 Janvier Chenin Blanc Jasnieres Loire France he says, "When we did our menu tasting we were all delighted to drink this wine with almost every dish we tasted!  A no brainer by the glass; it's soft and rich and tropical and…perfect?" Oui, oui.
Coming in late Spring 2022, Pomet will open a provisions part of the restaurant, serving various artisanal items from canned jams and pickles to preserves and cheese from Adante Dairy. 
Pomet: 4209 Piedmont Ave, Oakland, CA. Open Wednesday to Sunday, 5:00 pm – 9:00 pm.