Luxury travel for families in the "California of Europe"
For those of us with children, luxury travel becomes a very different proposition than what it was when we were dependent-free. Finding a balance between adult interests and those of your kids can be a challenge during travels—and not everyone gets it right. Now that we are carefully beginning to return to booking travel after a hiatus, it's more important than ever to find destinations that work well for families.
Portugal's Martinhal Resorts gets it right. Martinhal is a collection of award-winning resorts and hotels in some of Portugal's most breathtaking settings, specializing in high-end luxury accommodations and experiences for the entire family.
Portugal has steadily been trending as a top European hot spot with good reason. The self-proclaimed "California of Europe" has quite a list to offer: mild, glorious weather year-round; pristine beaches; vineyards and beautiful countryside; stunning architecture; a cosmopolitan capital; warm citizens; delicious cuisine; and a complex, rich history. Portugal also has a reputation for being very family-oriented, a natural home for the Martinhal concept.
Martinhal was founded by husband-and-wife team Chitra and Roman Stern, entrepreneurs, hotel and real estate developers, and parents to four children. As an international couple having lived in and traveled throughout many countries in the world, including Singapore, India, the UK, Switzerland, and Portugal where they now live, the Sterns experienced firsthand the gaps in service and amenities at luxury hotels and destinations for parents traveling with children.
They turned their observations into inspiration and action, creating their first Martinhal property in Sagres, a stunning 5-star resort set within a natural park on the beach in the Algarve coastal region of Portugal. This property provided the ethos, programming, and design templates for three additional hotels and resorts, all thoughtfully planned with families in mind. Cross-resort amenities include beautiful, spacious living spaces for families (from private villas to suites and apartments), children's clubs for different ages, a supportive baby concierge service, babysitting, couples-focused activities, spas, restaurants with delicious menu choices for both children and adults, and plenty of family-friendly activities. With the pandemic in mind, all Martinhal resorts ensure that local health guidelines and the Portuguese Tourism Board's stringent requirements for the post-lockdown holidays receive the Clean & Safe stamp.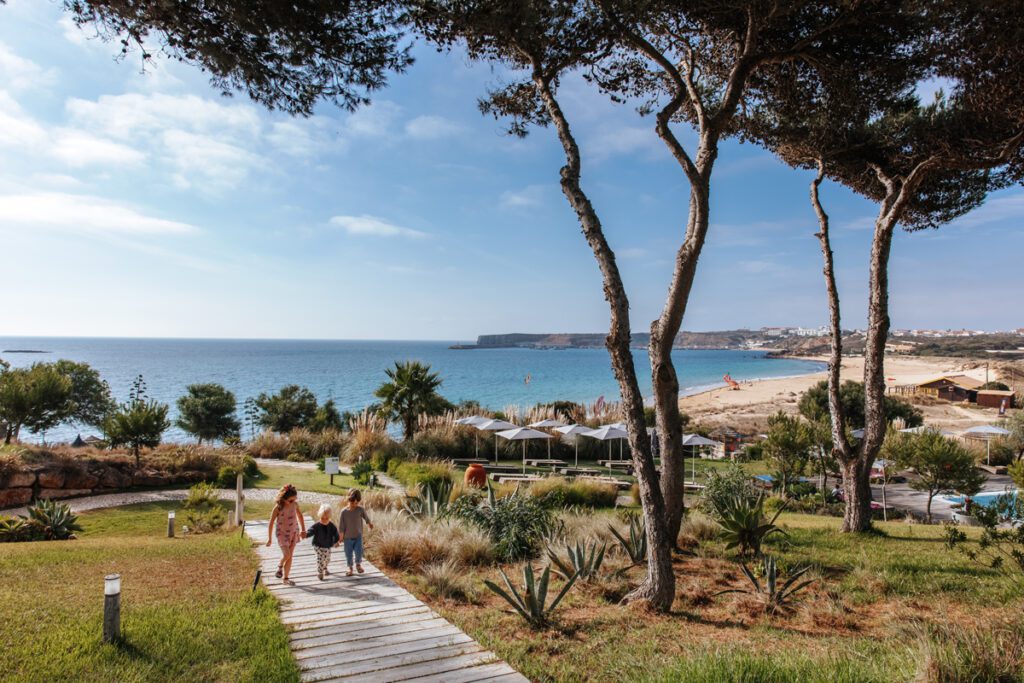 "Our collection of family hotels and resorts, located in four of the most beautiful areas of Portugal, remains a popular choice for families who want to get away, spend quality time together, and create wonderful memories in a luxury setting." says Chitra Stern, co-founder, Martinhal Resorts & Hotels. "We aim to make parents' lives that little bit easier by providing a range of facilities that offer comfort, relaxation, fun, and entertainment."
Although there are common elements to the Martinhal resorts and experiences, each property offers special features based on the location, whether on or near the lush coast or in the bustling capital of Lisbon. For our own recent family trip, we chose three properties to experience and highlight: Martinhal Chiado in Lisbon; Martinhal Cascais just outside of Lisbon; and Martinhal Sagres on the Algarve.
Photos, Martinhal Resorts and Visit Portugal
The Best of Lisbon: Martinhal Chiado
Kicking off our Martinhal experience in the capital was a fantastic introduction. Martinhal Chiado is a unique combination of boutique family hotel and stylish, luxury-serviced apartment living. There are 37 beautifully appointed apartments, ranging from studios to one and two bedrooms each, with their own kitchens and living rooms. Each apartment is equipped with washers/dryers, dishwashers, and internet and features helpful 24/7 reception. Our 1-bedroom with a large living room and dining area, complete with bunk beds, was perfect for our family of three.
Although Martinhal Chiado does not have the outdoor amenities of its coastal resorts, there is a kid's club supervised by dedicated staff (and open until 10 p.m.), complete with a climbing wall and a range of organized activities. An onsite cafe, M Bar, offers breakfast, snacks, and light meals daily. The restored 18th century building is tucked onto a quiet street in one of Lisbon's most elegant neighborhoods near the popular Bairro Alto and filled with boutiques, cafés, wine bars, and restaurants.
TIP: Leave the car: you don't need one. Martinhal Chiado is centrally located, and Lisbon is an ideal city for exploring on foot, with hills and a new ferry building reminiscent of San Francisco! The city is also well-served by an excellent public transport system, and taxis and Uber transport are readily available. Be sure to jump on the famous yellow number 28 trolley, also a slice of San Francisco. For shopping, don't miss the Rua do Carmo, the uphill shopping street that runs from Rossio (Baixa) to Rua Garrett (Chiado). In addition to shops, this street also offers cafés and restaurants and a famous ice cream shop, Santini Chiado. Sights not to miss with the family include the Oceanario de Lisboa, one of Europe's largest aquariums, and the Mosteiro dos Jerónimos and the Torre de Belem, both UNESCO World Heritage sites. Visit Sintra by train, just 40 minutes out of the city, and its glorious Palácio Nacional de Sintra, the fairytale Palácio de Pena, and the ancient Castelo dos Mouros, also a UNESCO World Heritage cultural landscape. For foodies, there are several wonderful wine bars and restaurants within blocks of Martinhal Chiado, all family-friendly and fabulous. Insider intel: like many Europeans, the Portuguese typically eat dinner on the later side, traditionally around 9 p.m., though many restaurants open after 7 p.m.
Getting there: TAP Air Portugal, the Portuguese airline, offers direct flights to Lisbon International Airport from six U.S. cities, including San Francisco. We found the service gracious, efficient and incredibly helpful. Our flights into and out of Lisbon were seamless and comfortable!
Between City & Coast: Martinhal Cascais
The stunning, 5-star Martinhal Cascais is situated near the coastal resort towns of Cascais, Estoril, and Sintra. Although the region is technically part of Lisbon, it feels like a world away. Set between two championship golf courses, Quinta da Marinha and Oitavos, the landscape is lush and tropical. A range of boutique suites (84) and villas with private terraces and balconies offers guests ample accommodation options for their families. The resort features two restaurants; MBAR, the family breakfast area; one indoor and two outdoor pools; Finisterra Spa; and a vast kid's club (nearly 8,000 sq. ft.), complete with a soccer pitch, playground, clubhouse and café, and pool, all supervised by dedicated staff.
Designed by a renowned, local architect, the resort is light-filled and full of intimate, comfortable corners with views to the beautifully designed native gardens and pools. Pool tables, reading nooks, and game corners create warm and welcoming areas for family entertainment. The spacious guest rooms are thoughtfully laid out with families and privacy in mind, including sliding walls which easily close to create private spaces and bunk beds in some suites for smaller children. For couples with infants looking for seamless vacations with baby, Martinhal Cascais (and Sagres) is offering special baby's first holiday" packages and services through March 2023, complete with baby welcome pack, complete with baby gift and supplies; qualified baby care; first swim experience for baby and parents; and scheduled pampering and quiet time for parents.
With its proximity to beaches and crystal-clear waters, the resort offers a broad range of activities and amenities. The family concierge will become your best resource, helping you to book bicycles to explore the many miles of biking trails along the coast, time at the golf courses, and even tickets to an important soccer match back in Lisbon. The service is warm and amazingly helpful.
TIP: The local cuisine is delicious! Cascais is a famous fishing village, and the local fresh fish and shellfish are fabulous! Have the concierge help you book a table at O Pescador, an absolutely delicious seafood restaurant or one of many other restaurants.
Getting there: Fly into Lisbon International Airport and secure pick-up directly through the hotel or rent a car at the airport.
Photos, Martinhal Resorts
A Beach Paradise: Martinhal Sagres
Martinhal Sagres was the very first resort built by the Sterns over 10 years ago. While it has many of the features of the other properties, there are so many unique qualities here. Importantly, the resort is nestled within a protected natural park directly on the beach. Led by a sustainability ethos, the Sterns were very careful during the design of Martinhal Sagres to build conscientiously, working around existing plant and animal life and bringing in only native plants for mindful landscape design. The result is a terrain that feels completely in harmony. Nearly every angle of the resort provides sweeping views of the ocean and the dramatic cliffs of the Algarve.
Martinhal Sagres offers a range of eight different accommodation options: hotel suites in the main lobby building; 2-level apartment/condo-style spaces with kitchen and full amenities; and, several types of luxury villas and houses to accommodate larger families and groups up to 10, many with their own pools. The resort offers a large outdoor kid's club and play areas, its own store, bike rentals, indoor and outdoor pools, several restaurants, and a spa for parents in need of pampering.
With its location on the Algarve, Sagres is a beloved destination for water sports, offering many opportunities to enjoy the ocean, from surfing, windsurfing, and kayak lessons to dolphin watching. The weather is mild and sunny year-round.
TIP: Rent bicycles and ride into the town of Sagres and beyond to the Fortaleza de Sagres, the fort said to have been built in the 15th century. It has such incredible history and views far out into the Atlantic. In ancient times, Sagres was thought to have been at the end of the world, as the southwestern-most point of continental Europe. Looking out into the vast Atlantic, it's easy to understand why. It's magical!
Getting there: Fly into Lisbon or nearby Faro Airport (FAO) and rent a car.
With families and close groups eager to gather again, Martinal is offering a range of special packages and extended stay opportunities perfect for multi-generational groups booking their European getaway this summer. You can find complete background and information about the resort and the latest offers for each of the resorts online.