When we think of France, it's safe to say that Paris is the city that comes first to mind for most. Perhaps the Côte d'Azur in the south or Champagne or Bordeaux, depending on goals and interests. But Lyon? Likely not.
Although Lyon is France's third largest city after Paris and Marseilles and home to nearly 2 million, it's still slightly under the radar for many. But it's a city full of surprises to discover. Lyon is one of France's oldest cities, a UNESCO World Heritage site, considered by many as its gastronomic capital and a leading "green" city. There are more than a few reasons why this gem should be your next French destination, and possibly your favorite!
Perfectly Situated
Think of Lyon as France's heart. It is conveniently located in the country's middle and easily accessible by main roads and railway lines. It's a quick and picturesque 2-hour trip from Paris on the TGV, France's efficient, intercity high speed rail service. For those exploring by car, Lyon is nestled between the famous wine regions of Burgundy and Beaujolais to the north and the Rhône Valley to the south, giving reason for its acclaim as the "gateway to the Rhône Valley." A mere hour and a half to two hours away from the French Alps and some of the best skiing resorts in the country—including Courchevel, Chamonix and Les Deux Alpes.
For history aficionados, Lyon is a cultural and historical paradise filled with beautiful architecture and rich tradition. Established in 43 B.C. where the beautiful Rhône and Saône Rivers converge, Lyon was the capital of Gaul and one of the most important cities of the Roman Empire. Its historic old town on the edge of the Saône, Le Vieux Lyon, is a UNESCO World Heritage site featuring the second largest neighborhood of intact Renaissance buildings in Europe after Venice. Here, you'll find remains of the Roman city of Lugdunum, the Roman theater, and the smaller Odeon, now used for outdoor concerts and light festivals. A network of narrow, vaulted passageways connecting buildings called "traboules" offer a look at Renaissance life.
With its strategic location as a central meeting point in routes from northwestern Europe to the Mediterranean and Italy, Lyon was a primary trading city of the Middle Ages. Later, with access to the Orient, it became the capital of French silk weaving and a key textile industry hub.
Situated high above the city sits one of its most famous sites and views, the neo-Byzantine Basilica of Notre-Dame de Fourvière, built in the 19th century as an homage to the Virgin Mary and a visible display of the wealth and favor of the city. Across the Saône is Lyon's popular meeting place, the Place Bellecour. This gigantic, dusty, red square set between the Saône and the Rhône and graced with a bronze equestrian statue of French King Louis XIV is considered the very heart of the city.
Lyon's Parc de la Tête d'Or dates back to the mid-18th century and is one of France's largest public parks, spanning 290 acres.
The Capital of Gastronomy – Eating in Lyon
To say that Lyon is for foodies is an understatement. Widely considered the gastronomic capital of France, the city boasts more than 2,000 restaurants, at least half of which showcase its acclaimed Lyonnaise cuisine. With such a massive selection of eateries, it's easy to feel overwhelmed. The good news is that you'll find a wonderful selection of excellent restaurants at all levels, from its beloved and charming bouchon, or "corks," (small, traditional bistros showcasing local favorites) to its wealth of Michelin-starred establishments. Before diving into restaurant choices, venture to Les Halles de Lyon Paul Bocuse, located in the Part-Dieu neighborhood near the main train station, Gare de Lyon Part-Dieu. Named after the late chef Paul Bocuse, one of Lyon's (and the world's) most revered chefs, Les Halles is a famous indoor market where Lyon's finest butchers, charcutiers, fromagers, pastry chefs, chocolatiers, and wine specialists have set up shop in colorful stalls situated among wine bars and a number of restaurant outposts with seating behind glass walls and interior rooms.
For a finer dining experience, choices abound in Lyon. In addition to a number of time-honored classics, there is a new guard of innovative, next-generation chefs who are creating a stir, including the Michelin-starred La Mère Brazier, Le Kitchen, Bouchon Thomas, Les Apothicaires, Les Trois Domes; and the popular bouchon, Le Café du Peintre.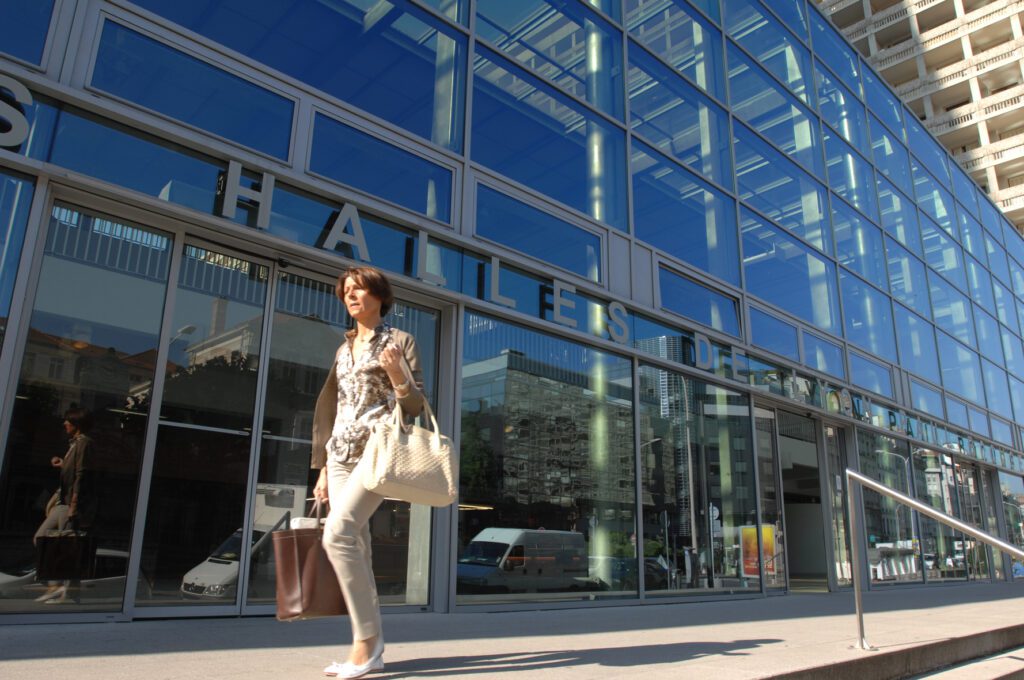 A City for Shopping
Lyon is a shopper's paradise, whether you're looking for original, handcrafted silks and textiles, modern home designs or haute couture. Here are a few areas to explore.
Luxury boutiques
Central to Lyon's Presqu'île district, between Place Bellecour and Cordeliers, lies an exclusive, luxury shopping area known as the Carré d'Or, with more than 70 boutiques featuring the most renowned names in French luxury, including Chanel, Louis Vuitton, and Hermès.
Independent Designers
In Passage Thiaffait, a 19th century passageway, the Village des Créateurs keeps the city's tradition of textiles and creativity alive, promoting young artisans and makers launching their businesses. At the bottom of Croix-Rousse hill, unique shops sell a wide selection of small, handcrafted or French made gifts.
To the south of Place Bellecour, around Rue de la Charité and Rue Auguste Comte, designer furniture shops and showrooms showcase new design, from lighting and furniture to fixtures and decorative objects. Rue Auguste Comte, famous for its antique dealers, is home to small, ready-to-wear boutiques and famous Lyon decoration and design brands.
Les Puces du Canal is the place to go for vintage and antique items. France's second largest flea market attracts some 500 exhibitors and welcomes shoppers and visitors on Thursdays, Saturdays, and Sunday mornings.
Shopping Centers
Lyon has a number of well-known shopping centers, including one of its largest Part-Dieu shopping center (near the Part-Dieu train station), with roughly 200 stores, including the Galeries Lafayette department store. The Confluence Shopping Center, located in one of the city's newest districts, features more than 70 shops, 25 restaurants, and a movie theater in an open and airy, "yacht-style" building.
Art and Science
Every Sunday morning between 8 a.m. and 1 p.m., vendors set up along the banks of the Saône in the Vieux-Lyon (Old Lyon) district for the Marché de la Création. It is a great opportunity to support painters, sculptors, and artisans.
Lyon of today is a major cultural, industrial, and business center with world class universities, renowned museums, and a vibrant, innovative technology hub. Lyon has a new acclaimed Museum of Science and Anthropology in the new Confluence district, where the Saône and Rhone rivers meet. At Place des Terreaux, you'll find the Lyon Fine Arts Museum, considered one of the best provincial museums in France with an excellent collection. With the long tradition of silk weaving and textile production in Lyon, it's understandable that Lyon's Textile Museum (near Place Bellecour) is one of the best of its kind. The Modern Art Museum, the Lyon Cinema Museum, and the Electricity Museum are all outstanding.
A major arts, music, and cinema hub, Lyon hosts more than 21,000 events and a number of festivals annually. The city's Festival of Lights is a 4-day event culminating on December 8. The festival commemorates the sparing of Lyon from the Black Death (i.e., the bubonic plague) in 1643. Many buildings are specially illuminated for the event, and people throughout Lyon put candles on their window sills.
In June and July, the Nuits de Fourvière festival stages approximately fifty outdoor concerts and theatrical performances in the historic Roman Theater.
Where to Stay: Lyon's Most Luxurious Hotels
A city with a healthy collection of Michelin stars takes its hospitality seriously, and Lyon's most coveted hotels are a testament to that. Here are a few of Lyon's best:
Intercontinental Hotel Dieu: In the renovated Grand Hôtel-Dieu of Lyon, once a monastery and then the city's most important hospital for 800 years; featuring 144 beautifully appointed rooms, including 28 duplex suites overlooking the river.
Villa Maïa: A member of Leading Hotels of the World, this 5-star classic sits high atop historic Fourvière Hill, overlooking Lyon and the Saône River below.
Boscolo Lyon: Founded in the late 1800s, Boscolo Lyon is one of Lyon's first hotels, centrally located near the Place Bellecour, showcasing a beautiful blend of both Italian and French design aesthetics.
Cour des Loges: An opulent Renaissance gem with modern touches with rich colors, tapestries, and furnishings. Les Loges is their in-house Michelin restaurant featuring the masterpieces of Chef Anthony Bonnet.
Hotel de L'Abbaye: Once a 19th century presbytery, the ambiance is charming and stylish: a perfect retreat for guests looking for a smaller, quieter experience. Onsite is L'Artichaut from acclaimed chef Clément Lopez.