Telefèric Barcelona brings a taste of Spain to the Bay Area
A chance visit by an East Bay developer to the Padrosa family's restaurant during his honeymoon in Spain led to the first U.S. outpost of Telefèric in Walnut Creek. When a space in the reclaimed brick building on Mount Diablo Boulevard opened up, Brian Hirahara immediately called Xavi Padrosa, whose mother, Soledad Urabayen, opened their first restaurant almost three decades ago in Sant Cugat del Vallès. Originally called Rondes and renamed Telefèric after a toy telefèric (gondola) that hangs above its entrance, the family's restaurants in Spain set the stage for the three Telefèric locations that now operate in the Bay Area: Walnut Creek, Palo Alto, and the latest outpost in Old Town Los Gatos. Owners and siblings Xavi and Maria Padrosa moved to the Bay to oversee the expansion of their family's restaurant, beginning with the Walnut Creek location in 2016, followed by the Palo Alto location in Town & Country Village in 2019. The Padrosas have now successfully brought the flavorful food and warm ambiance of their family's restaurants in Northern Spain to the Bay Area, also retaining authenticity by bringing in executive chef Oscar Cabezas and their staff from Spain.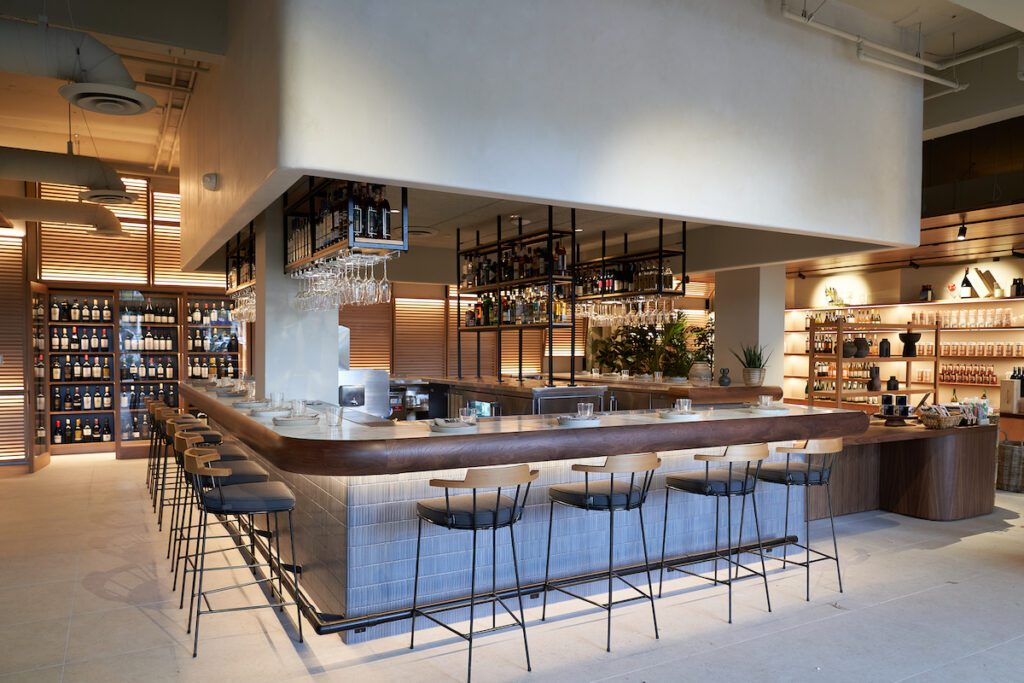 At the new Los Gatos location, a 360-degree bar anchors the space: to the right of it is El Merkat, which offers a variety of imported Spanish goodies—from cuttlefish ink- and foie gras-flavored potato chips to house-made sangria and paella kits. To the left is a dining room partitioned into two areas, a space that is overall warm and welcoming, thanks to the Barcelona-based architecture firm Maria Padrosa brought in to craft the open space concept. Tarruella Trenchs Studio's design evokes the Mediterranean with a sophisticated and natural aesthetic inspired by the Costa Brava region. The "garden room," which opens to the patio, features woven light shades and a wall of verdure. The restaurant is outfitted with sleek Spanish tile, lime stucco, oak wood accents, and wooden furniture to modernize the space. Black-and-white photographs depicting life in Barcelona line the walls. A spacious dining room, tucked away along the back wall, may be reserved for private events.
Led by Barcelona native Cabezas, the menu offers a wide variety of tapas (or pintxos), including jamón ibérico de bellota, melt-in-your-mouth ham cured for 38 months and hand-sliced onsite, and Pulpo Telefèric, a sumptuous Galician grilled octopus with savory pimentón potato purée and truffle oil. The main attraction, Telefèric's paellas range from seafood to vegetarian: I'm told the Paella Negra, with squid ink, scallops, seasonal mushrooms, octopus, gulf shrimp, and clams is the most popular back at the family's restaurant in Spain, but that the Paella Lobster reigns among diners in the Bay Area restaurants. Sweet lobster and juicy gulf shrimp meet earthy mushrooms and coins of octopus and calamari in this savory seafood combination, which is perfect split between two diners. Also available is a crab paella with gulf shrimp and octopus, secreto ibérico paella with acorn-fed black pig filet and pork belly, and Paella Veggie with seasonal mushrooms, snow peas, cauliflower, and artichokes. Paella purists will want to request their paella to be prepared with socarrat, the coveted, crispy, caramelized layer of rice at the bottom of the paella that offers even more flavor and texture. The menu also offers platos such as a 40-ounce Catalan tomahawk premium ribeye steak, and secreto ibérico, acorn-fed Iberian pork with shiitake, Iberian ham, and mojo verde. A new addition to the menu at the Los Gatos location is a prime Wellington, featuring braised short ribs in puff pastry, injected tableside with a caramelized onion sauce. Rich and tender, this new plate is sure to become a local favorite.
Meanwhile, the beverage menu whisks diners away to Spain with a selection of fresh and fruity concoctions, as well as an extensive wine list. Telefèric Barcelona's signature gin and tonic menu offers three inventive styles: the Ibiza with dry gin, silver dust, butterfly pea tea ice, and kaffir lime; the Catalan with botanical gin, grapefruit, rosemary, and orchid; and the Turkish Rose, with floral gin, Mediterranean tonic, raspberry, and viola flower. The latter two are prepared with artisanal cubes of hand-cut ice. Other highlights include The Tourist, a tart and refreshing raspberry-forward tequila cocktail, honey-sweetened and made with lychee and lime. The Gothic Mojito arrives bubbling (thanks to food-grade dry ice enclosed in a mesh strainer), a golden mixture of rum, lime juice, passion fruit purée, and soda in a mason jar adorned with a magenta orchid and mint leaves (strawberry and raspberry versions are also offered). Oenophiles will have their pick of premium Spanish wines—from Albariño to magnums of Tempranillo—and a trio of sangrias: the signature red version infused with warm spices and berries, a white version made with serrano pepper vodka, and a cava-rosemary lemonade version with prickly pear juice and berries. There's also an option to experience a porrón, a festive and communal way to pour wine into the mouth without touching the spout. Before you indulge in a little sobremesa (the Spanish tradition of relaxing and socializing at the table after a heavy meal), be sure to save room for Telefèric's crowd-pleasing churros or Torrija French toast served with Catalan cream, banana, and vanilla ice cream—or try the trio selection, which covers Telefèric's most popular desserts.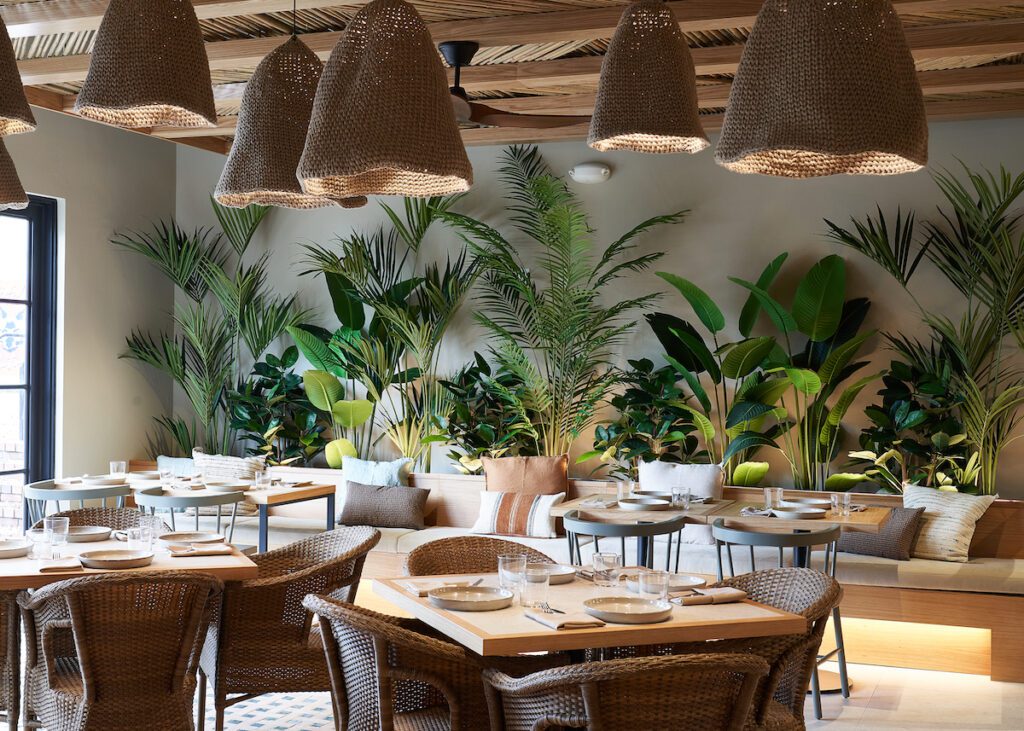 Telefèric Barcelona is now open for lunch and dinner in Los Gatos, with plans to launch paella classes (virtual and onsite), as well as evenings featuring flamenco dancers. Its authentic Spanish ambiance and goblets of sangria promise a good time, and the mouthwatering tapas are made for splitting with great company. The only trouble is you might not be willing to share.