Meet three couturiers making their mark on the world with creations that can heal, empower, and even save the planet
Inspiring personal histories. Unparalleled artistry. Fashion that transforms the way women look and feel. These are just a few of the phrases describing the three couture designers we've chosen to spotlight in our annual fashion issue, from an effervescent go-getter who draws inspiration from the world around her to an Australian creative director liberating brides worldwide to a lawyer-turned-designer empowering women through professional attire and out-of-the-box occasion wear.
The Butterfly Effect
Even through the computer screen, Colleen Quen's megawatt smile and effervescent energy are contagious. The fourth-generation Chinese American has been creating art nonstop since she was five years old, and the fun has just never stopped. "I thought, when I turned 50, I was coming full circle, but I'm awakening even more—as a spirit, as a woman, as an entrepreneur, as a creator," she tells me.
During her college years, she pursued a degree in computer science and a minor in business. "While I was debugging programs, I was also designing costumes—I was a competitive freestyle ice skater. So, during that time I was competing, I was [also] getting my degree and creating costumes on the side," says Quen. It's hard to imagine that one person can do so much at once, but her bubbly energy convinces you that anything is possible. "I was just [going] nonstop ever since I was young, and I never stopped. I'm still creating."
After graduating and landing an interview at IBM—where the dress code at the time reflected its moniker "Big Blue"—she realized the conservative corporate world wasn't for her. "I would have always had to wear that navy suit. I said, 'No, I can't do this. Can I go to the Fashion Institute of Design and Merchandising?'" She laughs. "And I got my degree in fashion design." She immediately got a job at Wilkes Bashford—a label that has long catered to the San Francisco elite— as the women's assistant designer for its Wilkes Sport label.
She continued to work with local designers, such as Esprit co-founder Jane Tise, renowned women's sleepwear designer Eileen West, and Karen Alexander, as well as the Gap, before furthering her education by studying French couture under Simmin Sethna. "It's like getting your Ph.D. in design," she explains.
Quen opened her own couture design company in 2000 and began dressing clients such as Patricia Sprincin, Akiko Yamazaki, Goretti Lo Lui, and Emily Sano. Word of Quen's whimsical designs spread, and soon she was making appearances as a guest judge on America's Next Top Model and dressing celebrities like Tyra Banks for the Emmy Awards and Vivica A. Fox for Champagne Perrier Jouet's 100th anniversary.
Her lifelong evolution can be credited to an immensely creative childhood in which she was exposed to many varying forms of art. Quen's mother was her first art teacher, instilling creativity in her from a young age through design, painting, and ceramics. A skillful instrumentalist who has always been inspired by music—"I see things through sound and shape and form"—Quen also plays the flute, piano, guzheng (Chinese zither), and erhu (Chinese violin). It's come full circle with her career as a couturier via creative collaborations, such as the Resonance Series with the New Century Chamber Orchestra last May for which she painted and created a mixed media sculpture inspired by their real-time performance of Debussy's "Danse sacrée et Danse profane."
Yearning to connect more with her Chinese heritage, she also studied Chinese brush painting with master artist Madeleine Fu, student of the world-renowned Chang Dai Chien ("He's like the Picasso of China," she says), and began practicing tai chi and qi gong. "I mixed it all together into my fashion so it's very spiritual." More than a designer, she is also a sculptor, performer, and poet who draws from her life experiences to create works of art from the heart. "Now when I create, I'm more like a healer."
Quen's one-of-a-kind couture is tailored not only to the client's measurements, but also their energy. "I am a couturier, definitely, but I'm also an artist, and I mix it all together into my medium. Every person that I meet is special to me," she explains. "When I meet you, I meet your spirit. I meet your aura. I meet your life. I want to get to know you, and then I create for you."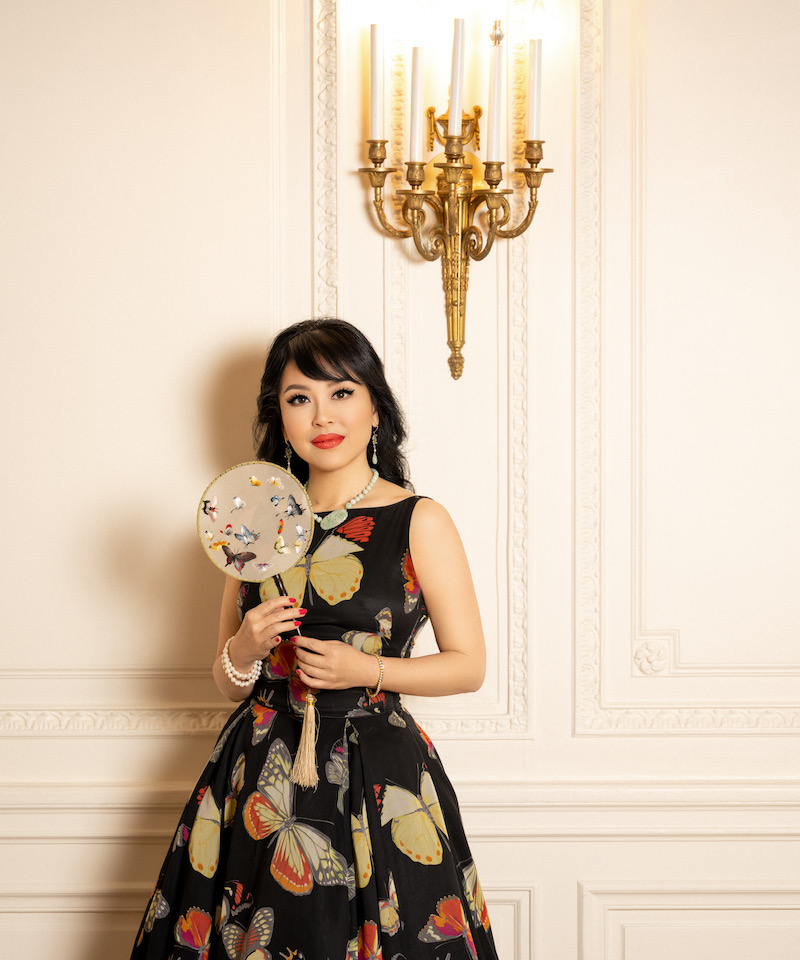 One of Quen's most popular creations of all time is her signature "Madame Butterfly" dress, which has drawn consistent adoration since its creation in 2000. She attributes the timelessness of her designs to her background in French couture and inspiration from her Asian heritage, which makes for a design that's universally appealing. "Madame Butterfly" is currently on display at The California Museum, which honors Quen in its "Remarkable Women" exhibit.
Although she has always been a renaissance woman, as illustrated by her illustrious career, she became especially committed to exploring herself after battling breast cancer 10 years ago. "It was like, 'I have so much time left.' It made me more awakened and appreciative," she says. "I don't take anything for granted anymore." She strives to continue evolving—not unlike a butterfly—as an artist and to help others through her trade. "I love life," she says, beaming. "I want to be transforming all the time."
Something New
When Gold Coast native Megan Ziems went shopping for a wedding dress in 2010, she was struck by the lack of customization and overpriced options. Finding the industry "disillusioned with the structured, traditional wedding 'uniform' that dominated the market," she eschewed convention and fearlessly set out to revolutionize the bridalwear industry by prioritizing distinctive, luxurious designs in addition to comfort and sustainability. Ziems launched Grace Loves Lace in 2011, liberating women from the traditional dress shopping experience with an innovative e-commerce model which has since evolved into a small network of boutique showrooms across Australia and the United States.
It was a business choice that served the company especially well during the pandemic, with the framework for virtual appointments and dresses made in-house (as opposed to relying on an overseas manufacturing facility) already well-established. The company specializes in versatile wedding gowns handmade with luxurious, stretch-fit, French lace and soft silks, all-original designs by Ziems and head designer Rosie Keating. Remarkably, all Grace Loves Lace dresses have no zippers, corsetry, or boning—making them incredibly comfortable with a fit that highlights every curve. Crafted for comfort and movement, brides can feel uninhibited, capable of moving, dancing, and laughing freely.
At its San Francisco showroom, Grace Loves Lace's signature bridal shopping experience offers tailored, one-on-one service and private styling suites in an intimate space crafted by interior designer Becky Allen. With a modern twist on rustic Mediterranean, the showrooms are an extension of Ziems' beachside Queensland home, bringing a piece of its free-spirited founder into every showroom. Ivory swaths of lace and silk are displayed in the window of the showroom on Jackson Street, where I'm checked in for my appointment and introduced to my personal stylist. I'm led to my private suite to try on the handmade gowns, passing spotless arched mirrors framed by lush sprigs of bougainvillea. The first gown, Noah, is a dazzling feminine silhouette covered with delicate Chantilly lace and trims, its skirt lined with soft silk godet panels. Off-the-shoulder, scallop-edged lace arm bands give the dress a gorgeous Bohemian twist. I also slip into the Paloma—which the design for the Noah dress evolved from—a romantic and sophisticated gown of glimmering silver thread lace. Off-the-shoulder arm bands with delicate silver beaded trim complement the subtle shimmer, and scalloped lace edges frame the bust, the delicate front opening in the skirt, and the dramatic train.
All Grace Loves Lace gowns are handmade ethically in Australia by the atelier's in-house production team, and gowns are only sold directly through Grace Loves Lace to provide an exceptionally tailored bridal experience. Its avant-garde approach is a perfect match for the nontraditional bride, which Grace Loves Lace describes as "effortlessly sophisticated, captivating, down to earth, sexy, and authentic … warm as the Spanish sun and cool as the Californian night."
Milky white freshwater pearls adorn my ankles, peeking out from the Paloma's center-front slit. Grace Loves Lace also creates jewelry, shoes, and accessories to help complete the look. Flower girls, bridesmaid dresses, and occasion wear are also offered, including Amitié—a line of luxurious, cowl-neck slip dresses bias-cut from repurposed satin. Sustainably crafted using 97 percent recycled materials—7.6 plastic bottles for every meter of fabric, to be exact—the timeless dress comes in universally flattering shades of dusty rose, olive, ivory, and steel blue. Sustainability is a major tenet of the company, which goes to great lengths to ensure that its packaging and suppliers are certified by the Forest Stewardship Council. It strives to incorporate any excess material into designs to help eradicate fabric waste.
Vogue once called Grace Loves Lace responsible for "the world's most pinned wedding dress" on Pinterest, and Chrissy Teigen and John Legend's daughter has been spotted in the GRACE Mini collection's tulle and Chantilly eyelash lace flower girl dress. The company's international sales skyrocketed 260 percent between June 2019 and 2020 despite the pandemic—in fact, they were able to save the big day for many brides whose dresses were held up in offshore factories due to disruptions to global supply chains caused by COVID-19. However, despite its incredible growth, the cult Australian bridal brand remains true to its values of distinctive design, transparency, and sustainability—all while catering to today's bold brides with the signature aesthetic of "luxury they can dance in."
Clothes Make the Woman
Inside Ellen Wise's sunlit atelier, arched windows offer a picturesque view of the oak and redwood trees spread across the 15-acre property atop a hill in Woodside. Though warm and inviting, this is where some of the Bay Area's most powerful women—such as Deanna Tryon, Silicon Valley Chief of Protocol—come to be dressed by the dedicated couturier.
As a patent lawyer in the eighties, when the field was heavily male-dominated, Wise understands the importance of being well-dressed all too well. A sexist comment by a male attorney while Wise was working on a case in New York lit a fire in the self-proclaimed feminist who, impressively, did not swing at the male chauvinist with her tailored cordovan briefcase. "I just gave him a look and thought to myself, 'Oh, you have no idea. We are winning this case,'" she says with a smile.
Wise was also employed as a chemist and an attorney at ALZA Corporation and Syntex, respectively—biopharmaceutical companies founded by the co-inventors of the birth control pill—working at the forefront of new technologies for global women's health and empowerment. She wanted clothing that would match her passion for the cause. "I began creating suits that allowed me to move through the world as a strong and competent female attorney."
Wise eventually took a step back from law to be a full-time mother, a period she recalls with content. Just as she was considering returning to her career, serendipity intervened. She walked into Wilkes Bashford where the manager inquired about her jacket. She explained that she had sewn it herself and, assuming she was a designer, he asked if she could produce them for the store. She pulled out her legal business card and passed it to him with an apologetic laugh. As she was driving home, a lightbulb went off in her head. "I thought, you know, I've always loved designing clothes. What could I do with that?"
Immediately, Wise knew she did not want to design clothing to be mass-produced. She began researching European haute couture, drawn to the idea of crafting bespoke clothing while cultivating close relationships with clients. Wise learned couture sewing techniques from Susan Khalje, a world-renowned couturier and educator, but her "aha" moment came when she studied the time-honored method of moulage with Parisian master draper Julien Cristofoli. This method, in which fabric is manually draped onto a dress form and sculpted into a wearable work of art is "a means of designing in 3D," says Wise. "It is a completely different world than the flat-pattern [technique]. It gives you so much more of a broader scope and design."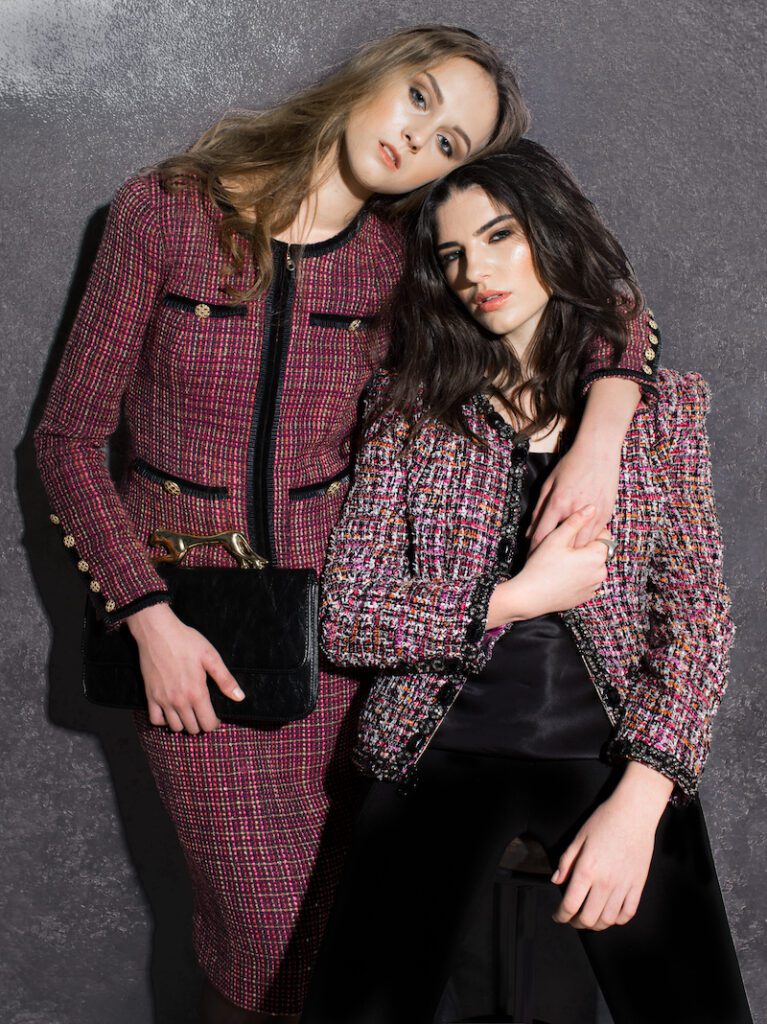 She launched Ellen J Custom Couture in 2010—rechristened Ellen Wise Couture in 2016—becoming known for her hand-sewn, true couture pieces made from luxurious yet sustainably and ethically produced fabrics sourced locally and abroad.
"The thing that I find powerful and meaningful about custom couture and bespoke design is the ability to give a client the confidence that they're wearing something that's exactly right for the occasion, for their personality, for their body," says Wise. "It fits meticulously, it's the highest quality, and it's one of a kind—because that was the confidence [I had] when I was working in the tech and legal world wearing my own things."
Tryon has employed Wise for years to create suits for her to speak on the floor of the United Nations and to greet presidents, ambassadors, and prime ministers. Custom clients also came calling for bridal and occasion wear, which Wise designs to give women the same confidence and empowerment as her suits. Wise shows me an elegant wedding gown from her 2022 bridal collection, which features a playful slit of intricate lace concealed within the flowing duchesse satin skirt. "The slit is her little secret that she decides when and if to share—she is in complete control of her sensuality," Wise explains.
In her idyllic atelier, a dress form adorned with a snow-white bodice of ornate, hand-appliquéd lace stands next to her worktable. Sketches are spread out alongside a Chanel-inspired suit jacket—one of her signature pieces. A stunning jet-black, strapless mermaid gown that evokes the classic glamor of Old Hollywood adorns another dress form. The bride for whom it has been designed is a rebel—hence the unconventional color—yet the lines on the dress are classically elegant, perfectly reflecting the dichotomy of the client and her style.
"I want to love what I'm doing. I want to feel purposeful in a meaningful way," she says, reflecting back on her career. "I don't think I consciously realized that I was doing that as a means of empowerment at the time, but I certainly look back on it as that." Using the finest textiles, Italian tulles, and European laces, Wise's exquisite creations drape her clients in pure luxury—and the courage and conviction to go forth and conquer.
Photos of Colleen Quen
Creative Team List:
HMUA: Josette Vigil Jelveh
Creative Director: Sharon Seto
Production Assistant: Bessie Gotingco
Photographer: Vincent Gotti
Location Provided by: The Palace Hotel, San Francisco
Vincent Gotti
Editorial and Fashion Photographer
www.vincentgottiphotography.com
Photos of Grace Loves Lace courtesy of Grace Loves Lace
Photos of Ellen J. Wise Couture by Tanja Lippert