Yes, my winter fat is gone but now I have spring rolls from too many Lunar New Year holiday parties. Oh, dear!
Spring is when the world comes to life, beautiful flowers bloom, creatures crawl out of hiding, and we start emerging more from our homes! During this season, I love going outdoors, walking to smell the flowers, and just enjoying nature. For my husband, Dave, it's totally about March Madness and St. Paddy's Day with a beer on hand. When Easter Sunday comes around, we both get extra excited, because that means we have our entire family together for dinner to share stories, laughs, good times, and the love we have for each other through food.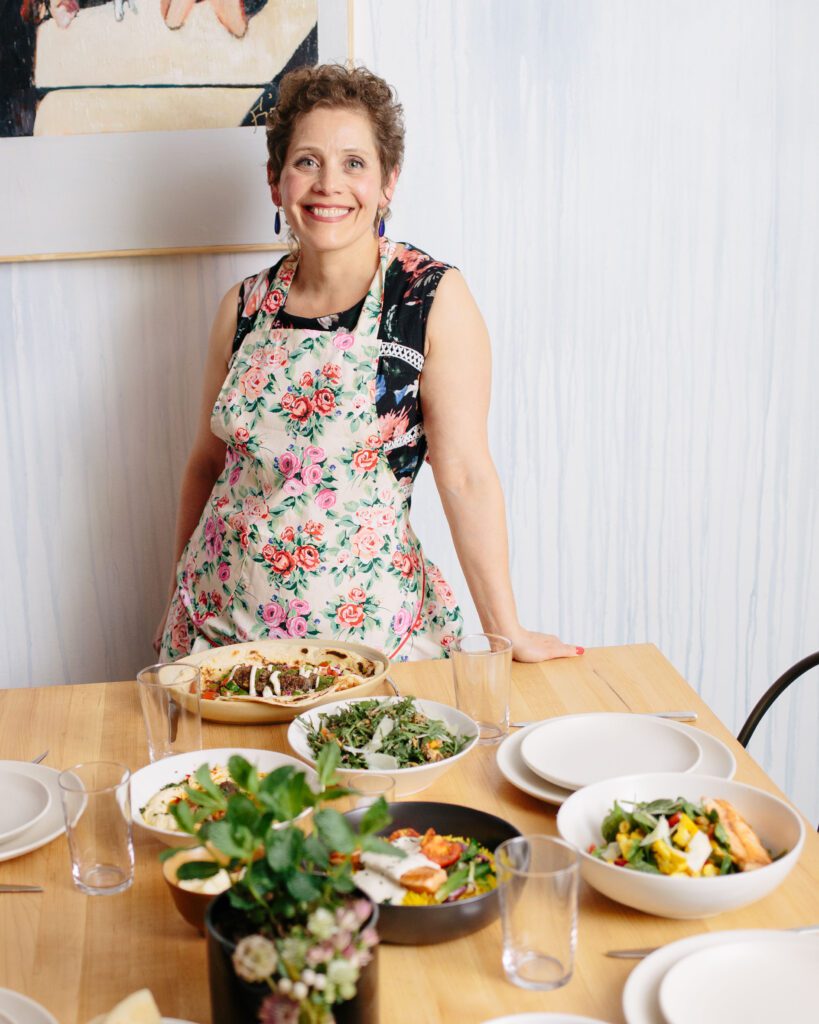 Similarly, Mica Talmor, chef-owner of Pomella, grew up in northern Israel in a family where, like many other Jewish families, feeding people was a way of showing love and affection. She is a pistol of energy, fun and filled with zest for life. Chef Mica attended culinary school in Israel and worked in high-end Tel Aviv restaurants before coming to San Francisco in 1998 to attend pastry school at the California Culinary Academy. After graduating, she worked as a pastry chef at Eos in San Francisco and Grasshopper in Oakland. From 2005 to 2018, Talmor and her then-husband, Robert Gott, owned and operated Savoy Events, a high-end catering company. In 2015, they opened their first restaurant, Ba-Bite, a successful, fast, casual Israeli restaurant on Piedmont Avenue in Oakland. The restaurant quickly became known for its silky hummus and flavorful, seasonal salads. It was featured in Food & Wine and Sunset Magazine and on KQED's Check, Please! Bay Area.
Pomella is an exciting, Oakland-based Israeli deli, eatery, and catering company that offers vibrant food lovingly made by chef and owner Mica Talmor. Talmor's approachable menu combines impeccably sourced California produce with the traditional flavors of the Middle East, North Africa, the Mediterranean, and Eastern Europe. In addition, Pomella's online deli opened during March 2020, just as the shelter-in-place order was mandated in Alameda County. Since then, she quietly perfected her online menu, which intentionally offers items that are perfect for takeout and delivery. When patio and indoor dining were permitted, she unveiled menu items to be eaten and served onsite, fresh out of the oven. The same items that were originally conceptualized for takeout will also be available as grab-and-go at the market. One can taste and see that this chef pours her love into each menu item and, moreover, her dishes are in synch with her motto of living life out loud. Bold and exciting! Yeah, my kind of girl! pomellaoakland.com, Instagram@pomellaoakland
HL: How did the last two years affect you and the restaurant?
Pomella opened in Oakland on March 26, 2020, at the same time many businesses were shutting down due to the San Francisco Bay Area's shelter in place order in response to the spread of Covid 19. Things did not go according to plan. What I've learned from the last two years is that you can achieve your mission in ways that you cannot possibly imagine. Pomella is fulfilling its true mission of being an everyone wins organization, where everyone who engages with the brand wins not only monetarily or by consuming a great product, but by belonging to something greater: an organization that is a part of the community, and limits its environmental footprint. Under the circumstances of the past two years, you'd think that would be impossible. But learning, and using a whole new set of skills and tools, helped me find ways to connect with customers and vendors, helped me create a team that feels like family, and allowed me to find ways to accomplish what I set out to do. Now, after two years of constant change and adaptation, not only has our mission never changed, but it somehow manifested itself. Maybe despite the crisis, maybe because of it, I can't tell. Certainly not in any way that I could have imagined.
HL: When did you start fiddling in food and who inspired you?
I'm Jewish; I was born to eat! I have always been obsessed with food.
My grandmother had a huge influence on me. She as well as many of my family members are farmers. I used to help around with different crops, milking cows, and collecting eggs. It formed the way I see food and the cycle of food. We didn't have processed food growing up; we had lots of produce. My grandmother would spend the whole day cooking, making cheese or making preserves. It was a way of life. It's still the way I cook at Pomella. We cook from scratch, we soak, and ferment. The food is produce-centric and seasonal.
I started cooking a little at home because my mom worked long hours and I put lunch together for my brother and me.
HL: What are your favorite childhood Passover (or Easter/springtime) memories?
I didn't celebrate Easter, but I loved Passover. One thing my mom made was matzo brei. It's where you squish the matzah, soak them, and mix it with eggs, kind of like a frittata. And then on top, you'd spread homemade clotted cream that had been separated from the milk and was left in a jar on the counter until it soured. That, with salad of cucumber and tomato (shirazi), was breakfast or dinner during Passover. I haven't had that since I was living with my parents. I've tried to make it myself, but it's never as good as I remember.
HL: Any traditional dishes growing up which brings you back in time?
Hummus! It is such a comfort food. I like it when my kitchen staff makes the hummus at work and it's still warm. I come by and take a spoonful. It brings me right back. It's so satisfying.
I'm obsessed with fresh fruits and vegetables. A good Sharlyn melon, which is the melon I grew up with, can bring me to tears. What I really fall apart for is a really fresh strawberry, a crispy persian cucumber, a perfect apricot, dry-farmed Early Girl tomatoes. I choked up when one of my vendors brought me mulberries last spring. There's no dish that can do that for me. That level of nostalgia, and complete joy.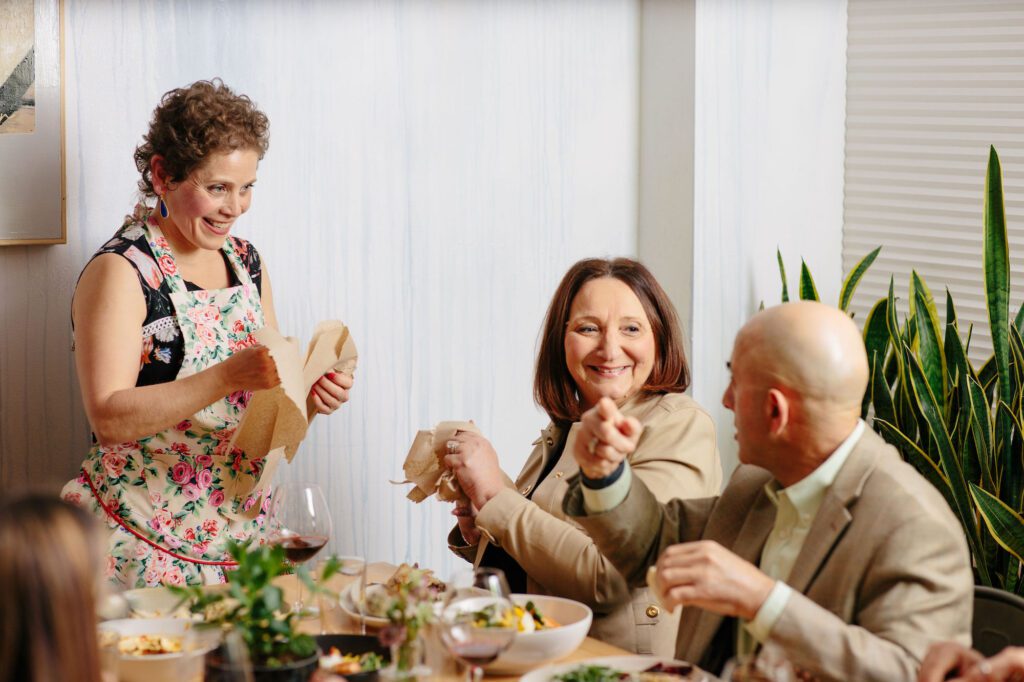 HL: Your heritage obviously plays a huge role in your menu. What are your favorites and why?
One of my favorite things that I make is Pomella's date cookie. Date cookies are different all over the Middle East. They all have their thing that makes them typical for each ethnicity. My cookie incorporates the best characteristics from each type (according to me). For example, I use semolina flour, but a finer semolina so it's sandy rather than grainy. I use butter as well as the traditional oil because I can. It's a little Iraqi in the way I use anise seed, Egyptian in the way I use Mahleb, Eastern European in the way I roll the dough around the date, and a touch Moroccan with the addition of sesame seeds. I use organic date puree – that's the Californian in me.
HL: How do you relax?
I hike with my dog, Easy, every day in the Oakland hills. And I take Zumba classes on the patio at Pomella in the mornings before the restaurant opens. It's great fun, and really relaxing because you can't think of anything else, or you'll mess up the steps.
HL: What's on the horizon for Pomella? Any endeavors for us on the lookout?
I do really want to expand on this little world we created. I created this cycle of interactions, and I want to make it a bigger circle. I don't see the full vision yet, but I'm confident I'll sort out the best way to go about it. only to have it change and morph by unimaginable circumstances 😉
Almond Baklava
Courtesy of Mica Talmor, chef/owner Pomella (Oakland, Calif.)
Makes 40 pieces.
Pro tip: Pull from phyllo out of the freezer and put it in the refrigerator for a day. From the refrigerator, let the phyllo sit at room temperature for a day.
Tools needed:
• • • •
Syrup:
2 2/3 cup
1 1/2 cup
2/3 cup honey
4 teaspoons fresh lemon juice (about 1⁄2 lemon) 2 teaspoons rose water
2 teaspoons orange blossom water
Bring water, sugar, and honey to a boil. Simmer for 2 minutes. Remove from heat, add lemon and flavored waters. Refrigerate.
Wooden dowel
1⁄4 sheet pan (it is important to use the right size pan so that the baklava absorbs the honey properly) Large pastry brush
Bowl for resting the pastry brush
Sugar water
Almond filling:
430 g raw almonds 128 g almond paste
Pulse in a food processor to a fine mill (large pieces can tear the phyllo).
Assembly:
1 pound pack Phyllo dough
2 cups clarified butter
1⁄2 cup canola or another neutral flavor oil
Mix butter and oil together. Brush the 1⁄4 pan with butter-oil mixture.
Working straight on top of the pile of phyllo, brush the top sheet with the butter-oil mixture. Spread 1/3 cup almond mix across the center third of the phyllo sheet, then use the dowel (starting at the bottom of the sheet) to roll the dough to the top of the sheet. Brush a second sheet of phyllo with the butter-oil mixture. Place the dowel at the bottom edge and roll a second layer on top of the first. Lightly "squish" the dough toward the center of the dowel from either side of the roll. Pull the dowel out of the roll and place on the 1⁄4 pan crosswise. Continue filling and rolling until you have 10 rolls in the pan. Brush oil mixture over the top and the sides of the rolls. Refrigerate for at least 30 minutes to make them firm. (You can also freeze the tray for later, then cook the tray straight out of the freezer.)
Preheat the oven to 375 degrees.
Separate the rolls from each other in the pan, then cut the rolls lengthwise into quarters with a large knife. Brush the seams and cuts with the oil mixture.
Bake for 40 minutes to an hour, rotating the pan after about 20 minutes and again, if necessary. When golden brown, remove from oven and immediately pour all of the cold syrup on top. Make sure the baklava is blazing hot and the syrup cold. At first, the rolls will float in the syrup. Let soak for few hours or overnight to absorb the syrup before eating.
Butternut Squash, Quinoa & Manchego Salad
Courtesy of Mica Talmor, chef/owner Pomella (Oakland, Calif.)
Makes two servings
1 small butternut squash (or about 1 cup cubed) 4 tsp oil blend
1 tsp Kosher salt (divided in half)
Butternut Squash Spice Mix (recipe below)
1/2 cup quinoa
2 Tbsp cup raw pumpkin seeds
2 Tbsp dried cranberries
2 Tbsp scallions, finely chopped Pomegranate Vinaigrette (recipe below) 5 oz (1 bag) arugula
4 oz manchego cheese, shaved
Butternut Squash Spice Mix
1 tsp sumac
1 tsp ground cinnamon 1⁄4 tsp ground allspice 1⁄4 tsp cumin
Pomegranate Vinaigrette
4 Tbsp pomegranate concentrate 4 Tbsp water
1⁄2 cup canola oil
4 tsp Dijon mustard
11⁄2 tsp salt
1⁄4 tsp black pepper
Preheat oven to 350 degrees.
To make the spice mix for the butternut squash, combine all four spices and set aside.
Peel and cut butternut squash into 1/2-inch pieces. Toss squash with spice mix, oil and 1/2 teaspoon salt. Roast until tender, about 10-15 minutes.
Measure and rinse one cup of quinoa. Bring one cup of water and 1/2 teaspoon of salt to a boil, add quinoa and simmer on a low flame for approximately 12 minutes. Do not overcook. The quinoa should be crunchy, not mushy (but it should have its little "tail").
To make the vinaigrette, whisk together the pomegranate concentrate, water, canola oil, mustard, salt and black pepper. Set aside.
Toss the cooled squash, cooked quinoa, scallions, cranberries and pumpkin seeds in about half of the vinaigrette, increasing to taste as necessary (extra vinaigrette can be refrigerated for later use). It's best to let the salad sit overnight for the quinoa to absorb the dressing.
When ready to serve, toss the butternut squash and quinoa mix with the arugula, 3 tablespoons of the dressing, and a pinch of salt. Divide salad into two servings. Top with manchego cheese and serve.
Chef Mica Talmor's Majadera with Lamb Kefta
Courtesy of Mica Talmor, chef/owner Pomella (Oakland, Calif.)
Serves 8

With a garnish of fried onions and a healthy drizzle of tehina-yogurt sauce, majadera is certainly delicious enough to be eaten on its own. At Ba-Bite, the lentil and rice dish becomes a hearty base for various items such as fried cauliflower, roasted eggplant, roasted salmon, lemon saffron shrimp, chicken or lamb shishlik (cubes of meat, marinated and grilled), or lamb kefta (spiced ground lamb).
Majadera
4 ounces petite French green lentils (about 1⁄2 cup) 2 cups white basmati rice
2 teaspoons ground cumin
2 teaspoons ground coriander 1 teaspoon ground cinnamon
1 teaspoon ground allspice
1 bay leaf
1⁄2 teaspoon freshly ground black pepper 2 teaspoons salt 1 teaspoon sugar
2–3 tablespoons canola oil 21⁄4 cups boiling water
Soak the lentils overnight to aid in digestibility, if that's a concern. Otherwise, start by filling a small saucepan with cold water and adding the lentils. Bring to a boil, turn the heat down to a simmer. Cook the lentils until tender, about 25 minutes. (If you have soaked them, they only need a few minutes.) Drain and then rinse them in cold water.
Measure the spices, salt, and sugar into a small bowl. Pour the oil into a medium pot and heat it until it shimmers. Add the spice mixture and sauté, stirring frequently, for one to two minutes: It should bubble without burning. Add the rice, stirring to coat each grain, then sauté for a few more minutes, stirring constantly until the rice turns opaque. Pour 21⁄4 cups of hot or boiling water into the pot, and add the lentils. Bring to a boil, turn down the heat to a simmer, then cover the pot tightly and cook for 13 to 15 minutes.
When done, turn off the heat, fluff rice with a fork, cover again, and allow the rice to steam for another 10 minutes. Remove lid, and fluff again, then serve.
Lamb Kefka
Many chefs first grill meat or fish and then finish it in the oven. Mica Talmor-Gott recommends the other way around. "You get the same flavor, and it makes it easier to handle."
21⁄2 pounds ground lamb
1 bunch mint, leaves only, finely chopped 1 bunch parsley, avoid large stems, finely chopped 1 yellow onion, finely diced
1 ounce puréed garlic (about 6 cloves)
21⁄4 teaspoons salt 11⁄2 teaspoons ground cinnamon
1 tablespoon ground cumin
11⁄2 teaspoons ground allspice
1⁄2 teaspoon freshly ground black pepper
11⁄2 ounces toasted pine nuts (about 1⁄4 cup)
Preheat the oven to 350°. Chop the mint, parsley, and onion by hand and then mix together with the lamb, garlic, spices, and pine nuts. Shape onto a metal skewer, if desired, into a sausage shape. Cook for 5 minutes in the oven on a tray, and then finish on the grill, on a grill pan, or in a skillet until all sides are browned. At Ba-Bite Mica Talmor-Gott uses only local organic produce and sustainably raised meat, but she makes an exception for her tahini, insisting on Al Arz, a brand from Nazareth, which can be found at many halal or Middle Eastern grocers.
Tahini-Yogurt Sauce
2 cups low-fat yogurt
1⁄2 cup raw tahini
1 garlic clove, puréed (about 3⁄4 teaspoons) 3⁄4 teaspoon lemon juice
11⁄2 teaspoons salt
Pinch of freshly ground black pepper
Combine all ingredients in a bowl. Let stand for 15 minutes for flavors to meld. Taste and adjust with salt and lemon juice as needed.
Fried onions
Deeply browned onions take a bowl of ho-hum rice and lentils to the next level. While many places caramelize them for several hours, Mica Talmor-Gott fries them until crisp and dries them overnight by the heat of the pilot in a gas oven.
2 or 3 yellow onions
3 to 4 cups canola oil, depending on the size of the pot Slice the onions thinly (by hand or with a mandoline), making sure slices are the same size so they'll cook evenly. Put 1⁄4 cup oil in a large skillet and heat until shimmering. Add the onions, and sauté them for 8 to 10 minutes, until they lose most of their moisture.
Heat a pot of oil to 350° and set up a tray lined with paper towels. With a slotted spoon, transfer a few onion slices at a time from the skillet to the pot (do not overcrowd), frying until lightly browned. Remove with a slotted spoon and place on the towel-lined tray. Sprinkle with salt and then place in a very low oven overnight or in a 200° warming drawer for an hour. If you don't want to do this multi-stepped process, Mica recommends skipping the sautéing stage and deep-frying them a bit longer, or just caramelizing them in a skillet for about 30 minutes.

To plate: Put a layer of majadera in a shallow bowl. Place two lamb kefta on top. Liberally drizzle with about 1⁄4 cup tahini-yogurt sauce, then top with a handful of fried onions.
Shirazi
Courtesy of Mica Talmor, chef/owner Pomella (Oakland, Calif.)
Makes 6-8 servings
Cucumber & tomato salad is probably the most common salad in the Middle East. Shirazi is the Persian version of this salad, and what makes it unique are the herbs. In the U.S., herbs are often used as garnish. I LOVE the way herbs are used as an ingredient in Persian cuisine. The key to this salad is getting good cucumbers and good tomatoes. For our Shirazi, we use Persian Cucumbers and the best tomatoes we can find (our favorite tomatoes are dry farmed tomatoes from Sea Level Farms in Watsonville, Calif.). During the winter, when we can't get good tomatoes, we don't keep Shirazi on the menu.
Ingredients:
1 pound Persian cucumbers, small dice (if using English cucumbers, peel, and seed them first. Slicer cucumbers are not recommended)
1 pound tomatoes, small dice
1 bunch parsley, chopped fine (you can use the stems, but avoid the larger part of the stem; only chop the part of the stem that has leaves)
different dish. But if you like onion, chop it all)
1 bunch mint (clip the leaves off of the stems and chop them)
3 Tbsp high quality extra virgin olive oil 1/4 cup fresh squeezed lemon juice (freshly squeezed, not bottled)
2-3 teaspoons of salt
You can add a pinch of freshly ground black pepper if you like; I prefer it without. Mix all of the ingredients together. This salad will absorb the salt and the vegetables will juice out. The juice is great for soaking up in fresh bread–or, even better, used to make a Martini. At Pomella we have a composed version of this salad made with Romaine lettuce, red wine vinaigrette and sheep's milk feta cheese.
Hummus
Yields 10 cups
Courtesy of Mica Talmor, chef/owner Pomella (Oakland, Calif.)
1/2 Tbsp baking soda 2 cups tahini
1 cup lemon juice
18 grams (about four cloves) garlic, peeled 1 1/2 Tbsp kosher salt
1 1/4 cups ice water Instructions:
Soak garbanzo beans in cold water for at least two days, replacing the water daily. Add the beans to a pot and top with fresh, cold water a few inches above the beans. Add baking soda and cook until very tender. While cooking, stir and using a sieve to collect the floating shells. When cooked, drain the beans, place in a food processor with the rest of the ingredients, and process to a fine paste. Use within three to five days.