Margaret Mitchell is the CEO and co-founder of the Epi Center Medspa in San Francisco.
She'll never forget March 16th, 2020. She heard from the mayor around 1:00 p.m. that she would have to shut her business down. Margaret had to contact all her employees and tell them they wouldn't be coming back to work for the next day. She didn't know when they would all return to the medspa.
Her boyfriend Freddy Clarke has a charming 70-year-old house, so while under quarantine, she went there. They both went to work in the backyard, and they planted, scrubbed, trimmed, dug holes, got out the electric drill created planter boxes, and renovated the outside.
"We were thinking about when things opened up in a social distancing. We wanted to have friends over and what that would look like. And I have a huge passion for cooking, and I would pull my mother's recipes out to go through them, and I decided I was going plant all of the herbs that would take to make these recipes and the vegetables, and so that's what we did."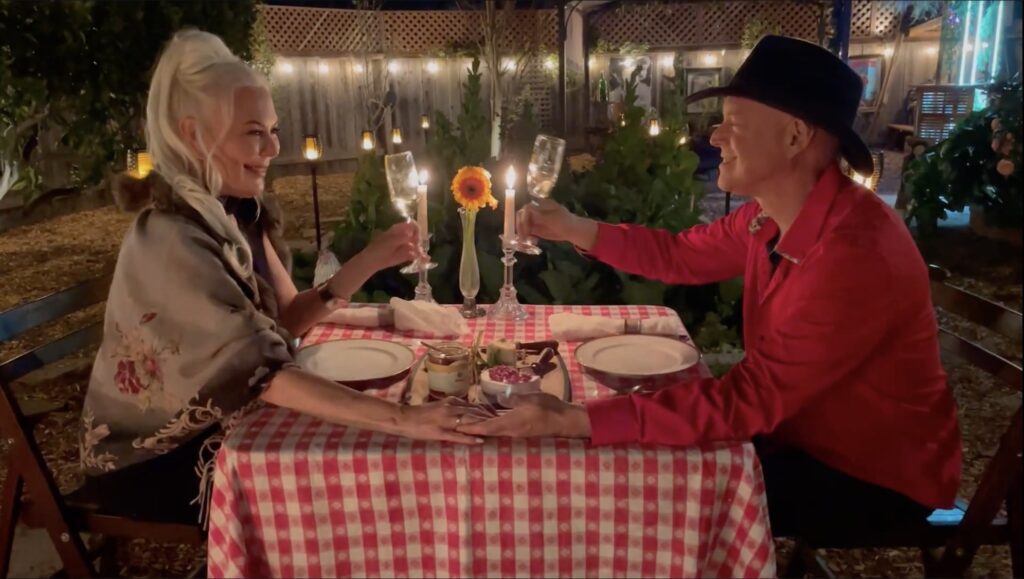 Below are Margaret's two favorite recipes that she's sharing with you.
Enjoy!
Sweet Potato Carrot Soup With Lobster
Prep Time: 20 mins Cook Time: 20 mins Total Time: 40 minutes 8 servings
INGREDIENTS
Soup
1-2 tablespoon coconut oil
2 large chopped yellow onion
4 cloves garlic, minced or 2 tablespoons
1 1/2 tablespoon minced fresh ginger
2 tablespoons red curry paste
8 cups low-sodium vegetable broth, plus more if needed
8 large carrots
6 peeled (or skin on) sweet potatoes
1/2 stick of butter
½ teaspoon fine-grain sea salt, plus more to taste
Freshly ground black pepper
Up to ¼ teaspoon cayenne pepper (optional, if you like spice)
Topping
4 4-ounce Lobster
1 stick of Butter
Minced Cilantro
INSTRUCTIONS
To make the soup: In a large pot, melt the coconut oil over medium heat. Add the onion, garlic, and ginger and sauté for 5 to 6 minutes.
Stir in the curry paste, salt, pepper and cayenne pepper. Along with the carrots, sweet potatoes, salt, and vegetable broth. Stir until combined.
Bring the soup to a low boil over medium-high heat and then reduce the heat to medium-low. Cover and simmer for 15 to 20 minutes, until the potatoes and carrots are fork-tender.
Ladle the soup carefully into a blender or Nutra Bullet. You will likely have to do this in a couple of batches. Blend until the soup is completely smooth. You may want to thin out soup with vegetable broth if you feel it is too thick. Careful though, you want it thick and creamy.
Put back into the pot. Add 1/2 stick of butter and season to taste.
Ladle the soup into bowls and top with minced cilantro and grilled lobster soaked in butter. Pour a bit of butter on top. This soup will keep in the fridge for up to a week, and freezes well for 1 to 2 months.
To make the topping: Preheat the grill or broiler 400°F. Line a large baking sheet with parchment paper of using broiler.
Cook the lobster, remove from shells, cut into bite size pieces and place in a small pot of melted butter and garlic.
Mediterranean Style Branzino
Prep Time: 10 mins Cook Time: 20 mins Total Time: 30 minutes 4 servings
INGREDIENTS
For the fish
2 branzino
3 tablespoons extra virgin olive oil
4 garlic cloves minced
4 sprigs of fresh oregano
4 sprigs of fresh rosemary
1 lemon cut in half and sliced thinly
salt and pepper to taste
For the veggie
1 tbsp olive oil
2 large bunches of spinach
2 large bunches of swiss chard
6 garlic cloves minced
1 large yellow onion
juice of a lemon
1/2 cup vegetable broth
salt and pepper to taste
INSTRUCTIONS FOR THE FISH
Place the oven on highest broil setting
Place parchment paper onto a sheet pan.
Slice 3-4 slits into the fish, parallel to the fish's head, going with the direction of the scales.
Pour the olive oil all over the fish, both sides.
Spread the garlic mixture evenly into the cavities of the fish.
Place the oregano, rosemary stems and lemon into the cavities of the fish.
Place the sheet pan into the preheated oven for 18-20 minutes or until the fish flesh is flaky and white. Serve with extra lemons
If you want a truly crispy skin on both sides, roast on a roasting rack.
Suggestion: Place on platter with sliced lemons, cut tomatoes and parsley.
INSTRUCTIONS FOR THE VEGETABLE
10 minutes before the fish has come out of the oven, place a large pan over medium heat.
Add olive oil onion and garlic to the pan. Allow to sweat about 4 minutes until garlic is a little toasted.
Add the chopped Swiss chard (including stems cut like celery) and broth to the pan. Toss with tongs until the chard is wilted. This will take about 2 minutes. Add spinach and toss for another 2 minutes
Squeeze the juice of 1 lemon then season with salt and pepper.