TIM LAPPEN
A lifelong petrol-holic, mechanic (cars, motorcy- cles, boats), and automotive journalist since penning a column for his high school newspaper,
Internationally recognized attorney Tim Lappen is a partner at a major Los Angeles-based law firm, where he chairs the firm's Family Office Group and Luxury Home Group — and is, of course, a member of its Motor Vehicle Group.
He can be reached attlappen@gmail.com or visit LifeInTheFastLane.org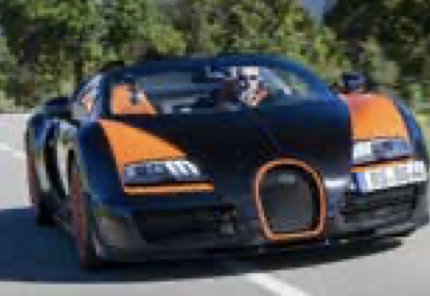 2021 LAMBORGHINI HURACÁN STO
A race car for the street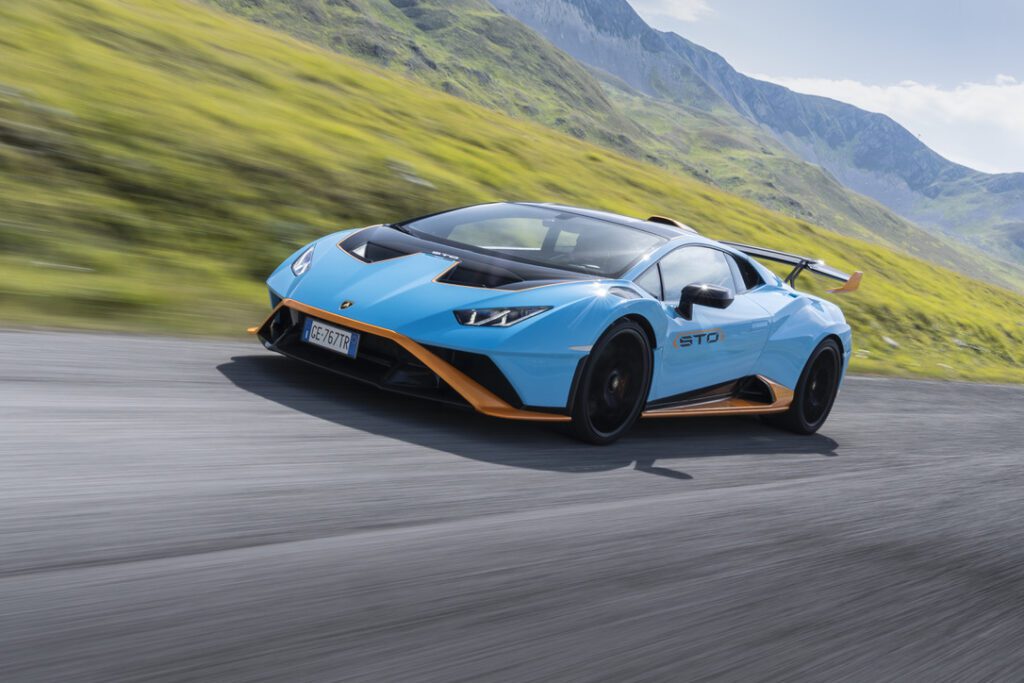 Faithful readers (quick shout-out to my wife, Gail) may recall that I have experienced some great track time and street time with some of the top-performing cars around: Bugattis (several Veyron models and the Chiron), McLarens (including the Senna and P1), Pagani (Huayra), Aston Martins (Vanquish, DB11 AMR, Vantage V-12 S), hot rods (looking at you, Ring Brothers), and, of course a baker's dozen of Lamborghini's finest, from the Gallardo and Murciélago to the Huracán and Aventador). But after less than five minutes with the Lamborghini Huracán STO, I wondered, "From what alternate universe did this car arrive?"
Unlike the normal homologation, in which a manufacturer builds a limited number of "street" cars so that its race cars qualify for certain types of races, the STO feels like Lamborghini built just enough race cars to be sure that the STO street car would be a car that goes right up to the line of what's allowed on the road. And after I had some seat time with this monster, I found out that STO actually is shorthand for Super Trofeo Omologato—it actually is a road-adapted ("homologated") version of the Huracan ST Evo, a GT racing car which provided the wildest Lamborghini track experience ever.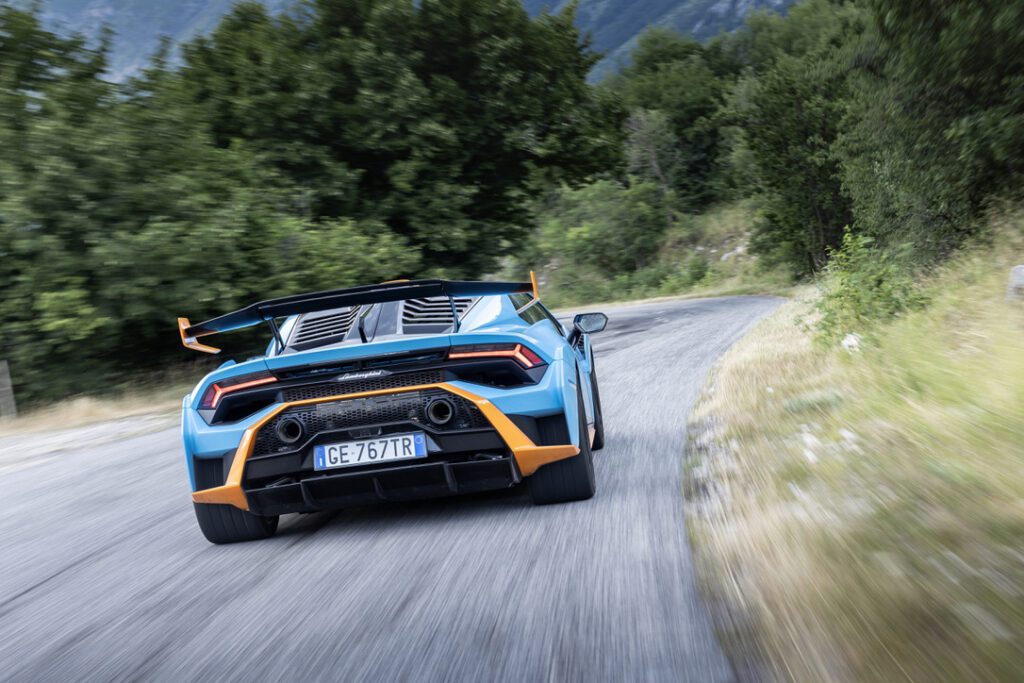 Computer geeks talk about "wizzywig," the pronunciation of "WYSIWYG," meaning "What You See Is What You Get." The STO is all about that, as it looks supersonic and it turns out to be even faster. Its stance and overall appearance clearly write checks that its engine and suspension can easily cash … and return lots of change. Maybe the numbers will help explain this better.
The 5.2-liter V-10 engine is naturally aspirated (no turbos or superchargers) and pumps out over 630 horsepower.
Rear-wheel drive with 4-wheel steering makes the car feel shorter than it is, so it turns quicker.
Torque vectoring by brake on all wheels helps slow one or more corners of the car to make it turn in to the corner quicker.
Zero-to-60 in 3.0 seconds and a top speed of about 193 miles per hour.
Aside from the above numbers, track times are much quicker than before, since the highly advanced aerodynamics use air to bolster traction by pressing down on one or more wheels, rather than adding weight to keep the car on the ground.
Carbon-ceramic brakes are like those used on Formula 1 cars, rarely used on road cars.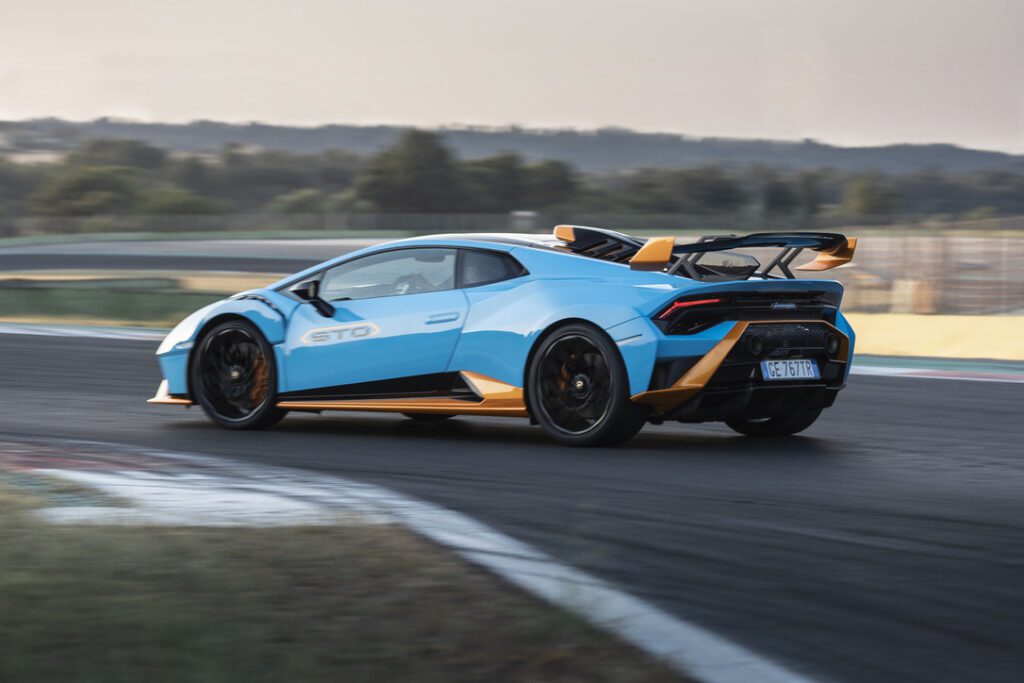 How does this play out in the real world? Very quickly! Climb into the cabin and be ensconced in a seat made to keep you in place, which is important when accelerating and cornering in the way that the STO can perform. Fire up the engine, and the first thing you notice is that sound. It's all-performance all the time, and the sound perfectly portends the thrill coming soon—make that very soon.
With a 7-speed dual clutch transmission, shifts are accomplished in milliseconds (pause to let that sink in), so the forward trajectory of this land-based missile seems seamless as it hurtles faster and faster forward. There's no perceptible pause for a gear change, just constant thrust. I can't actually say that it made me want to be a better man, but it did want me to go ever faster (terrible excuse for speeding, I know). The STO is so effortlessly quick that it's easy to forget that you're not behind the wheel in the world's best racing simulator and that real-looking scenery shooting by is IRL (in real life).
This new Huracán offers three new driving modes: STO, Trofeo, and Pioggia. The first option offers an all-weather, easy "spirited" driving experience; the second one is for track use in wet and slippery conditions (I like to call this one "Bet the Farm"); and the third one is for maximum performance on a dry track. As you might expect, the modes adjust not only the transmission, but also the car's suspension and other subsystems.
The base price of the STO is $327,838. "Mine" was "Nero Noctis" (very black) and the interior was "Nero Cosmus" (also very black). With a great set of options—like the dark chrome and carbon package ($8,600), a snorkel and rear wing ($8,500), a carbon rear diffuser ($8,500), the aforementioned sport seats ($7,200), and forged 20-inch wheels ($2,000)—the sticker price rose to $394,033. It's hard to put a price on what this car delivers, though. For me, the sound and the performance alone are worth the price of admission.
2021 MERCEDES-MAYBACH S580
An opulent sedan with terrific performance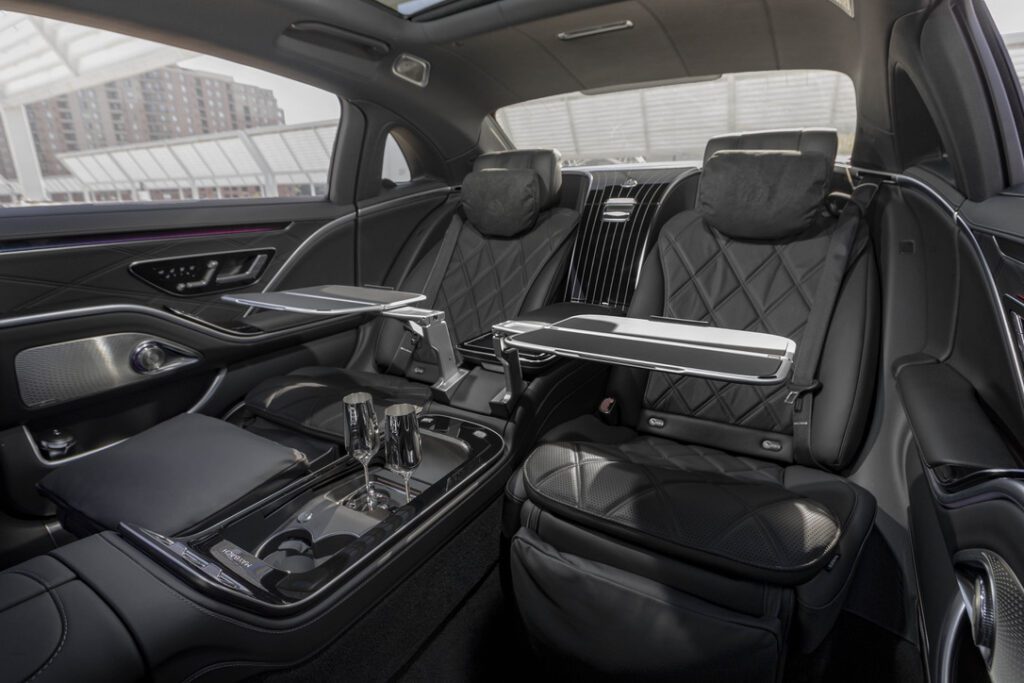 I feel a little like a schoolmarm here, with ruler at the ready, but I am compelled to start with the pronunciation of "Maybach." Interestingly, the most common way to say it, among those who know the German language and German car history, seems to be "MY-bach," even though it looks like "MAY-bach." And I once met a member of the Maybach family who said that his branch (perhaps tired of mispronunciations) pronounced their name "MAY-bach." So, there you have it. Or don't. But it's like they say about Brits and Americans: two nations separated by a common language.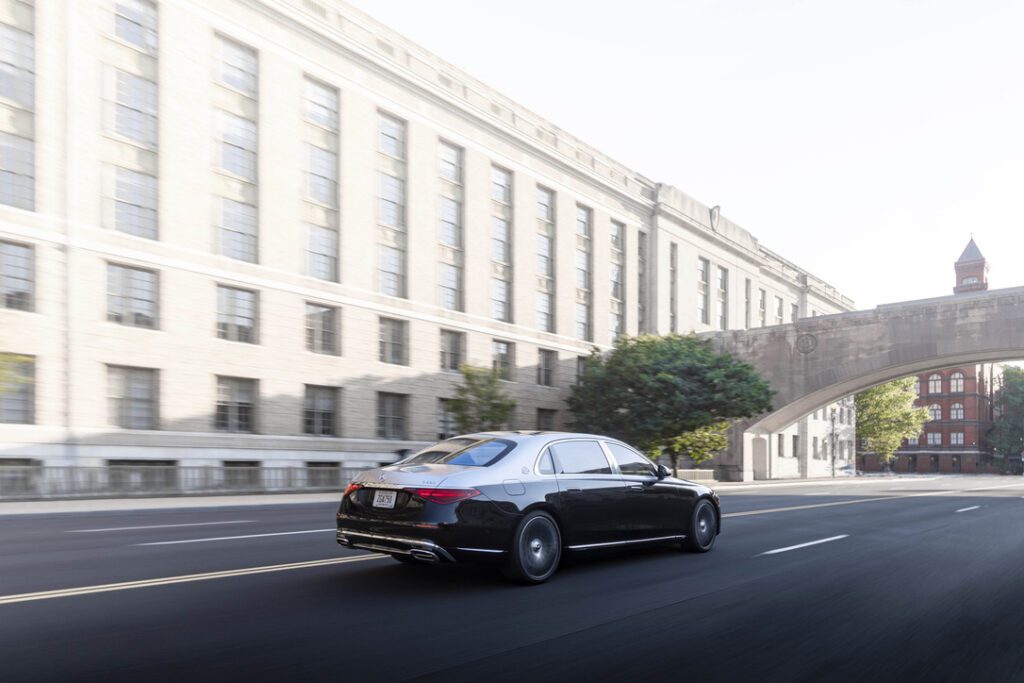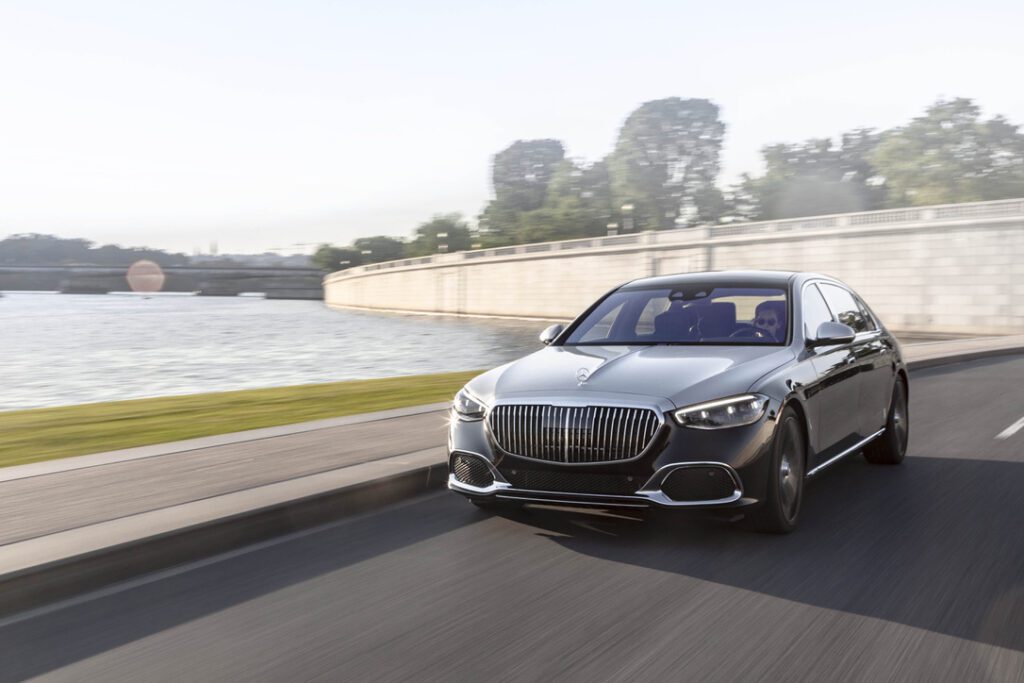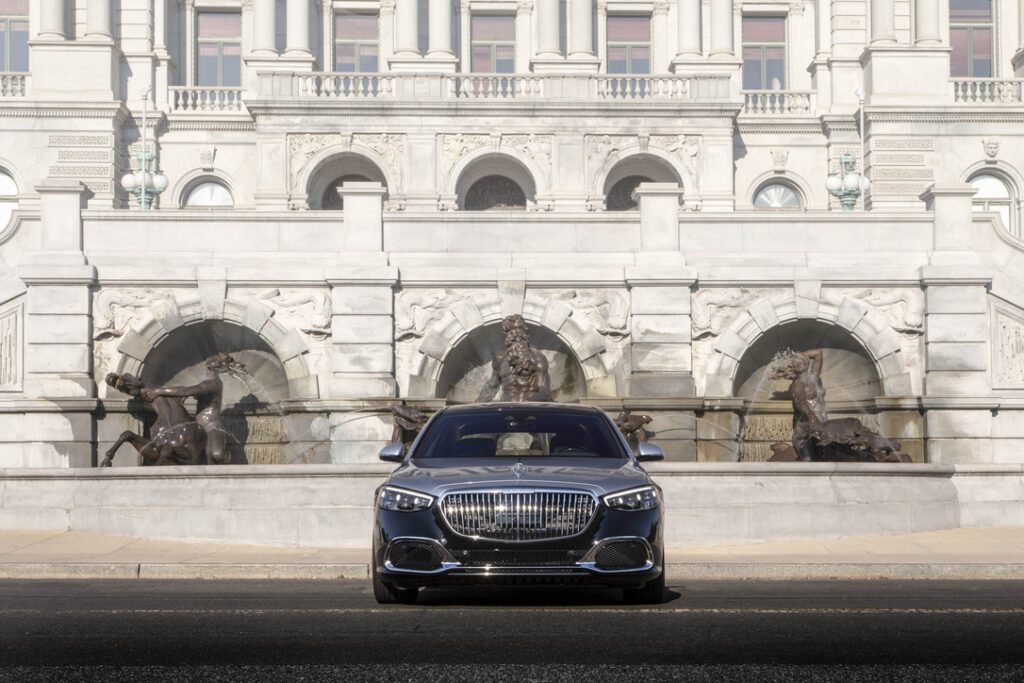 Now that we're on the same page (oh, well, close enough), let's take a look at the car. Almost 20 years ago, Mercedes decided to create an upmarket sub-brand, perhaps to compete with the BMW/Rolls-Royce family of vehicles. However, that foray was not overly successful, and production stopped a few years later. Then, a couple of years ago, Mercedes brought back the name (it's the last name of William Maybach, Mercedes' chief designer in the early years), and the model profiled here is the Mercedes-Benz Maybach S580, a high-end S-class (MB also offers a Mercedes-Maybach GLS, a very high-end SUV). With a price starting at $184,900, it's certainly near the top of the S-class sedan price range, but the creature comforts available on this car—fully-reclining rear seats, wine refrigerator, crystal goblets, etc.—put the car in a class by itself. Its closest competitor would be a rolling palace. As expected, it drives like a dream, rides like a cloud, and coddles its occupants.
True, there are many similarities between the "regular" S-class and the Maybach version. They certainly resemble each other, though there are more flourishes and design changes on the Maybach. Notably, it has a longer wheel base, so the ride is somewhat smoother and the interior somewhat more commodious. They share the same twin-turbo motor and its output—just under 500 horsepower—moves this 2-ton-plus boulevardier from zero to 60 in 4.7 seconds. (If that's not fast enough for you, order the V12 engine option.) Of course, having 516 pound-feet of torque, thanks in part to the car's "EQ Boost" electric motor, is what makes that magic happen.
"My" Maybach had a beautiful, duotone paint job: "Cirrus Silver" from just below the beltline on up, including the hood and top, and "Obsidian Black" below. Coupled with stylishly unique chrome disc-like wheels, the car has a really elegant stance and looks terrific (and imposing) from all angles. It looks much lusher than its S-class cousin.
The beauty continues inside where "mine" was clothed in "Exclusive Maybach Black" leather, as sumptuous as it sounds. Offset by diamond-stitched, perforated seats, the interior trim mostly soft-looking, low-luster silver metal, more like brushed sterling instead of chrome.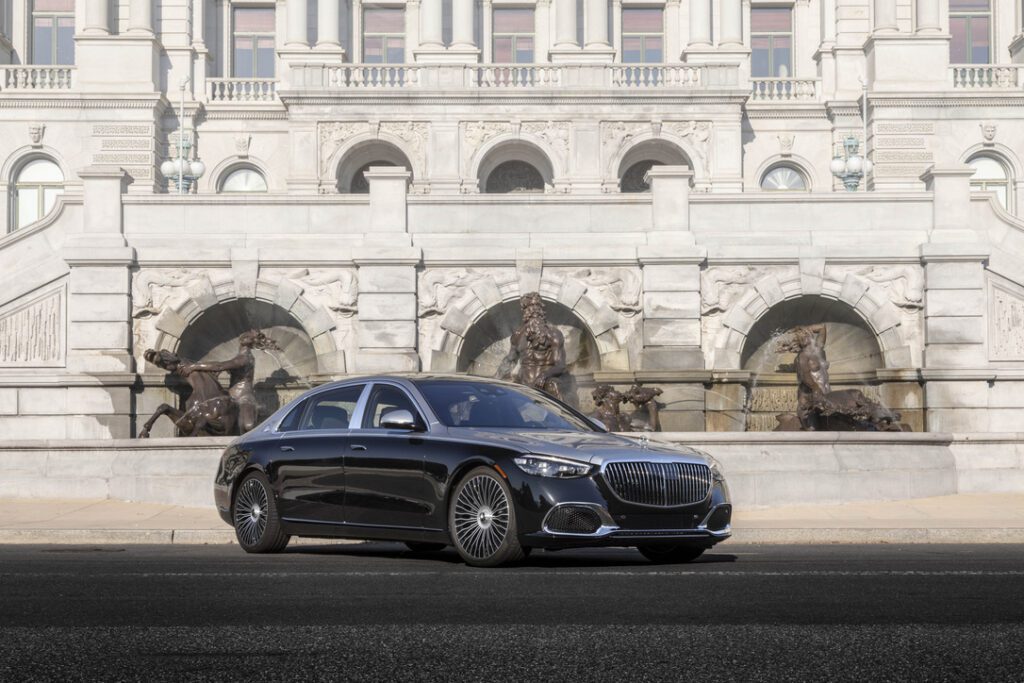 I really enjoyed my time with this car. It doesn't pretend to be a sports car, but it's quick and quite agile for its size. It's super quiet and extremely luxurious. With a base price of $184,900, it comes so well-appointed that mine "only" had $27,150 in options. Of those options, $14,500 was for the gorgeous 2-tone paint and $3,200 was for the champagne flutes which were necessary due to the $1,100 "beverage center console." Don't forget the "Executive Rear Seat Package," though: for $6,000, you get two separate rear passenger seats, each with an airplane-style folding table hidden beneath the inboard armrest and heated and cooled … cupholders.
I felt quite coddled in the Maybach and rightly so. The Mercedes engineers were sure to make certain that the ride quality, the quieted outside sound, the plush seating, the excellent cabin air conditioning, and even the goblets all join together to make one's time in the S580, whether as passenger or driver, relaxing and enjoyable.