The music festival returns, transporting attendees to Paradise City with Guns N' Roses, Foo Fighters, The Highwomen, and more
"Life-changing," I think, as Foo Fighters frontman Dave Grohl bangs away maniacally on a drum set six feet away. It's the Sunday of BottleRock Napa Valley—normally the sleepiest of any 3-day festival—but the crowd at the JaMPad stage has just been served a dizzying injection of adrenaline, thanks to a surprise set by the two-time Rock and Roll Hall of Fame inductee. Announced on Instagram only a few hours earlier, Grohl strolled onstage humbly, a beer in one hand, lyric sheets in the other. "Ladies and gentlemen," he says, setting his drink down on the floor tom. "L'chaim."
The 2021 edition of BottleRock was a long-awaited affair after multiple pandemic postponements. The eclectic lineup drew nearly 120,000 attendees to the Napa Valley Expo on September 3 – 5 with artists such as Miley Cyrus, G-Eazy, Cage The Elephant, Run The Jewels, and Jimmy Eat World on the bill. Grohl headlined the final day of the festival with Foo Fighters, but right now he's here to perform "The Hanukkah Sessions" at the intimate JaMPad acoustic stage. It's a side project he formed with friend and music producer Greg Kurstin, who joins him onstage with a keyboard.
"Last year, we decided that instead of recording a Christmas song, we would record one for each night of Hanukkah—songs by Jewish artists you might not know are Jewish," he explains. "And we decided that today we would perform [these] for the first time in front of a live audience." He grins. "'Cause why not, right?"
Cheers erupt, and Grohl and Kurstin launch into a cover of Beastie Boys' "Sabotage." The driving bassline builds up to the iconic opening verse and Grohl mimics Ad-Rock's bestial squeal perfectly, sending shivers down my spine. Somehow the legendary voice that has fired up some of the largest stadiums in the world is right here in Napa on this tiny stage adorned with a single disco ball. Grohl croons through Drake's "Hotline Bling" next, and Kurstin steals the show in Bob Dylan's "Rainy Day Women #12 & 35," donning a neck holder to play the harmonica and keyboard simultaneously.
"Earmuffs, kids," cracks Grohl, before launching into the distinctive snare drums opening Peaches' iconic "F**k the Pain Away." He tears through the song with aplomb, even when he nearly loses a stick midway through the song, managing to nail the famously languid "Huh? What?" refrain without missing a beat. It's moments like these that make live music festivals so exhilarating.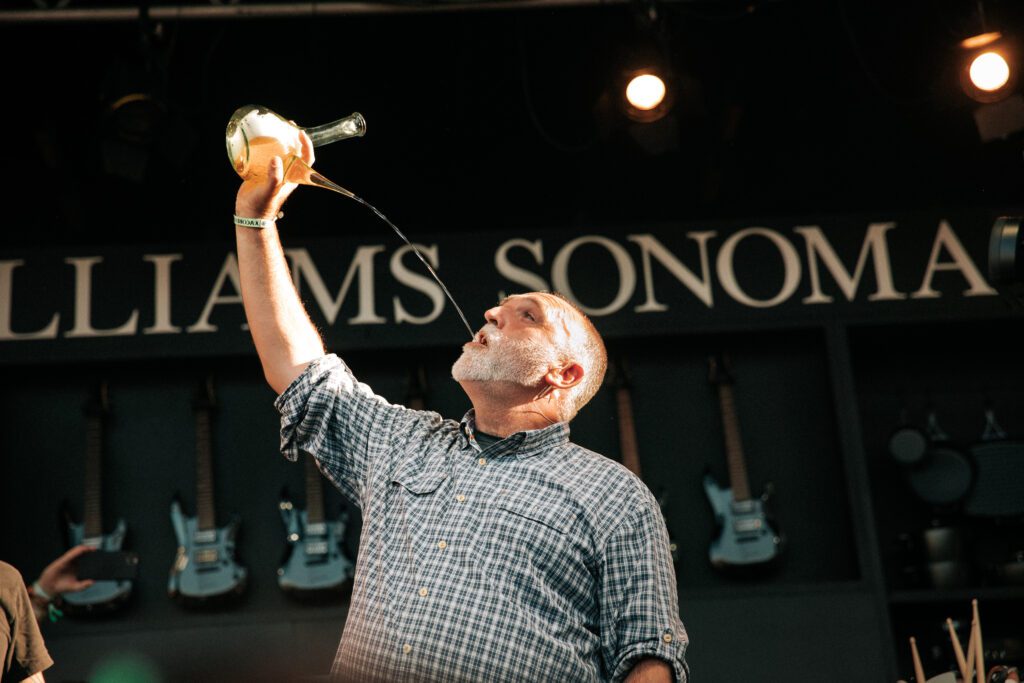 The electricity in the air follows him to the Williams Sonoma Culinary Stage, where Grohl joins chef José Andrés for a lesson in frying eggs topped with Jamón Ibérico, potato chips, caviar, and uni. A porrón of champagne is passed around, and the antics culminate in Grohl joking that the Foo Fighters set is canceled because he's too inebriated to perform. After they ham it up—Andrés playing air guitar on a cured pork leg and Grohl strumming a working bass guitar made from a pizza peel—Andrés peels off his button-down to reveal a t-shirt reading "IMMIGRANTS FEED AMERICA." He reminds the crowd that it's not about the passport you own, but rather how much you give back to the community.
Other memorable culinary stage moments included chef Tyler Florence flinging buttermilk fried chicken legs into the crowd à la Oprah and former Giants outfielder Hunter Pence batting packets of chef Ming Tsai's vegan patties to hungry fans. Food options at BottleRock were also plentiful, although Morimoto's exalted menchi katsu burger wasn't available this year (fingers crossed for 2022). Nash & Proper hit the spot with a Nashville-style hot chicken sandwich topped with a cabbage-jalapeño slaw drenched in dill brine vinaigrette—divine, especially when washed down with craft cocktails from the Hendrick's Gin pop-up bar or SugarSpritz Watermelon "winetails" at JaMPad (which I implore JaM Cellars to bottle and distribute). It's that good.
Friday headliner Stevie Nicks pulled out a few weeks before the festival and replacement Chris Stapleton unfortunately fell ill the morning of, but BottleRock brought in The Highwomen to save the day. Comprised of Natalie Hemby, Brittney Spencer (filling in for Amanda Shires), and stars-in-their-own-right Brandi Carlile and Maren Morris (who also performed solo sets at BottleRock), the rising country supergroup brought the house down with stirring harmonies, ending with a compelling cover of Fleetwood Mac's "The Chain." On Saturday, Guns N' Roses rocked the mainstage, with singer P!nk making a surprise cameo on "Patience" and an appearance from Grohl during "Paradise City." Although the sound cut off at 10 p.m.—Napa has a strict noise ordinance—the crowd stepped in to sing the lyrics word-for-word until the very end. The abrupt silence could have been a downer, but instead it served to reaffirm the collective energy of BottleRock: there's just something cathartic about belting out the lyrics to one of the most immortal rock songs alongside thousands of people, perhaps even more so when you haven't attended a single concert in nearly two years. On Sunday, the Foo Fighters closed out BottleRock with an impassioned rendition of "Everlong," and concertgoers stamped their feet and swayed in unison all across the grounds: "And I wonder if everything could ever feel this real forever … if anything could ever be this good again." The lyrics captured the moment completely.
Luckily, the next BottleRock is only six months away.