Experience a resort dedicated to your wellbeing
Banyan tree might seem like an odd name for a world class hospitality group. After all, what does a tropical fig tree have to do with 5-star accommodations, award-winning spas, and uncompromising service? More than you would expect.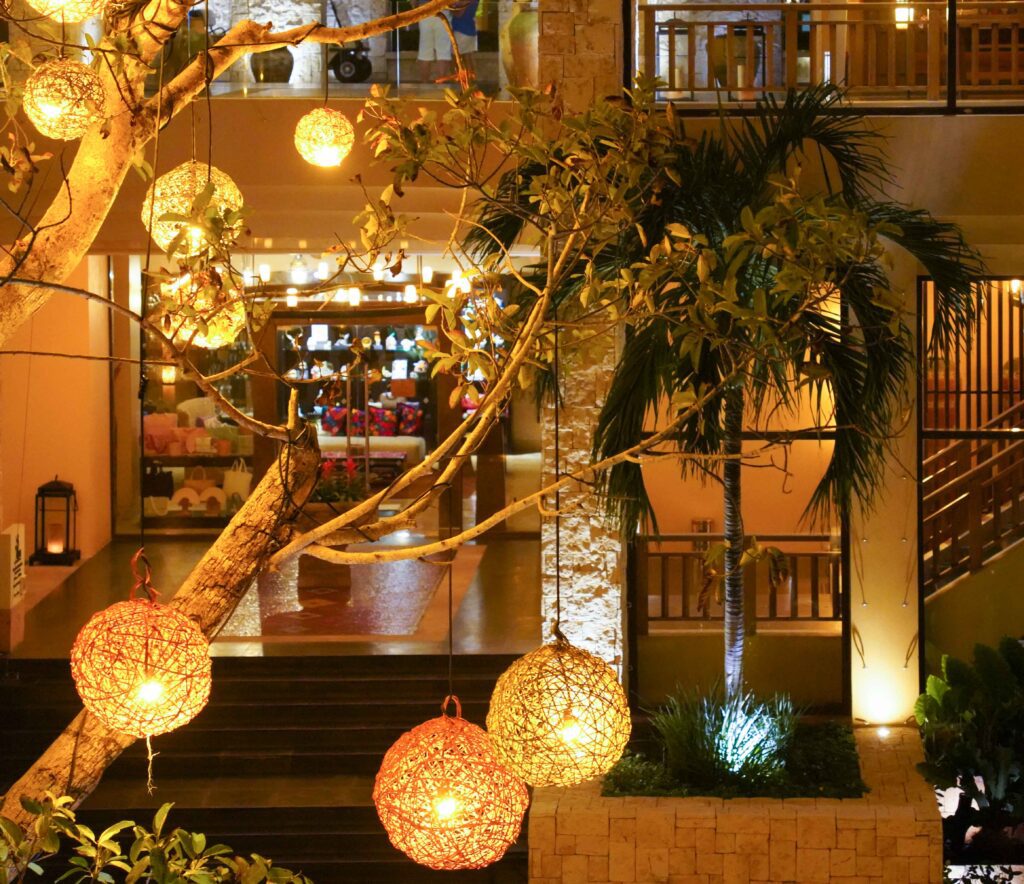 Banyan trees have captured the imaginations of writers for centuries. In the Hindu religion, the banyan tree is considered a cosmic "world tree." It's said that the tree grew upside down, with its roots facing up to the heavens, while its trunk and branches reached down to earth, bringing blessings to humankind. It is believed that gods and spirits travel among the banyan tree's leaves and pillar roots. In the Bhagavad Gita, Krishna used the banyan tree to illustrate the true significance of life. He said that the banyan tree symbolizes immortality.
Alexander the Great and his army reached India in 326 BCE, where they saw their first banyan tree. They described it to Theophrastus, the founder of modern botany. Fast forward to the 17th century when English poet John Milton wrote Paradise Lost. He wrote that Adam and Eve made their first clothes from banyan leaves.
So, when the hospitality group's founders searched for a name suitable for what they envisioned, Banyan Tree was ideal. They understood the profound importance of the tree and discovered it to be the perfect expression of what they wanted to create.
"Exceptional experiences are those that inspire us to go beyond where we are, through emotional journeys of awe and connection," shares Ho Ren Yung, of Banyan Tree Group. "We want wellbeing to be inspiring, accessible, and impactful in a way that can be woven into everyday life."
Really, Ms. Yung?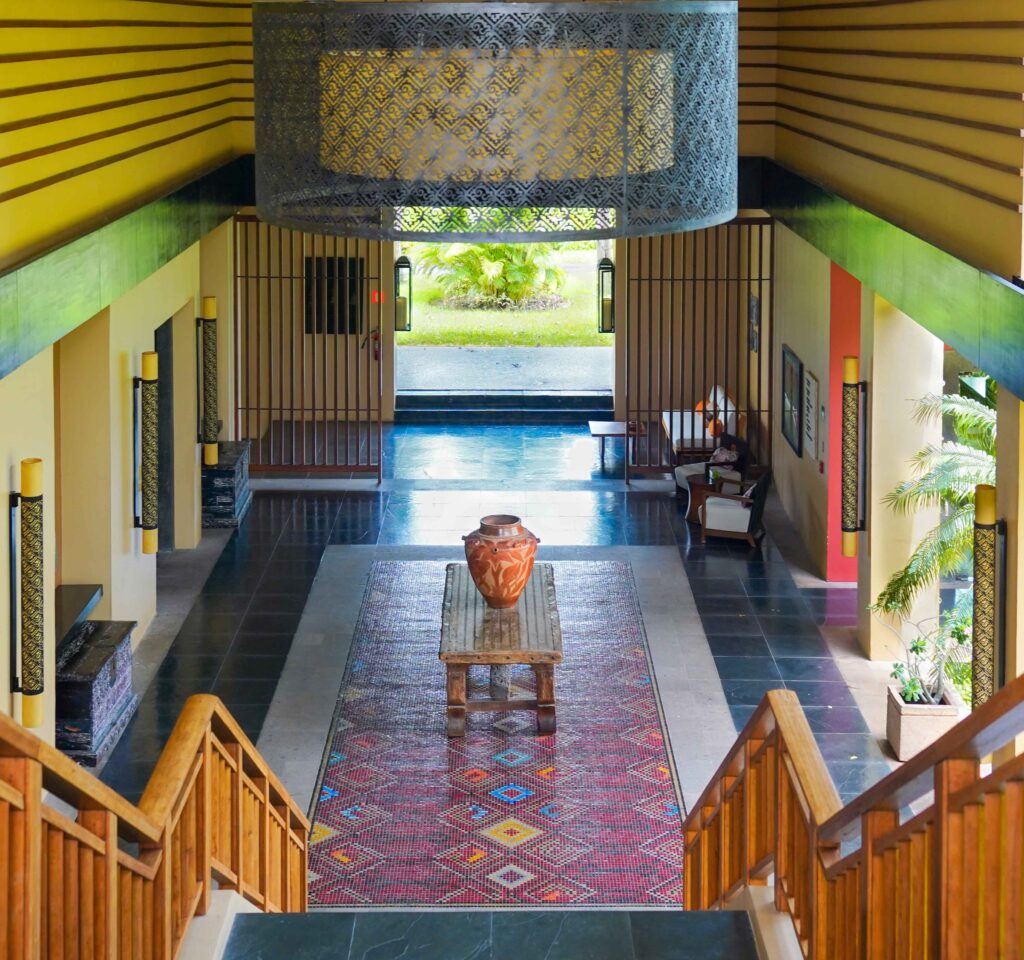 That's more than I could possibly expect from any vacation. However, I wanted to see if what Banyan Tree professed was genuinely attainable. So, off to Banyan Tree Mayakoba we went. While there are dozens of Banyan Tree Group resorts around the globe, I chose the one closest to me. The flight from San Francisco International Airport to Cancún, Mexico was easy, short, and drama-free. Once we arrived in Cancún, a driver from Banyan Tree was there to greet us. The ride to the resort took less than an hour in an air conditioned, luxury SUV supplied with refreshing wipes, water, and sanitizer.
Banyan Tree Mayakoba is located on the pristine Riviera Maya. Mayakoba is one of the most diverse resort compounds in the world. It connects freshwater lagoons and mangroves with natural dunes, intricate coral reefs, white sandy beaches, and the crystal blue sea. After winding our way through a lush mangrove jungle, we pulled up to the resort's opulent entry, adorned with a spectacular lily pond and Olympic-sized torch lighting the way to the lobby. In the center of the main complex, a massive banyan tree, glowing with small lamps, rose proudly from the lagoon. Banyan Tree Mayakoba combines luxurious Asian style with local Mexican charm, truly the best of both cultures.
For the ultimate stay, book one of the resort's new beachfront pool suites, part of Banyan Tree Mayakoba's recent $50 million beachfront expansion. These heavenly sanctuaries are located on the sandy beach, kissing the Caribbean Sea. There's no need to pack your toothbrush or even a hairbrush, because the 1-bedroom suite is exquisitely stocked with all you need. Along with great amenities, Banyan Tree Mayakoba offers an impressive selection of in-room services.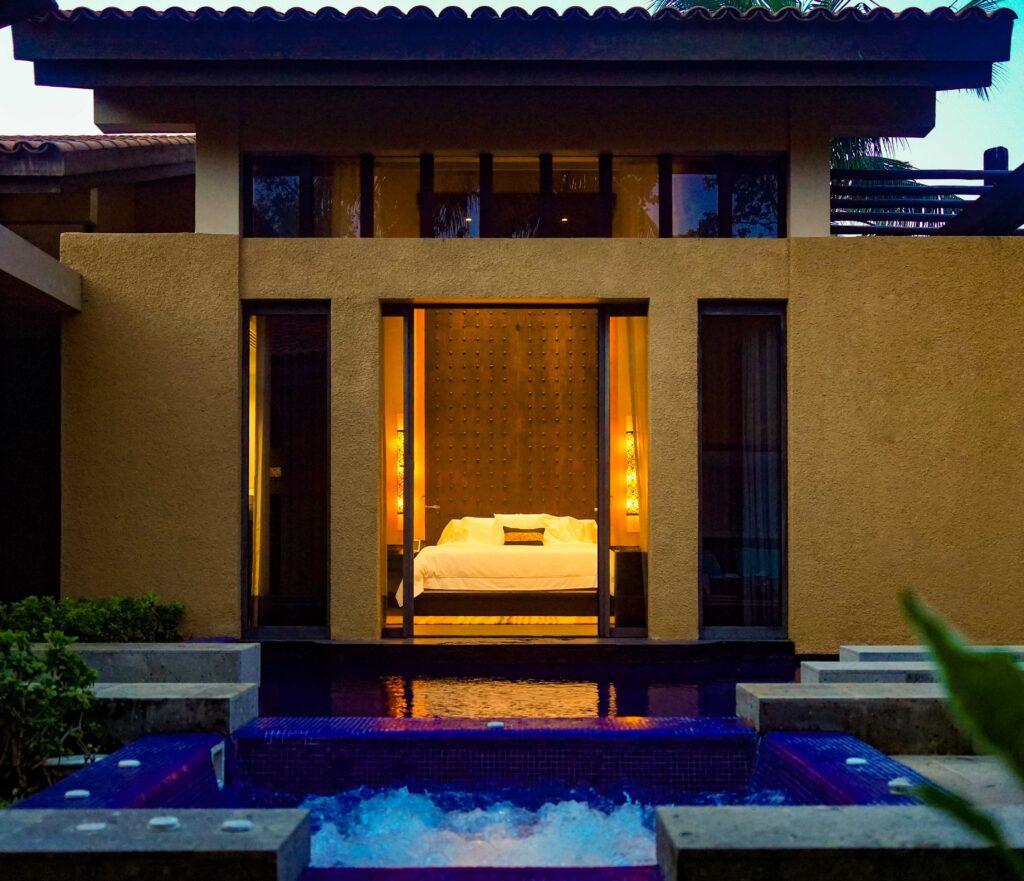 This incredible suite features a private heated pool and an intimate, interior patio that lets the sea breeze in, but keeps the rest of the world out. It's the ideal place to connect with nature, your inner calm, and the one you love. Make sure to book a candlelit bath ritual. Let the front desk know the day and time you would like your bath drawn. When you return to your suite, you will find the most magical setting of wine, candles, and bubbles. We asked for this service, and this experience will go down as one of my all-time favorites.
In November 2021, Banyan Tree launched a new program focusing on your health and happiness. A stay at the Sanctuary includes a 64-point wellness assessment, daily access to wellbeing activities like ocean breath meditation by the sea, pre-sleep bath and body rituals, and nutritious, chef-made meals prepared with locally sourced ingredients. After your stay, you take home a tailored wellbeing guide that includes tips on sleeping better, healthy living, home exercises, and other practices to incorporate into your daily life.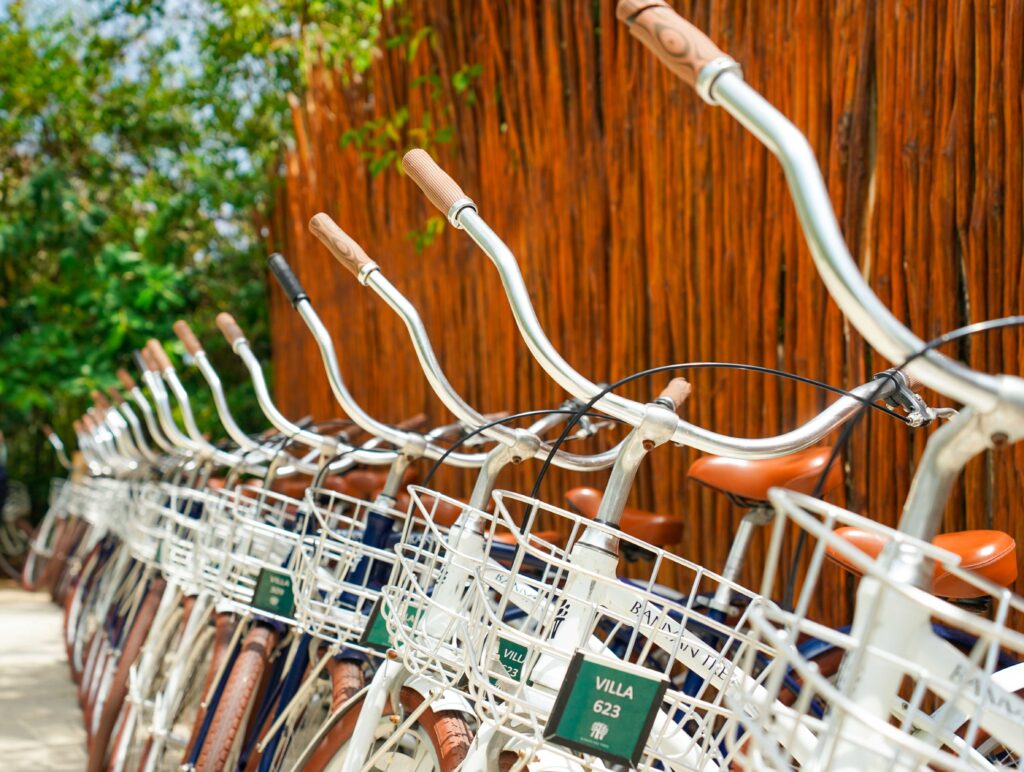 At the award-winning Banyan Tree Mayakoba Spa, I relaxed and rejuvenated with unique treatments, including the "Rainforest" experience. It combined signature spa treatments with state-of-the-art, hydrothermal facilities, including Swiss rain and bucket showers, a rainforest walking trail, and aroma steam.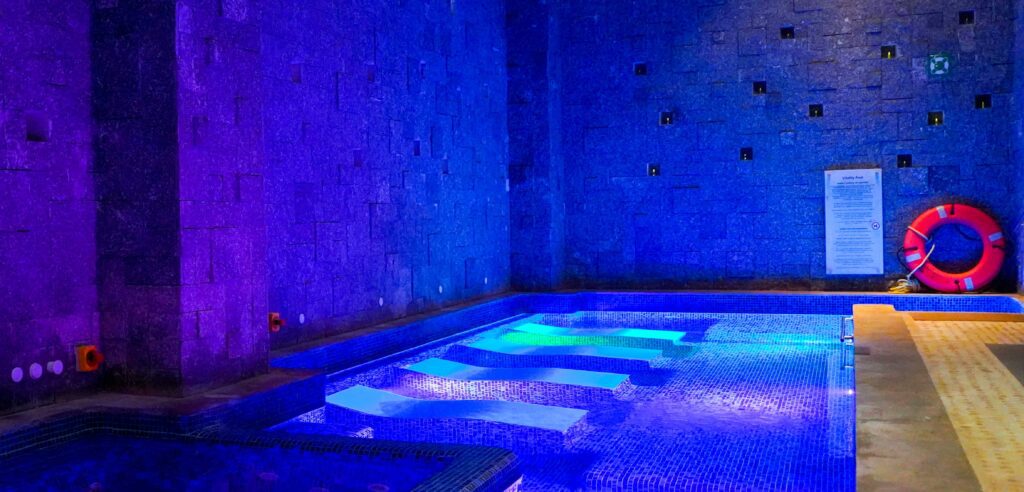 Each Banyan Tree Spa therapist is uniquely trained and undergoes at least 350 hours of instruction based on the rigorous curriculum of the accredited Banyan Tree Spa Academies in Phuket, Thailand, and Bintan, Indonesia. I indulged in a Thai massage that started with a relaxing foot bath and ended with a light snack of fresh tea, cucumber rolls, and fruit. After my day at the spa, I can officially say that Banyan Tree Mayakoba is on track as one of the best spa experiences I've had in my life.
The resort has fantastic dining options. My all-time favorite was room service. It was beautiful, being in our private piece of paradise while enjoying breakfast in our robes.
For a wonderful afternoon, cozy up to a cabaña and enjoy lunch at the new Sands Beach Club.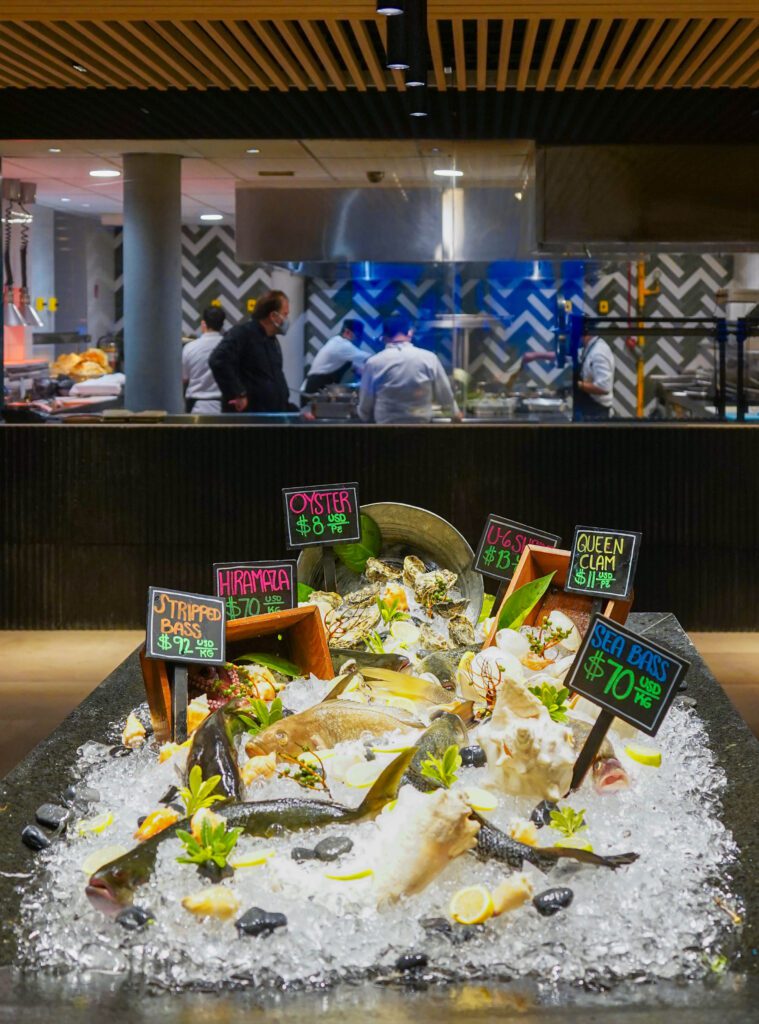 This restaurant pays tribute to ingredients local to the Yucatan Peninsula with fresh seafood and delicious ceviches. At Saffron, Banyan Tree's signature restaurant featuring authentic Thai cuisine, each candlelit table has lovely views of the lagoon and the boats that ferry guests throughout Mayakoba.
While we didn't want to leave the privacy of our cozy villa, we did venture to Oriente for breakfast. I'm so glad we did. There we feasted on freshly made tacos, warm donuts, smoked salmon, tasty mimosas, and Mexican hot chocolate.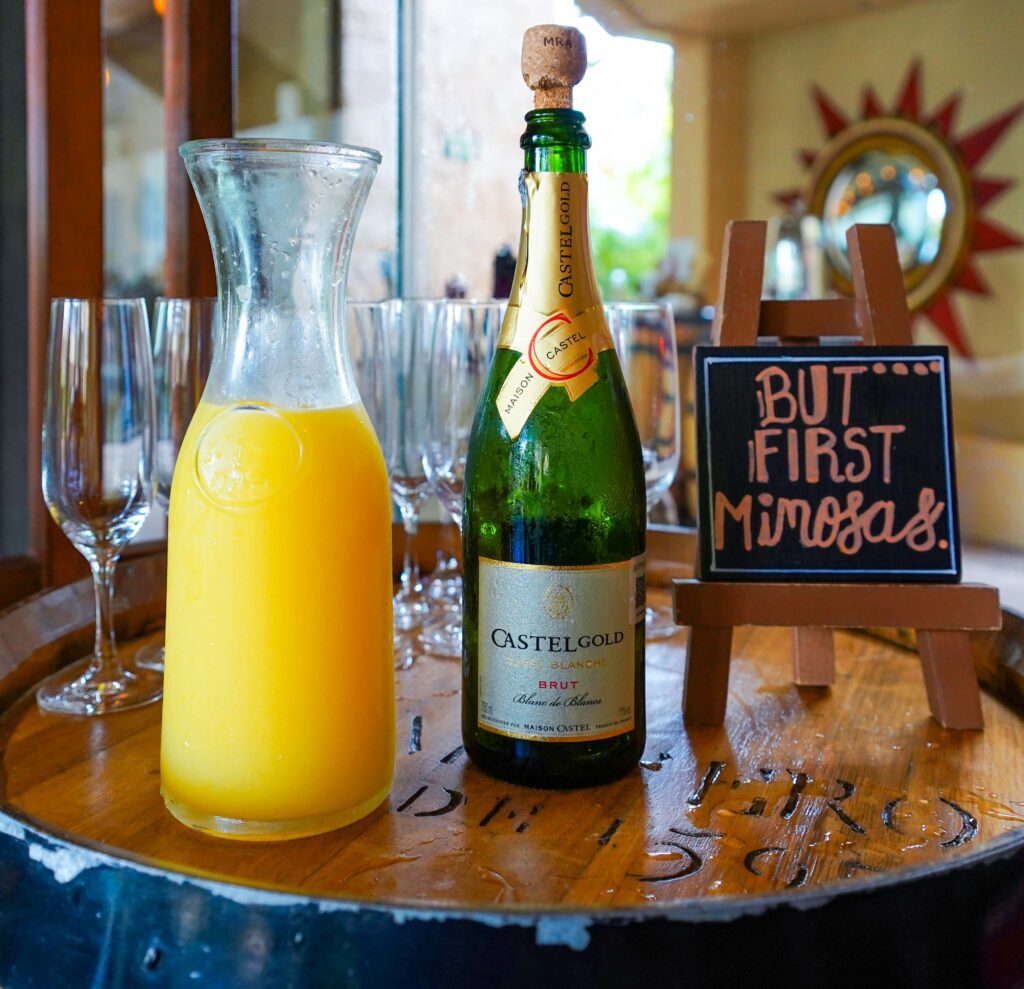 For our last night, we dined at Cello Italian, where we were spoiled with fresh truffles on our pasta and impeccable service.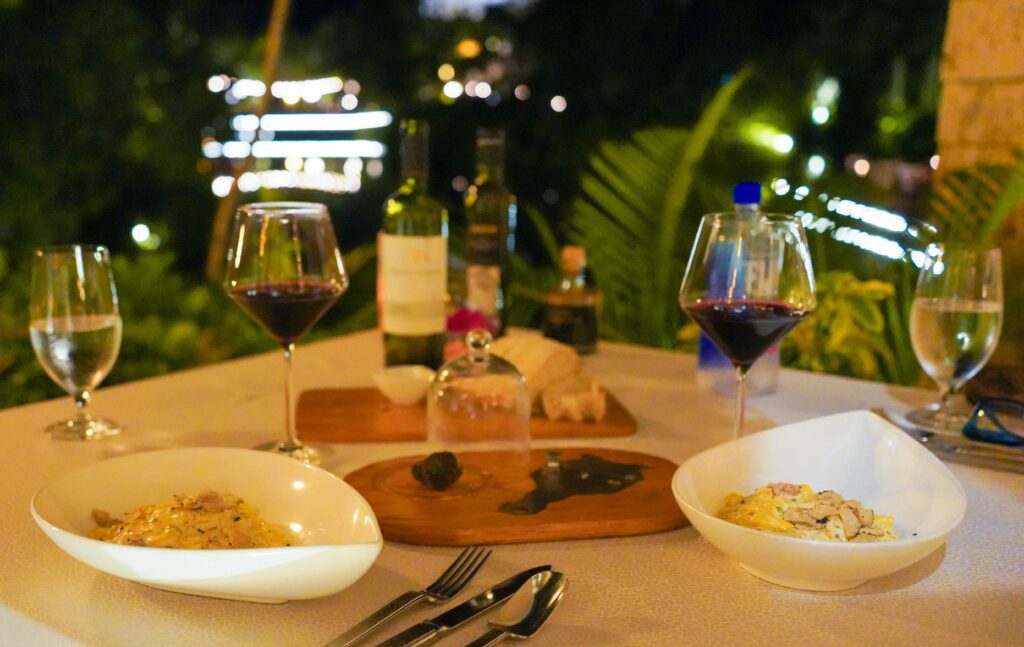 I must admit that we felt calmer, more relaxed, and connected after our stay at Banyan Tree Mayakoba.
Incredible memories were made, and we felt so cradled by the staff. There was nothing we longed for, since all our desires were met before we uttered a word. It was as if the magic of the banyan tree reached down and blessed this special part of the world and the incredible individuals who work and play at Banyan Tree, including you, Ms. Yung.