Good food is enjoyable. Great food is life-affirming. Read the stories of four local chefs whose inspiring journeys have culminated in cuisines worthy of commendation.
Food has the uncanny ability to transport us to a time and place: the first sip of rosé on a hot summer day, rolling over your tongue with a crisp finish; briny, creamy oysters punctuated with the acidic tang of mignonette; even the humble chocolate chip cookie, warm on your fingertips as you lift it off the baking sheet, then melting in your mouth with the perfect balance of salty and sweet. One dish can evoke memories of a buzzy family gathering or recall an idyllic vacation abroad. Eating seems to be the closest you can get to time travel and teleportation in real life.
One of my most unforgettable food experiences was Christmas evening two years ago in the Nishi-Azabu district of Tokyo, Japan. In front of me, suspended atop an intricate copper netting, was a perfectly deep-fried filet of prized golden boar pork sourced from Hyogo Prefecture (perhaps best known for its capital, Kobe, from which the eponymous beef hails). This rich tonkatsu, breaded with panko that dissolved on my tongue like snowflakes, was the work of chef Satoshi Oishi who has dedicated his life to the pursuit of perfecting this dish. In that moment, gazing out the crescent moon-shaped window at the quiet residential street, I felt truly present. This is what good food does: it imparts a sense of place. It makes us feel connected to something bigger.
For this story, I peeled back the layers of some of the Bay Area's best restaurants, particularly the culinary risk takers who call out to my near obsession with gastronomy with the reverence they have for their work. They embody a relentless devotion to product and process and a ceaseless desire to improve. Their accolades range from triple Michelin stars to a family matriarch's priceless stamp of approval. They've toiled in CIA kitchens, artfully arranging nasturtium with culinary tweezers, and stoked fires in their backyard from dusk till dawn, all in the name of perfecting a slow-cooked brisket. The dishes they serve reflect their diverse journeys. I hope this non-exhaustive list shines a light on just a few of the chefs, artists, and innovators who make the Bay Area the singular culinary capital that it is.
Still she rises: Dominique Crenn
In between a Kenyan safari with her fiancé, actress Maria Bello (they are involved in efforts with the conservation and protection of Kenya's ecosystems, natch), and a visit back to her home country, chef Dominique Crenn stops by her farm in Sonoma County during peak tomato season. Walking through the fields of Bleu Belle Farm reminds her of the summers she spent on her grandmother's farm in Brittany, France. Vivid memories—such as the first time she tasted a tomato from the garden, the gorgeous orbs of late summer flavor bursting in her mouth—have shaped a deep respect for terroir. "In the sunlit garden are ruby treasures of the earth," she writes on Instagram.
Crenn's portfolio of accomplished restaurants have long reflected her thoughtfulness, both in their use of organic ingredients and their commitment to sustainability. While chefs have been considered akin to rockstars in the past (and it's impossible not to consider Crenn one), she is on a mission to make vegetables the top-billed act. In 2019, Crenn announced that meat from land-based animals would no longer be served at Bar Crenn, following the previous year's decision to remove it from Atelier Crenn's menu. Meanwhile, Petit Crenn has always served a pescatarian menu, and her next venture, Boutique Crenn, will be entirely vegetarian.
A longtime pescatarian herself, she holds the philosophy that eating is an act of activism. She hopes these decisions not only reduce her environmental impact (she doesn't agree with the way meat is processed commercially, due to its negative impact on our environment and communities), but also encourage others to reflect on their food choices. "It's your choice what you buy and what you put into your body," she says by email, in between dining at an "incredible" restaurant called Embark in Nairobi and saving the world. "Know that even a small change in your own diet can be far-reaching with effects on society, the environment, and humanity as a whole." She knows that her choice to remove meat from her menus is a small change in the grand scheme of things—but she does it because she believes it's right.
Aside from deriving inspiration from the Bay Area and its bounty of fresh produce, her early memories give rise to many of her dishes—recollections of foraging in the woods with her father and brother or of the coastal nature of her hometown of Brittany. In her book, Rebel Chef: In Search of What Matters, she describes these as some of her happiest memories. "I might serve you potatoes roasted in their own soil with a ham broth and, with it, the summers I spent on my grandmother's farm. You might taste black trumpet mushrooms with toasted pumpernickel and chickpeas while walking alongside my father and me through the woods, or sit down to smoked oysters and freshly steamed langoustine, while joining me at my mother's table for lunch." Whimsical and poetic, the inventive dishes she serves at Atelier Crenn are her own imaginative interpretations of these memories.
The signature "A Walk in the Forest" is composed of elements such as a meringue of fragrant burnt pine, a sprinkle of pumpernickel soil, and crunchy hazelnut mimicking rocks along the forest floor. Her salad is a perfectly arranged miniature bouquet of greens sitting atop a globe of vinegar meringue, upending the idea that salads need to be dressed, rather than the other way around. Crenn's fish and chips reimagines the comfort dish with freshly-shaved, dry-aged trout loin over a fish "snow" covering trout tartare, served with a crisp fish skin on the side. So innovative are these dishes that some critics dubbed them "too beautiful" when it first opened in 2010, Atelier Crenn has garnered three Michelin stars, making Crenn the only female chef in America to hold this honor, and one of only five around the world.
Merging nostalgia with innovation, these evocative dishes also celebrate the seasonality of produce from her farm, where biodynamic methods are used to grow and nurture these ingredients Crenn cares so deeply about. Operationally, Atelier Crenn also aspires to become both a zero-waste and carbon-neutral establishment.
Crenn is timeless in her style, a tomboy who can rock both vintage Prada sunglasses and ripped jeans, as well as her philosophy: "Living is moving. Nothing is learned by standing still," she writes in her book. It's been a difficult year, but she hopes that the industry continues to recover and evolve. As for Crenn, whatever is next will surely encompass her values, focusing on "sustainability, humanity, and equality." The chef-artist-activist continues to inspire not only with her imagination in the kitchen, but in her never-ending efforts to better the world around her.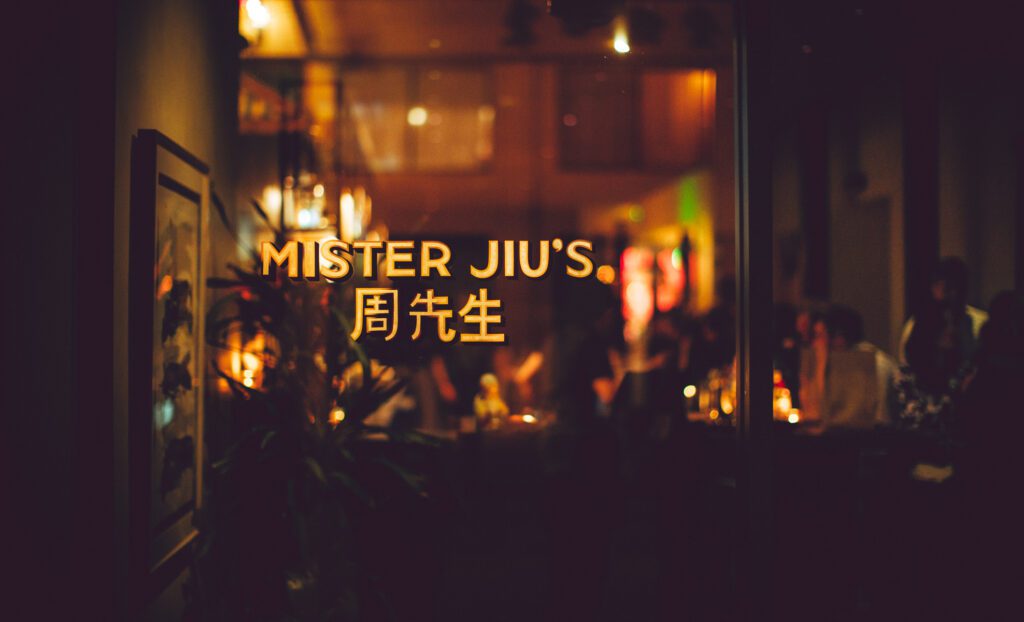 Fortune favors the bold: Brandon Jew
Chinese culture revolves so much around food that we have a universal greeting in Cantonese, asking someone if they have "eaten rice yet" as a way of expressing care for someone's well-being. There are many cultural nuances such as these that are difficult to explain, and this enigmatic quality carries over to our cuisine.
I feel an immediate kinship with chef Brandon Jew, of Mister Jiu's, from our shared backgrounds—it's not often I get to talk to someone about ingredients like sea cucumber or cultural traditions such as fighting over the check at extended family dinners. If you're wondering about the discrepancy in the name, "Jiu" is the original spelling of Jew's surname. It was changed when his yeh yeh (grandfather) immigrated to the U.S., much like the immigrations officer picked a surname for my yeh yeh when he moved to Canada. It's a shared experience for many immigrants, and one that sometimes contributes to the struggles of having an ambiguous identity for many. By naming his restaurant as such, Jew is helping to reclaim some of that identity lost in translation. He is also out to do the same for our food.
Mister Jiu's features dishes that at once honor and elevate Chinese cuisine, while utilizing the best of Californian ingredients. Scallion pancakes receive a distinctly San Franciscan sourdough twist, while dishes of my childhood such as cheung fun (steamed rice noodle rolls) are upgraded with locally sourced rock shrimp and sea urchin. It's also impossible not to admire someone who came up with the idea of chicken feet terrine, a bold spin on the dim sum staple I've had the honor of introducing uninitiated friends to throughout my life, and a dish I could never have imagined served in any other way, shape, or form. It's this appreciation of Chinese cuisine combined with a renegade spirit that led to a Michelin star for Mister Jiu's within six months of opening.
An adherence to the highest-quality ingredients is a remnant of Jew's childhood, in which he followed his grandmother around as she shopped for groceries in Chinatown. The fastidiousness with which she hand-selected produce was a testament to the importance of ingredients in Chinese cuisine, though the significance of these trips wasn't apparent to Jew until many years later. I, too, remember being shuttled around town with my parents as they went to multiple shops all over the city, because they were adamant that this one had the best produce, while that one had the best seafood or meat. As a teenager, I often eschewed traditional dishes in favor of Western dishes such as pizza and pasta. Only in adulthood did I realize the painstaking amount of effort that went into some of the traditional Chinese dishes my mother put on our table.
As it turns out, I'm still learning. When I ask Jew if there is a traditional dish he has been experimenting with putting his own spin on, I discover that sea cucumber is a notoriously difficult ingredient to work with. It's also one I distinctly remember being present in a great deal of my mother's dishes. I vow to message her to better understand her experience with it after my conversation with Jew and end up learning that she once lugged three hundred dollars' worth of the highest-quality dehydrated sea cucumbers back to Canada from Hong Kong. She spent several more days wrangling with the fickle ingredient, a 10-step process that involves multiple rounds of boiling to tenderize it. Despite a mainstream narrative that has at times labeled Chinese food as greasy, cheap, or MSG-laden, the truth is that our cuisine is incredibly driven by curating the highest-quality ingredients and is accompanied by a commitment to time-honored practices that realize the full potential of said ingredients.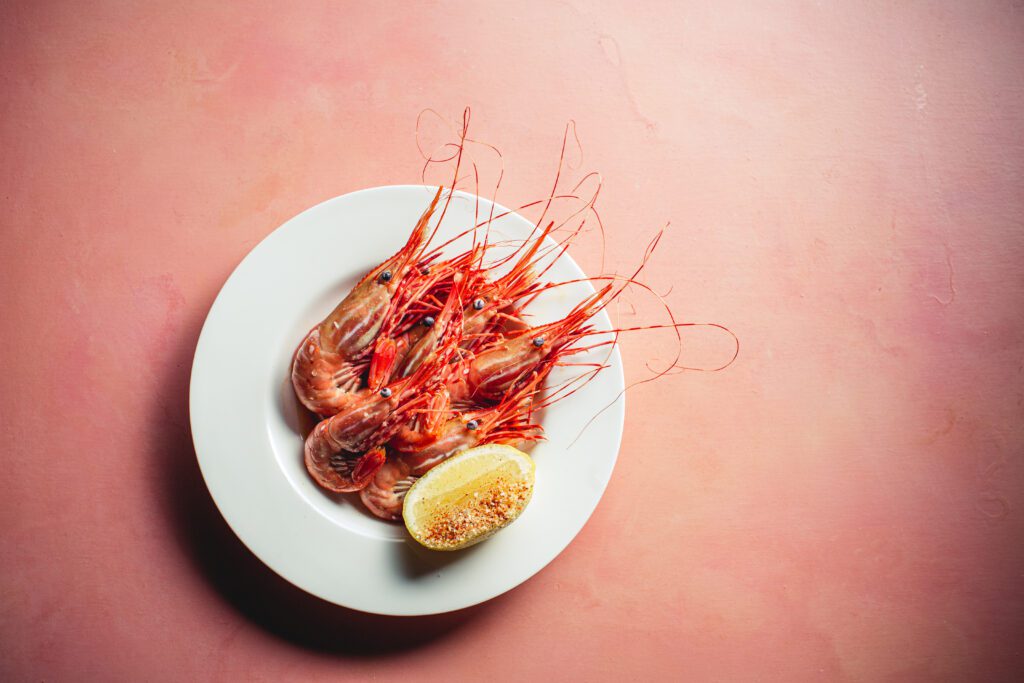 Located in the heart of Chinatown, the building that houses Mister Jiu's itself is also steeped in history, nestled among the hallowed institutions and mom-and-pop shops of Chinatown. Mister Jiu's is only the third restaurant to occupy the century-old building that was once home to Hung Far Low and The Four Seas, a grand banquet hall that hosted the celebrations and weddings of many Chinese San Franciscans, including Jew's own uncle. The scent of freshly baked dan tat (egg tarts) wafts out from Eastern Bakery directly across the street. A few doors down is the namesake establishment of legendary Chinese-American restaurateur Johnny Kan, who is credited with the invention of lazy Susans—essential to the communal spirit of Chinese dining. I can almost hear the serving spoons clinking against various pieces of dinnerware as it went around the table.
In every way, Mister Jiu's perfectly captures the dichotomy of being Chinese-American. Even the space itself is incredibly thoughtful, with the original gold lotus flower chandeliers from The Four Seas hanging above tables inset with custom-made lazy Susans. The current menu cover shows a black-and-white photo of Jew's father perched atop a Camaro and is replaced every so often with other photos Jew has found in his family's archives—ones that he feels picture his family and what they loved about being in America.
I speak for many other children of immigrant parents and grandparents—all of us who grew up with lo mai fan (sticky rice) alongside turkey at Thanksgiving—when I say that I am grateful he is validating these experiences and showcasing Chinese cuisine as one worthy of commanding respect and attention. This is a place I'm proud to take my parents to when they visit, so they can see how far our cuisine has come in the hands of trailblazers such as Jew. Plus, we can feud over the check across the lazy Susan, just as we always do.
Joie de vivre: Dustin Valette
Herb Caen once described heaven as "a place that is said to resemble Sonoma in the spring." I would be remiss to not cast a wider net when highlighting local restaurateurs, with so many remarkable chefs making waves in the North Bay culinary scene. Chef Dustin Valette is one such dynamo proudly calls heavenly Healdsburg home, even after his career has led him to New York, Hawaii, and Las Vegas.
Originally born in Healdsburg, the affable chef-owner of the highly-lauded Valette and The Matheson—a new terroir-driven restaurant overlooking the town square—has deep roots in the community. His father, Bob—or "Pops" as locals know him—is a Cal Fire air tanker pilot who has helped battle local wildfires for almost 50 years. If you step into his son's restaurants, where he's often seen, you might just hear about some of the 80-year-old's jaw-dropping heroics. During the Sonoma County wildfires in 2017 and 2019, Valette complemented his father's efforts by rallying teams on the ground to cook and serve food for first responders. Valette's mother also once flew air ambulances. It's obvious where Valette gets his chutzpah.
His kitchen journey started at Catelli's in his hometown of Geyserville, where he applied for a job as the chef at the ripe old age of thirteen. They laughed him away. He returned the following day, applying for a different position, and was told he needed to be at least sixteen. So, Valette did what anyone else would do: return again the next day, this time with an application stating his new age of sixteen. His efforts paid off a week or two later when they realized they weren't going to get rid of him easily, and he was finally hired as a busboy. He worked his way up to a dishwasher, thrilled just to be inside the kitchen. After high school, Valette studied at the Culinary Institute of America in New York. He honed his craft in restaurants such as the Michelin-starred Aqua in San Francisco, Napa Valley's Bouchon and Chateau Souverain, Hokus at the Mandarin Oriental Hotel Honolulu, and VOX Restaurant & Wine Lounge in Nevada. While working in Las Vegas, he became acquainted with chef Charlie Palmer, who eventually recruited Valette back to Healdsburg to lead Dry Creek Kitchen as its executive chef.
From there, it's been a rather serendipitous journey to Valette's newest restaurant, The Matheson. An ambitious, three-story eatery featuring a farm-to-table restaurant with a self-serve wine wall, boutique sushi kitchen, dining loft, and rooftop cocktail lounge, it also happens to be the very same building where Valette's great-grandfather first achieved his American dream over a century ago. Honoré Valette, whom Valette calls Pepe, was responsible for a lifelong love of food and wine. Although he was only a few years old at the time, Valette still vividly remembers snacking on the salametti that Pepe cured in his underground cellar while his father and Pepe rendezvoused over wine. He was so fond of the memory that he replicated a similar room under his home in Healdsburg that he, too, could share with guests. Pepe opened his first bakery where The Matheson now stands, but closed up shop after his fermentation cellars—allegedly—caught fire during Prohibition. He later opened a second bakery down the street, which also happens to be home to Valette's namesake restaurant, opened in 2015 with his brother, Aaron Garzini.
The Matheson will be a celebration of Sonoma County's Old World style of breaking bread and cherishing the moment with loved ones. Valette pays homage to local farmers by planning in micro-seasons to showcase ingredients at their peak, while paying tribute to the area's history with dishes such as the flatbread made with a strain of yeast created by Pinot Noir pioneer Burt Williams. Valette raves about the "fruity notes" that the yeast, left over from winemaking, imparts to the dish. That's not all he wants people to get a taste of, however. When guests come to raise a glass—perhaps the En Honoré cocktail, a nod to his great-grandfather's bootlegging history—Valette hopes that they will also experience the treasured camaraderie of his French heritage, and the joy he found in gathering around the table growing up.
Barbecue, the sixth love language: Matt Horn
Somehow, in between riding horseback past a 100-foot-long table of cheering diners in Half Moon Bay and experimenting with cooking A5 wagyu directly on a shovel of hot coals, pitmaster and chef Matt Horn has time to run a restaurant—and plan three more dining concepts slated to open within the year. It might be easier to ask what Horn isn't doing—and I haven't even gotten to his film production company, book deal, or community organization yet.
On a late Friday morning, I'm standing outside a building painted coal black (this Benjamin Moore shade is named "Black Panther," in fact—a nod to the roots of its Oakland location). Howlin' Wolf, Willie Dixon, and B.B. King play in succession over the outdoor speakers. A line has already formed, well before Horn Barbecue's 11 a.m. opening time: a diverse crowd with Patagonia and reflective safety vests, peach-colored Yeezy 350 V2s and Birkenstocks, Tesla drivers and others riding up on bicycles. A customer walks out, heaving two large bags almost the size of her person, filled presumably with Horn Barbecue's melt-in-your-mouth brisket. She loads the bags carefully into the trunk of her car and peels off, as another vehicle drives up, ready to pull into the spot and join the growing queue.
After a series of setbacks due to permitting issues, the highly-anticipated Central Texas-style barbecue joint finally opened its doors last October. Diner stools custom-wrapped in sleek cowhide sit next to a floor-to-ceiling window, giving customers a glimpse into Horn Barbecue's 750-square-foot pit room. A 1000-gallon smoker nicknamed the "Brown Bomber" sits inside, and nearby shelves showcase a stack of tomes: The Fatted Calf's In the Charcuterie, local 4505 Meats chef and butcher Ryan Farr's Sausage Making, and The Wurst of Lucky Peach: A Treasury of Encased Meat.
Out back, thin blue smoke rises from three offset smokers—another 1000-gallon behemoth dubbed "Big Red" and two 500-gallon smokers aptly named "the Twins"—which pit lead Gio Luciani tends to during my entire visit (decorated as he is humble, Horn constantly gives props to his team throughout our conversation: "It's not about me," he insists.) When the smokers get going, they run before the crack of dawn Wednesday morning straight through until Sunday afternoon. Someone is always there tending the fires—something Horn used to do himself when he first made his foray in barbecue, sometimes for 48 hours straight. Today, Luciani is running to and fro between the towering piles of California white oak and the smokers. Yet he still makes time to stop by tables and ask if anyone needs anything, and even adjusts the door of one smoker when he notices a customer trying to capture a shot of the flames behind the cutout doors featuring the Horn Barbecue logo.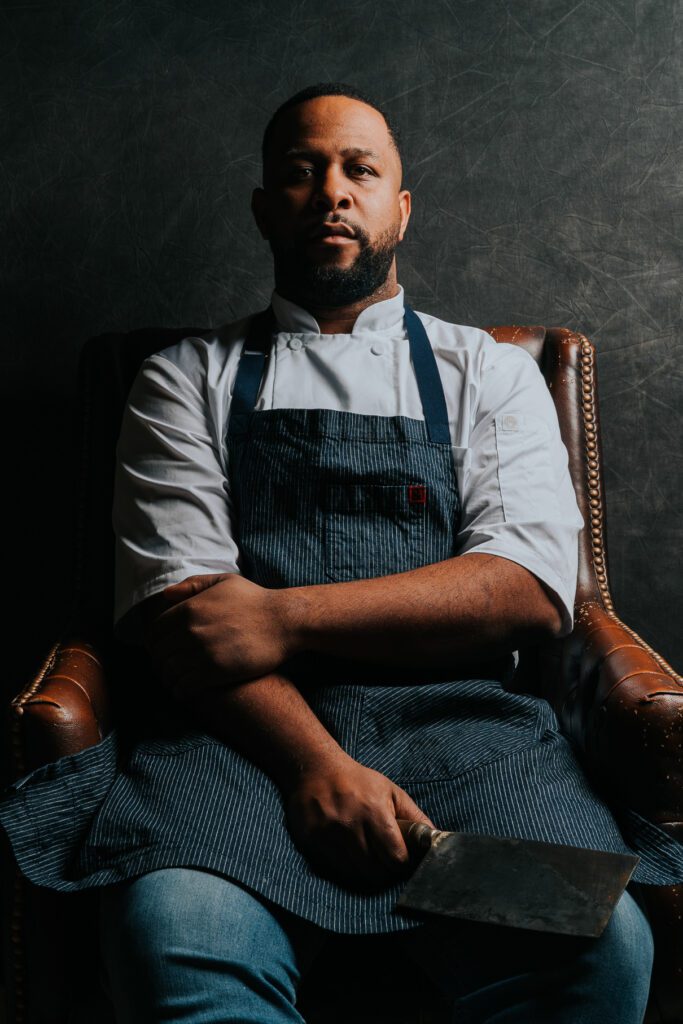 Horn taught himself to barbecue by feel. He first practiced on his grandfather's old smoker, so weathered from family cookouts that a ball of tinfoil was stuffed into the hole where the thermometer had rusted off. He eventually graduated to "Lucille," a 500-gallon smoker named for the B.B. King tune that kept him company during the all-nighters he pulled in his backyard, after dedicating himself to becoming a lifelong student of barbecue. Under the stars he learned, adjusted, and waited—approaching the endeavor not unlike a scientist, tinkering with variables such as wood and liquid, then recalibrating, and eventually perfecting. Even so, there is no end to his work, because pushing the boundaries is what keeps him going. He credits this drive to his grandmother, Elsie, who, at 80 years old, was a force of nature who worked two jobs and could sew church hats as nimbly as she could break down a pig.
His persistence has paid off in the form of Horn Barbecue's slow-smoked brisket, served in exactly quarter-inch thick slices that hold their shape, yet pull apart with just the right amount of resistance—the hallmark of a perfectly-cooked brisket. Another highlight is the succulent spare ribs, gleaming a rich shade of mahogany—another indicator of excellence in the world of barbecue. Crucial to barbecue are the sides, and Horn delivers with a smorgasbord of them, including buttery cornbread, smoky-sweet pit beans, classic collard greens, and a decadent potato gratin in honor of Horn's other grandmother, Alice, who served the dish at family gatherings throughout his childhood. Horn Barbecue houses no microwaves or freezers, so once everything they've prepared is gone, it's gone—and it usually sells out in mere hours. A few days after my visit, Michelin announces Horn Barbecue has been recognized as a "new discovery" in its California guide.
To paraphrase a quote from Asheville pitmaster Elliott Moss on "Ugly Delicious," barbecue should be one of the most expensive foods considering all of the labor and teamwork that goes into it—but the fire that drove Horn to forge consistently excellent barbecue is also reflected in his desire to simply be a light in his community. Efforts such as the Horn Initiative have provided free meals to healthcare workers, first responders, and community residents struggling with food poverty during the pandemic. Today, he isn't exactly doing what he thought he would be growing up—he says he was obsessed with architecture—but it's clear he's still in the business of building: a legacy for himself, his team, and the people around him.
Be here now In Japanese, itadakimasu is said before a meal to thank all those who were involved with making the meal happen—from the chefs, farmers, ranchers, and fishermen to the plants and animals themselves. If only there was an equivalent expression in the English language, a reminder to pause and reflect, paying tribute to the artisans and producers who all had a hand in bringing the meal to the table. It is my hope that these stories will elicit your own joyous memories of food and inspire you to approach your next dining experience as an exercise in curiosity, mindfulness, and gratitude.