8 Leaders and Changemakers Who Are Positively Impacting the Wine Industry Now
The last several years have definitely presented challenges to our local wine industry and North Bay region. From climate-related events to difficult truths and conversations around racial and gender inequities and abuse, topped with the ramifications of a global pandemic on communities, families, businesses and tourism, there's a lot to take in. But, with challenge comes opportunity. For many people in the industry, the current realities and landscape have provided reason to pause and reflect on what's important, how they can facilitate positive change, and the legacies they want to leave. Here are eight wine industry leaders who are using their expertise and reputations to directly contribute to shifts in the industry, providing solutions and opportunities that galvanize and strengthen. Whether through more efficient technology, mentorship, support and advocacy of marginalized groups, deeper contribution through teaching and impactful research, or through direct philanthropy to initiatives that support crucial change, here are their stories.
THE SMALL BUSINESS ADVOCATE
Ridgely Evers ~Founder, Davero Farms & Winery and CompleteDTC
You could say that Ridgely Evers is a bit of a start-up expert. In his Sonoma wine country community, he's known as the dynamic and passionate founder of Davero Farms and Winery, a small, successful, biodynamic farm and winery operating in Dry Creek Valley since the 1980s, specializing in Italian wine varieties and award-winning olive oil. In the business world beyond, Evers is known as the driving force behind the Intuit team in the development of QuickBooks® back in the company's start-up days. Since then, he has been the CEO of at least five internet-related companies and has advised countless start-ups. His Dry Creek Valley farm and winery may be his home, but he has always found opportunities to advocate on behalf of small businesses, whether through board work with SCORE, the national group advising small businesses, and as a former member of the president's Economic Recovery Advisory Board.
Evers recently brushed off his developer hat to create a comprehensive management solution program designed for a group he knows all too well: small wineries like his own, producing fewer than 10,000 cases annually, a tier which represents roughly 90 percent of the industry. Impacted by fires, floods, fluctuating weather, and a pandemic, small wineries wanting to stay afloat and competitive had to shift their focus almost entirely to direct-to-consumer sales as fires and COVID-19 upended other channels, including the restaurant, hospitality, and tourism sectors.
Evers found opportunity for improvement on existing winery management platforms. Many were not fully integrating and speaking to one another across winery business areas and needs, resulting in significant financial and time burdens for small winery operations. Evers launched his platform, CompleteDTC, for the industry after thoroughly testing it for his own winery and integrating feedback and suggestions from a small sampling of fellow small winery owners.
"I know first-hand how challenging building a direct-to-consumer winery can be—and how satisfying it is when it works," shared Evers. "Having the right systems can make all the difference, but unfortunately the solutions available were just not up to the task. I decided to combine my software background with my wine industry experience to build a solution specifically for smaller DTC wineries—one that really helps them succeed."
Knowing that compliance is particularly difficult for smaller wineries, his company released a free tool to help them figure out which states make economic sense. "At the end of the day, I want to have a positive impact," says Evers. "Being able to do this for this industry I love is just incredibly rewarding."
THE CLIMATE CHAMPIONS
Matt & Alexis Iaconis ~ Co-Owners, Brick & Mortar Wines and
Delta Wines for Change
When winemaker Matt Iaconis and wife Alexis established their boutique wine label, Brick & Mortar, in 2011, they had a clear vision: to make the most elegant, terroir-driven, single vineyard Pinot Noirs and Chardonnays possible from high-elevation properties in Napa, Sonoma, and Mendocino Valleys. The growers they have worked with for years are predominantly organic and biodynamic, which has served them well in their goal to find the highest caliber fruit for their wines and in their desire to have the least amount of impact on the earth. Winemaking, however, is not a low-impact industry. From start to finish—from the water and energy needed to the raw materials required—it's not easy to leave a light footprint.
Witnessing the changes brought about as a result of climate change, the Iaconises have been motivated to dive in deeper to influence positive change as winemakers and as parents to four children. "There are so many things happening globally and locally that don't bode well for our future," stated Matt Iaconis. "We love this state and region and are committed to doing our part to ensure there is a future for our family and kids here and beyond. We felt that we had to do more and encourage others to do more, as well, through purchasing our wines."
"More" for the couple was the creation of an impact label, Delta Wines for Change (Delta meaning "change" and "movement"), which contributes 10 percent of annual sales to key environmental organizations with which they are aligned, including Surfrider Foundation, which focuses on ocean preservation and health, and Cool Effect, which focuses on climate change initiatives.
By the end of 2021, they will have donated roughly $75,000 across efforts. Delta's wines are sourced from organic vineyards and offer the same attention to quality for which the Iaconises are known. Their line of wines, both still and sparkling, are available across the U.S. and online for purchase in both bottles and cans, the latter offering a more earth-friendly packaging option and something they implemented for Brick & Mortar, as well. They are continuing to improve all elements of their production to increase their positive impact.
THE MATCHMAKER
Paul Mabray ~ CEO, Pix
Mention "digital" in tandem with "wine" and the name Paul Mabray will undoubtedly surface. Mabray has been called a futurist, a change agent, a digital trendsetter. Throughout his 20-year career in the wine industry, he has worked in nearly every aspect of sales and marketing. Mabray has been on the front lines of traditional, 3-tier sales and has worked on e-commerce and digital platforms for a number of wineries, companies, and organizations, including WineShopper.com and Wine.com.
His years of experience working on digital platforms and e-commerce make Mabray an outspoken voice for bringing the wine industry to a more sophisticated and consistent level of digital engagement with customers, partners, and influencers. In his opinion, the wine industry lags behind many other industries and needs to get up to speed. While the needed shift to digital platforms took place for many wineries and companies with the sudden onset of COVID last year, according to Mabray, "What's needed now are thoughtful digital marketing strategies which attract and retain customers."
Mabray's campaign to bring the wine industry into the digital era is the driving force behind his latest project, Pix, a new wine discovery platform that will match consumers with the most relevant wines they can find online. "Wine is about discovery," states Mabray. "With Pix, we'll help consumers connect with specific producers and wines they love, while sharing recommendations from respected professionals in the industry and editorial content to keep them abreast of trends and hot topics."
For his Pix editorial team, Paul tapped some of the industry's most respected editors and writers, including Erica Deucy, formerly of Vinepair and Seven-Fifty Daily, as his chief content officer, Felicity Carter as executive editor, and Janice Williams as senior staff writer. He prides himself on having a staff that is more than 50 percent female and representative of the diversity present.
With the open beta launching later this month, followed by the availability of the mobile app later in the fall, Pix, with Mabray at the helm, is gearing up to be a gamechanger.
THE CONNECTOR
Haley Guild Moore ~ Founder & President, Acquire
Haley Guild Moore was 24 when she took on the role of Wine Director at San Francisco's Bacar. Her career followed a fast upward trajectory from there: lead sommelier at Michelin-starred Spruce, followed by beverage director for the Stock & Bones Group, overseeing Town Hall, Salt House, Anchor & Hope, and Jersey. In 2013, while working full-time, she founded Acquire, a side passion project helping collectors build and refine their in-home wine cellars. Moore considered this a hobby until 2020, when she officially launched her restaurant consulting business, the idea being to operate as a "fractional beverage director" and oversee many properties across the U.S. In January 2020, she was still handling the Stock & Bones Group and had five restaurant openings scheduled around the country and several other projects underway. By March of that year, COVID-19 hit and all of her restaurants shut their doors—two permanently. All new openings were put on hold.
With her income essentially drying up overnight, Moore quickly shifted gears and launched a new division of Acquire with the intention of using the virtual space to bring people together over food and wine. She hosted events in 20 different countries and served close to 5,000 guests in all 50 states. She brought on a Michelin-starred chef, who was formerly a sous chef at The French Laundry, and together, they cooked meals for up to 400 guests at one time. At the center of what she created was human connection and human experience—through a virtual platform.
"2020 completely changed my life," stated Moore. "I think the biggest shift was the realization that hospitality is not limited to restaurants. I always knew that our skillset transcended our occupation, but I don't think I fully had a grasp on how powerful hospitality professionals are at connecting people, setting the tone, and creating memorable moments. Of course, restaurants will never go away—but the virtual space is a big part of the future!"
Moore is continuing to build Acquire, expanding on virtual events while executing intimate, in-home luxury dining experiences for clients and building private cellars and wine lists, all while giving back to the restaurant community that has given Moore so much. Acquire is committed to donating five percent of their profits to CORE—Children of Restaurant Employees—a non-profit focused on helping restaurant families in need.
THE SCHOLAR & SCRIBE
Deborah Parker Wong ~ Slow Wine Guide USA National Editor, Writer, Teacher
"To learn, read. To know, write. To master, teach." This Hindu proverb has served as a fitting motto for San Francisco-based wine writer, scholar, and teacher Deborah Parker Wong. A one-time private chef and publicist to Michelin-starred restaurants, Parker Wong has built a reputation as one of the most influential wine writers, educators, and thought leaders in the wine industry. She is a published author, the global editor for sister publications Somm Journal and Tasting Panel magazines, the owner of a Wine & Spirits Education Trust (WSET) school offering Level 2 and Level 3 certifications, and an adjunct professor in wine studies. Now, she's looking ahead for ways to more deeply contribute to both the industry and region she cares so deeply about.
Through her recent appointment as the U.S. national editor for Slow Food's prestigious Slow Wine Guide, she has been given the chance to lead the Guide in showcasing American wineries committed to sustainable and environmentally conscientious production practices. This role aligns well with Parker Wong's ethos and the shifts she'd like to see in the wine industry. "I would like the wine industry to be more transparent across the board; more forthcoming about how they are farming, and about how they're making wine and how those practices are being communicated to consumers."
When COVID-19 surfaced, Parker Wong took a well-timed opportunity to further her own education, pursuing a master's degree in viticulture and enology at California State University Fresno, and focusing on an area that will be increasingly invaluable to the wine industry as fire threat and drought continue to impact the vineyards: smoke exposure. "My contributions are a work in progress," shared Parker Wong. "I've tried to add value to the industry through my journalism and teaching, but there's more to come. I'm hopeful that my research will help advance our understanding of how wine made from grapes that have been exposed to smoke is evaluated and how that exposure can be mitigated."
THE MENTOR & ADVOCATE
Tonya Pitts ~ Wine Director, One Market Restaurant
Founder, Tonya Pitts Consulting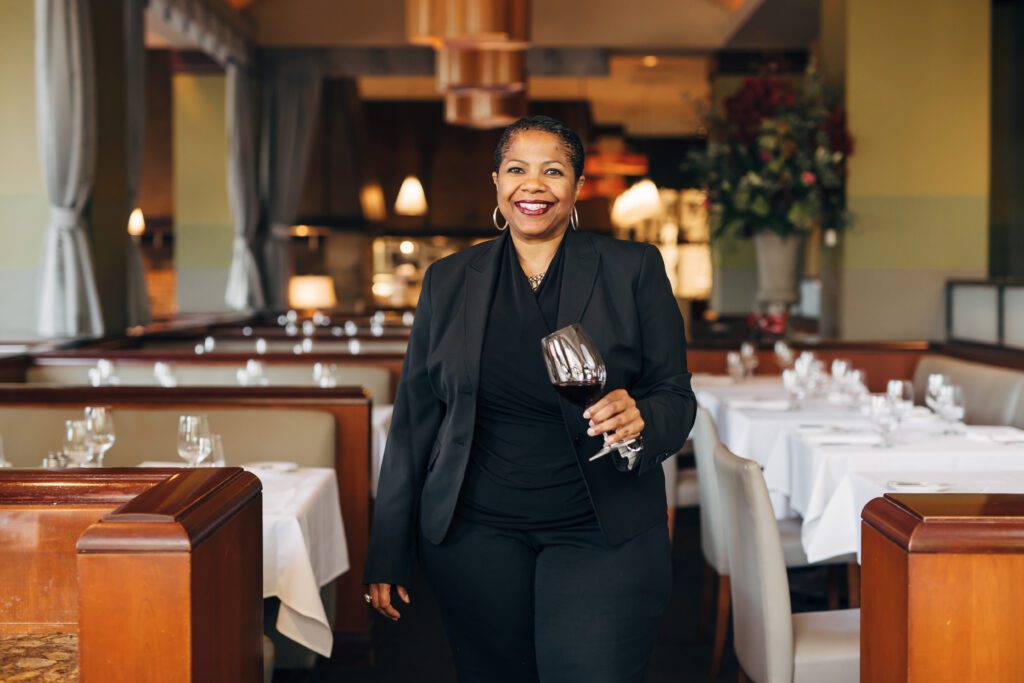 Ask anyone in the industry for a short list of top sommeliers and wine directors and Tonya Pitts will be at the top. As the wine director of San Francisco's award-winning fine dining establishment, One Market Restaurant, Pitts is one of the most respected and influential professionals in the wine industry. Her role as a storyteller, mentor, and advocate has brought her great satisfaction and respect.
For nearly a decade, Pitts has used her wine program at One Market as a way to connect her staff and customers with unknown and upcoming artisan winemakers and wine labels, ensuring that there is space for female and BIPOC talent. Although the genders or deeper stories and backgrounds of the winemakers and brands on her list of over 600 selections are not revealed, she knows her wines and producers well and delights in sharing origin stories with guests, along with the qualities and nuances of the varieties and wines, in ways both comfortable and exciting for them. "I've really seen myself as a vessel in my role, working to enlighten, shift, illuminate—facilitating change through opening minds and palates, one bottle at a time."
Having had a number of key mentors over her career, Pitts has taken her role as a mentor to others quite seriously, in particular women and BIPOC people interested in wine. "I've been in the hospitality and wine industry for many decades, with quite a bit of that time spent as sommelier and wine director. Women and especially women of color still represent a small percentage of the industry, too small in my opinion. I've used my own position in the industry to help change that."
With the restaurant and hospitality community dramatically impacted by COVID-19, Pitts found herself suddenly looking at the bigger picture and asking deeper questions about how she could be of greater service to her community and industry. She found herself saying "yes" to more speaking, partnering, and leadership opportunities with groups like Wine Unify, Batonnage, and the United Sommelier Foundation in support of mentorship and the cultivation of greater diversity and opportunity in the industry. And we can expect more of that ahead.

THE VOICE FOR CHANGE
Justin Trabue ~ Winemaking Apprentice, Heitz Cellars
Co-founder, The Natural Action Wine Club
Named after JUSTIN Vineyard & Winery in Paso Robles, it seems that Justin Trabue was destined for the wine industry. A fourth generation native of Washington, DC., she grew up with parents who were wine lovers. Wine had a place at the table, and travel to wine regions in the U.S. and around the world was often worked into family vacation plans. When Justin was in high school, her parents introduced her to a black sommelier based out of the District of Columbia and her world forever changed. To see someone who looked like her working in an industry she loved, she was hooked. Soon after, she began studying wine, viticulture, and wine business at Cal Poly San Luis Obispo. A trip abroad to Australia inspired her to start diving into winemaking, and she leveraged the internship programs available to work in the U.S. and overseas.
Her path hasn't always been smooth. The lack of exposure and support for BIPOC individuals interested in wine has been a barrier to entry. Trabue has learned repeatedly that being a trailblazer requires leading and making your voice heard.
When George Floyd died, Trabue and her dear friend and industry colleague, Simonne Mitchelson, crafted a 'call to action' to share with the wine industry in response to what they saw as not just a lack of response, but a "deafening silence." As a result, they connected with a community within the industry that actively pushed toward sustainable impact and dismantling racism.
As a result of that shared vision, a scholarship was created at Trabue's alma mater, Cal Poly SLO for BIPOC interested in studying wine and viticulture. From there, the two women connected with an industry group to found the nonprofit wine club, Natural Action, with proceeds from the club contributing to education, exposure, internships/apprenticeships, and career paths for BIPOC students in the wine industry.
"Diversity in our industry is important for our growth and our health," states Trabue. "It demonstrates that the wine world isn't just a certain type of people: the wine road is for everyone. And it's important to see that we're represented."
THE ROLE MODEL
Katy Wilson ~ Founder/Winemaker, LaRue Wines & Winemaking Consultant
Sonoma County winemaker Katy Wilson has been busy. Named a past "Winemaker to Watch" by the San Francisco Chronicle (2013), she is in the midst of harvest for her own 12-year-old brand, LaRue Wines while supporting top boutique winery clients (including Anaba Wines, Reeve Wines and Smith-Story Wine Cellars) through the 2021 harvest as their consulting winemaker. She also has a new baby girl.
Raised in a small agricultural town in California where her parents owned a hay-hauling business and a walnut orchard, Wilson grew up immersed in the world of agriculture and wasn't afraid to get her hands dirty, whether it was driving tractors or pruning walnut trees. It was, therefore, no surprise when she set her sights on a degree in agricultural business at Cal Poly San Luis Obispo. During a freshman year Agricultural Business 101 class, the professor spoke of different areas of agriculture. The topic of wine caught her attention, and Wilson suddenly knew, at the age of 18, that wine would be it for her. She turned her focus to viticulture, seeing it as the perfect combination of farming, science, and creativity.
While Wilson's professional goal is to make great wine, as a female winemaker and entrepreneur in the wine industry, she strives to be a role model and blaze a path for the next generation of winemakers of all genders, races, and ethnicities. As an advisory board member of WOW (Women-Owned Wineries) Sonoma, she is proud to advocate on behalf of the wine industry's most talented and tenacious women and continues to help shift the narrative for the future of female leaders. In addition to participating in panels and hosting events that bring together female winemakers like her, WOW Sonoma includes a nationwide winery directory with more than 550 female-identifying wine entrepreneurs, as well as a wine club and storytelling platform uniting like-minded winemakers and drinkers.
Advocating for inclusivity across industry roles is a marathon, not a sprint. Says Wilson, "Change doesn't happen overnight. It starts with initiating a dialogue and recognizing the issues. And it gains momentum when small changes are consistently and consciously made across the collective industry. I feel like we're on an upward trajectory. While we haven't overcome all the issues yet, I feel confident in the progress that we've made and empowered to continue as an example and advocate for change."