Since its founding in the year 1630 by a handful of English colonists, the city of Boston has continually looked forward while respecting its significant past.
Its meager Puritan cuisine ("Boston, home of the bean and the cod") earned its moniker, Beantown, but today's food scene is much more exciting and diverse. Traditional staples remain, such as Boston Cream Pie and Boston Baked Beans, but you're just as likely to find food from Kerala, Taormina, Mallorca, or Taipei tucked into Boston's eminently walkable neighborhoods.
Where once the city served seafarers and settlers, today it's a hub for technology, higher education, and even a burgeoning filmmaking industry. Here's a brief synopsis of what you can discover around town.
The Seaport
The city's current hot 'hood is along a broad avenue that hugs the outer perimeter of Boston Harbor. If you dare to brave Boston's legendary one-way streets and traffic jams, you can drive here, but it's also accessible via the city's excellent public transit system – and even by ferry.
Continuously, new restaurants and clubs are opening – from glitzy name brand steakhouses to simple taco joints. One of the oldest and most casual is a longtime mainstay called The Barking Crab. This is the place for seafood in-the-rough, and it's a fun way to dig in with a classic New England Clambake. What's a clambake, you ask? Think of a feast comprised of ultra-fresh lobster, mussels, crab, giant clams known as quahogs (ko-hogs), and corn on the cob. Now imagine them steamed together on a bed of seaweed and you've got yourself a true taste of the Atlantic Ocean on a platter.
For a more refined seafood experience, the famed Legal Sea Foods chain has a bi-level outpost in The Seaport – with million dollar views.
The Freedom Trail
With your seafood cravings satiated, strap on your sneakers for the 2.5-mile walk through Boston that's dubbed The Freedom Trail. This easily-followed red-brick road is undoubtedly the best way to take in the city and learn about Boston's role in the Revolutionary War. Before you take your last step, you'll be well versed on how the war turned this land from a handful of British dissidents into a new nation.
Along the way, you'll pass landmarks like statues, parks, cemeteries, historic buildings, and churches. It takes the better part of an afternoon to accomplish the Trail, but you'll see virtually every significant section of Boston, and you'll end at the country's oldest commissioned naval war ship: The U.S.S. Constitution. Fear not; a handy municipal ferry with service on the half-hour can shuttle you back to where you began.
Boston Harbor is the place where the Boston Tea Party occurred on Dec. 16, 1773, when a group of colonists disguised as Mohawk Indians charged aboard three British ships docked there. They dumped more than 300 chests of tea into the water in a revolt against Britain's extortionary tax on imported tea.
Farther along the Freedom Trail, in Charlestown, guides from the National Park Service conduct free narrated tours that bring to life the Siege of Boston by the British in 1776, and the infamous Battle of Bunker Hill. This bloody, days-long battle between the ragged, outnumbered, and underequipped colonists and the British troops is a story worth hearing.
A mile or so from the battlefield, it's a rite of passage for visitors to walk through thoroughly commercialized Faneuil Hall Marketplace and Quincy Market, then along the waterfront to the North End, Boston's lively and colorful Italian enclave. In 1912, three immigrants opened a pasta factory here to fulfill the culinary needs of the neighborhood. They called it Prince Macaroni.
In 2021, the population of the North End is noticeably less Italian, but the food of that country remains the big draw. Stop here for an authentic espresso, made-to-order cannoli's at Modern Pastry, a salami, or a slice of pizza. Better yet, return after dark for dinner at one of dozens of independent trattorias along Hanover Street. The ambiance will transport you to Umbria.
Beacon Hill
The historic and picturesque brick sidewalks of Beacon Hill hold stories that include former residents Nathaniel Hawthorne and Sylvia Plath. Walking tours bring this neighborhood's long history to life.
One can stroll the length of Charles Street from either end, but most like to begin at Boston Public Garden, with its charming bridges, ponds, tree-draped pathways, and bronze statuary. A few blocks east is the Massachusetts' state capitol building and its distinctive gold-leaf dome. At the far end of Charles Street, you'll arrive at the Charles River. A miles-long pedestrian/bicycle path follows the curve of the river into Cambridge, Boston's adjacent city and home to Harvard University and M.I.T., the Massachusetts Institute of Technology.
A 2019 addition to Boston's hotel scene, on a busy corner of Charles Street, is The Whitney, a 65-room boutique hotel whose location makes an ideal base for setting out across the city. This five-story building, built in 1909, began as a live-in dormitory for the nurses who worked across the street at the Boston Eye Infirmary (now Mass Eye and Ear). It was then known as the John Jefferies House.
The Whitney's namesake, Henry Melville Whitney, was a Boston industrialist who formerly owned the site. He founded the West End Street Railway Company that ran streetcars throughout the city in the late 19th century. Today, those rails are part of the city's sprawling subway network, the MBTA (Mass Bay Transit Authority). Locals simply call it "The T."
Henry Whitney died in 1923, and to honor his achievements, a replica of a large clock from a London train station hangs prominently in the Whitney Hotel lobby. Artwork celebrating the West End Street Railway Company graces the guestrooms. A nod to the era of the John Jeffries House remains evident in an expanse of exposed brick just to the left of the lobby elevator.
The Whitney's in-house restaurant, Peregrine, is led by a talented young local chef named Josh Lewin and his wife Katrina Jazayeri. The name is a takeoff on the Latin word peregrinator, or traveler. The menu leans toward Mediterranean, with dishes gleaned from Sardinia, Sicily, Corsica, and Catalonia. A deliciously healthful kale Caesar is enhanced by succulent Grana Padano cheese and an anchovy vinaigrette.
A short walk down Charles Street leads you to Figs, a casual gourmet pizzeria created by Todd English, a man arguably Boston's first superstar chef. The prestigious James Beard Foundation named him Best Chef, Northeast in 1994, and by 2001, he was named Bon Appetit magazine's Restaurateur of the Year AND one of People magazine's 50 Most Beautiful People.
The Theater District
Bookends to the Theater District of Boston are its diminutive Chinatown and the campus of Emerson College, which has swallowed whole blocks of buildings here in the past decade.
Also in the mix is The W Hotel, and for hardcore rock 'n' roll fans, the room to book is the spacious WOW Suite. Its interior design pays homage to one of Boston's most notorious bad-boy bands: Aerosmith. The black and silver bedspread motif is a replica of the band's Get Your Wings album cover and the dining table and kitchen cabinets are black lacquer. You get the idea. Needless to say, the suite comes with a killer sound system, but you'll also love the soaking tub and electronically-controlled drapery and lighting system.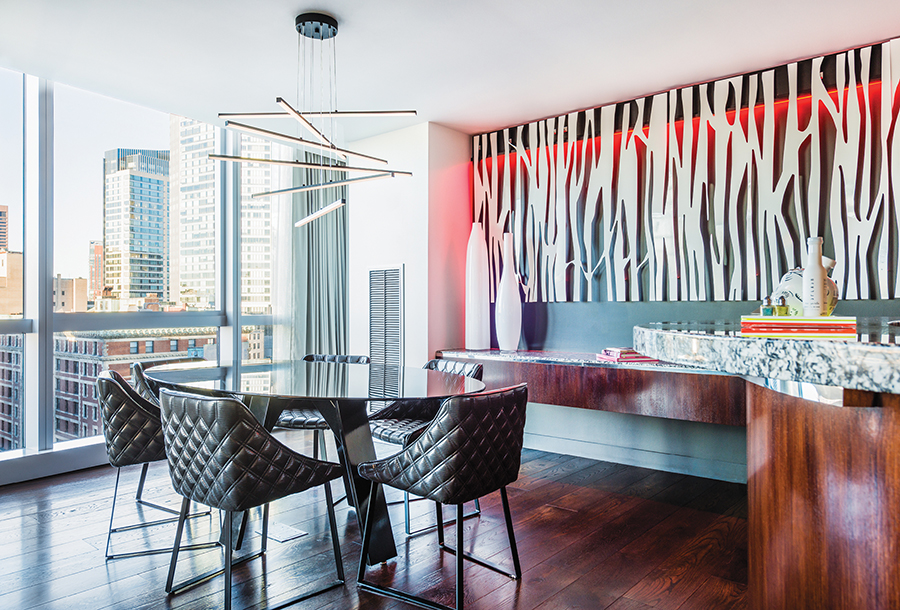 The W Hotel's newest amenity is its Veuve Cliquot Secret Garden Experience, which begins with Wellfleet oysters and a flute of Cliquot Yellow Label before segueing into a strawberry and tomato salad with a rosé cocktail. Next, as an ode to summer picnics, adorable lobster sliders are presented inside a Veuve Cliquot box carpeted with greens. The VIP experience concludes with sorbet doused in a Champagne "soup."
Back Bay
Walk a few hundred yards west of the Theatre District and you'll land in the Back Bay, the beating heart of Boston. It's a mix of retail, residential, and businesses whose backbone is leafy Commonwealth Avenue and its seven alphabetical blocks of fabulous historic brownstone homes.
A brand new, 61-floor Four Seasons Hotel (of two downtown) has opened at the western end of the Back Bay at One Dalton Street.
Enter the lobby and you're immediately struck by an arresting wall mural that illustrates Boston landmarks – from the iconic red CITGO sign to a can of Boston Baked Beans – nestled within swells of dense hues in bronze and brown strokes. This is a clever artistic depiction of The Great Molasses Flood of 1919, a very real disaster in Boston history when a gigantic holding tank of the sweet sticky syrup broke open onto the streets of the North End, causing much damage and killing more than 20 people. One hundred years later, Four Seasons Hotel One Dalton Street, Boston, opened its doors.
Follow the curved staircase from the lobby of this new property to Zuma, a Japanese restaurant with an over-the-top design and ambrosial menu offerings. The bar, made from monkeypod wood sourced from Thailand, is a conversation opener with the bartender. My glass of chardonnay paired nicely with a listen to my server, who quoted John Steinbeck while briefly educating me about the saké stocked here. The Zuma brand is light and floral, he said, but the Dassai 45 brand hails from a pristine water source renowned in Japan.
I tried it and it paired beautifully with a rock shrimp tempura that sent my taste buds to a state of nirvana. Yellowtail tuna and miso soup were amazing but upstaged by a unique dessert that cannot be described in words. Consider it a kaleidoscope of shared treats hidden within its own structure.
Boston, despite hundreds of years of important history, continues to keep itself relevant into the 21st century. With every visit there's bound to be something new to see, taste, or experience. But the classic Beantown experiences remain: a big bowl of steamer clams, a pedal around on a swan boat, and a Boston Red Sox game at Fenway Park. Come April, cheer on the runners in the world-renowned Boston Marathon. As the natives often say, you'll have a "wicked good" time.