Plus, the Four Seasons launch of luxury yacht experiences.
The most prestigious annual gathering of superyachts in the world, the Monaco Yacht Show is a must-attend for yacht owners, builders, brokers, and all related yachting industries in the world. This event showcases the most opulent yachts and their creative designers and builders. I have been attending the show since 2008 and have never ceased to be entertained and inspired.
The 32nd Monaco Yacht Show (MYS) took place this year on September 27 – 23 at Port Hercules. The show strives to promote a unique experience for visitors while enhancing the positive reputation and development of the yachting industry. The industry has taken on its social responsibility with a proactive and committed approach for several years in economic, technological, and environmental development to meet current societal challenges. The 2023 show solidified the first "seducation" cycle by unveiling an impressive fleet of 120 superyachts and mega-yachts, all available for discerning buyers.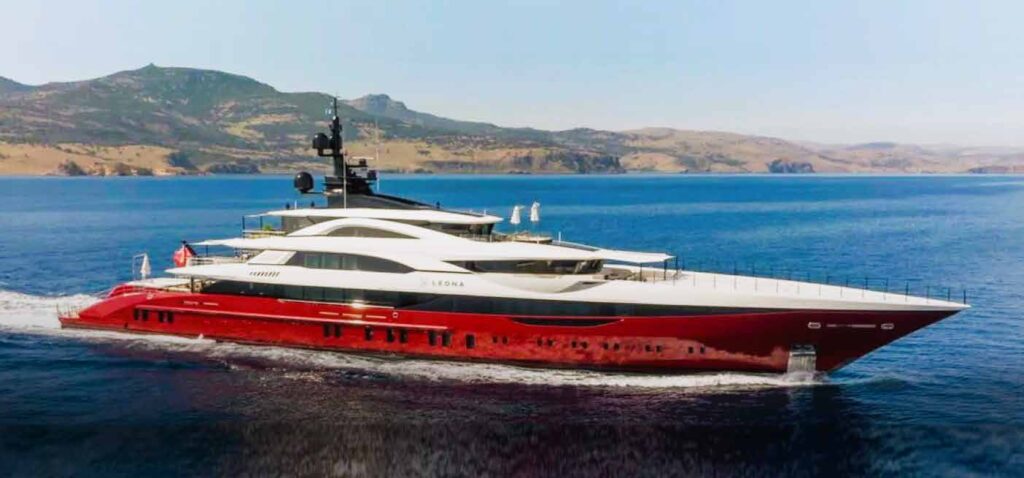 The seducation program, an innovative project and collaborative effort with the industry, is based on four core pillars: environmental innovation, cutting-edge design, a deep understanding of yachting intricacies, and an unmatched visitor experience. The organizers of the Monaco Yacht Show aspire to transform the exhibition into a true "yachting ecosystem," promoting eco-conscious innovation and offering visitors a captivating and educational journey through the latest avant-garde trends in the yachting world. The ultimate goal of this ambitious program is to strengthen MYS's position as the leading international showcase for the luxury yacht industry while delivering an unforgettable experience for yacht connoisseurs and enthusiasts of the finer aspects of the lifestyle.
The MYS also ensures the participation of influential industry players who showcase innovative and sustainable solutions in design and environmental stewardship, emphasizing eco-conscious technologies and providing an inspiring vision for yacht enthusiasts. This was exemplified through the Sustainability Hub and Yacht Design & Innovation Hub where I visited DRIFT Energy Ltd. and spoke to founder and CEO Ben Medland. DRIFT Energy uses "energy yachts" to harvest energy from towable turbines and distribute it to ports and harbors around the globe. The equation is to take a sailboat, add a turbine, then multiply that by the power of modern AI routing to generate green energy in the deep ocean.
The DRIFT Energy yachts are designed to sail the world's oceans, towing turbines through the water to generate energy that is, in turn, stored onboard as green hydrogen in a process called electrolysis. The resulting climate-critical green hydrogen is then delivered to any port around the globe. DRIFT's secret ingredient is a new form of artificial intelligence able to find the so-called "Goldilocks" of wind zones where the breeze is just right to maximize the vessel's efficiency. The company teamed up with AI firm Faculty to plot routes around the Atlantic for the best winds. The algorithm also uses weather forecasts and sea conditions to adjust the course in real time. The team has calculated that a flotilla of DRIFT's yachts sailing from New York to Penzance could achieve a load factor of 72.5 percent. By comparison, load factors for wind turbines in the UK are 26.5 percent for onshore wind farms and 39.9 percent for offshore wind farms. In other words, the yachts are super-efficient. DRIFT Energy says it is aiming to trial the technology on a 130-foot yacht within a year. A vessel that size would be capable of producing in excess of 55,000 gallons of hydrogen per hour.
The Monaco Yacht Show is also known for great parties and visiting mega-yachts. My favorite party this year was the annual Monte Carlo 007 Party at the Yacht Club de Monaco hosted by IGY Marinas. My favorite yacht this year is Leona, a newly launched mega- yacht built in 2023 by Turkish shipyard Bilgin Yachts. This 262-foot, 6-inch (80 meters) yacht captured my attention at first with its bright red hull. Getting an appointment to visit the yacht wasn't easy, but seeing it in person was a real treat.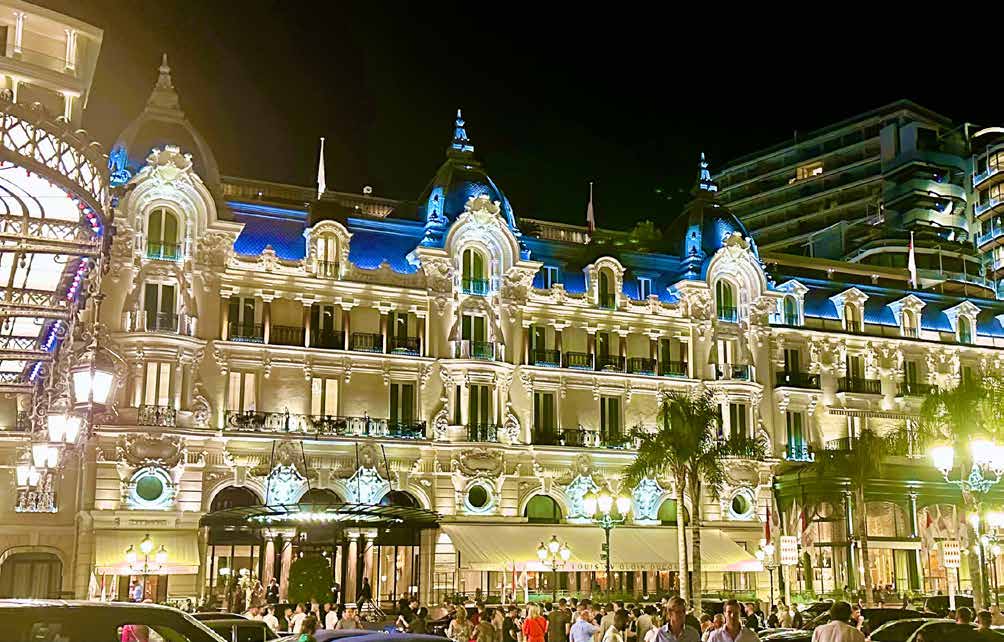 Designed by Unique Yacht Design, Leona showcases luxurious style with steel and aluminum in five decks. The deluxe bathrooms are designed in the style of Versace. There is a palatial owner's suite with a private lounge with access to a private pool. H2 Yacht Design created the interior in exotic backlit onyx, gold inlays, and polished timbers. The living room features a fireplace and a mini aquarium and is furnished with Roberto Cavalli furniture. Other amenities include a gym, sauna, sky lounge, movie theater, bar with amethyst and agate, and a beach club with a dramatic Grecian indoor pool complete with marble statues. There is also an outdoor infinity pool on the main deck.
Leona is not just a pretty face, Bilgin staff pointed out it has twin 2,560 kW MTU engines that reach 19 knots at full tilt and cover 5,000 nautical miles at 12 knots. It is also fitted with a 100 percent clean air exhaust system that adheres to the rigorous emissions standards of IMO Tier III.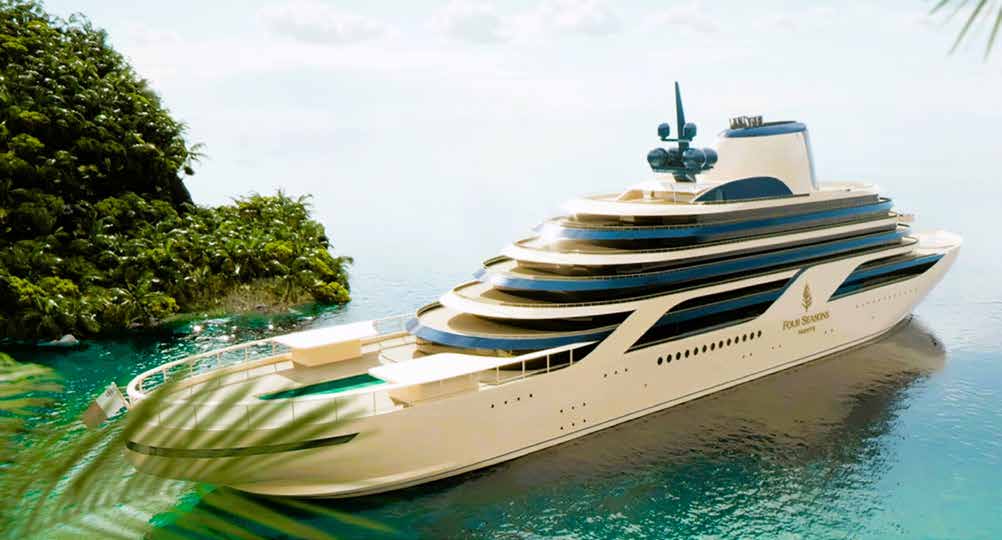 Four Seasons introduced a new lifestyle travel experience at 2023 Monaco Yacht Show. Four Seasons Yachts is the latest addition to the brand's world class offerings, joining the ongoing global expansion of new hotel, resort, and residential properties to the Four Seasons Private Jet Experience, the Four Seasons At Home Collection, and more.
I met with veteran luxury travel industry expert Larry Pimentel who is leading Four Seasons Yachts. Pimentel proudly assured me, "In partnership with Four Seasons, we are creating a new category of luxury lifestyle travel that appeals to discerning guests. We are bringing together the very best across industries to create the pinnacle yachting offering through world class design, curated experiences, and truly exceptional service. When we launch in 2025, there will be nothing else like it on the open seas. Our shipbuilding partnership with Fincantieri rounds out a triumvirate of industry leaders in this unprecedented luxury lifestyle project."
Alejandro Reynal, president and CEO of Four Seasons Hotels and Resorts, announced: "Four Seasons Yachts represents the next chapter of our long history of industry-leading innovation and a milestone moment for our company as we continue to capitalize on new opportunities to extend the world of Four Seasons. True vision rests in the ability to imagine the possibilities while always remaining loyal to one's values. Our vision for this new venture does exactly that. Together with our partners at Marc-Henry Cruise Holdings LTD, we are creating something extraordinary that combines their expertise with what Four Seasons does best— delivering unmatched quality and excellence, surrounded by beautiful acts of service and love for our guests."
In partnership with luxury shipping expert Marc-Henry Cruise Holdings LTD, the first Four Seasons Yacht is currently being designed in Trieste, Italy by leading shipbuilder Fincantieri, one of the world's largest shipbuilding groups. It is anticipated to set sail in late 2025. The yacht will be 207 meters (679 feet) long and 27 meters (88.6 feet) wide with 14 decks. At a building cost of $4.2 million per suite, no expense is being spared in terms of the remarkable custom design. The yacht will offer nearly 50 percent more living space per guest than currently available, offering ultimate privacy, flexibility, and spaciousness in an all-suite nautical residential setting.
The vessel's 95 spacious accommodations will feature an extensive network of joining suite combinations, creating adaptable, villa-like residences. Each suite will offer floor-to-ceiling windows, providing unobstructed natural light and access to expansive terrace decks. The combination of generous indoor and outdoor private guest space and ceiling heights of more than 2.4 meters (7.9 feet) will achieve a new level of guest comfort. Suite accommodations will start at an average of 54 square meters (581 square feet) of indoor/outdoor living space, designed seamlessly to be part of each room. Sixty percent of the vessel's inventory is exceeds 76 square meters (818 square feet) of indoor/outdoor space. The most expansive residence, the "Funnel Suite" will range an astonishing four levels, offering more than 892 square meters (9,601 square feet) of combined indoor/outdoor living space, including a private wading pool and dedicated private spa area, creating a home away from home with a sea view.
The yacht's restaurants, lounges, and bar concepts will celebrate the excellence and creativity that has been the hallmark of Four Seasons' history of culinary innovation. There will also be full-service spa, salon, and wellness programming from fitness to health and nutrition. The classic canoe-shaped aft will be an expansive pool deck. This area will also transform into an outdoor movie theatre or space for an array of private events. The elegant and industry-first transverse marina is also an ideal spot for guests to enjoy the inviting water, sunbathe, or explore the specially designed aquatic leisure toys and accessories. The onboard yacht experience will be led and staffed by a dedicated Four Seasons yacht team to bring each voyage's itinerary and destinations to life. The vessel will have an industry-leading staff-to-guest ratio to deliver an unmatched standard of highly personalized service. Details on fourseasons.com