The British traditionally take afternoon tea at 4 p.m. Whether a pot of steeped black, green, white, or oolong (a combination of black and green) leaves, tea is typically served indoors on comfortable, short-legged parlor chairs or outdoors in a garden or patio setting. 
Historical documents indicate this oh-so-civilized (and logical) ritual originated in the early 1800s as a way to alleviate hunger pains between breakfast and the typical 8 p.m. supper. Similar in mood to a happy hour, afternoon tea is defined by the comfort of its seating and by an abundance of sweet and savory small plates that can and often do qualify as an actual meal. (High tea, often served at the dining table, includes more substantial fare with meat and egg dishes.) 
In Scotland, high tea was formerly known as "meat tea," a hearty snack for the working class that included cheeses, meats, and vegetables. The Scots formally called afternoon tea "low tea," a dainty spread mostly reserved for the upper class. In England, a low tea usually consisted of plates of scones or tiny cakes, often presented on a distinctive three-tiered china server. 
In the late 1800s, England's Queen Victoria was known to enjoy afternoon tea. Her favorite accompaniment was pound cake, sliced and sandwiched with fillings of fruit jam or clotted cream. This treat became known as Victoria sponge and remains a mainstay of afternoon tea, along with smoked salmon and roast beef toasts.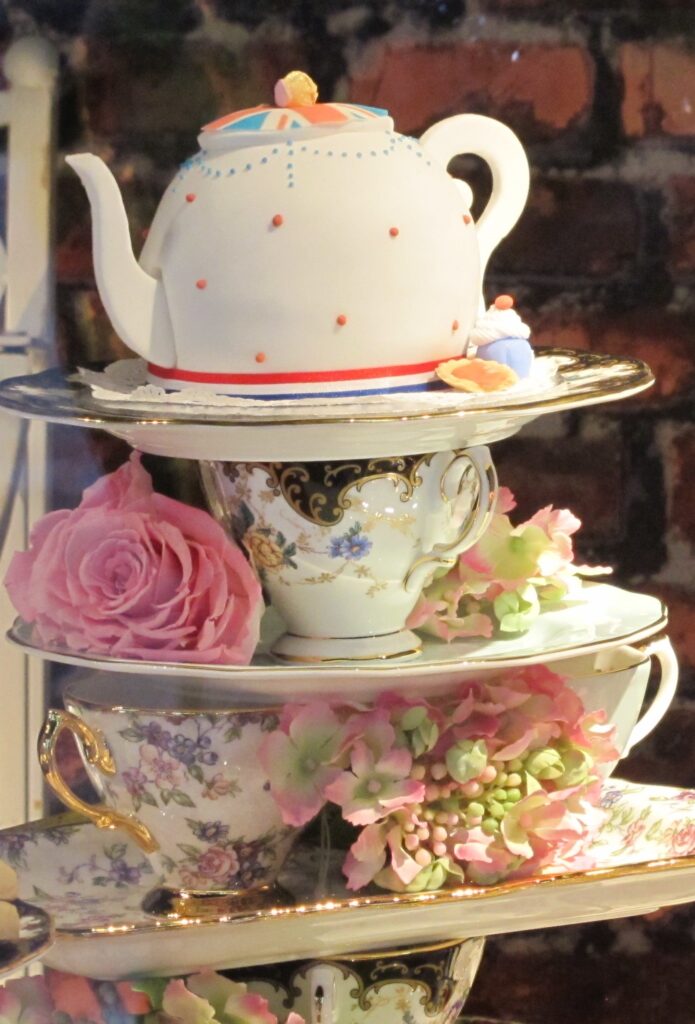 Tea is the second most popular beverage in the world, just behind water, and the brewing of tea leaves began in China as early as 10 BC. This restorative drink began to spread westward from Asia in the 1600s when Portuguese traders introduced tea to Europe.  
One of my first teatime experiences while abroad was at The Merrion in Dublin, Ireland. The Merrion shares a wall with The National Gallery, making it a handy location as a teatime stop. The experience began with a serving of wild Honeybush orange tea, an herbal tea from South Africa purported to have antioxidants and other healthful benefits. With my tea, I nibbled on crustless cucumber sandwiches and pound cake served with lemon curd. 
As you travel, take an hour or two to relax over afternoon tea and see how revived and refreshed you feel after a sip and a nibble. Here are a handful of spots worth seeking out. 
#1 – St. Pancras Renaissance Hotel London, England 
This glamorous neo-Gothic building in Kings Cross also houses a train station (handy for catching your connection to Paris). The rooms here offer a birds-eye view of the locomotive action below, and the exquisite lobby was the original Hansom Cab drop-off for St. Pancras Station passengers in the 1800s. Design details include a grand staircase lined with original lamp posts and dozens of wrought iron balustrades leads one upwards to a vaulted ceiling where twinkling stars illuminate the Seven Capital Virtues: chastity, temperance, charity, diligence, patience, kindness, and humility.  
Throw temperance to the wind and indulge Victorian style in an afternoon tea in the heart of the building, The Hansom, offered daily from 1 to 6 p.m. You'll be tempted by savory sandwich classics such as slow roast beef, truffled egg, and fresh-smoked salmon with citrus-herb mayonnaise, as well as a selection of decadent regional pastries such as the Oreo "Coal Yard" choux, paying homage to the local area; cherry and almond "butterley" Bakewell tart; and, an irresistible, melted milk and white chocolate "shed." Add a flute of champagne … if you so please. 
#2 – Camellia's, Hotel Bennett, Charleston, South Carolina 
Charleston's grandest luxury property, Hotel Bennett, has been open for two years. It contains a gilded jewel box within its lobby called Camellia's Champagne Lounge. Guests flock here before dinnertime for cocktails or bubbles, but I recommend going in for a full-on afternoon tea. It's like snacking inside a Fabergé egg.  
In addition to more than a dozen tea varieties, the menu boasts the requisite scones and clotted cream, plus quiche, fig and apple tart, caviar blinis, crab-corn salad, and sweets like Viennese cookies or macarons. The menu's Crown Tea substitutes sparkling rosé for tea—or with tea. 
#3 – Oriental Bar & Bistrot, Hotel Metropole Venice, Italy 
The historic Hotel Metropole on the Bacino San Marco is a former convent that's been transformed into a 5-star hotel with a quirky gallery of artifacts from the Belle Époque era. The tradition of afternoon tea, a holdover from its convent years, is served in the hotel's Oriental Bar & Bistrot. In this room, from 1703 to 1740, Italy's most revered composer/violinist, Antonio Vivaldi, gave music lessons to the orphans who resided there with the nuns.  
Today, in an ambiance of soft music and candlelight, the bar offers a tea ritual from October through March and the chance to sample more than 30 teas from East Asia and beyond. You'll come away with the knowledge that green tea should brew no longer than three to four minutes and is best served with fish or seafood dishes. Delicate white tea is best steeped at a temperature of 70 degrees Celsius (150° F) for five to seven minutes, while black tea steeps at 90 degrees Celsius (194° F) for five minutes, best paired with homemade pastry. 
#4 – Zoe's Lounge, Fairmont Chateau Laurier, Ottawa, Canada 
In years past, England's Queen Elizabeth occasionally visited the Canadian capital of Ottawa to attend government functions in the city's Parliament building, which is an architectural masterpiece in the Gothic Revival style. If you visit, peek inside and you'll see a room with a throne where the queen sat to observe the proceedings. 
Stoke your appetite for tea with a bicycle ride along the Rideau Canal, a UNESCO World Heritage site constructed in 1832. Its flat waterside path stretches for well over 100 miles from downtown Ottawa to the shore of Lake Ontario. The ride is beautiful with views of botanical gardens and Dows Lake. 
Channel your own inner royalty with afternoon tea at Zoe's Lounge in the Fairmont Château Laurier. Cucumber-chèvre mousse tarts and mulled wine macarons crown its menu. While here, do as Ottawans do and sip on a glass of Canada's most highly rated ice wine, Inniskillin. 
#5 – Trifecta at Four Seasons Hotel One Dalton Street Boston, Massachusetts
What better place to observe an old English tradition than in New England? Trifecta's street-level lobby lounge offers just the right ambiance for its Trifecta Afternoon Tea. Served on Saturdays and Sundays from 11 a.m. to 3 p.m., it's an updated version of the classic afternoon tea with a welcome glass of bubbles. A cava rosé and selection of tea from J'enway Tea Co.® proved to be a perfect pairing. Try Immunity Tea or Fruity Pebbles, accompanied by a shot of St. Germain elderflower liqueur. 
Arrive at Trifecta hungry for an eclectic array of house-baked scones, cakes, and petit fours, plus assorted savories like curried chicken sandwiches or smoked salmon crêpes. After 4 p.m., Trifecta transforms into a buzzy cocktail lounge.