What's so special about sculpture? Perhaps it's the way it shares the space with us, in three dimensions, almost as if it were alive. Tactile, made from slick marble, gleaming metal, rough-hewn wood, or scores of other materials, sculptured creations draw us into a personal relationship as we study their various angles, forms, and textures. Indoors, sculpture can anchor a room, but in a garden, statues seem to have a life of their own. They complement the vastness of nature, highlighting the plants, flowers, earth, and sky that surround them. From the Netherland's Kröller-Müller Museum at Hoge Veluwe National Park to the island of Lanai's tropical oasis at Sensei Lanai, a Four Seasons Resort, these stellar sculpture gardens await your visit.
The Kröller-Müller Museum, Otterlo, Netherlands
Surrounded by national parkland, this lesser-known, European gem reigns as one of the biggest sculpture gardens in Europe. Encompassing approximately 60 acres, more than 160 sculptures pepper a grassland beside the iconic museum house, built by visionary Helene Kröller-Müller to hold her tremendous collection of modern art. With pieces by the likes of Aristide Maillol, Jean Dubuffet, Marta Pan, and Pierre Huyghe, the garden draws harmony from two 1960-era pavilions, one by Aldo van Eyck and the other Gerrit Rietveld. Plan to picnic amid the statuary, then borrow the complimentary white bikes offered to explore the national park and museum grounds. Be sure to save enough time to wander the halls of the museum's indoor galleries where an immense stockpile of Van Goghs, rated as some of the world's best, hang.
Jackalope Hotel at Willow Creek Vineyard, Merricks North, Victoria, Australia
Southeastern Australia's Victoria, the nation's second smallest state and home to Melbourne and astonishingly delectable wine lands, has long has been a creative force in the world. As an artistic hub, it huge population of creators and boasts effusive local support for artists of every genre. This spirit extends to hotels and wineries such as Jackalope Hotel which lies within an unspoiled vineyard among the Mornington Peninsula wine region. Sleek and edgy, one of Australia's top destination stays for design buffs, the hotel breathtakingly juxtaposes with rows of vines, inside and out—especially in its sculpture garden. The Jackalope Art Collection's goal is to present "rebellious" pieces. They succeed with eye-popping, international works such as Rick Owens' Stag Bench and Emily Floyd's centrally placed Jackalope sculpture.
Louisiana Museum of Modern Art, Humlebæk, Denmark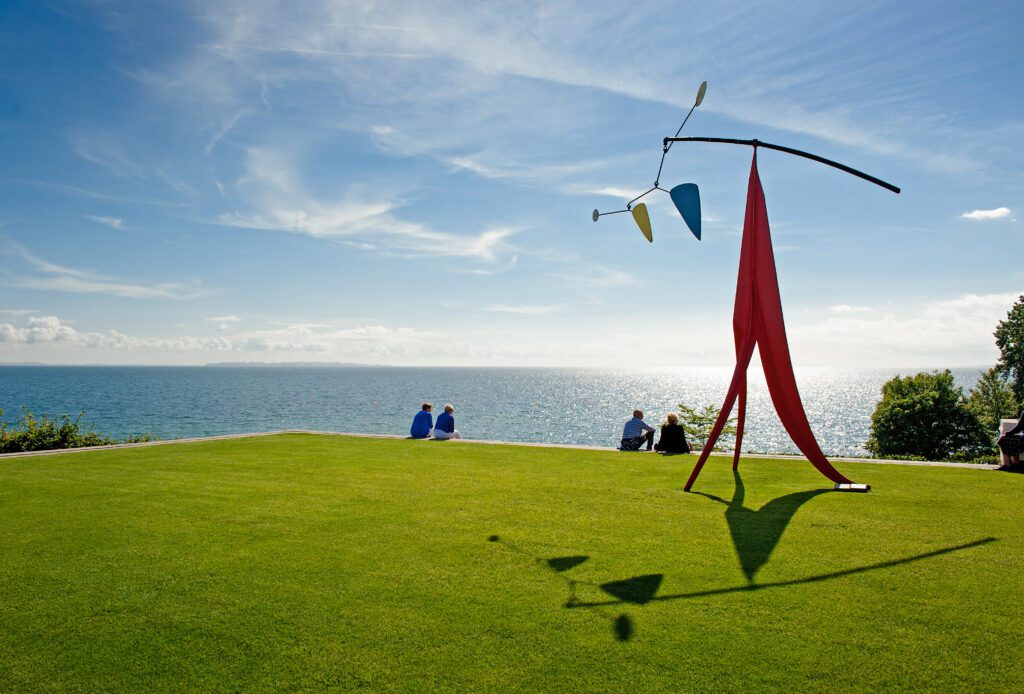 An easy day trip from Copenhagen and edging the mercurial Øresund coastline, this refined collection stands out as Denmark's most visited museum. The original structure, a villa, was built in 1958 and has been judiciously enlarged over the decades. Within, remarkable works (think: Picasso, Warhol), dating from 1945 to the present, delight the senses. Outdoors, scattered idyllically amid woodlands and beside the water, 45 sculptures captivate guests. Deliberately situated to interrelate with nature and the museum's architecture, each artwork feels organic—as in the case of Henry Moore's Reclining Figure No. 5, which reposes on a cliff with the sea as its permanent backdrop. Look for work by Serra, Calder, and Heerup, among others.
Aspen Meadows Resort in Aspen, Colorado
A celebrity mecca known for its prodigious ski mountains, chic shops, apres ski party scene, tony galleries and Shigeru Ban-designed art museum and contemporary pinnacle amid the Victorian-style architectural fabric, Aspen vaunts one of the world's most impressive Bauhaus playgrounds. A short walk from downtown, Aspen Meadows Resort, the 1950s brainchild of artist and architect Herbert Bayer, houses the Aspen Institute. Its curator supervises a colossal collection of Bauhaus-style artwork, much of it created by Bayer himself. Wander across sprawling lawns and pathways where monumental pieces manifest Bayer's belief that perfect harmony happens with the interplay of nature, art, architecture, and sculpture. Check out the Marble Garden, a series of upright slabs, and Anaconda, a geometric, sculptural dance. Both guided and self-guided tours are possible.
Hacienda Del Sol | Tucson, Arizona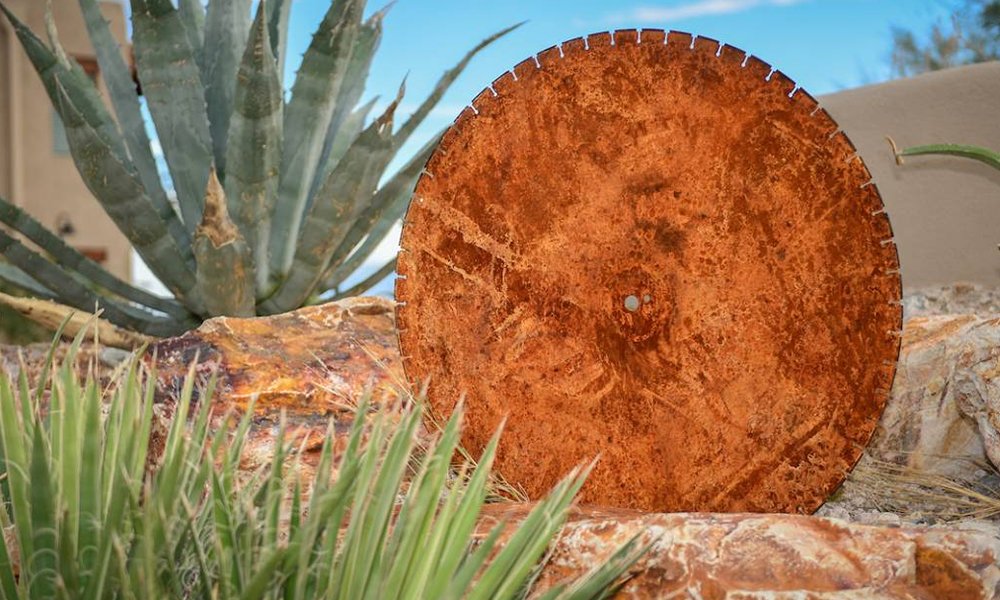 Since 1929, this historic guest ranch, with views of the Santa Catalina and Rincon Mountains, has sought to reflect the unearthly beauty of the Sonoran Desert. Just refurbished, debuting an expansion of 40 new guestrooms, and a new pool, the Southwestern-intoned hideaway also showcases its setting with a bountiful collection of local and national art. More than 100 fascinating pieces adorn the buildings and grounds—some deftly nestled into the landscape. The outdoor sculptures feature artists such as Rigsby Frederick, Steven Derks, and Carlos Carulo. Jimmy Descant's Chief Eye-Heart-Gut, Archer of the West exemplifies his celebration of the cultures, people, and mountains of the West.
Sensei Lanai, a Four Seasons Resort, Lanai, Hawaii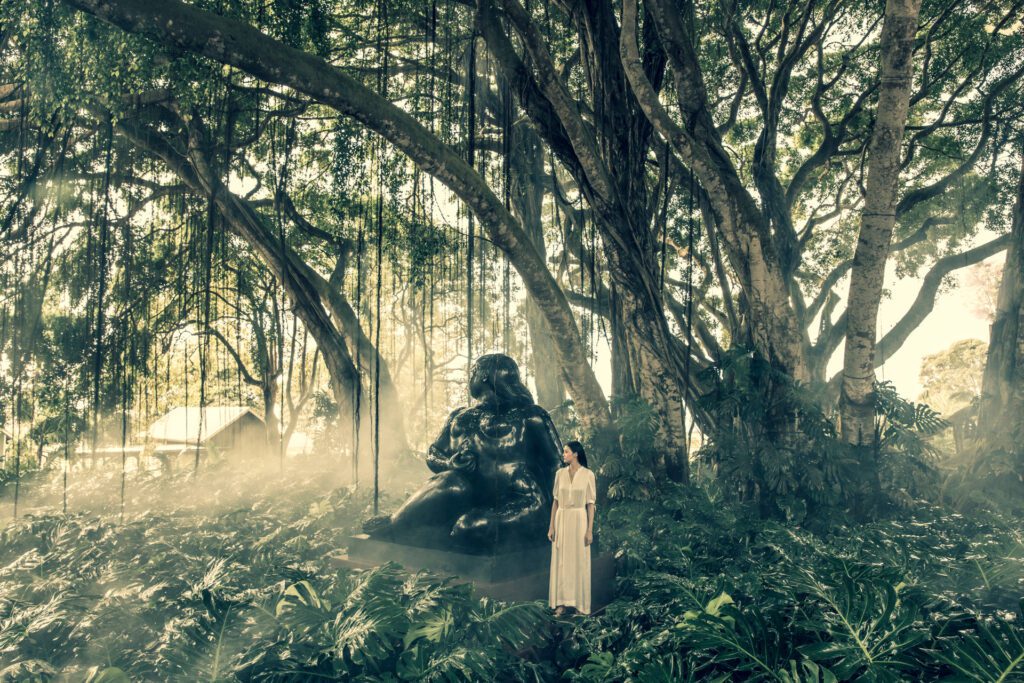 Devoted to pursuits of the mind, body and spirit, this wellness retreat on the sleepy island of Lanai believes that fitness goes beyond eating well and working out. Not to say that guests don't eat well (the restaurant has Nobu in charge) or work out (there are scores of classes and activities offered each day), but Sensei toils hard to create an environment where shifts happen from the soul outward. Part of their gift to guests is a mindboggling art collection, displayed both indoors and outside among the tropical verdancy. Dotting 24 acres of ferns, palms, pools, and flowering trees, the resort's rich largesse of sculpture includes works by Fernando Botero, Baltasar Lobo, Robert Indiana, and Marc Quinn, to name a few.
Brookgreen Gardens, Murrells Inlet, South Carolina
Not only can Brookgreen Garden trumpet itself as the first public sculpture garden erected in the United States, it can also brag about having the largest and most comprehensive collection of American figurative sculpture in the nation. On a swath of 9,000 manicured acres, this National Historic Landmark opened in 1931, thanks to founders Archer and Anna Hyatt Huntington. Its 2,000 works, created by more than 450 artists, highlight the serenely landscaped setting, the whole a study in ornamental nostalgia. Offering tours, programs, courses, live oak alleys, and a wildlife sanctuary, Brookgreen is a horticulturist's dream.