While British celebrity chef Gordon Ramsay may still be known to many for his fiery temper on TV's Hell's Kitchen, he is also one of the most acclaimed chefs and restaurateurs in the world, with multiple Michelin stars across his 35 restaurants worldwide. He is a celebrated cookbook author; host of the culinary adventure TV series Uncharted, a collaboration with National Geographic; an athlete; a Tik Tok influencer; a father and a dedicated philanthropist with his wife, Tana. With the recent launch of his namesake wine label, Gordon Ramsay Wines, he can count wine producer among his significant list of accomplishments.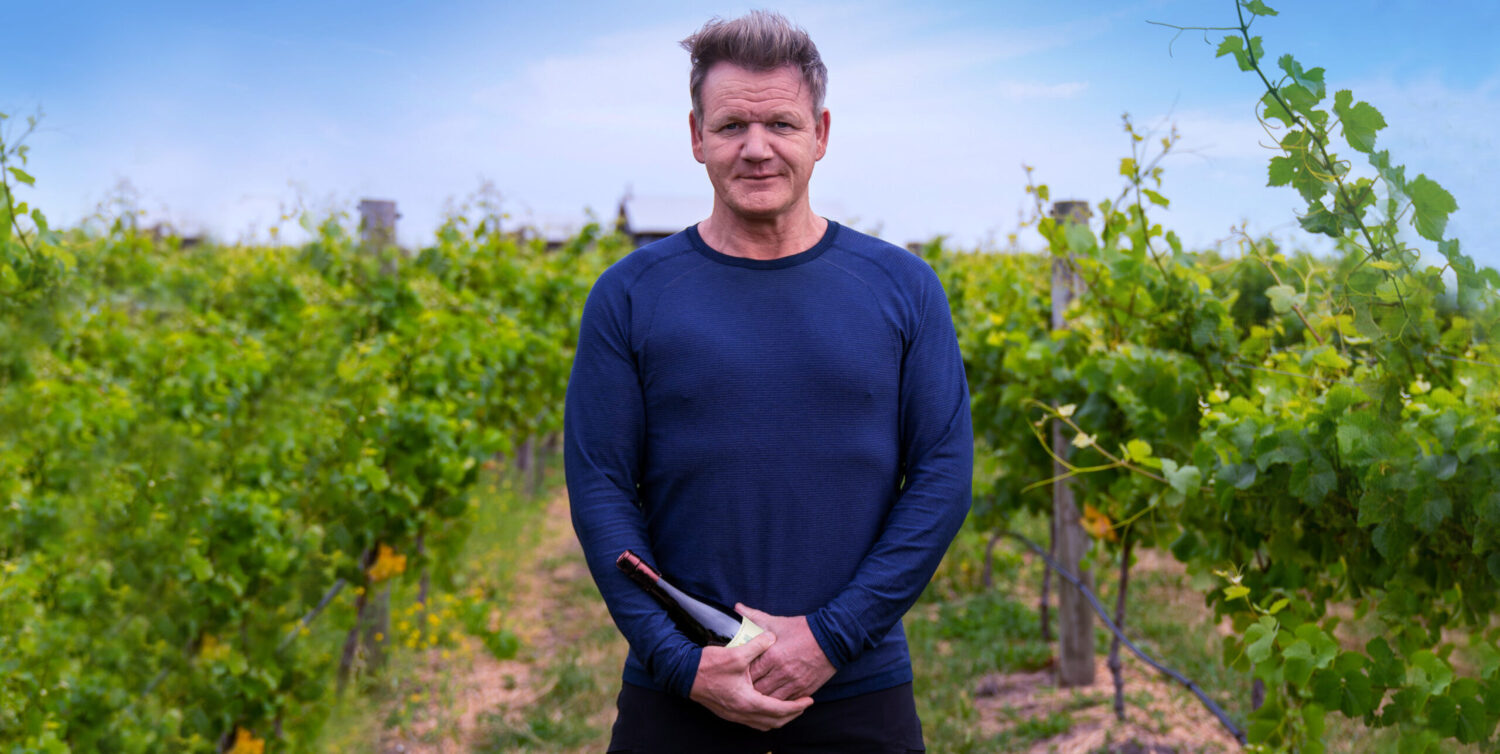 Drawing from vineyards in Northern California's cooler climate regions, the Gordon Ramsay Wine portfolio is a close collaboration between Chef Ramsay, international wine expert Nick Dumergue, and winemaker and master sommelier Christopher Miller of Seabold Cellars in Monterey. The eight wines in the Gordon Ramsay portfolio, all ranging in price between $20 and $60 per bottle, include a Sauvignon Blanc, Chardonnay, Rosé, and Pinot Noir from Monterey, a Reserve Chardonnay from Sonoma County, and three Cabernet Sauvignons, one of which is a Reserve from Napa Valley: the best expressions of each region.  
Commenting on his focus on California-crafted wines for this portfolio, Ramsay stated,  
"Over the last decade, I've spent time in California and realized how incredible so many wines can be, really allowing me to understand the quality of wine that comes out of the region and how it enhances my cooking.The state is full of passionate winemakers who are producing delicious, balanced wines that beautifully complement cuisine. This really inspired the creation of my own label."  
In Christopher Miller, Ramsay found not only an incredibly passionate winemaker, but one with a deep understanding of Ramsay's world and vision from the standpoint of chef and restaurateur. For nearly two decades prior to making wine and founding his own Seabold Cellars, Miller's career centered on fine dining restaurants. A New Orleans native, he worked his way through college, learning about food and wine at Emeril's and the legendary Brennan family's restaurants. A job offer immediately after graduation took him cross-country to the Pacific Northwest, where he deepened his knowledge of wine on the floor of Seattle's renowned Canlis Restaurant. There, he met Greg Harrington, who had just founded Gramercy Cellars in Walla Walla, a rapidly emerging wine region. Inspired by Greg's passion and vision, Miller took advantage of every free moment to commute between Seattle and Walla Walla to work with Harrington, eventually making his first wine in 2006.  
Several years later, an opportunity presented itself in Los Angeles as wine director for Wolfgang Puck's flagship restaurant, Spago Beverly Hills. He made the move, simultaneously working towards his Master Sommelier diploma while regularly hosting many of the country's largest wine collectors' tastings. It was here that Miller first crossed paths with Ramsay, though it would be a number of years before they reconnected over this project collaboration. In the meantime, while at Spago, Miller was drawn back to the grapes, seizing opportunities during days off to work with nearby winemakers in Santa Rita Hills, studying under Greg Brewer at Brewer-Clifton and Melville. Finally, after 20 years in restaurants, Miller finally made the full-time switch, trading in his suit and tie for jeans and boots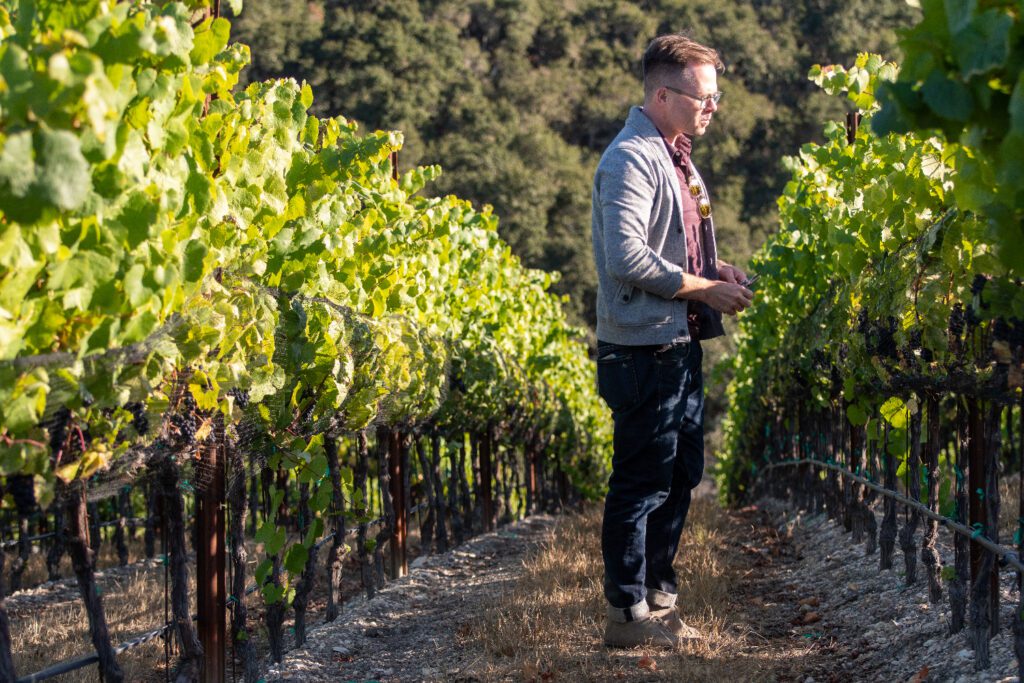 On meeting Miller again, Ramsay notes, "I'd met Chris Miller several times, as I'd dined at one of his earlier jobs working for the amazing Wolfgang Puck. We reconnected a few years ago, and it was fantastic to see how Chris had grown from his time with Wolfgang to making delicious wines that pair fantastically with California cuisine. It's great to work with someone like Chris who has a foot in both culinary and winemaking camps. Chris is an absolute master of his craft, so working with him has truly been an honor."  
The two, alongside the Gordon Ramsay team, have worked tirelessly to create wines which truly represent their shared dedication to quality and the best expression of each varietal, a process which was challenged in the final pre-launch stages by the arrival of COVID-19. As Miller put it, "Given the realities, we had to rely on pretty constant Zoom tastings and back-and-forths with feedback across time zones" as Ramsay remained at home in London and the team was spread out in different locations.  
The final wines in the Gordon Ramsay Wines collection are a testament to an alignment on quality and style, using grapes sourced from sustainable and organically-practicing vineyards in marginal climates to produce balanced wines that complement cuisine. "Much like in the kitchen, we believe the best wines begin with sourcing the best ingredients and doing as little as possible to coax the grapes' natural potential," said Miller. Added Ramsay, "Like anything I put on a plate, it comes down to quality, and that's why we source some of the best grapes using sustainable methods." 
Miller has produced a few hundred cases of each Gordon Ramsay Wine, totaling about 2,000 cases. With the restaurant and hospitality world opening up, guests at Ramsay's US restaurants are able to enjoy these wines, as well as to purchase them directly online at gordonramsay.wine. For those interested in establishing a regular shipment and communication, Gordon Ramsay Wines has a wine club which offers its members a range of special wine shipments, exclusive event invitations, and access to recipes and "insider" information.  
Will we see Ramsay in California wine country any time soon? "I can't wait to get back to California wine country!" stated Ramsay. "It's one of my favorite regions on the West Coast! I've been known to take Tana away for some fantastic weekend getaways with delicious food and wine. So, I'm looking forward to seeing the team and seeing all the fantastic restaurants and artisan purveyors who've had a really tough several years with the pandemic, as well as those awful wildfires."  
If you find yourself in the Monterey area, be sure to make a stop to see and taste with Chris Miller in his Marina tasting room at Seabold Cellars, where you can sample Gordon Ramsay Wines as well as the small-lot, site-specific Burgundy and Rhône varieties for which Miller is acclaimed. Visit seaboldcellars.com for more information.