How one local company transformed a 20-pound case of unwanted truffles into a booming cooking class empire.
Sitting in front of $20,000 worth of fresh truffles, French Laundry alums Jason and Sarah McKinney were at a loss. The mammoth shipment of the famously earthy spheres of flavor had just landed in San Francisco the same day the shelter-in-place order was announced, and the high hopes they had for their fledgling company—which they founded to supply restaurants with the finest fungi—were looking dire. With only a small window of time to utilize the truffles (likely less than a week), the McKinneys had to find a way to use all 20 pounds of the precious cargo. Then, the phone rang.
A prized delicacy, truffles have long been a mainstay on the finest menus across the world—including The French Laundry, the famous, triple-Michelin-starred restaurant where the McKinneys first met. Along with Chef Tyler Vorce, the McKinneys developed an incredible passion for the ingredient, elevating dishes at the famed Napa eatery with the fungus' distinct, earthy flavor and incredible complexity. Together, they sought to launch Truffle Shuffle, a direct-from-the-source importer of truffles they hoped would serve restaurants across Northern California. Similar to highlighting food producers such as butchers and farmers, the three truffle aficionados aimed to bring more awareness to truffle hunters and deepen the appreciation for these exceptional morsels of umami.
When the pandemic hit, it seemed as though the timing couldn't have been worse—but in hindsight, it was a blessing in disguise. When Jason picked up the phone, he answered a call from a private San Francisco social club asking him to host a virtual cooking class for its members. Despite having no professional background in teaching, the Truffle Shuffle founders embarked on developing a program to lead home cooks through the preparation of a restaurant-quality dish utilizing fresh truffles, including ingredients delivered in meal kits directly to their doorsteps. Chefs Jason and Tyler based their method of teaching on how they had advanced their own lengthy careers—namely, shadowing master chefs in the kitchens of some of the best restaurants across America. The classes gave home cooks an opportunity to not only interact with the chefs and ask questions in real time, but also to learn all of the incredible knowledge Jason and Tyler had spent years accumulating and to pick up techniques they could continue to use in the future.
The first class was a massive success, and Truffle Shuffle knew it had a hit on its hands. In less than a year, the company expanded from a 6-person team working out of the McKinneys' apartment to a 50-person team operating out of its new headquarters in Oakland. More than 100,000 home cooks have participated in Truffle Shuffle's classes to date, which have run the gamut from paella and lamb chops to sushi rolling and pasta making to wine dinners created in collaboration with major Napa Valley vintners. They've enlisted local talent, such as Executive Chef Jackson Yu from Michelin-starred Omakase in San Francisco and featured special guest appearances from actress Teri Hatcher, NFL Hall of Famer Ronnie Lott, and performers from the hit musical Hamilton.
Truffle Shuffle plans to continue bringing in celebrity guest judges—thanks to big connections from new investors—and has even landed appearances on The Kelly Clarkson Show and Shark Tank to showcase their company as the future of cooking. Jason believes that live streaming will persist as a platform for connecting the community even after the pandemic and sees Truffle Shuffle as an innovative package combining exceptional food, education, and entertainment—an all-in-one experience that can be shared with kitchens nationwide.
At the root of Truffle Shuffle's mission is honesty and integrity in all their offerings. Aside from a love for truffles, the founders were spurred by their desire to go directly to the source in order to find the highest-quality products—consciously sourced by longtime truffle hunters and their skillfully-trained dogs in the Umbrian countryside. "It's our mission to personally source the best-in-class truffles and create the finest truffle products in the world," says Sarah, who handles the beverage program, public relations, and social media for the company.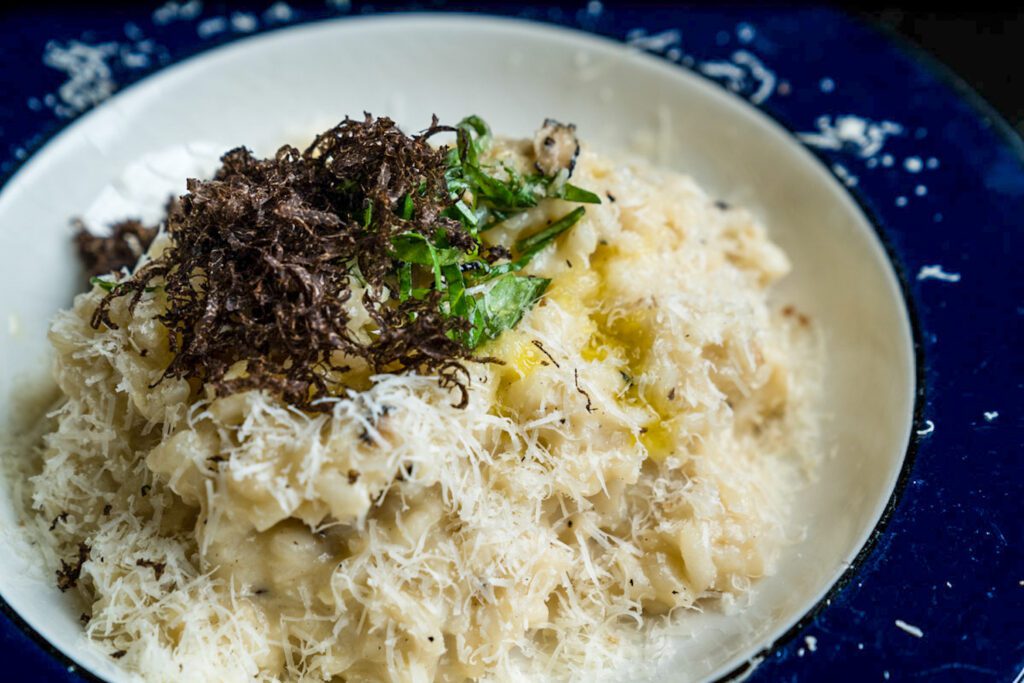 Meanwhile, Jason handles marketing and project planning, and Tyler writes the recipes. Truffle Shuffle has also hired a roster of staff members who were furloughed as a result of COVID-19 in a show of support for restaurant workers. "Everything is done in-house," Sarah says. "I'm extremely proud of our team of hospitality workers who have gone above and beyond to educate themselves in this virtual realm."
Truffle Shuffle is also heavily invested in giving back to the broader community. When it first began offering its virtual classes, the company donated a meal to a frontline healthcare worker for every meal kit it sold. Now, it donates a meal to anyone in the community in need, and the company has been working on creating a partnership with Alameda Food Bank. It's a cause that's important to them, especially because Jason experienced food insecurity as a child.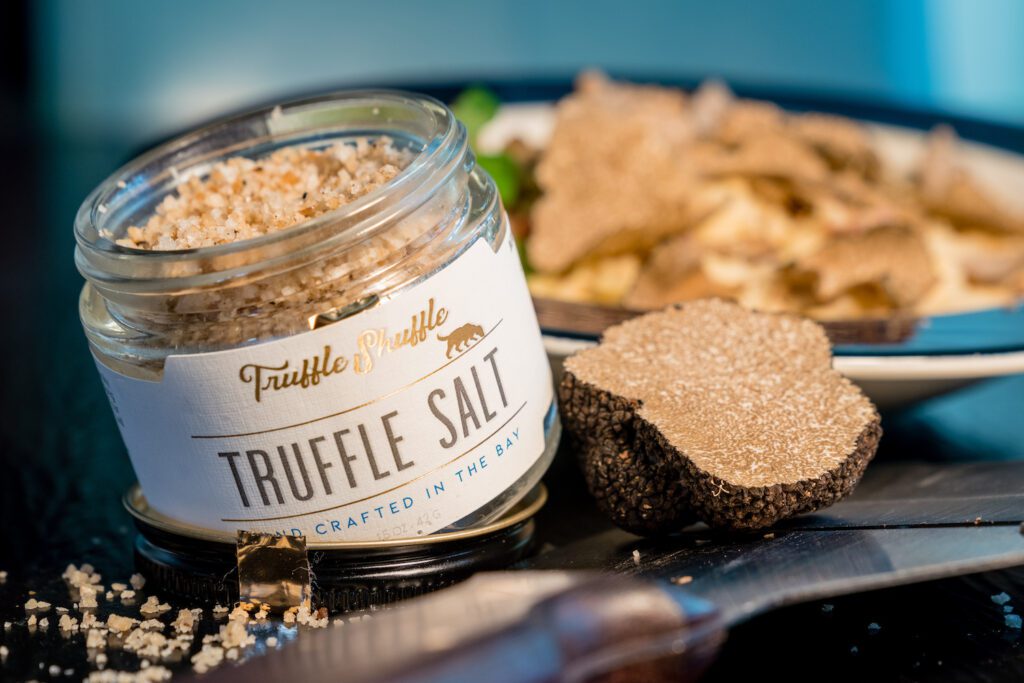 Even though their team is busy hosting multiple classes and shipping out hundreds of orders a week—when they're not appearing on television, that is—they remain committed to looking for new ways to give back. The company donates a portion of its profits to 1% for the Planet from all sales of its small-batch products, which include brown butter truffle honey made in partnership with Marshall's Farm. Jason and Tyler visited the Napa farm nearly a dozen times to convince its fourth-generation beekeeper to allow them to use his honey, knowing it was the same pure, unfiltered, and hand-bottled honey Thomas Keller insisted on using in all his restaurants. It's this kind of dedication and commitment that has led to the company's expansion from underground truffle suppliers to a mainstream company paving the future of "edutainment" and making a difference in the world—one truffle at a time.