Extraordinary things happen around Andria Mitsakos. Take that time two years ago when we were preparing to head together to the canny island of Paros in Greece. I stood, sipping green juice in her treasure trove of a pied-a-terre in Athens, as we reunited and discussed what we might do at the villa we'd rented on the island, where she now has a second home. I'd been enjoying the plethora of textures and colors that compose her interiors (brass, textiles, ceramics, blown-glass, silks, blues, reds, yellows), an exuberant melding of hand-made, vintage, eccentric art and curios, each exuding a certain energy, yet each working in concert with the other to embody the art d' vivre that defines Mitsakos. Suddenly, I turned, looked out the panoramic window, and gasped with awe. There was the Acropolis—seemingly close enough to touch—right there through her window, its presence akin to adding the final flower to a glorious bouquet. "I'm hopelessly in love with it," she said, as if she'd placed it there herself. If she could have done so, she would have—that's Andria Mitsakos.
With homes in Greece, having lived in places as diverse as Miami and New York, exceedingly well traveled, Mitsakos might be best described as a collector of metaphor. I say that because she never shops conventionally, yet always seeks and finds artisan-made objects that encapsulate specific sense of place. In the Caribbean, it might be rattan; in Bali, wood carvings; or, in Mexico, embroidered dresses. Of course, she has an excellent eye, gleaned from a childhood spent with miraculous women—like her mother, Stella, who took her along to consult with potters in Antigua or to ferret through jewelry markets in Boston. But, its more than having a practiced eye or having good taste. Mitsakos seems to converse with these items and artisans on a soulful level. They're as drawn to her as she is to them. They want to be in her pocket, on her table, atop her head. In return, she offers them the respect they deserve.
Anthologist is a new online shopping archive.
Enter Anthologist, her most recent venture among other esteemed ones, from handbag designing to public relations to consulting on hotel interiors. Launched this year during the pandemic in response to so many friends who bemoaned their inability to comb flea markets, visit ateliers and travel, Anthologist is a new online shopping archive. It celebrates "artisanal craft, cultural preservation and folkloric style inspired by the myths of Greece's islands and countrysides," says Mitsakos. A cache of jewelry, home accessories, fashion and more, it comprises both original, vintage pieces unearthed by Mitsakos over time time, as well as hand-made objects designed by Andria, inspired by her quest to find remarkable things, and to keep the legacies and skill sets of artists alive.
"You don't need a lot of things, just special ones."
Andria Mitsakos' most oft-used mantra is "You don't need a lot of things, just special ones," words she attributes to her mother. But, she lives it. She gives everything the gravitas it deserves. I remember back to that day in Athens, when she quickly packed her bag for Paros. Her moves were intuitive, as she pulled open drawers, drew scarves from a wardrobe and unhooked necklaces from posts. Within seconds, she'd packed for a week. The bag, deftly filled, was the size of purse—and every item in it had a story. "That's such an important part of fashion—the stories," she says. Whether a Greek Goddess bracelet peppered with rubies, a beach worthy basket handbag, hand-hewed ceramic bowl or a brass door knob beckons, Anthologist promises to offer you the "special" things to make your own stories.
Site-wide prices range from $25 to $3,500. Anthologist.com
SOME PRODUCTS:
GODDESS BRACELET:
The prototype for this bracelet was found by Mitsakos in a flea market. Representing female fertility, it is worn as part of traditional costumes in northern Greece. She recreates it in Athens for you with rubies and the magic of folklore.
Brass plated with 24-karat gold, accented with rubies.
Dimensions. Runs small, yet is flexible.
$295
GODDESS BELT:
Mitsakos created her own belt from a vintage belt buckle found in a market in Athens. Tying her vintage scarves into dresses with it, she wore around the island of Paros, drawing much attention. Others, demanded one of their own, and the Goddess Belt, in the image of a traditional costume, was born.
White metal and faux snakeskin.
$175
PARIAN BASKET BAG:
Woven on the island of Paros by local artisans, the baskets are hand-embellished by Andria. Each basket is tied with leather cord, accented by vintage brass and glass beads, punctuated by seashells found on Parian beaches. Custom bags made with your own seashells are possible. $75
SNAKE GODDESS KEY RING
In Minoan culture from the Greek island of Crete, the snake was the protector of the house. So what better key ring to have? On one side is the Minoan snake goddess, and the opposite is the ancient octopus, which not only represented protection but also represented wealth and food in Minoan culture. Hand-cast brass using ancient methods and sand molds. $60
PSARI CERAMIC BOWL
Created from designs commissioned by Mitsakos, Anthologist's ceramics authentically utilize red clay and ancients methods. Each piece is hand-thrown and hand-painted in an Athens workshop. The primitive design reflects psari, or fish. Dress them up or down. Food and dishwasher safe.
$40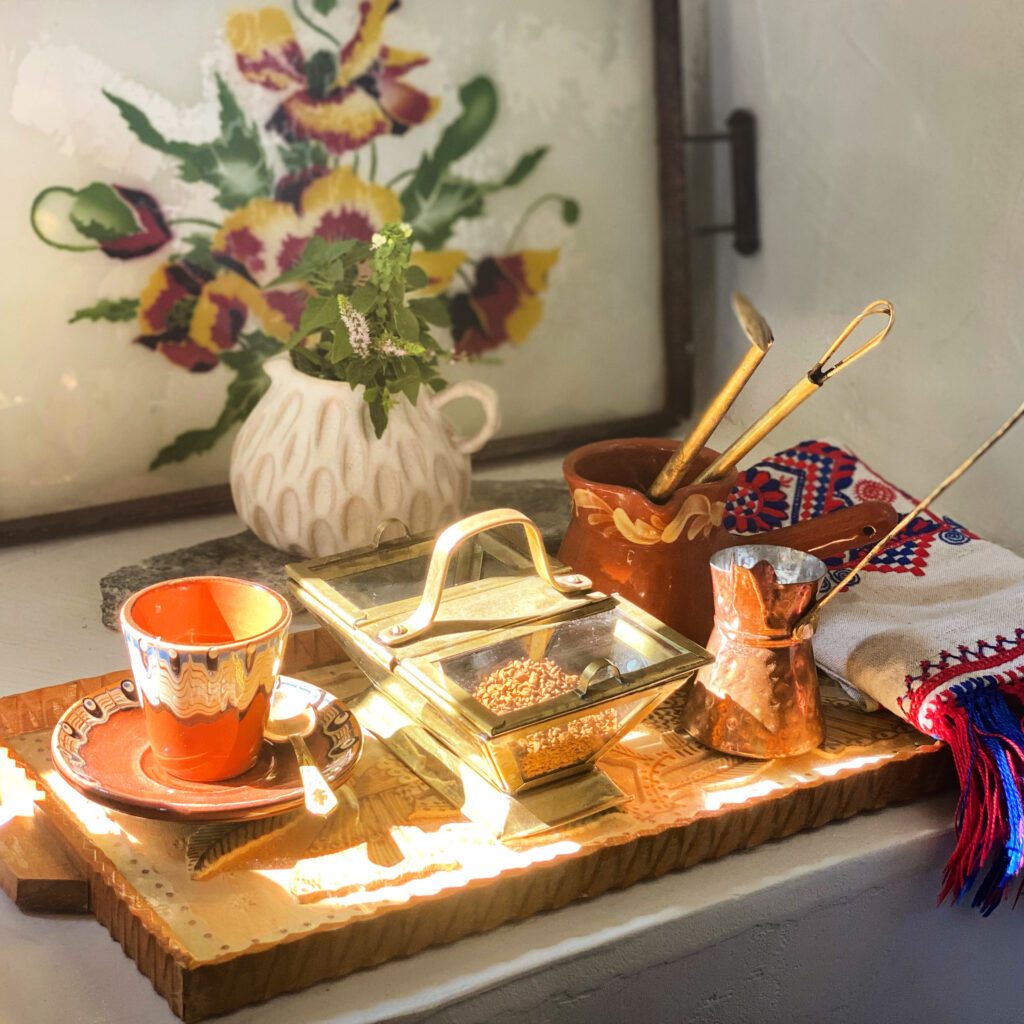 ANDRIA IN HER OWN WORDS:
Collect, don't shop.
Confidence is the key component to any sense of style. If you're not comfortable with yourself inside, you won't show that to the outside world, regardless of what you wear.
When it comes to jewelry, there is nobody like Lalaounis, Greece's homegrown Cartier. Helmed by the daughters of the late Ilias Lalaounis, their collections are always relevant, and evoke a sense of timeless Hellenic style.
I founded Anthologist to support cultural preservation. There are many trades such as foundrywork (working with metals) that are simply non-existent in many cultures because the elder artisans haven't been able to pass this trade down."
I grew up in a household of strong female women who were all collectors. My mother Stella is still an active interior designer today, at the age of 80, and has always collected treasures.
I have an incredible obsession with vintage lingerie and I've been wearing 1920s-1980s nightgowns for over 25 years as dresses.
Antiques represent an elegant way of reusing and recycling, those tenets of sustainability: they are an eco-conscious way of stylishly reusing items that already exist, plus it helps reduce furniture that goes to landfill and saves on energy spent on new production. On top of that, antiques are a tangible cultural legacy, which can be passed on generation to generation.