People who know—know. If you don't know, you need to join the cult of Billecart-Salmon, a Champagne house we love so much that we'd prefer to keep the secret to ourselves. A mighty, 7-generations-old, family-owned maison, it makes some of the world's most glamorous Champagne. Add in some new releases when our world needs it most, and this gastronome's favorite wine may well become your bubbly of choice.
Here's what we discussed during our socially distanced tete-a-tete with Billecart-Salmon's CEO, Mathieu Roland-Billecart.
HL: Being a seventh-generation family member, you must feel that wine or Champagne is in your blood. The family's 200-year-old tradition reigns as a magnificent legacy. What are some things you learned from your forefathers?
MRB: Our passion is all about getting the best of two ecosystems: the natural ecosystem of vines and their surroundings and the human ecosystem composed of the people who work them and make the wine, our relationships with growers and clients, etc. It is about respect and a long-term vision for quality and excellence. Our family motto is: "Give priority to quality, thrive for excellence." I think that summarizes things quite well.
HL: As if it were a gift to the world's population of oenophiles who are socially distancing at home, you've kindly brought to market three stunning new wines: Brut Nature, Les Rendezvous, and Vintage 2009 (which I sipped with glee on Inauguration Day). Just popping the corks makes long days as recluses feel more festive. Can you give us a description and some expert tasting notes for each?
MRB: Brut Nature is all about precision and sharpness. The blend is 40% Meunier, 30% Chardonnay, and 30% Pinot Noir. We use a significant proportion of reserve wines (55%), which enable us to have 10 harvests in this blend thanks to the use of a solera system. It is aged four years and, obviously, made with no sugar added. We use a liquor blend with top reserve wines from top grand cru to balance the wine without any sugar. Expect orchard fruits, fresh citrus, and pains au lait on the nose, with a well-balanced and rounded palate and notes of white flesh fruits, lime trees, and almond cream.
Les Rendezvous No. 1 is completely different: 100% Meunier from a base harvest 2014 vinified entirely in stainless steel tanks to preserve freshness and purity of the fruitiness of Meunier. The idea was to showcase one of our experiments with a 100% Meunier, so it is a tiny bottling. It was completely sold out in a few weeks. We will have to do a Les Rendezvous No 2. On the nose, you will find some lime and violet combined with the summery scents of freshly cut wheat fields (grain and straw), then, a textured mouthfeel that blossoms into deeply delicious, fruity notes of white cherry, pear, and red currant. Finally, the finish is just as enjoyable, lengthening to notes of white pepper, with a pleasantly saline tartness.
Vintage 2009 is a blend of Pinot Noir, Meunier, and Chardonnay from the harvest of 2009, with very low dosage. 2009 is quite a sunny and rich year, but the low dosage keeps the wine tight and sharp. It's ready to enjoy now. On the nose, find intense fruit with citrusy and nutty notes, including grapefruit pulp, slivered almonds, and fresh pastry. On the palate, expect chestnut cream, fresh blueberries, and shortbread, emphasized by a delicate texture, but with a distinguished complexity. The persistent finale is crisply structured.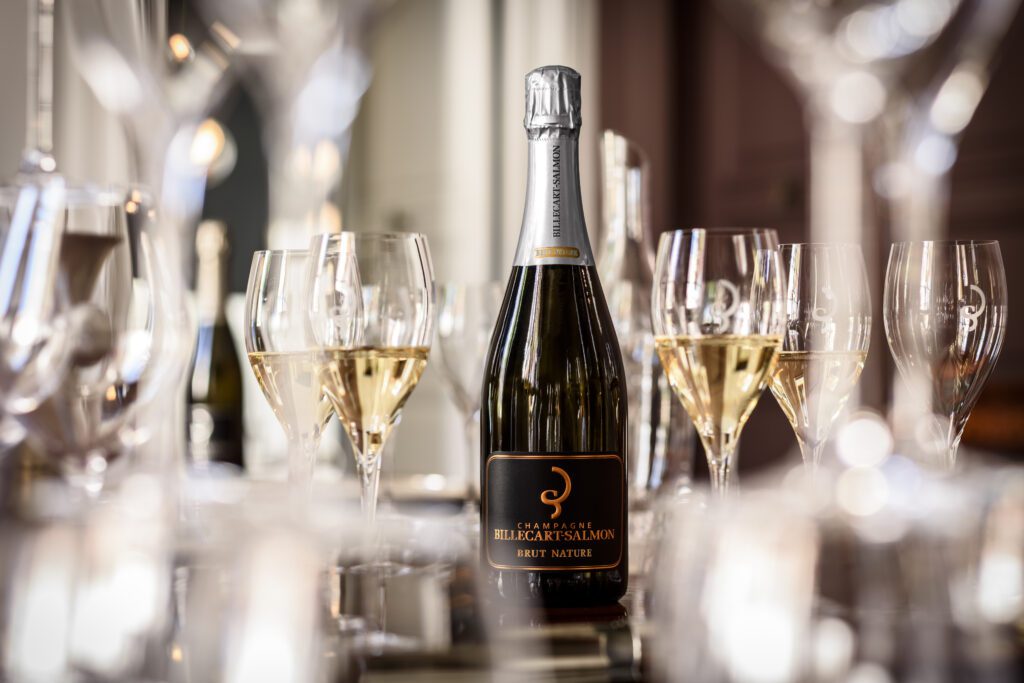 HL: Your wines are well known by gourmets for enhancing food. Michelin star chefs are known fans. If we were to have a Zoom tasting with our favorite fellow wine drinkers, what dishes would you propose we eat as we sample each of these wines?
MRB: Since we may not have a grand chef there cooking for us or be able to arrange a take away, let's try to keep it simple:
Brut Nature with oysters/seafood
Brut Rosé with thinly sliced parma ham or with a fruity dessert 
Les Rendezvous No. 1 with veal or paté
Vintage 2009 with poultry or fish
Brut Sous Bois with comté cheese. (I love this pairing.)
Nicolas Francois on its own, after the meal, to celebrate life!
HL: Your rosé production dates back to the early 19th-century. Your Brut Rosé is legendary. Your wine is fresher and more elegant than most. How do you achieve that? What makes it special?
MRB: We have been practicing our rosé blend for a very long time indeed, way before it became fashionable to make Champagne rosé. Our blend is Chardonnay dominant, and our red wine comes from old Pinot Noir vines that we vinify for purity and freshness instead of power and structure. This cuvée shares the DNA of all our cuvées (finesse, elegance, and balance), but has its own personality of being fruity and very accessible, plus it's fun to drink.
HL: Tell us about the role that Pinot Meunier plays in your champagne, which is somewhat unusual. How does it evoke your wine's style and terroir.
MRB: Pinot Meunier is the largest component of our Brut Réserve. We think it provides some roundness and fruit to a wine when you combine it with our unique cold fermentation system. For a long time, it was not popular, but an increasing number of Champagne winemakers now recognize that it can stand on its own and bring its unique personality to a cuvée as much as Chardonnay or Pinot Noir can.
HL: Where do you source your grapes and where is the Champagne made?
MRB: Over 90% of our grapes come from 20 kilometers around our estate in Mareuil sur Aÿ, in the heart of the premier and grand cru of Champagne. The balance of 10% comes from two other areas south of Champagne in Vitryat and Sezannais. We vinify it all on our estate and the second fermentation (when the bubbles come) is done in our cellars.
HL: Once the world travels again, can guests visit your vineyards and winery?
MRB: Yes, but they must book in advance, as we get a lot of demand. We try to accommodate small groups for tours of the estate, from the vineyard to the chai and cellars and, of course, a tasting at the end!
HL: Where can we purchase Billecart-Salmon locally?
MRB: Billecart-Salmon can be purchased in many locations throughout the Bay Area, including D&M Wines and Liquors, K&L Wine Merchants, Premier Champagne in Hayward, and Vintage Wine Merchants in San Jose, among others.