Rothy's eye-catching, wear-all-day silhouettes have ignited a fandom frenzy rarely found within the retail sector.
Few retailers boast a following of faithful fans as ardent as those who love Rothy's. Loyalists of the San Francisco-based shoe and accessories company regularly pledge their allegiance with postings to every social media platform. An Instagram search of #Rothys, for instance, reveals account after account created by those who highlight their latest purchases, share their wish lists, and engage each other in conversation about their favorite styles. There's even a 'Rothy's In the Wild' account where fans post pix of styles randomly spotted on city streets.
And Rothy's takes note. "It's a beautiful thing to have customers so involved with the brand," said Erin Lowenberg, Rothy's senior vice president of merchandising and product, who admits that the fandom has taken on a life of its own. She referenced the innumerable Facebook groups and hashtags devoted to Rothy's, and recalled the group of women who filled a bus and rode for miles in order to celebrate the opening of the brand's Washington DC store, one of just a handful of its brick and mortar locations. (The others are located on hip and walkable streets in San Francisco, Los Angeles, New York, and Boston.) Added Lowenberg, "We've got some passionate customers out there. Rothy's make them happy, and who doesn't need a little color in their life right now? We really listen to our customers, the self-proclaimed 'Rothy's Addicts.' We are in constant innovation mode, trying to learn from our own growth, so it is a gift to have customers so involved with the brand."
Rothy's classic yet eye-catching, wear-all-day footwear silhouettes (crisply named i.e. The Point, The Loafer, The Square) are available in an ever-changing assortment of colors and patterns, each knitted-to-shape with a soft, durable, and washable signature thread made of plastic water bottles. The material is engagingly tactile. The Rothy's playful, heritage-feel signet – a single symbol looped into itself without any breaks – symbolizes the company's seamless construction of its products. Newly introduced handbags and accessories include highly versatile crossbody bags, totes, wallets, and pouches, each also knitted from a blend of the Rothy's signature thread and ocean-bound marine plastic, the exclusive material that caught the eye of Seattle lifestyle blogger and marketing strategist Alex Tran. "I discovered Rothy's when I saw one of their Facebook ads showing the transformation of a water bottle into thread and then into their shoes," said Tran, an admitted 'Rothy's Addict' who often blogs about the brand on her website schimiggy.com, where her popular sizing guide post has helped to steer Rothy's fans the world over. "I love that they are transforming single-use plastics into wearables. This diverts millions of water bottles from entering and remaining in our landfills. I own and love the points, flats, and sandals. I wear my sandals all of the time."
Frequent introduction of new product is central to Rothy's popularity. With more than 200 design-patent applications granted or pending, the design team creates with purpose and intention, and they're skilled in the art of balancing forward-looking trends with sustainable solutions and real-time customer insights. Lowenberg drives the company's creative direction, working with the product team to create chic styles that surprise and amuse. Her specialty lies in color and pattern development, resulting in Rothy's signature brightly hued collections. "We design for a customer who deeply appreciates an intersection of comfort, versatility, style, color, and sustainability" said Lowenberg, whose more than 20 years of retail experience includes a decade at Gap Inc. and consulting roles with Patagonia and Old Navy. She closely follows trends, from the high fashion catwalk, to athletic and performance wear, to home furnishings. And she relies on both current events and intuition in forecasting what the customer most desires, such as the recently launched line of sustainably made handbags and totes. "I try to translate trends into products that are meaningful to our customers – items that are not only unexpected and delightful, but practical."
"I found out about Rothy's from a previous boss who used to wear them every day," said regular customer Jackie Journick, New York City resident and account executive for Stirista. "They have so many different styles that are great for both workwear or casual wear, and they launch new silhouettes every few months. I really believe in their products and sustainability model; they are comfortable to wear all day, and the best part is that they are machine washable, which is a game changer when living in and walking throughout the city."
"From our innovative materials, like our knit-to-shape production method, we consider the environmental impact of everything we do and we strive to push the industry forward toward a more sustainable future."  Erin Lowenberg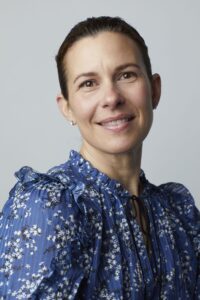 This past year, that hallmark feature – washability – proved to more than meet a societal moment. Little did founders Roth Martin and Stephen Hawthornthwaite know that when they launched Rothy's in 2016 in order to fill a fashion chasm, they'd one day also provide a cultural panacea. Instructed by pandemic authorities to wash, and wash again, the ability to toss Rothy's shoes into the washing machine assuaged many anxieties. Martin and Hawthornthwaite's initial motivation was to create a shoe that matched the comfort and stylishness of the athleisure trend. As leggings moved beyond the yoga studio and onto the street, they saw an opportunity, and each left a job at the height of his career, with a vision to create a company that would both fuel their retail passion and allow them to do good in the world.
That good begins with the company's commitment to sustainability. Rothy's transforms recycled, eco-friendly materials into their products, and takes pride in smart production practices, always with the goal of reaching zero waste. Their sustainable commitments span the entire product journey, from materials, to ownership and operation of their own sustainable production workshops, to their use of 100% recyclable shoe boxes. Rothy's combines the best of 3D knitting technology with handcrafted assembly, meaning their products are built to shape. This technique results in little waste, as opposed to traditional shoemaking methods where patterns are cut from larger pieces of fabric, and leftover materials are thrown out.
"From our innovative materials, like our knit-to-shape production method, we consider the environmental impact of everything we do and we strive to push the industry forward toward a more sustainable future." said Lowenberg, who was friends with Martin and Hawthornthwaite well before she initially joined Rothy's as a consultant. She was hired by the duo to develop inaugural products and to help get the ball rolling, but just like Rothy's customers, she too has become a Rothy's Addict and can't imagine working anywhere else. "It's such a joy to be in a business in which we fully believe."
Rothy's shoes and accessories are available online at rothys.com and at five brick and mortar locations: Fillmore Street in San Francisco, Melrose Place in Los Angeles, Newbury Street in Boston, Bleecker Street in New York City, and M Street in Georgetown, Washington D.C.
Photos courtesy of Rothy's