It's a good thing that it's dark.
Or, maybe it doesn't matter because a layer of gloopy, white silica mud covers every inch of my bikini-clad body. In truth, nobody could see my bare skin if they tried. I sit on a rocky ledge in a cave, part of a sprawling, subterranean, five-star spa with other sludge-sheathed souls, waiting to dry. Just moments before, I had slathered myself with finely crushed, black-hued, volcanic rock, rubbing and scrubbing every inch to exfoliate in advance of the mud. My next step will be a shower, then a full body smear of rare, green algae. In the end, I'll douse myself with ice-cold water, put a hydrating mask on my hair, don a bathrobe and go about my business with visibly glowing skin. I've been partaking of this 45-minute, all-included, self treatment, called The Ritual (which uses ingredients foraged and made on site) every day of my stay at The Retreat at the Blue Lagoon, Iceland's premier hotel. I'm addicted.
Set amid the inky lava fields of southern Iceland's Reykjanes Peninsula, The Retreat reigns as an exquisite, design-centric resort, uniquely located on the shores of the storied Blue Lagoon, the nation's top touristic destination, named one of the 25 wonders of the world by National Geographic. While most visitors to Iceland take a relaxing dip in the warm waters of the Blue Lagoon sometime during their stay, most schedule only a few hours at the mineral water complex before heading to points further afield in Iceland to hike, bike and pose before waterfalls, Iceland style. As an answer to the many tourists who longed for an overnightstay at the lagoon, The Retreat opened in 2018, adjacent to the Blue Lagoon facility. The swish hotel provides an upscale wellness hideaway with private access to the healing waters for discriminating travelers.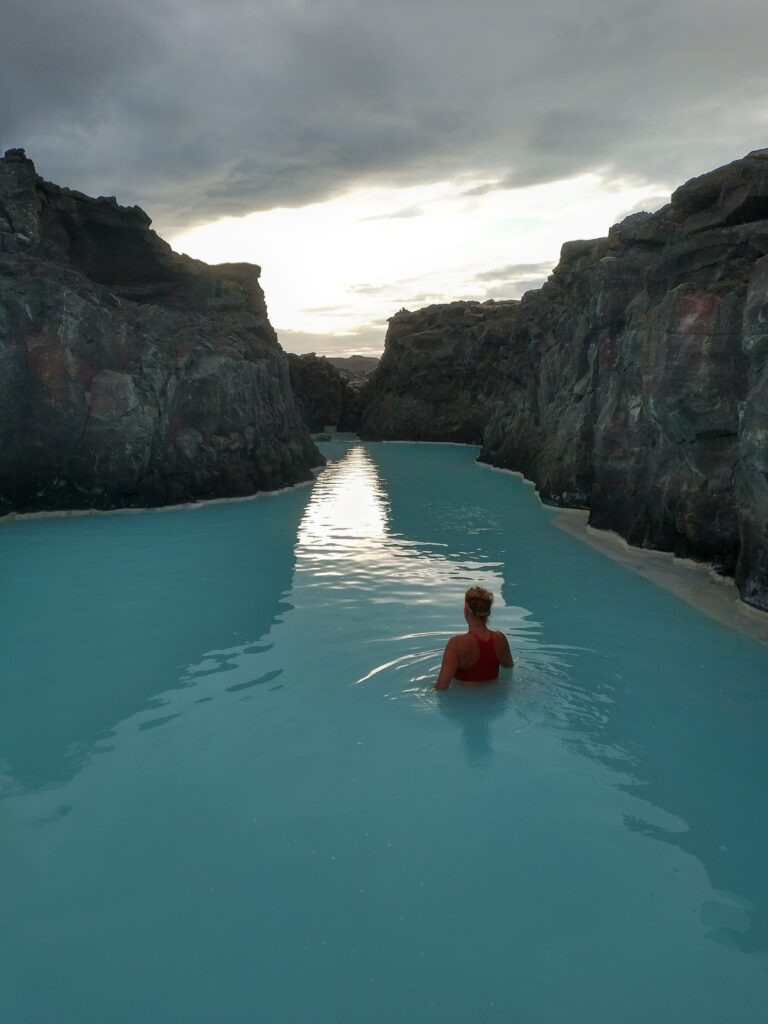 Though the hotel's enclave, with its secluded decks and networks of canal-like lagoons exudes tranquility, it provides guests another option as well—a swim through door to the main Blue Lagoon, fun for those wishing to join the throngs. Some Retreat guests choose to remain within the sheltered, more exclusive hotel portion, while others enjoy going back and forth between ambiances. I do a bit of both during my stay, as it is entertaining to splash around the popular Blue Lagoon, which brims with international travelers, bathing in the waters. Still, I profoundly prefer the restorative dabbling I do at The Retreat, where I soak, spa, read and float for hours, losing all sense of time, and finding the balance I'd lost in the harried world of my real life. Ideal for women alone, romantic rendezvous, girls on a gadabout getaway and traveling families looking for a swanky home base while exploring southern Iceland, The Retreat prevails as a place to slow down, recharge, seek wellness and immerse in local culture all at once.
The subterranean spa and its self-care options (from mud smears to saunas), the in-water massages, and the various, nooks and crannies of milky blue, nutrient-rich thermal water embody the curative spirit of The Retreat. But, the 64-room haven also happens to be a gourmet mecca. Its Michelin-listed restaurant, Moss, for example, puts out elevated Icelandic fare with spectacular flourish—think revolving five and seven-course menus with dishes such as beet salad with blue cheese "snow" or arctic char crudo served atop a sorrel and cucumber sauce, peppered with roe. In the Spa Restaurant, where most munchers don bathrobes, sushi and salad rule the day—not to mention glasses of cold wine. But, I will miss breakfast most of all for its wholesome, purely Icelandic compositions—sweet bilberries, grainy homemade bread, creamy skyr, strong coffee and beetroot juice.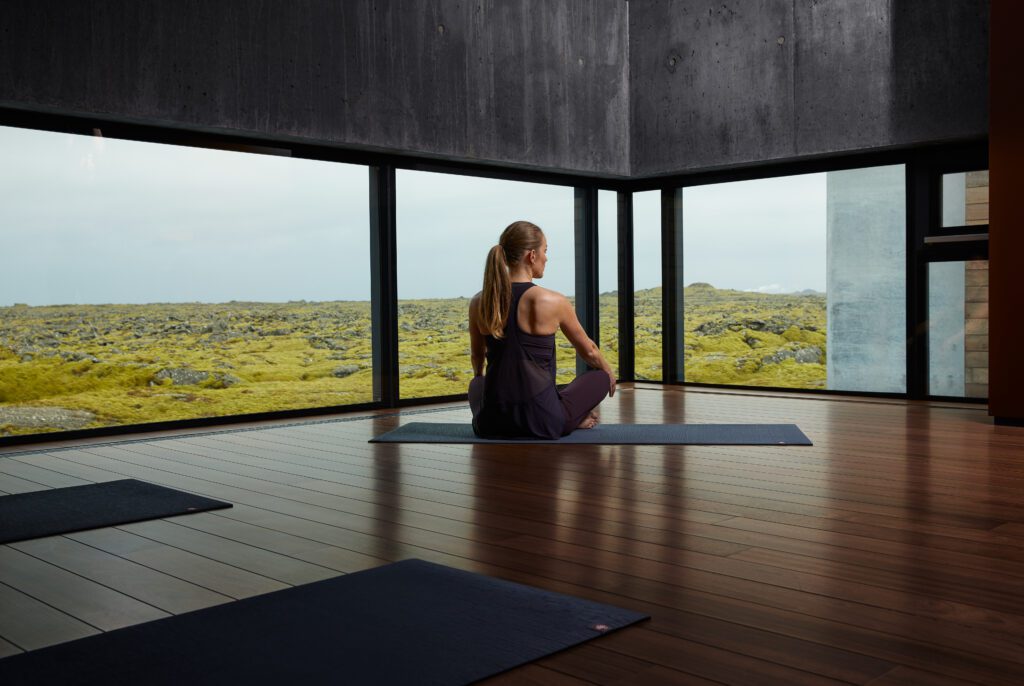 Design buffs will appreciate The Retreat's astonishing, experiential architecture (a collaboration between Reykjavík-based Basalt Architects. Milan-based Design Group Italia), which manages to feel classically Nordic and contemporarily Italian all at once. Minimalistic, sleek lines, natural materials, lava walls and rooftops and pervasive panoramic windows combine to showcase the setting. Nature takes the lead, and the building brings it indoors. The terrain— black lava as far as the eye can see, omnipresent patches of spongy moss, pools of mist-emitting, cornflower-colored thermal water leaking from ubiquitous crevices in the distance, rocky hills and an immense violet sky—surround the resort as an ocean encircles an island. At night, in season, lucky visitors can look up from the outdoor decks, the lagoons, or through the windows to see the rolling greens and pinks of the jaw dropping Northern Lights. In the mornings, standing in the window-walled yoga room as the sun rises feels like a spiritual act in itself.
While all suites include access to the private lagoons, the spa's many amenities and the restaurants, the top suite, the Lagoon Suite, has its own personal lagoon. That means you'd never have to leave your room to partake of the salubrious water, which research shows eliminates psoriasis, heals many skin conditions, hydrates and brings deep relaxation and ease. While staying in might sound dreamy, it would be a shame to not spend time in The Retreat's various common areas, guest-only lagoons, spa and restaurants, and you'd regret missing the variety of complimentary activities offered each day, such as a group hike to the top of a nearby mountain. In the end, you'll find yourself, as I do, dependent on the lava-filtered, geothermal H20. You won't be able to get enough of its silky ministrations and warm harmonic readjustments. Biologist Wallace J. Nichols, author of Blue Mind, wrote: Water quiets all the noise, all the distractions, and connects you to your own thoughts." As a celebration of dramatic terrain and healing water, The Retreat at the Blue Lagoon ensures Nichol's words come true for every guest. He famously says "I wish you water." Well, I take that one step further. I wish you The Retreat at the Blue Lagoon.
bluelagoon.com/accommodation/retreat-hotel
Sidebar:
Fashionistas will love the gorgeous wool ponchos that hang in The Retreat's closets for guest to use. They were created for the resort by renowned Icelandic brand Farmers Market exclusively for the Retreat. They are available for purchase at the Retreat's gift shop.