It's quite clear to all who know her that Chef Tanya Holland is a dedicated culinary diplomat, a multimedia chef, a rare combination of classically French trained female African American restaurateur and cooking instructor. One of the most powerful women in the food business, Chef Tanya Holland is a Renaissance woman.
The multi-talented author (The Brown Sugar Kitchen Cookbook and New Soul Cooking) and Michelin Bib award-winning chef/proprietor of Oakland's Brown Sugar Kitchen is a member of the prestigious Les Dames d'Escoffier. She's a linguist who holds a Grande Diplôme from La Varenne Ecole de Cuisine in Burgundy and a degree in Russian Language & Literature from the University of Virginia. She's also a television personality, appearing on national broadcasts such as "Iron Chef," "Top Chef," and the TODAY Show, also landing a 2020 series for Tanya's Kitchen Table on Oprah Winfrey's OWN Network.
Her podcast, Tanya's Table, has one of the most extraordinary lineups of guests in the history of cooking and conversation. Take note of these two skills…naturally, Holland can do both at once. "I've been on a lot of cooking shows and you do get used to talking, cameras. It's a skill you learn," she says. "This is my life's work and I've been doing it for 35 years."
But it's Tanya's soulful Creole shrimp and grits, "infused with concentric layers of flavor," as described in The New York Times, that's known to really steal the show. Fans of the dish have expressed their approval in love letters left on the table at this comfort food mecca, tributes which Holland preserves in a file at home.
Joining Holland's podcast series, Tanya's Table, are high-profile pals and "one degree of separation" friends from all walks of life with a "global San Francisco" connection. We were delighted to catch up with Holland to find out more, because as she admits, "Since I was little, I've always been a very ambitious girl. At the age of 10, I asked my dad if I could be president…and yes, I mean POTUS. His answer may require another article."
Q & A
Chef Tanya Holland X Haute Living SF
HL: Where did you learn to cook?
TH: Early exposure to work and cuisine from soup to nuts, I guess. Growing up in Rochester, New York, where my dad was an engineer at Eastman Kodak, my Southern-born parents were in a social gourmet cooking club with some friends. There were six couples, three Black and three White. Wonderful recipes and dishes were exchanged, often based on the popular Time-Life book series found in many homes in the 70s. There were exotic places to discover through food and I was always attracted to the shared conversation, international aspects, foreign influences and words, the overall protocol. So, it's the social and the cultural aspects of food that appeal to me deeply and years later, I was fortunate to travel, work, and study overseas and in great cities such as New York, Boston, and Paris.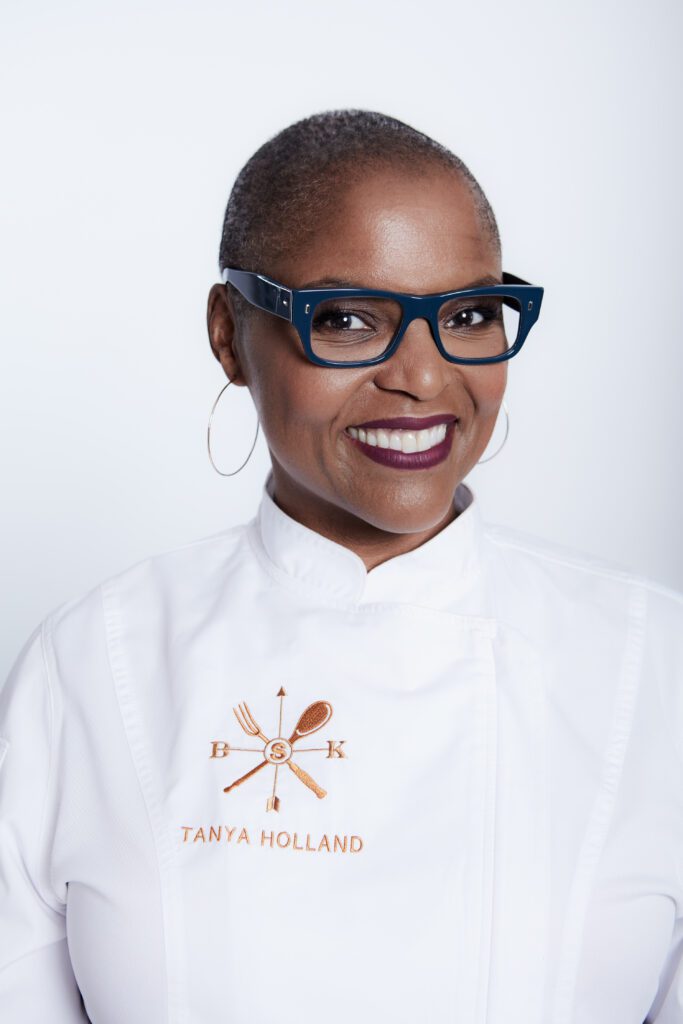 HL: How, and why, did you go from studying language arts and literature to chef training in France?
TH: At college, I was surprised to realize that my roommates had no idea how to cook, so I found myself doing so and feeding people. I waited tables locally and eventually found that my larger world view meant shifting from a math, sciences and engineering concentration to focusing on my elective in language studies. I landed on a choice between Russian and French and probably settled on Russian because my father knew a little and I enjoyed it. Somehow, it just came easily to me.
HL: Your Creole shrimp and grits is so beloved that appreciative diners leave love letters for you. What's the secret ingredient?
TH: I'm naturally drawn to the food of my heritage, especially combined with my classical training. My mother is from northern Louisiana, where food traditions are quite different than in the southern part of the state. The first time I went to New Orleans, coming upon the combined Afro-French-Cajun-Creole culture and cuisine was like a dream. In this vibrant town, I found, developed, and embellished my recipes that are both comforting and delicious. The secret may be in the Worcestershire sauce and beer reduction. And of course, in California we have access to great fish and seafood; mine is always sourced from the certified Monterey Bay sustainable program.
HL: Tell us about your incredible guests for Tanya's Table podcast. In Season One, you hosted Alice Waters and Danny Meyer, among others. And in Season Two, Bonnie Raitt, who's an American icon, a Rock and Roll Hall of Famer. Plus, she's a foodie…who knew?
TH: Yes, she is a foodie and so lovely to talk to and we're continuing our conversations on the podcast. We initially met through a mutual friend and shared a meal when I learned about the big place that food and eating healthily has in her heart, soul food in particular. She lives in the Bay Area and has dined at Brown Sugar Kitchen with Taj Mahal, too.
Everyone is welcome when my special guest takes a seat at Tanya's Table. To open the podcast this year, I began by hosting Ayesha Curry in mid-January followed by a podcast with actor Danny Glover. We were excited to have Phil Rosenthal who created the sitcom, "Everybody Loves Raymond," and is doing food shows like "I'll Have What Phil's Having" on PBS and "Somebody Feed Phil" on Netflix.
We're having riveting discussions with diverse leading innovators and tastemakers: Lars Ulrich, the Metallica drummer, another Hall of Fame musician; Ericka Huggins, activist and former Black Panther; Alicia Garza, co-founder of the International Black Lives Matter movement; Chef Elizabeth Falkner of Iron Chef fame; Jonny Moseley, the Olympic ski champion and TV host; Lizz Wright, R&B performer with a café in Chicago; Festus Ezeli, former Golden State Warrior; Chef Maneet Chauhan from Chopped on the Food Network; and James Beard Award-winning chefs Edouardo Jordan and Karen Akunowicz. Season Two runs every Tuesday through April 20, 2021.
HL: What do you like best? Cooking or conversation?
TH: Impossible to choose. In these conversations, we're learning from some of the most interesting people in our culture today. I believe we have so much to learn from one other and the more we know, the smarter, kinder, and more understanding we become. The world could certainly use a large dash of empathy right now and my strength is to engage in many topics tethered by food and culture. Connecting with people over food relaxes everyone. It slows us down and triggers memories.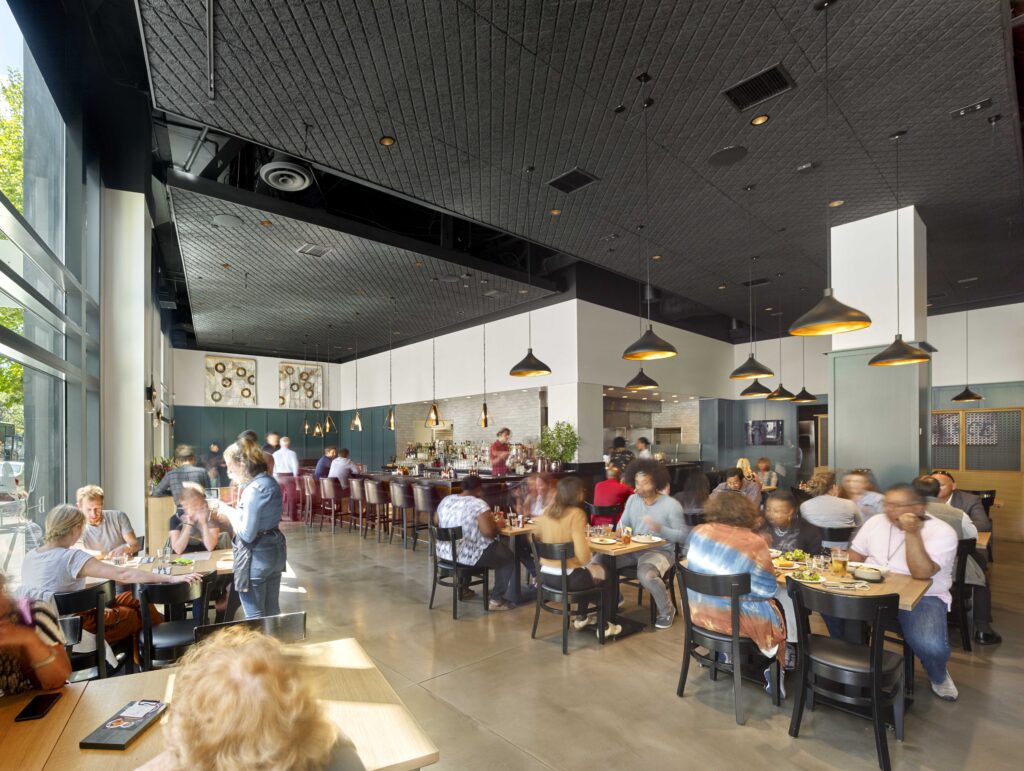 HL: In 2013, you were honored with a key to the city by Oakland's mayor. What door — actual or metaphorically speaking — would you like to unlock with it in 2021?
TH: Although I've always heard, 'you can't do, you can't be,' I learned long ago not to listen to those voices. I accept that my truth makes some people uncomfortable. Because I have such high aspirations and I'm a great multi-tasker with lots of experience, I've forged my own path. I have three essential things: drive, acumen, and capacity. The door I'd love to open next is labeled "Resources."