Whether your Valentine's Day plans entail time spent with a special someone, or a relaxing evening alone at home, the occasion provides a time to reflect on all of the love in your life. Celebrate that love with a toast to those who are always there for you, and fill your flute with one of these beautiful Champagnes. Though Champagne is an oft-used term for any sparkling wine, these featured here are tried and true products of France's Champagne region; each is produced using the exacting standards and rules of the appellation, making each utterly authentic. There is simply no substitute for the real thing. French bubbles can't help but beguile.
Laurent-Perrier Cuvée Rosé (SRP $99.99) Choose this one for the bottle alone, the shape of which was inspired by those used during the time of King Henry IV. This iconic Champagne was first released in 1968. 100% Pinot Noir from Grand Cru villages in the north and south of Montagne de Reims, this is delicious as an aperitif, but is extremely versatile for food pairings. Salmon, prawns, duck and foie gras are excellent matches, as are Thai and Vietnamese dishes. As beautiful in the glass as it is delicious, its bright berry flavors of fresh strawberries, red currants, raspberries, and black cherries also pairs well with creamy cheeses such as Brie.
G.H. Mumm Grand Cordon Rosé (SRP $60.00) This is an elegant and delicate cuvée, sourced from some of Champagnes most prestigious villages, that reflects G.H. Mumm's terroir and style; it is a refreshing antidote to the floral and sweet fruit flavors of traditional rosés. This brut rosé Champagne features rich aromas of wild red and black berries, typical of the Pinot Noir cultivated in the Maison Mumm vineyards. The cuvée is redolent of juicy berries, with notes of spice, and can be enjoyed on its own or paired with a number of creative dishes.
Billecart-Salmon Brut Nature Champagne (SRP $59.99) For seven generations, Billecart-Salmon has dedicated itself to quality, and its stewards have served as committed guardians through the centuries, ensuring exacting standards for the vines, the terroir, and the art of winemaking. Brut Nature is the newest member of the Billecart-Salmon family; comprised of 40% Meunier, 30% Pinot Noir, and 30% Chardonnay sourced from the best Crus in Champagne, it is full of brightness and purity. A creamy texture and flavor is balanced by white fruit and lime, with a hint of minerality.
Billecart-Salmon Champagne Brut Sous Bois (SRP $82.99) Billecart-Salmon creates a range of great champagnes that are renowned amongst connoisseurs the world over. Captivating and original, Brut Sous Bois is a unique cuvée, entirely vinified in oak, and composed of the three Champenois grape varieties. Complex and aromatic, it masters the art of blending by renewing the ancestral spirit and savoir-faire of the original champagnes.
Champagne Boizel Brut Réserve NV (SRP $49.99) The Boizel House was established in 1834 in Epernay, the heart of France's Champagne region. This Brut Reserve is the ambassador of the Boizel House. Made from Chardonnay and Pinot Noir from Champagne's most coveted Grands and Premiers Crus blended with the best crus of Pinot Meunier, this sparkler is delightful on its own and a perfect match for classic hearty entrees.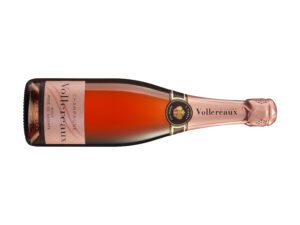 Champagne Vollereaux Rosé de Saignée Brut NV (SRP 54.99) From sixth generation family-owned Champagne Vollereaux, the Rosé de Saignée Brut spends three years on the lees, more than double the appellation's requirement, resulting in a round and full-bodied palate of red berries and fresh brioche. The Vollereaux family's attention to detail is reflected in every bottle, with a product that delivers a fresh, light, elegant and fruity profile. This pairs equally well with cheeses and fruit-based desserts.