Bidding adieu to a year that could not have been more bizarre and stress-inducing, you are not alone in holding great hope for 2021 and what this new year will bring. We all need to heal from the most challenging 12 months ever. To heal from 2020 is a top priority for many.
Based on experiential research, I've become convinced that one of the best ways to heal is to begin within, incorporating a positive outlook, forging a stronger connection to nature, and eating healthfully to support your mental and physical fortitude. Yes, it takes focus and commitment, not to mention continuity, to be healthy inside and out.
Rainforest Bathing
Gaia Retreat, with its view of the rainforest canopy in the Bundjalung country hinterland of Byron Bay, is a region known as the healing heartland of Australia. It is also my all-time favorite wellness resort.
The tools I learned during my personal journey at Gaia Retreat helped me through 2020. Gaia is a special place, owned and funded by a quartet of investors since it opened in 2005. One of these investors is '70s pop singer Olivia Newton-John, whom I briefly met following breakfast on-property at the Kukura House. She is truly a larakin (aboriginal term for living life to the fullest), but most people would recognize her from a little cult movie, Grease, and as a singer-songwriter topping music charts with "Have You Ever Been Mellow" and "Let's Get Physical." Olivia's personal battle with breast cancer fueled her inspiration to create Gaia, which is a Sanskrit term for "the spirit of Mother Earth."
Guided by the whistles of a lime green bird with patches of indigo, I surrendered myself to this exotic retreat. Upon check-in, my first instruction was an apologetic, "You'll have to head to your room, change into a robe, and head quickly to the spa for your 90-minute massage." No worries.
One miraculous massage later, I floated back to my room with much lifted spirits and ready for dinner at the Kukura House. Vegan cashew "cheese," crawfish salad, and freshly caught brook trout with courgettes (zucchini) from the property's own gardens paired well with a glass of Tasmanian Pinot Noir.
I left the Kukura House and followed the curved trail back to my room where I found a tea candle. I added a few drops of lemon myrtle oil to the small bowl underneath it. If peace had a scent, it would be the aroma of that candle, the vase of lilies on the table, and the smell from a bowl of fresh picked lemons left on the counter for my morning detox tonic. The heavenly mix of fragrance led me to drift asleep until birdsong woke me.
Like a child on Christmas morning, I unwrapped the view behind my room's curtains, taking in the spectacular landscape. The treetops of the rain forest led to a body of water and mountains in the distance. I opened the door and sank into the lounge chair beside my personal plunge pool and took it all in. I'd never been more mellow.
Most recently, the focus of my healing included two highly worthwhile getaways: Canyon Bathing at Mii amo Spa Resort in Sedona, Arizona, and Equus Coaching at Ciara West Equestrian, a service offered for guests of Canyon Ranch Woodside, California.
Canyon Bathing
Is there a better spot to heal from 2020 than sultry Sedona? This slice of Arizona desert amongst majestic red rocks is known to emit a distinct healing vibration or energy that has tangible regenerative and intuitive healing powers. The strongest emissions originate from a space between two vortex meditation spots I discovered on a short hike from the incredible Mii amo Spa Resort (Native American translation of mii amo is "one's path or journey").
My journey in healing, with an emphasis on self-compassion, began there with three empowering notes placed in my guestroom:
Remind yourself how beautiful you are, there's power in it.
What you do is one thing, what you tell yourself is everything. Be good to you.
I release control and trust in my glorious future.
Upon arrival at Mii amo, I ordered a shot of wheat grass and a lunch of collard greens salad with a side of shrimp. I was more than ready for my first treatment of the day, which was an energy cleanse. The combination of deep conversation with my practitioner, polarity work, and a sage smudging left me primed and ready for "orientation," starting with meditation at the spa's Crystal Grotto.
One enters the circular grotto barefoot to sink your feet into the red earth. A tree trunk in the middle of the room—with a quartz obelisk on top—centers the space. The roof opens to reveal the sky and its multitude of stars.
With much ceremony, we were guided in meditation to focus on our intention during our stay, then we headed outside to walk through a meandering labyrinth in order to center ourselves for the journey ahead.
Throughout history, labyrinths have been used as tools for personal, psychological, and spiritual transformation. Walking one is thought to enhance right-brain activity and to encourage meditation. We were instructed to release energy upon entering the labyrinth and to receive new energy as we left its center and made our way out.
After a bath infused with essential oils and an amazing night's sleep in my casita, the next morning I was inspired to take a 20-minute hike up Boynton Canyon (Che-Ah-Chi in Western Apache), a majestic "land with the red skin" where sand dunes were once submerged under the ocean. Today, the bottom of the ocean is the top of the canyon, as evidenced by rusted iron particles and sediment lines of compressed seashells.
The kinetic energy of the clash of two primary colors—red rock against blue sky—is magical. I could feel the swirling energy between two rock structures, one referred to as Kachina Woman, the other masculine; the pair are essential to create a proper vortex.
I sat in that vortex, and the energy shift was proven when my iPhone stopped working without reason. I tried to take photos to share the beauty of this spot, but the universe told me it was time to disconnect.
All human beings are inherently connected to nature, and its myriad resources are at our disposal. Canyon bathing is an experiential, guided walk in a natural area with the purpose of meditation and focus on four of the five senses: sight, sound, smell, and touch. In this way, one gains strength from the canyon and its vibrations.
I sat and felt the warmth of the desert air on my skin, listened to the birds in the trees, selected a small rock from a dry streambed—one that spoke to me—and reached out to touch a tree that somehow also felt special to me. I allowed myself to release any preconceived notions of this exercise that would hold me back from accepting this step on the journey to well-being, and it worked.
Later, my guide fanned a deck of tarot-like cards and instructed me to select one that I was drawn to, so I did. It turned out to be the Spirit Keeper of the South card, the interpretation of which was "abundance and prosperity in all forms; expansion; surging energy; activity; movement; rapid growth. Be open to receiving the bounty of the universe …"
Before I departed Mii amo, I participated in a craft project. With yarn and accessories, I created a prayer arrow into which I tucked a personal message of intent I'd written on rice paper. The idea behind the arrow is to empower your intention. It represents the strength and stability necessary for the arrow to reach its destination and manifest intention.
Equus Coaching
At Ciera West Equestrian in Woodside, I met Nina Ericson, Ph.D., who is trained in horse-centric therapy, or Equus Coaching. I also met my partner for this therapy, a former police horse named Sparrow.
"We use horses because they are prey animals that have been around for more than 50 million years and survived by being highly attuned to their environments," said Ericson. She also explained that horses have the ability to mirror neurons; it's a natural instinct for horses to feel what someone is feeling and pick up on their energy.
Koelle Simpson, a.k.a. the horse whisperer, began Equus Coaching to reconnect with inner wisdom she felt she'd lost due to a childhood trauma. It worked, and in 2006, she founded the Koelle Institute to teach others Equus Coaching and share the transformative experience of healing with horses.
When Nina learned about the Koelle Institute, she realized psychotherapy and horses were a match made in heaven. In one year, she received her Equus Coach training and took another year to become a master facilitator, which she believes enhances her practice as a psychologist.
"Besides my kids," she said, "these are my two biggest passions. I love it. It is so powerful, in part, because the horse responds to where you are—whether you're centered or whether you're stuck in your head."
Before connecting with Sparrow (no riding in Equus Coaching), I was instructed to ground myself, the better to connect with the 18-year-old horse who would soon mirror my feelings. To help with that, Nina presented me with a deck of horse-themed cards with various intentions on which I was to focus. The card I selected was a dreamscape image of a woman and a horse. The message read: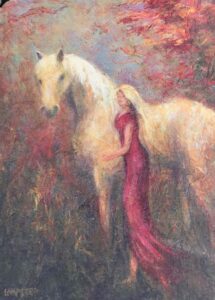 "Kindred spirit brings wisdom, insight and guidance, gently leading you down your path of destiny. The deep spirit-to-spirit bond shared with your wisdom keeper helps you connect to the oneness of our universe and maneuver your correct path in life. Kindred spirit watches over you—healing physically, emotionally and spiritually—bringing gifts of strength, love, and understanding. The knowing way of kindred spirit delivers gifts in many forms. We are better humans when we tune in, when we feel, when we accept these gifts."
My goal today was to allow my intuition to step into the flow of my kindred spirit's energy.
"If you listen and if you follow—you will find alignment to your purpose in this life and your soul will shine."
But first, a lesson from Nina on equine body language before I enter the corral where Sparrow awaits.
"A horse's ears go flat back when they're really angry," she explained. "If Sparrow lowers his head, he's okay with you leading him. It's moment to moment. One of the things I've learned from horses, in general, is to let things go."
When a horse is frightened by a sound, he'll shake off cortisol in his central nervous system to release it and calm himself. When he's licking and chewing, he's simply saying don't worry, I'm not going to bite, I'm an herbivore. When a horse yawns, he's releasing tension.
Watching me from his side of the fence, Sparrow inches his way over for an introduction. I placed my hand in front of his nose and released a gentle exhale across my hand. Sparrow snorted his own exhale—releasing tension.
Message received. If I closed my eyes and cleared my mind with a few deep breaths, Sparrow would connect with me. If I disconnected, so would Sparrow.
"Be in the now," coached Nina. "Let go of thoughts about what you have to do later today, or how much work you have the rest of the week. The best way to come to a decision is to become grounded, centered, and aware of your own internal voice, not others. We have a brain in our gut."
Tapping into my intuition presented the challenge. Quieting the mind is what's required.
Inside the corral, I avoided the perimeter in case Sparrow decided to canter. He didn't. Not knowing what direction to walk the round is uncomfortable. I tried to access my intuition and felt I was making good decisions in luring Sparrow to follow me.
Like many others, I feel a physical response—knotted neck and shoulder muscle—when I'm stuck in stressful thought. So, with Sparrow, I tried hard to empty my mind and be in the moment. That included not only self-compassion, but the kind of compassion I would show a friend or a pet.
In all honesty, I rushed the process with Sparrow. I wasn't settling in and grounded. Instead, I wanted to hurry up to convince Sparrow to follow me. But when I took Nina's advice, shut my eyes, and breathed deeply, sure enough, when I opened my eyes, Sparrow came toward me.
I felt a wave of acceptance by the animal and almost choked-up with the feeling. I next coaxed Sparrow to walk with me. When he refused, I realized I was jumping ahead again. Instead of narrowing my scope to level one, I raced to the fifth level as I do in most areas of my life, racing to check something off my to-do list instead of staying centered. Each time I stopped to center myself, Sparrow miraculously followed me.
Having been taught the key to connection, I finally relaxed and had fun with the experience. I began to stop thinking about what I needed to do and focused on what I wanted to do, which was enjoy my time with Sparrow. Eventually, my 1,000 pound buddy and I became totally connected.
Final thoughts to share: Take the pressure off yourself. Have fun. Relax. Be present. Get grounded. And stop grading yourself on every human (or equine) interaction.
Gaia offers three tips for a healthy start to 2021:
Begin each day with a 15-minute meditation or yoga and stretching to clear your mind and center yourself for the day.
Maintain your exercise routine. We can all relate to the struggle to make time for exercise, but setting aside 30 minutes a day, even if it's simply a walk outdoors, will keep your body moving and increase your overall energy level.
Start your day with a nourishing smoothie to set good intentions for your day ahead. One delicious combination that provides a nutritional boost is made with papaya, spinach, orange, avocado, and two tablespoons of hemp protein powder.
Papaya is high in vitamin C and offers a high enzyme content.
Spinach is nutrient-dense and especially loaded with B vitamins and magnesium, the latter to keep our nervous system in tune.
Oranges are high in vitamin C and taste delicious.
An avocado provides fatty content essential to slow down the absorption of fruit sugars and prevent our blood sugar from peaking and dropping.
Hemp protein powder is packed with magnesium, zinc, and iron for improved stress response.