LONG AGO I HEARD A STORY THAT made me like Cameron Diaz a lot. One of my friends saw her at the airport and witnessed someone rushing up to the actress (and wellness writer) to ask for her autograph. Most of us have seen something like this happen—or done it ourselves. Generally, the celebrity kindly or mindlessly signs something; other times, they snub the fan and walk away without a word. But, according to my friend, Cameron Diaz looked the person in the eye and said something like: "You don't need my autograph. I'm nobody important." This legendary incident happened ages ago, long before Diaz wrote The Body Book and The Longevity Book, works that proved further her self-effacing earthiness and depth. Without knowing her at all, I imagined her to be an unaffected, grounded person.
So, I wasn't surprised when I took my first sip of Cameron Diaz's newly released Avaline Red, her third wine release in 2020. I knew the wine was organic, sourced from sustainable farms in France's Rhone Valley, and made from a blend of Grenache, Syrah and Mourvedre grapes. At less than $30 a bottle, I wasn't expecting it to be the best ever, but I was pleasantly surprised.
"This would be the sort of wine you'd buy at the market in France to pack for your picnic with a bestie. It would go well with the surrounding sunflowers. Or, it might be meditation wine, the sort you would roll around in your mouth while nibbling cheese and working on the next paragraph of that novel you can't manage to finish ."
I looked at the unpretentious label and knew exactly how it would taste: comforting like a great conversation and fun like an unexpected giggle. This would be the sort of wine you'd buy at the market in France to pack for your picnic with a bestie. It would go well with the surrounding sunflowers. Or, it might be meditation wine, the sort you would roll around in your mouth while nibbling cheese and working on the next paragraph of that novel you can't manage to finish. Made cleanly, without any unnecessary sugars or additives, this wine would pair nicely with whatever food makes you feel better when you're sad.
One sip … and I was right. With a medium body, a fruity beginning, a light caramel flash at mid-tongue, and a slight mineral finish, Avaline Red was just as I imagined Diaz herself: unassuming, frank, flirty, and full of gravitas. It isn't brilliant, but it isn't meant to be—it's supposed to be a reminder to stop, breathe, and enjoy life.
Likely, you've heard of Avaline, wines released during the summer of lock-down, a time we may all have been drinking at home more. Releasing a new wine brand during a pandemic wasn't what Cameron Diaz and business partner Katherine Power (co-founder of Who What Wear and Versed Skincare) had in mind when they sat together one afternoon in 2018, envisioning a wine project that would bring sustainably made, organic, clean, affordable wines under their own label. As it turns out, releasing quaffable, healthier wine during a difficult summer may have benefitted both the tipplers and the winemakers. "We were blown away by the positive response to the release of Avaline White and Rosé," said Power, referring to the first wines, Avaline White and Rosé, released in July. Immediately, Avaline's social media populace begged for a red, which was distributed in time for Thanksgiving, and a sparkling, light and festive, thrilled imbibers who bought it for New Year's Eve celebrations.
How did Avaline happen? Power and Diaz, kindred spirits introduced to one another by Nicole Ritchie, share an interest in wellness, sustainability, ethical farming, and contented living. Both love wine. One day while tippling together, they realized that the wine bottle on their table didn't tell the drinker much. We know the ingredients of everything else we put in our body and on our skin, why not wine, as well?
"We created Avaline because we want the wine we drink to meet the clean standards we seek in every other area of our lives, but it also tastes delicious!" said Diaz. She loves the Avaline Red. "It's my favorite so far—I love to pair it with a big bowl of creamy, mushroom pasta and curl up on a cozy afternoon," she said.
Together, Diaz and Power investigated growers and wine makers in Europe who met their standards. "We wanted to demystify the experience of shopping for wine and make it as approachable as possible. We believe it should be easy for consumers to make an informed choice and hope to inspire other brands to follow suit," said Powers.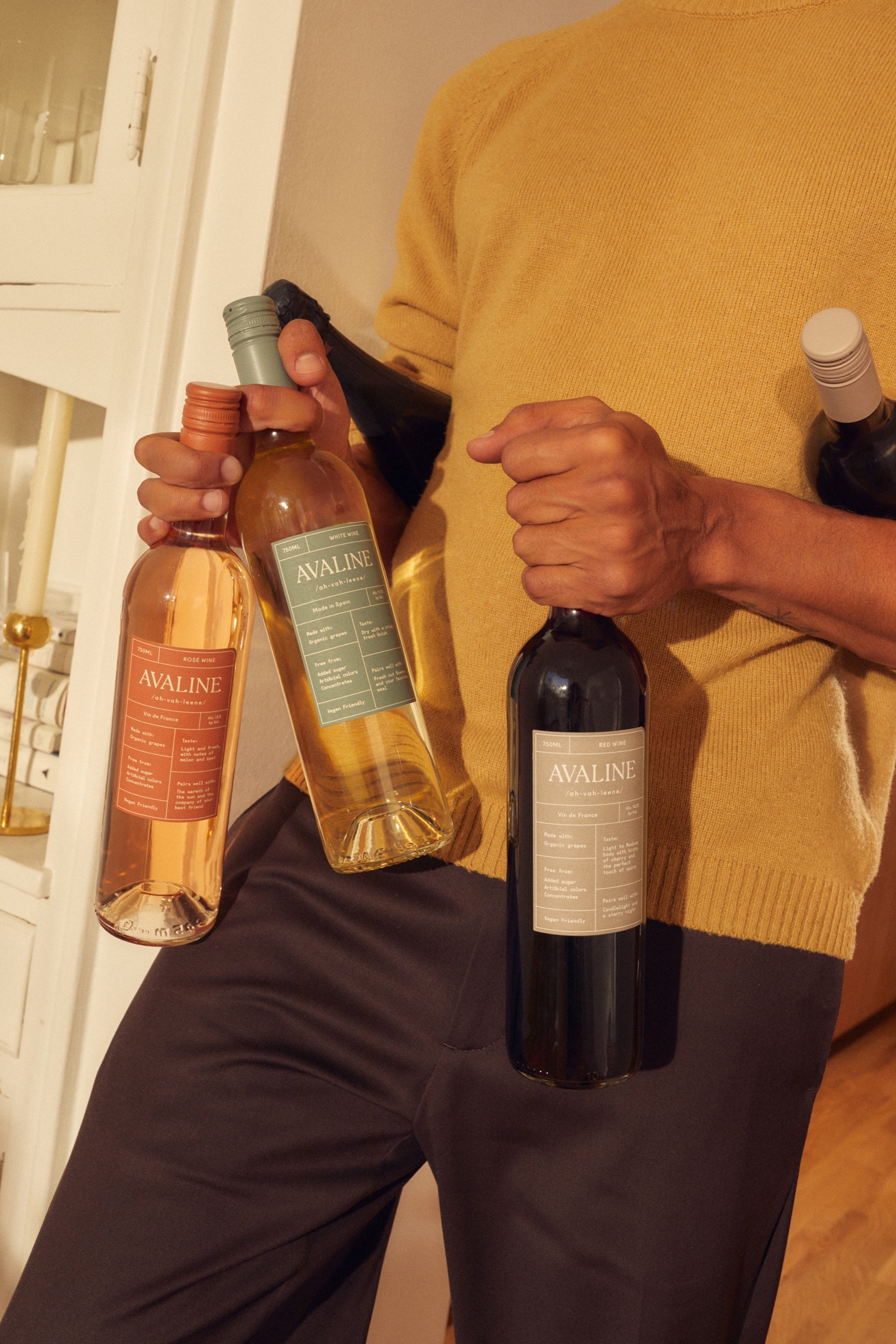 MORE ON THE WINE:
The dry Avaline White, made in Spain, has a peachy undertone, accented by white flowers and ending with a lemony edge. The rosé, from Provence and made from five distinctive varietals, bears a breezy airiness deepened by a hint of berry that refuses to overwhelm. Avaline Red, distributed in time for Thanksgiving, pairs just as well with turkey as tofu. Its cherry and chocolate notes linger on the tongue. The sparkling, made by farmers who plow with a horse rather than a tractor in Catalonia, reflects its region as an all-day dry and lively bubbly with a gusto for life.
Cameron Diaz's cacio e pepe recipe begs to be paired with Avaline Red.
INGREDIENTS
8 ounces of spaghetti or bucatini
2 tablespoons of butter (I like salted but you can do unsalted.)
1tablespoon of olive oil
1½ – 2tsp of freshly ground pepper
½ cup of grated pecorino cheese, plus more for serving
½ cup of grated parmesan cheese, plus more for serving
2 tablespoons of kosher salt for pasta water
DIRECTIONS
Bring a large pot of water to a boil and add kosher salt. Add pasta once water returns to a rolling boil. You're not going to cook the pasta fully, so set a timer and reserve a cup of pasta water at the end of the pasta cooking time.
In a large skillet, melt half the butter over medium-high heat with the olive oil.
Add ground pepper, stirring until it gets a nice aro-matic scent, about a minute or two. Be careful not to overcook the pepper. Keep your nose over the pan as you toast the pepper, so you can tell when it's perfect. Don't worry … you'll know when it's perfect, because it will smell perfect! Trust your nose, it al-ways knows.
Collect ½ cup pasta water and add it directly to the butter and pepper sauce. Bring to a simmer and add the remaining butter. Whisk or stir the butter as it melts.
Keep the remaining reserved pasta water close for future use. Don't pour it out!
Strain pasta. Use tongs transfer the pasta to the but-ter pepper sauce. And add the cheese as you toss it! If the sauce is too thick and not coating the noodles, add a bit more of the reserved pasta water.
Put it in a bowl and sprinkle the extra grated cheese on top.
Lastly, pour yourself a glass of Avaline Red wine and enjoy!