Future ENDEAVORS
Developer Mark Calvano has a foot in the past, but an eye on tomorrow with his post-pandemic office designs
BY CAROLYNE ZINKO
Mark Calvano remembers the office building of the 1980s: big boxy rooms, few windows, and fluorescent light shining from tubes in a dropped ceiling. Employees tapped away on a Macintosh, an IBM PC, or a Commodore 64 computer, and for refreshment, went to the water cooler or, if the office were truly civilized, poured a cup of coffee from a pot of hours-old brew warming on a burner in the kitchen. "It was, 'Here's the employee's desk, in a maze of cubicles and private offices,'" says Calvano, a longtime Silicon Valley commercial real estate developer. "They didn't care much about amenities. They had a break room. That was about it."
The building illuminates the interiors of 1075 Terra Bella Ave., shows the plans for greenery and modern architecture throughout the building, elements designed to inspire creativity and innovation in employees and provide a welcoming place in which to work
Conference rooms at the boutique office building afford plenty of light, and structural support columns are envisioned being laden with botanically diverse plants
Floor-to-ceiling windows provide natural light, which brings the outdoors in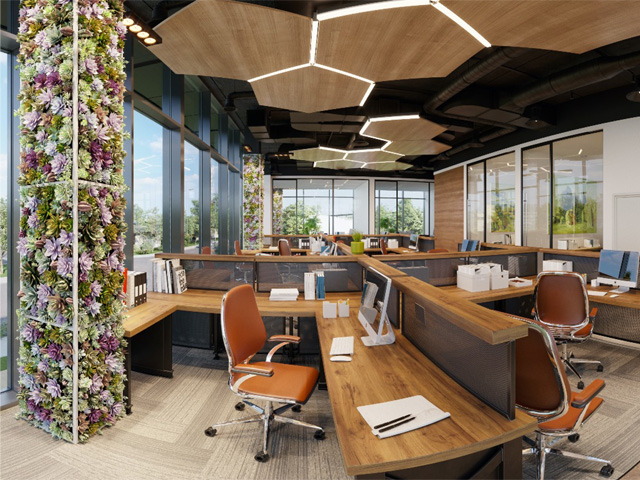 This project allows for flexibility in the design of floor plans and work stations, which helps with social distancing at work
A busy man needs a fast car to get to his appointments. Mark Calvano with his new Ferrari
To be sure, these workplaces are largely ghost towns today, due to COVID-19 which hit the Bay Area 10 months ago and forced many office professionals to their homes for safety's sake. But when employees return to the corporate world, as most eventually will, the question on nearly everyone's mind is what the post-pandemic workplace will look like. Calvano, who has a history of commercial development success and has spent much of his career looking around the corner into the future, has ideas.
The office of tomorrow, says Calvano, is one that goes even further to make work enjoyable, appealing, and even healthy—like the boutique office building he's been working on for the past year in Mountain View. Today's employers have to ensure that their offices, even in the smallest of settings, are places where employees want to work, or risk having those employees lured away by competing firms with better amenities. "The working environment a company provides is a big factor in attracting and retaining top talent in Silicon Valley," Calvano says.
The 23,000-square-foot, 2-level building sits at 1075 Terra Bella Ave., adjacent to a larger 123,000-square-foot office he finished two years ago at 1001 N. Shoreline Blvd. that houses a Google legal team. Both are just south of Highway 101, about 1 1/2 miles from Google headquarters. The Terra Bella project's architecture provides potential for a multi-pronged mission: a surprising, nature-inspired concept with leafy green interiors that inspire wellness, as well as a space that offers flexibility in the design of workstations, in occupancy, and in spaces allowing for team collaboration.
The building's glass shell allows for natural light indoors, with its exterior reflecting hues of the morning, afternoon, and twilight skies. The lobby is encased in structural glass, with a soaring, 30-foot ceiling. The entrance is artfully designed to include a 900-square-foot living wall behind a floating staircase and a skylight above, adding to the drama. Vertical columns wreathed in plants are designed to be part of the mix. The floating staircase leads past the living wall to an equally expansive second floor with views of the area skyline. Three outdoor upper decks wrap the building, while front and rear patios offer spaces for unwinding and relaxing.
In this rendering of the lobby of 1075 Terra Bella, Mark Calvano plans a dramatic, 900-square-foot living plant wall and a garden path poured into the concrete, elements of nature that both soothe and inspire creativity
The building's concrete floors include the makings for a winding, green-colored (or any color) garden path. "The garden path concept gives a heart and soul to a building," Calvano says, "beginning on the ground level and weaving through the workplace to the second floor while tantalizing the senses." Here, Calvano says, "the future of workplace design blossoms to a higher level," creating the type of atmosphere ripe for encouraging free-flowing creativity and innovation.
Other companies, including Cisco, Plantronics, and Allbirds, have added such biophilic design touches to their lobbies or cafe entrances. Salesforce has a so-called Ohana floor at the top of its downtown San Francisco tower, filled with botanically diverse plant columns and vignettes. David Brenner, founder and chief executive officer of Habitat Horticulture, the firm responsible for the biophilic design and plant care at those companies, has been enlisted by Calvano as well.
Brenner says the Terra Bella project stands apart because Calvano wants to make "a totally different experience" by incorporating biophilic design throughout the whole building. "Mark," he says, "is passionate about doing something for this new space that will be just a 'wow' when you walk in."
Nature isn't just pleasant on the eyes—it turns out it's good for the brain, too. "Tech companies and others are starting to understand the impact on mental wellbeing that plant life has in a workspace, including its stress-reducing effects," Brenner says. "Studies show that just being around nature even makes you a nicer person, and your cognitive performance increases."
Other factors important to the post-COVID office, according to a recent report in Cushman & Wakefield's The Edge magazine, are an expansion of the amount of personal space around each employee's workstation, enhanced cleaning protocols, and improved indoor air quality for safety. To achieve that, employers are likely to reconfigure densely packed interiors. Companies that currently allocate an average of 150 square feet per employee are likely to double that, for instance. "This building," Calvano says, "is an open canvas for whoever leases it. Our aim was to design the building to allow for a customized, green living environment encouraging team collaboration, innovation, and employee creativity. The building's architecture allows for the infusion of elements to inspire users with natural forces; balancing functionality with nature was of the highest order."
The boutique building, with its garden-like touches, is likely to also serve as a center for social connection. That's another bonus, because the workplace-as-meeting place is another wave of the future, says industrial design guru Yves Behar. "What the pandemic has accelerated is the notion that employees ought to be trusted to work wherever they want," says Behar, founder of Fuseproject design firm and the co-founder of Canopy luxury coworking spaces. "The office will be less about an 8-hour workday and more of a cultural gathering place for the business. I see it as a positive, because it's less about cramming people in a room or building and more about the exchange of ideas and bringing people together in a unique and culture centric way. … The new normal will be more remote work, less travel, and more appreciation for spending quality time with your colleagues — all good changes that I think the pandemic has dramatically accelerated."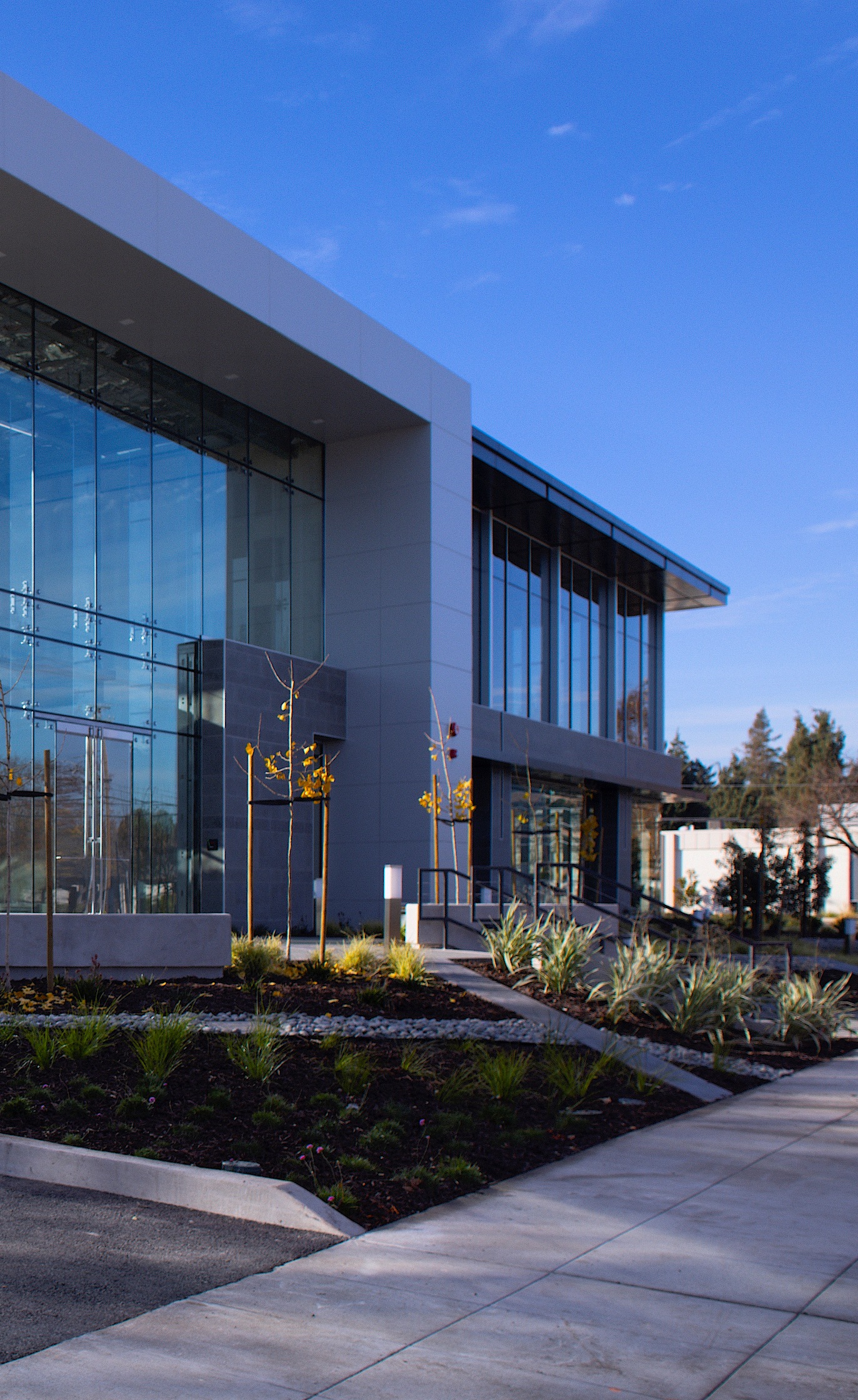 Calvano recalls that his first project out of college, armed with a degree from San Francisco State University, was the sale of the Montgomery Ward building in Pleasant Hill to Ned Spieker, a Bay Area real estate pioneer. Calvano was a broker at Marcus & Millichap at the time and earned a portion of the $252,000 commission. Two years later, in 1988, the San Jose native created Calvano Development and focused on the sale and lease of commercial real estate in Silicon Valley. He'd planned to work until he was 50 and live to be 100, but when his father, a contractor, died at age 74, Calvano retired early, at 35, to start enjoying life before it was too late.
He traveled the world with friends, created his own underwear line (with a Chanel-meets-Versace esthetic), and dabbled in the film world. He acted in and produced 2009's Corky's Hot Ice, a jewelry caper with drag queens; and co-produced 2005's Adam & Steve, starring Parker Posey, and 2003's Latter Days, featuring Jacqueline Bisset. "In addition to having an incredible business brain, he's really creative—his mind is always racing," says Joel Goodrich, a luxury real estate agent in San Francisco who co-produced the Posey and Bisset films with Calvano, a longtime friend. "We both had passions outside of real estate, and movies was one of them."
Restless at 42, Calvano returned to commercial real estate, and for the past decade, hasn't looked back. Now, he has a series of other ongoing projects on the Peninsula, including a mixed-use project with a 160-room hotel, 23,000 square feet of retail space, and 440,000 square feet of office space near the Millbrae BART station. One of his most respected mentors, developer and philanthropist John Sobrato, has this to say: "Like all good developers, he has a passion for the business—you have to have that drive. Mark's got the determination to take it to the finish line."