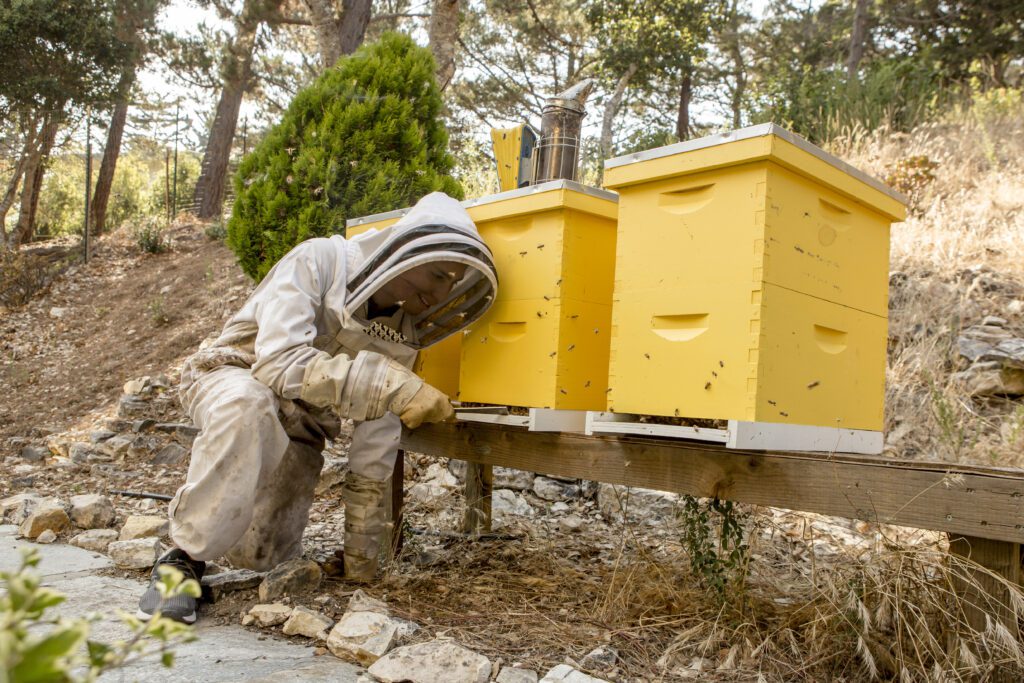 Should a writer wish to interview Jake Reisdorf about raising bees, producing honey and running his own thriving retail business online and in three locations, there's just one catch. Get in touch with this entrepreneur after 3:30 p.m, because the owner and founder of Carmel Honey Company is a full-time high school student. He's just 17.
For the past six years, Jake's been pretty busy managing a school/life balance with important support from the whole family. This "Young Beekeeper of the Year" is also a "SCORE Young Entrepreneur of the Year" award-winner. Jake won the annual CSU Monterey Bay "Startup Challenge," nabbed California Small Business of the Year, got featured in The New York Times, and launched a corporate social responsibility offshoot, "Jake Gives Back" to support organizations in honey bee research and education efforts.
In November 2020, Jake opened a new retail kiosk at San Francisco's Ferry Building to supplement the stores in Carmel-by-the-Sea and in Monterey's Cannery Row.
"Carmel Honey Company grew out of a passion for bees and good grades."
"It began as a fifth-grade project when my teacher assigned each of us to research a future career: determine the right courses and schools, describe what a day might be like in that job," said Jake. "I looked up how to be a web designer and chose honey bees as a topic. When my classmates said, 'We would totally buy your stuff,' I decided to learn more about becoming a beekeeper. One day at a beekeeping conference, I was asked to remove a wild hive from under someone's shed, which then became my first backyard hive."
Fast forward a few years and 180 hives later to find that Jake's homework has morphed into Carmel Honey Company. His terroir-driven, single-source varietals are produced by hives moved seasonally — it's important to move them at night time — from Modesto to Central Coast to the Willamette Valley. Black Button Sage Honey has a light, mild flavor and a savory profile, the Orange Blossom Honey shows subtle citrus notes, and the Meadowfoam Honey gives off notes of vanilla and toasted marshmallow, great for desserts. The multi-floral Wildflower Honey is a perfect all-around honey produced by bees collecting nectar from several flower sources, resulting in a complex taste with notes of rosemary, lavender, eucalyptus, clover, and buckwheat. 
Along the way, Jake has picked up deep expert knowledge about bees, pollination and hive management, which he shares as a guest speaker and lecturer at schools, clubs, nonprofits, and associations. He's also learned about building a business from scratch, certified facilities, production, packaging, shipping and employment. "It's not an easy process," he admits. Displays in the shop windows? There's help from Brooke, his 15-year-old sister.
 
"My goal is to keep my bees healthy, educate the public about honey bees, place hives in the backyards of local communities, and be an active participant and resource in the ongoing research and conservation efforts of honey bee activists all over the world."
Shop online for the wide range of bee-centric products including beeswax salve, lip balm, soap, body butter, exfoliator, candles, tea, bee-inspired apparel and face masks, gift packages, and more.
Or, stop by Tuesday and Thursday 8 a.m.- 2 p.m. and Saturday from 10 a.m.- 2 p.m. at One Ferry Building on the Embarcadero.