Less than 30 miles from the northern end of the Golden Gate Bridge, you can't miss Ram's Gate Winery. The entrance is impressive—with a promise of both rustic and grand— and notably, it's the first winery after the "Welcome to Sonoma" sign.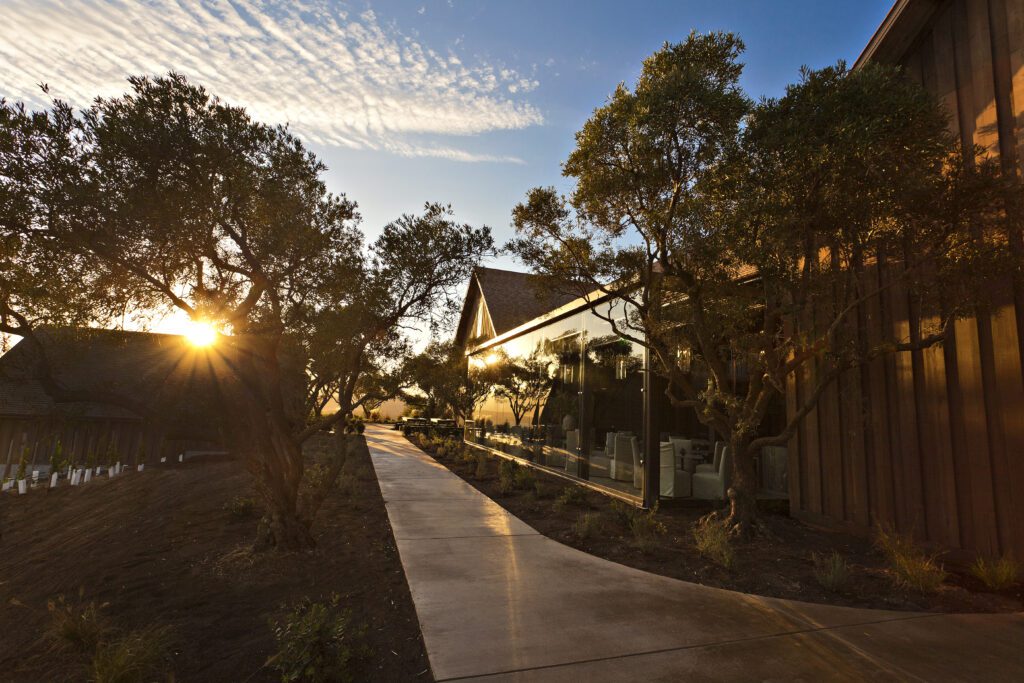 Joe Nielsen has another kind of first in mind. As Ram's Gate Director of Winemaking, he says, "We don't want to be just the first place you see, but also the first wine you think of." The gateway to wine country, the estate vineyard has a unique position at the intersection of Sonoma Coast, Sonoma Valley, and Carneros AVAs.
With the debut of Nielsen's 2018 vintage of Chardonnay and Pinot Noir, he paused to share both his backstory and plans for the future direction at Ram's Gate Winery.
Joe's story begins in a rather unlikely place. Raised in a small, rural Michigan community, he headed off to college for pre-med studies. But, things changed.
It took a bit of convincing for the MSU agriculture technology department to agree an under-21 student could be allowed to enroll in the viticulture program ("no tasting, no swallowing"), but they did acquiesce.
His first "vineyard" was an experimental at-home project in the backyard. The bug bit, says Joe. Since Michigan isn't the epicenter of great wine, Joe followed his nose to Northern California. Years of intense hard work followed. He says he never once looked back, plunging into hands-on learning as "a glorified intern" with an insatiable work ethic that extended to all corners of the operation at wineries including Merryvale and Donelan. He also squeezed in a Wine Executive MBA at Sonoma State.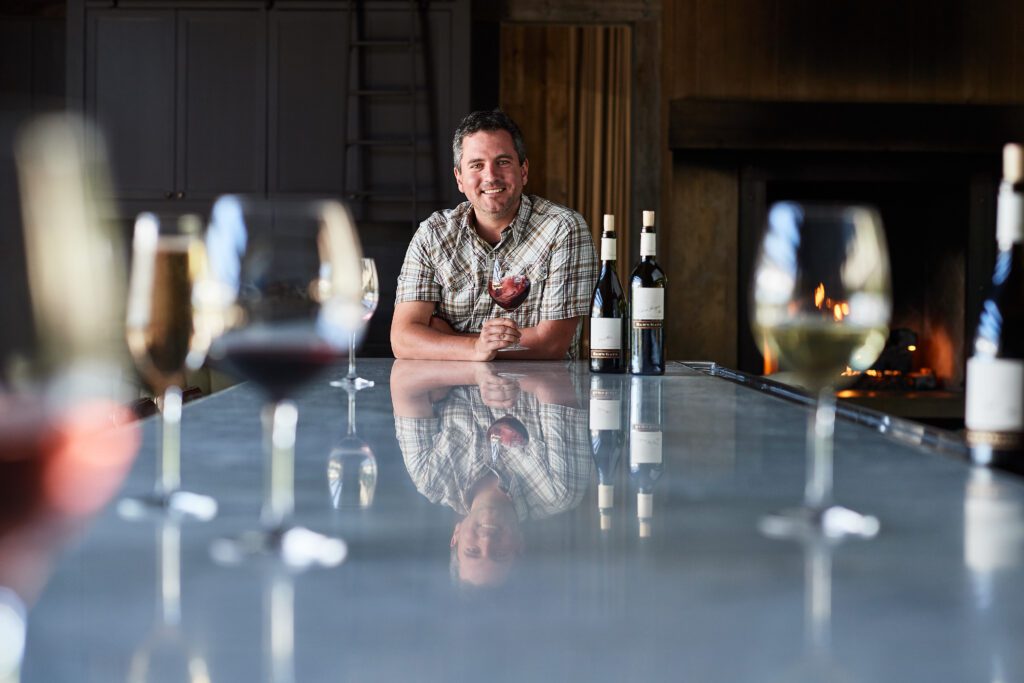 In June 2018, Joe Nielsen joined Ram's Gate as Director of Winemaker. He connects the dots in his journey by looking back on "the child in me…how I get joy from being outdoors and digging into the dirt." He can also reflect on the brief pursuit of medicine, observing that "a surgeon's career is the art of doing the job superbly well: expertly choreographed, rehearsed, it's almost something religious about working with your hands."
With significant frost, inclement spring weather and August fires, nobody can say 2020 was an easy growing year. Overlay the COVID protocols and "taking care of as many people as possible," and it's been a real challenge. For Nielsen, the key takeaways were to "assess the situation before making the wine, take tough decisions, produce less wine and feel very, very comfortable and really proud" as a result.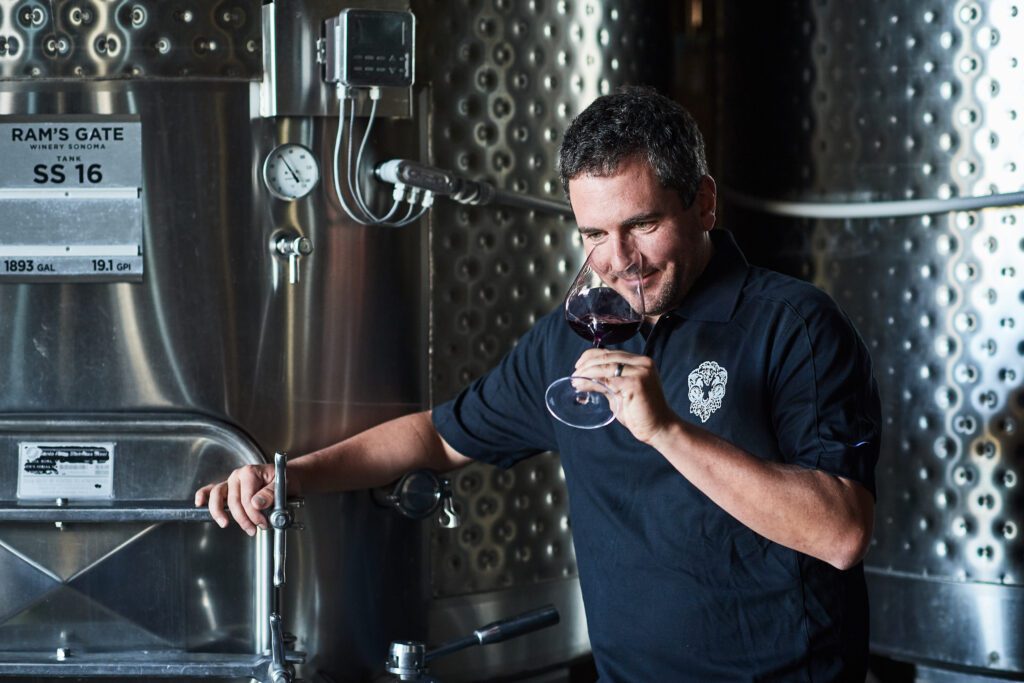 At Ram's Gate, Joe Nielsen is going into year three of a five-year plan to build the vineyard up in the best ways possible, doing "respectful things for the land." Beyond Sonoma Sustainable, he's moving the estate vineyard toward organic certification, introducing whole cluster and native fermentation in the cellar, and has increased cooperage diversity by 120%. In the vineyards, there are nearly 500 hungry sheep for weed control, radishes are being used for crop cover and aggressive soil work is being undertaken both above and below the ground.
Always striving to produce wines that have just the right balance of acid, tannin, richness and body, Nielsen has launched new single vineyard Cabernet Sauvignon, Syrah, Sonoma Coast Rosé and the Cellar Note series.
"It's a multi-year, cyclical endeavour," Nielsen says. "And the beauty is that there's always a great vintage ahead."
Ram's Gate Winery at 28700 Arnold Drive in Sonoma is open to guests from 11 a.m. to 4 p.m., Thursday through Monday (closed Tuesday and Wednesday) by appointment. With an acclaimed interior-designed space spread over 21,000 square feet, social distancing and stunning, far-reaching views are in the Ram's Gate DNA. Ask about the sunny, open-air tasting flight experiences, cheese and charcuterie with five wines served by the outdoor fireplace on the veranda and "Vineyard Table under the Arbor" for a private six-course food and wine pairing.