A toast to resilience and a sparkling life  
By Erin Hunt Moore
Nestled into its own lush and picturesque pocket of Sonoma County's Russian River Valley called Green Valley, Iron Horse Vineyards is a world-class producer of estate sparkling wines from Pinot Noir and Chardonnay vineyards planted throughout a family-owned, 300-acre ranch. Founded by Barry and Audrey Sterling in the mid-1970s, Iron Horse is a family winery and brand known for its production of elegant sparkling and still wines, its commitment to environmental issues and stewardship of the land, and for positively impacting its own community and world beyond. Their wines have been served at the White House for six consecutive presidential administrations, at Supreme Court dinners, State Department events, and to foreign dignitaries and royalty, including the Queen of England and the President of China.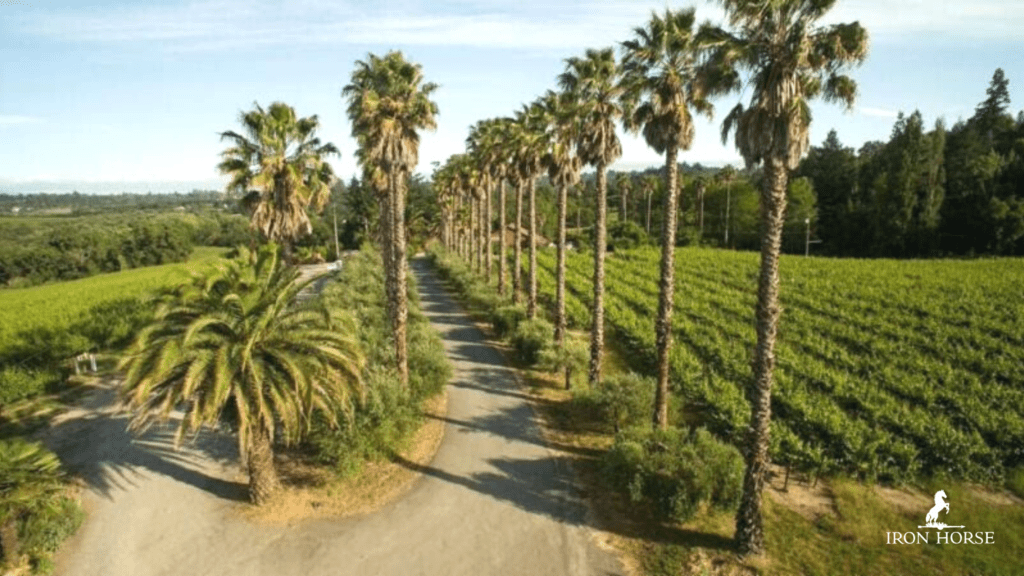 At the helm of Iron Horse Vineyards is CEO Joy Sterling, second-generation farmer and daughter of founders Barry and Audrey Sterling. Joy joined the family operation in 1985, after a successful career in broadcast journalism. She is a strong advocate for her industry and for her community and region within the wine industry and beyond on the state political stage. We took a moment to connect with her to discuss the impact this year has had on Sonoma wine country, Iron Horse's legacy of philanthropy and community service, and what inspires her to keep moving forward in her search for quality and meaning.  
HL: What a year it's been—and in a region and industry that has had their share of repeated challenges. You've endured fires, floods, a pandemic, and personal loss. How have you managed?  
JS: What's really strange about 2020 is that we went into the vintage feeling from our hearts that this was going to be our finest vintage ever. Everything was thriving—the growing season felt perfect, the weather was cooperative, all the flowers in the gardens were so gorgeous. We had every reason to believe that would follow straight through to the grapes.  
COVID-19 hit and was definitely a challenge, but we're farmers and incredibly lucky to be out here in this beautiful valley. The land and grapes were happy and thriving. Then July came and my father passed, which was devastating. We decided to dedicate this gorgeous vintage to him, which was actually bittersweet, because then all of these other things started happening, including early fires that came very close to us. Just when we thought we had our heads above water, something else would happen. At the time, it seemed that our Friday social media posts from the winery consisted of "We're still here!" messages. We just kept moving, continuing forward one step at a time.  
I learned that while climbing Mount Kilimanjaro. It was such a revelation to me that you could truly accomplish anything one step at a time. Just keep moving! So, we have. And if you knew my father, he would never have tolerated a complete collapse. It was so odd that we went from a sky-high optimism about the vintage to "We will get through this." That has been the tenor of 2020 for the entire region and industry.  
My greatest wish is that we all will look back at this year, drink the wines of this vintage, and talk about how strong we were. In that vein, we decided to create a special cuvée called Resilience for these times and in support of those struggling as a result. Resilience is dedicated to my always resilient father and all the other things that contribute to carrying on. This bottle will always serve to remind us of what this year was about: being resilient in these unprecedented and highly challenging times: getting back up again whenever we get knocked down.  
HL: This is not your first cuvée in honor of a cause meaningful to you. Iron Horse has a tradition of creating special cuvées for specific causes and efforts. Tell us more.  
JS:  Resilience will be our 19th cuvée in celebration of the vintage and one of several dedicated to a special and important cause. As part of the post-fire recovery effort, a portion of the proceeds from Resilience will go to the Sonoma County Resilience Fund which is sponsored by Redwood Empire Union Bank, State Senator Mike McGuire, the Press Democrat, and many other wonderful organizations. We aim to have the first release available in time for New Year's Eve. It will be a very limited production, roughly 200 cases.  
We'll continue to make Resilience every year as an ongoing contribution. This is similar to our cuvée, Gratitude, which we released in November 2017, after the devastating Tubbs Fire, with $5 per bottle going to the Redwood Empire Food Bank. Our Ocean Reserve is a special cuvée in partnership with National Geographic to support ocean conservation.  
These releases are very meaningful to us, and we're happy to be making a difference. Giving back is at the core of our DNA as a family and at Iron Horse. Some of it is in self-interest: for example, with the Ocean Reserve. The health of the ocean is critical to what we do here. It is the engine of our microclimate. Everything we do to benefit the good of the ocean is essential to what we do here as farmers, grape growers, and winemakers. We need that fog. And we can also credit that marine layer for protecting us this year from these latest fires. In the smokiest of moments, that layer kept the ash at bay.  
Contributing to a greater cause is part of our definition of overall sustainability: doing our part to make sure that we put back in more than we take out. We are incredibly fortunate to get to live here. We are always asking what we can do to make it better.  
HL: Iron Horse Vineyards is a family operation, and you've worked side-by-side with your parents and your brother, Laurence, for decades. Mixing family and business can be challenging for some. How have you made it work successfully for you?  
JS: A family business is not for everybody. The great thing with us is that the four partners—my parents, brother, and I—have always agreed on what's truly important. With regards to our business, this is especially crucial to our founding principles.  
The first priority is that we remain estate bottled. Our growth is not in size, but purely in quality. Second, we are focused entirely on making only the best quality. For years, people have asked why we aren't making a non-vintage wine. You don't have to age it as long. It would be less expensive. The answer for us has always been quality. We're going to make our wines to our quality level, to meet our aspirations. And we don't feel that we're there yet.  
As beautiful as our wines are today, we still feel that we have mountains to climb. That, to me, is the excitement of this industry. Every vintage is different and has its own trials and tribulations. But, with handling the distinctions of each vintage, there is always the question: How do we take it up one more notch? What's the next thing we can do to take it to another level? And that is what we all agree on. Once you have established that basic and essential vision, everything else is just a quibble.  
I'm very lucky, because my brother manages all the vineyards. I don't have to worry. He knows and feels exactly the way to grow the best grapes, and that's the foundation of what we do. We genuinely believe that this is a unique place. I feel that, when you come down Ross Station Road and crest that hill, you feel it. There is something about this place … and the grapes know it. The beauty of this place is part of our terroir.  
Our goal is to make wines that are gorgeous, distinctive, true to the place, and cannot be replicated anywhere else. They are unmistakably Iron Horse wines.  
HL: You've had many incredibly interesting chapters in your own life. You lived in France for several years with your family. You're a Yale graduate. Your work as a journalist led you to become a Deputy Bureau Chief for ABC News in Los Angeles at age 29. Which chapter helped you prepare most for your role and life here at Iron Horse?   
JS: I feel as if all of my life experiences contributed collectively in different ways. Certainly, the most life changing experience was living in Europe. Living in France was a huge influence on my life. I was 13 years old when we moved to France. I recall people wanting to know if I didn'twant to stay at home and be with my friends. I was like, "Are you kidding me? I'm going to live in Paris!" I was the first on the plane. That was just life changing.  
Next, I would have to say, being a journalist. I really need to do something that I feel is important, and I felt that journalism was critical. I remember my grandmother watching the news every night and, in those days, I recall feeling that it was absolutely essential to deliver that. Being a journalist also taught me that you could pick up the phone and call anybody. I didn't need an introduction. I had a job to do! And I do that to this day.  
Coming here gave me that same feeling of being essential. Taking care of my family, extended family, and community is just so fulfilling. It gets me out of bed in the morning. It's so inspiring and motivating. I need that!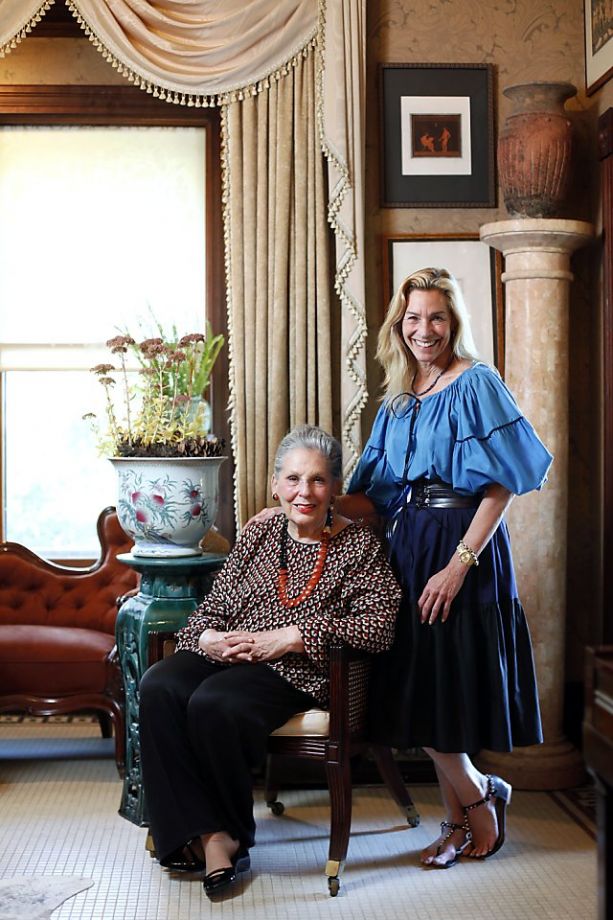 HL: Who have been your top mentors and sources of inspiration? Who influenced you the most?  
JS: My parents, without a doubt. They demonstrated such passion and zest for life, a true joie de vivre. They taught me, through example and encouragement, that life is more than one path. You can have successive lives or chapters in your life, and that is truly liberating! If you find that the direction you choose is not working, then you can change and enjoy many different lives—and that's okay. With life expectancy increasing, we have an opportunity to pursue dreams and to do so much more. I do want to give a special mention to my mother. My entire life, I have looked in the mirror and said, "Please God, let me be like my mother." She is just the personification of grace.  
HL: You're a wonderful example of a leading woman and thought leader in the wine industry. What words of advice do you have for women interested in the wine industry?  
JS: I would say, if you are interested in working in the wine industry, just do it! I think the wine world is fabulous for women. Of course, I'm a champion for equality, but I also feel that women excel at the wine business. I think that it is a great opportunity for women, and I encouragewomen to start somewhere. Leverage your skills. You can choose where you'd like to focus them. There are so many arenas to choose from. It isn't just winemaking; it could be writing, marketing, grape growing, history, geology, soil science, regenerative agriculture, and technology. Technology will become increasingly important. The best part of the industry, without a doubt, is the people. Perhaps another reason women tend to excel in this industry is our fabulous people skills! Above all, we have an incredible community and base of women supporting each other in this industry. The door is wide open!  
HL: Beyond your leadership role at Iron Horse, you have long been a leader in social impact initiatives and political advocacy. Where are you focusing your energies?   
JS: My family has always been politically active and engaged. I went to my first political rally when I was eight years old! I believe that it's important to have and share one's voice and influence. I am chair of the California Democratic Party Rural Caucus, am on a working group for the FCC, and have been an active board member of the California Food & Agriculture Board. One of my personal passion projects is universal broadband. If there ever was a time to ensure access to technology and communications, this is it! The pandemic has revealed the chasm and how serious it is. I understand that there are so many issues to be addressed; but, in my opinion, solving those problems would be greater facilitated if we had broadband. Public safety, education, etc., to me, is no different than rural electrification which happened 80 years ago.  
One of our great accomplishments as a state is getting a clean drinking water bill passed. Now it is our job to remind our elected officials to stop and consider the impact that their decisions have on rural communities and to ensure they honor those commitments.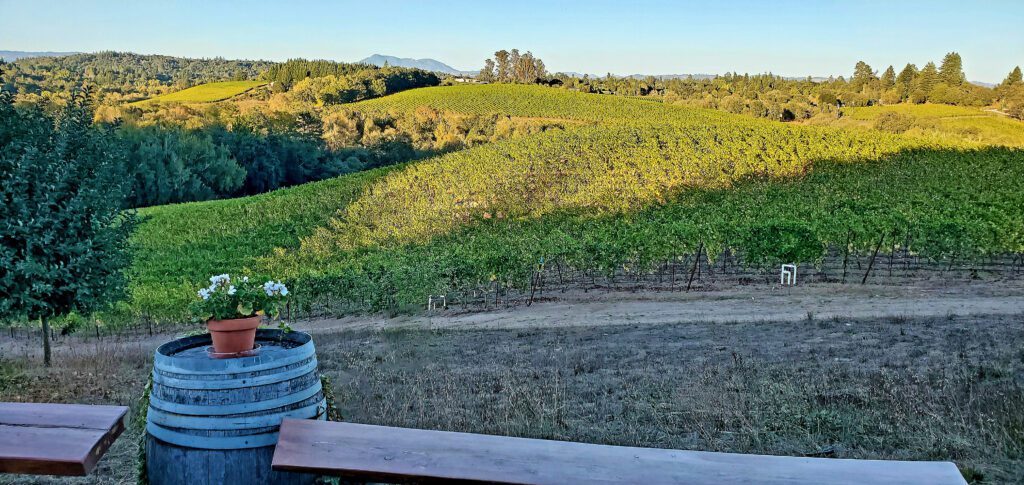 HL: If someone told you years ago that, one day, your family would be making sparkling wines and that you would be at the helm of a winery and brand, how would you have reacted?  
JS: I would have been thrilled, though it would not have surprised me in the least. My parents dreamed of having vineyards early on and started looking for property in France while we livedthere. They first looked in Normandy in the north in the Calvados region. When my mother learned that the best use of by-products for Calvados production was pig farming, she was not in the least interested. We came very close to closing on a property in Bordeaux, but the opportunity fell through. My parents brought us all home to the U.S. in 1974, and we returned to California. It was soon thereafter that my parents founded Iron Horse Vineyards. And, as far as my own life here at the head of this beautiful property and brand in this stunning valley filled with lush vineyards and gardens, together with my family and an incredible extended family, I would have thought it was a dream. And it is. I feel so very grateful.  
HL: If you could enjoy a glass of Iron Horse bubbles and a delicious meal with anyone, who would it be?   
JS:  My first answer is highly personal: my father. I was very close to him and miss him every day. Beyond that, I would say Ruth Bader Ginsburg and Winston Churchill. We hosted Justice Ginsburg at the winery. She was absolutely lovely, charming and quiet—not an overwhelming personality. I would have loved more time with her. One of my favorite stories involves my two nieces. My father graduated from Stanford Law School with William Renquist and Sandra Day O'Connor, and my nieces had the opportunity to meet Justice O'Connor. Later, they were in attendance when Justice Ginsburg visited, after which they decided that all Supreme Court Justices were women. Justice Ginsburg would have been proud!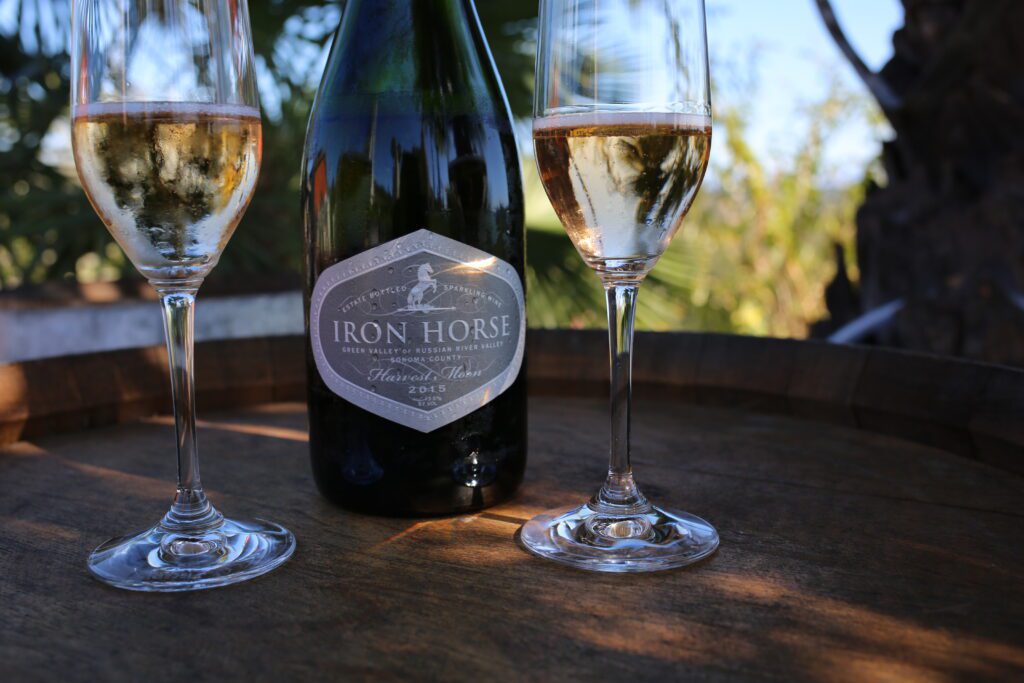 HL: What is your favorite way to enjoy your beautiful sparkling wines? Do you have a favorite stemware?  
JS: I'm lovingly known in my family as "Bubblehead." I drink sparkling wine with everything! One of my favorite pairings is sparkling wine and potato chips. But I also love sparkling wine with steak. I'm not particularly fussy about glassware, though I'm very fussy about quality. Wine will taste different in different glasses. I am partial to drinking bubbles out of a Burgundy glass. It makes me feel like James Bond or a warrior queen. But I also appreciate the flute, which tends to hold the bubbles better and is ideal for younger wine.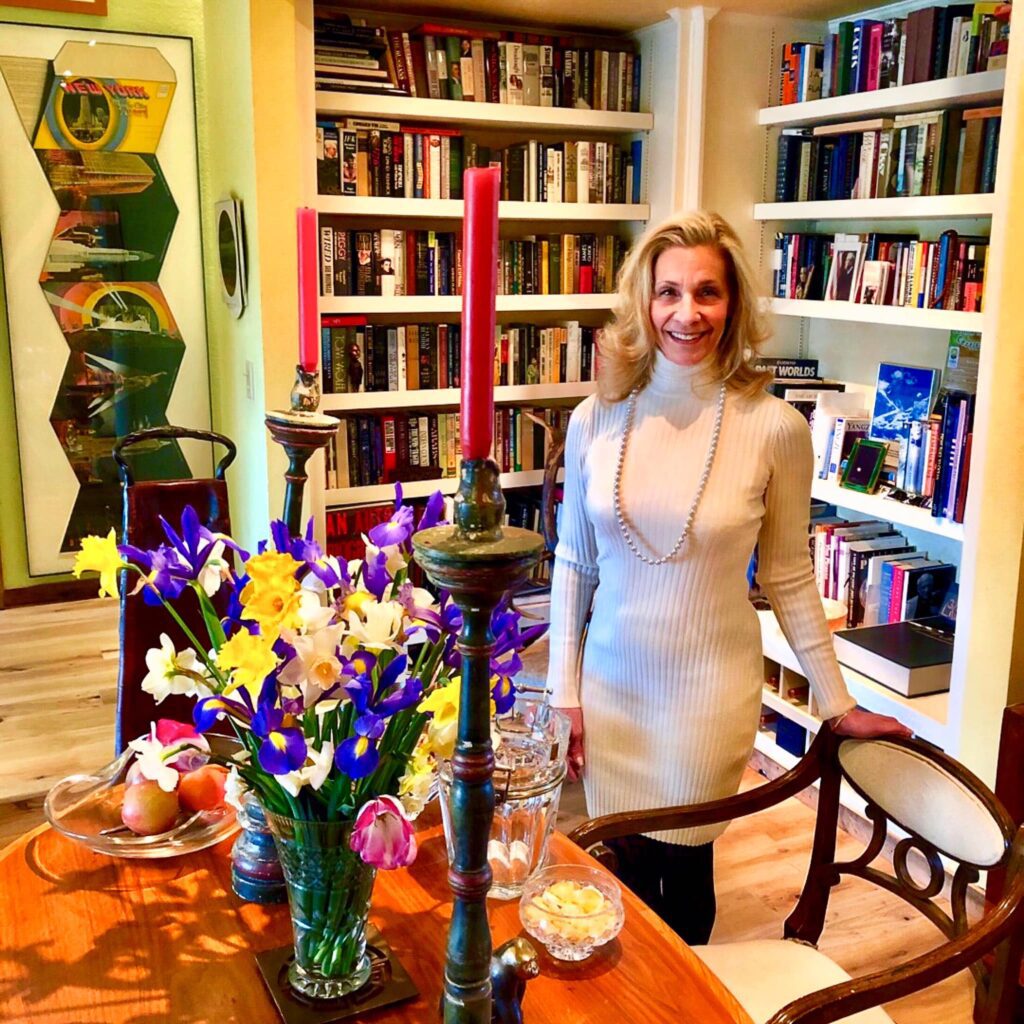 HL: You are a celebrated hostess, known for your hospitality. Do you have an entertaining philosophy? 
JS: I was definitely influenced by my years in France and by a mother who is an extraordinary  hostess. Every moment offers an opportunity for celebration, whether an intimate evening with friends or a larger dinner party. I always keep at least two bottles of sparkling chilling in the fridge, just in case! My absolute priority and rule number one in entertaining: making sure that no glass is empty. I am such a planner, and creating a beautiful ambiance is where my heart is. Flowers set the tone. Creating anticipation with the right invitation is also important—that is so much a part of the party! I find the follow-up and preparation prior to a party almost as exciting as the party itself.  
I just helped organize a virtual birthday party on Zoom. That was definitely a first for me. There were 80 people in attendance, six in one location, the others spread out across the country. It was lively and fun, but quite a logistical feat to ensure that the correct wines had arrived and were being served and menus were aligned. Virtual entertaining, the new normal!  
HL: As we've discussed, these have certainly been challenging times. What do you do to relax and decompress?  
JS: I have really taken advantage of these times to dive into self-care. We all need that! A silver lining for me with this pandemic is that I started yoga and prioritize time on my mat almost every morning. I also swim in the evenings. I love to dance. I feel as if I'm in the best shape I've been! And then, there is always a glass of bubbles and Balzac. I love my French authors!