Delight the food and wine lovers on your gift list with gourmet items that are sure to please. Though many connoisseurs might consider these items kitchen staples, our selections include the best of the best. No one will fault you for doubling your purchase in order to keep some for yourself. Such deliciousness is hard to resist:
Cheese aficionados know that Cowgirl Creamery makes some of the best organic cheeses in the nation. Their beloved triple cream Mt. Tam is a cheese icon. This Marin County-based artisanal purveyor was founded in 1997 by two college friends. Today, the company continues to carry the torch of a food revolution started in their pastoral backyard. Cowgirl Creamery believes that the secret ingredient to delicious cheese starts with the land, and that's why they partner with local dairies in Marin and Sonoma counties to source the organic, pasture-based, cow's milk for everything they make. Their items are available nationwide wherever fine cheese is sold, at their two retail/cafe locations in Point Reyes Station and San Francisco, as well as via their online shop where these fan favorites can easily be ordered and shipped: Cowgirl Creamery's Good Neighbors ($100 + free shipping) box is part of a new grassroots organization called Victory Cheese that's trying to help the dairy industry through 'victory cheese boxes' (à la victory gardens) which spotlight cheeses from some of the country's finest makers. $10 from each purchase is donated to the California Artisan Cheese Guild, an organization that provides resources to California cheesemakers. For those looking for an edible gift with a social purpose, the Good Neighbors collection is a craveable option. Cowgirl's Deluxe collection ($115 + free shipping) offers a deliriously delicious lineup of their wheels. For a curated collection which begs for breaking out the vino, try Cowgirl's Just Add Wine collection, pictured above, ($130 + free shipping), featuring Cowgirl's favorite cheeses which pair perfectly with wine. This package includes accoutrements like shallot-red wine confit and fig-black tea preserves. Photo courtesy of Cowgirl Creamery
Original Blue is the one that put Point Reyes Farmstead Cheese Co. on the map, but this iconic cheese company offers a multitude of other delectable varieties. Located about 40 miles north of the Golden Gate Bridge, its cheesemaking facility overlooks beautiful Tomales Bay, where their milk-supplying Holsteins graze. Fans claim that the charm of these cheeses is found in the healthy freshness representative of their home environment: sweeping views, coastal fog that lightly salts the lush pastures, and crisp, pristine air. The Anniversary Collection represents the company's two decades of cheesemaking. Recipients will enjoy the five core cheeses in their product line, each one its own representation of their high-quality California milk. The pack includes 6oz Toma, 8oz Aged Gouda, 6oz Bay Blue, 6oz Original Blue, 9oz Quinta (whole wheel), a wood cheese knife, as well as detailed information on each cheese, and suggested wine pairings. Give a sampling, but for the ultimate gift, treat your recipient to a visit and tour. Photo courtesy of Point Reyes Farmstead Cheese Co.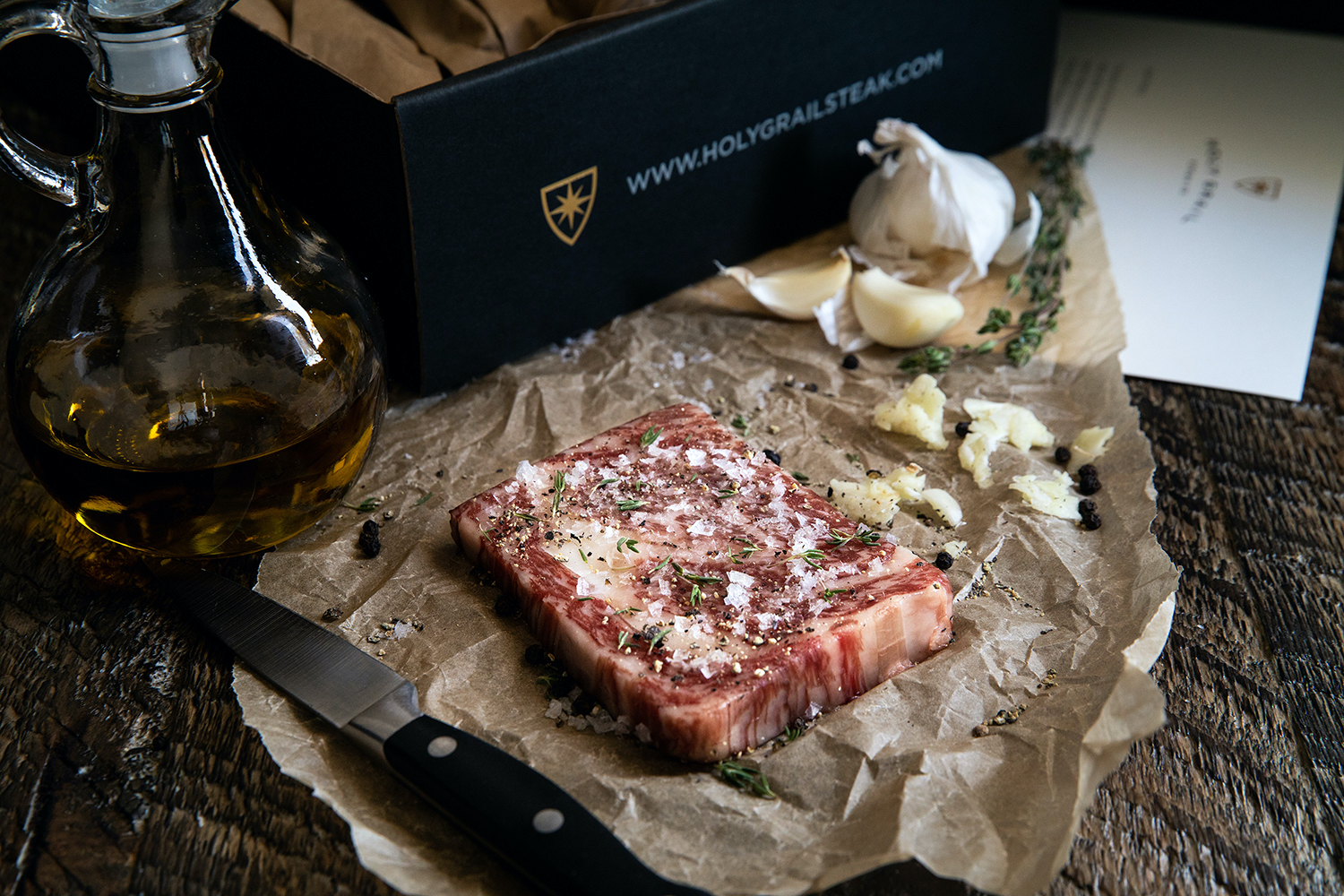 Satiate the carnivores on your list with steak delivery right to their front door. The brainchild of wine magnate Cameron Hughes, Holy Grail Steak Co. is a premier, on-line purveyor of genuine Kobe beef and other extremely high-end Japanese Wagyu, American-raised Wagyu, Australian Wagyu, and USDA 'Upper' Prime Black Angus – many cuts previously available exclusively to high-end steakhouses. Working exclusively with best-in-class producer partners, Holy Grail steaks are hormone and antibiotic-free, and blast frozen to -30°F to protect and preserve the steaks in their original, perfectly-aged state. All Holy Grail beef and pork is from the finest genetic lines, fed the best-quality diets, and raised with unsurpassed husbandry protocols. Holy Grail's mission is to connect artisanal farms and ranches with consumers who care deeply about the quality and provenance of their food. All offerings are available individually or as part of curated flights; gift cards are also available. Try the Steakhouse Direct Favorites Flight, an assemblage of some of their bestsellers. Photo courtesy of Holy Grail Steak Co.
Who doesn't love a box of chocolates? Especially when it is from La Maison du Chocolat, the very first grand Parisian house dedicated entirely to designer chocolate. It was forty years ago that Robert Linxe brought the spirit of Parisian haute couture to luxury chocolate. Satiate your loved ones' sweet tooth with festively packaged, decadent, and elegant holiday treats like a Holiday Cracker Tree, Holiday Advent Calendar, holiday-themed chocolate gift boxes, and more. La Maison du Chocolat melds graceful simplicity with complex expertise. Photo courtesy of La Maison du Chocolat
Award-winning confectioner Justine Pringle, formerly of New York City's highly regarded Nunu Chocolates, turns the notion of 'old-fashioned fruity chocolate' on its head with North South Confections, her new, decadent confection line featuring creamy, chocolate-infused, 100% fresh fruit puree centers enveloped in 70% cacao dark chocolate. The 'Fruits Both Familiar and Curious' collection includes delightfully unexpected flavors like passion fruit ('Tawdry Tart'), lime ('Licentious Lime'), naranjilla ('The Real Colombian Gold'), coconut ('Well Hello Coco), and graviola ('My Dear Graviola'). Each invites a textural journey that creates a truly decadent chocolate experience. Delivered in beautifully sleek, Insta-worthy packaging, it's the kind of gift you'll regret not keeping for yourself. Photo courtesy of North South Confections
Truffles (the non-chocolate version) are one of gastronomy's most prized delicacies. Distinctive in odor, their rarity deems them highly desirable. Delight any truffle lover with items from Urbani Truffles. An international division of Urbani Tartufi, Urbani has long been a landmark company in the field of truffles, mushrooms, and truffle products. The company's headquarters are located in Sant'Anatolia di Narco, in the province of Perugia, Italy, where Urbani Tartufi was born. With US headquarters in Manhattan, Urbani ships its varied truffle products nationwide: butter, salt, oil, an assortment of sauces, and of course, whole truffles. Take things a step further and pair your purchase with a bottle of Prunotto wine, one of the oldest wineries in Piedmont, Italy and one of the first to export Italian wine to the thriving U.S. market in the 1930's. Their delicious Barolo and Barbaresco perfectly compliment any truffle dish.
Chateau Montelena's unlikely Chardonnay victory at the 1976 Judgment of Paris blind tasting put this winery on the map. And Hollywood's 2008 cult classic film Bottleshock, and its whimsical and somewhat farcical portrayal of the events leading to the historic win, added to the winery's mystique. But it is the amazing wines that keep this Calistoga winery top-of-mind with oenophiles the world over. Since the winery's founding in 1972, their Estate Cabernet has continued to shine as one of the best representations of Napa Valley's viticultural artisanship. Any wine lover on your gift list will appreciate The Chateau Montelena Flagship Portfolio, comprised of the winery's most quintessential and sought-after varietals, the 2016 Estate Cabernet Sauvignon, 2017 Napa Valley Cabernet Sauvignon, and 2017 Napa Valley Chardonnay. Each is as enjoyable now as they will be in years to come. Photo courtesy of Chateau Montelena