Holly Daze! In Midst Of A Global Pandemic, Winter Holidays can be quite confusing.Like a Jamba Juice blender, my mind used to whirl from the dizzying amounts of holiday events to choose from, pre-COVID. This winter will pose a different kind of crazy. Restaurant closures, canceled events, and limited store hours add to holiday confusion. Ugh! But one thing is certain: we can all create fun lifetime memories while sheltering in place in the comfort of our homes.The pandemic gives us opportunities to prioritize and festively share quality time with loved ones. So … don't hold back! Turn the music high! Wear something silly or fancy! Break out the board games! In Haute Kitchen we have two amazing talents gifting us with their delightful stories and tasty recipes for your holiday table. I'll be making their dishes with my light-up bling, sipping hot peppermint chocolate, and wishing you a healthy, safe, and joyous holiday. See you in our kitchen next year! Enjoy!
CHEF MICHAEL MINA
Chef Michael Mina really needs no introduction. The mere mention of his name automatically invokes a dreamy drool. He is an internationally acclaimed Michelin star chef, cookbook author, and much more. As a foodie, I'm so glad Chef Mina decided to make SF his home, even after experiencing the harrowing 1989 earthquake two days into his move here. Chef Mina's creativity for each dish and innovative dining concepts which helped establish San Francisco's reputation as a world-class food destination. With more than 40 restaurants dotting the globe, Chef Mina is the founder of the MINA Group which creates, in his words, "the most craveable culinary experiences" for all his guests. Cooking for presidents and famous stars on a regular basis, he is also happy at home watching the 49ers with his family. Michael Mina was born in Cairo, Egypt and raised in Eastern Washington where he was inspired by his mom in the kitchen.
As time goes on, I don't necessarily feel like I'm getting any older, I'm just more balanced. –Michael Mina
Q&A
HAUTE LIVING X MICHAEL MINA
HL: Growing up, we blended both Eastern and Western ways for Thanksgiving and Christmas. Mom made special dishes in our house that became "family tradition" during these holidays. Her amazing hoisin turkey stuffed with sticky rice is what I now make for my own family. What childhood dish(es) bring(s) you back "home?"
MM: In my family, we mostly stick with the traditional Thanks-giving dishes. But given my Egyptian heritage, one thing we do prepare is my mom's koshary recipe. It's one of the comfort foods that I grew up with, and during the holidays, I really enjoy this as a side dish to the traditional turkey
HL: Everyone has a funny or endearing holiday story. Let's hear one from you.
MM: Well, one year when my youngest was about three years old, we decided to celebrate Christmas with a surf and turf dinner. I brought steaks and lobsters home from the restaurant and had some live lobsters stashed in the fridge. Let's just say, thank God there were rubber bands around the lobsters' claws, because Anthony decided he was going to take the lobsters out for a walk! He tied a string around one's neck and was walking the lobster all around the house. He didn't even let us eat that lobster that night!
HL: Hahahaha! The lobster story with your son is funny. Shelter-in-place can be quite challenging for the holidays because Christmas and Thanksgiving usually mean great gatherings of people and food. For COVID-19, what are your plans to make these occasions special? How?
MM: This has been a challenging year, but I feel, if anything, we really crave time with our families. It's amazing how great technology can be during these times. We can still virtually spend time together and feel as if we're almost in the same place together. One thing that families could do is to do a virtual cocktail hour together. Everyone would send a cocktail recipe to each other in advance, so everyone could even be drinking the same cocktail with one another.
HL: You've cooked for U.S. presidents. Who? Which president is the most finicky?
MM: I've cooked for many U.S. presidents. One of the most memorable times was for President Bill Clinton. Shortly after he left office, he came into Nob Hill in Las Vegas and experienced our tasting menu. He was so interested in how every single dish was made, so curious about the menu, cooking techniques, and everything! He even came into the kitchen and spent some time with me and my team.
HL: You have around 40 restaurants. That's a lot to handle. What do you like and what do you do when you're off?
MM: : Well, my team and I have 40 restaurants—I certainly don't manage them all by my-self! But I feel so blessed to be working with so many people who are friends and now family to me. Some people think you shouldn't mix business with pleasure, but I disagree. Our team does an incredible job working together, but we also genuinely enjoy each other's company. Additionally, I'm a huge sports fan. I watch the games, participate in fantasy football—all of it! What's fun is that even my fantasy football league is with many of the members of our team. There's some trash talk between team members, but it's all for fun.
HL: If you had a last meal on earth, what would you eat?
MM: hat's a tough one, but I think ultimately it would be Japanese food. I would want Chef Ken Tominaga's special bowl made with toro, caviar, sea urchin, and ponzu.
HL: Tell me something about yourself that no one else knows … a secret!
MM: When I was younger, I use to race motocross dirt bikes! I still love to ride them.
HAY SMOKED PRIME RIB WITH BACON WRAPPED POTATOES AND CREAMED SPINACH
Ingredients
• 32 oz côte de boeuf or cowboy steak (Speak to your friendly local butcher.)
• Grape seed oil
Salt Crust
• 2 cups hay, 1 liter packed
• 1-2 cups egg whites
• 8 cups kosher salt
Vinaigrette
• 1 cup extra virgin olive oil
• ¼ cup freshly squeezed lime juice
• ¼ cup Worcestershire sauce
• ¼ cup shallots, minced
• Salt and pepper
Creamed Spinach
• 2 cups blanched fresh spinach or frozen spinach, squeezed dry
• 2 tablespoons unsalted butter
• 1 garlic clove, crushed
• 2 tablespoons minced shallot
• ½ cup heavy cream
• 4 tablespoons Boursin® cheese
• Pinch fresh nutmeg
• Sea salt and fresh pepper to taste
Bacon Wrapped Potatoes
• 2 garlic cloves, crushed
• 2 tablespoons chives, chopped
• 8 fingerling potatoes, par-cooked
• 4 bacon strips, cut in half
Instructions
1. Combine salt and egg whites and stir to combine. You are looking for the texture of wet sand.
2. Heat a cast iron pan on high heat and add enough grape seed oil to coat the bottom. Season the meat and sear on all sides. Remove and place on a rack.
3. Make the vinaigrette in the same pan: Add olive oil to the pan and add the shallots. Sweat the shallots until translucent, then add the Worcestershire sauce and lime juice. Bring to a simmer. Season with salt and plenty of pepper.
4. Heat oven to 425° F. Place a ½-inch layer of salt crust in the bottom of a roasting pan. Place half the hay on top of the salt crust in the roasting pan and ignite. After 10 seconds, extinguish the flame and place the seared meat on top. Place the other half of the hay on top the steak. Top with the salt mix and pack well. Insert a probe thermometer through the salt into the center of the meat prior to roasting to temp the meat. If you don't have a probe thermometer, just poke a regular thermometer through to create the hole you will need to test the temperature. You won't be able to get a thermometer through the crust once it hardens.
5. Place the meat into the oven and bake for 10 minutes at 425° F to set the crust. Lower the heat to 325° F and cook until the meat reaches an internal temp of 120 F. Remove from the ̊oven and let it rest for at least 15 minutes.
6. While the meat is roasting, get your creamed spinach going. Put the butter into a small saucepot, add shallots and garlic clove, then sweat until shallots are translucent. Add heavy cream and nutmeg. Bring to a simmer and reduce by half. Add spinach and Boursin® cheese and heat gently. Season with sea salt and fresh pepper.
7. Wrap par-cooked fingerling potatoes tightly with half strips of bacon and skewer to secure the bacon. Press the wrapped potatoes to flatten them. Season with salt and pepper and sear in the pan on both sides until the potatoes are golden brown and delicious, the bacon is rendered and crispy, and they are piping hot.
8. Tableside, cut the meat out of the crust, return to the kitchen to slice and plate.
9. Serve with the creamed spinach and bacon wrapped potatoes. Each côte de beouf serves two people.
Koshary and matbucha are classic Egyptian comfort foods and, combined, make a great dish that can serve as the center of the meal with the addition of a beautiful, farmers-market-inspired vegetable side and a simple protein like a harissa broiled chicken or grilled rack of lamb. There's a lot going on here, but. thankfully, most of it can be done ahead of time and brought together right before you are ready to serve it.
KOSHARY AND MATBUCHA
Rice Ingredients
• 2 tablespoons extra virgin olive oil
• 2 cups long grain rice
• 3 cups water
• 1 teaspoon sea salt
• Pinch of fresh ground pepper
• Oil
Instructions
1. Heat olive oil in a saucepan over medium heat.
2. Add rice and stir gently until rice smells fragrant and is coated with oil.
3. Add 3 cups water, pepper, and 1 teaspoon salt.
4. Bring to a simmer, then reduce heat to low.
5. Cover and simmer for about 10 minutes, then turn off the flame and leave on the stovetop for an additional 15 minutes. The rice will be tender, and all the liquid will be absorbed.
Lentils Ingredients
• 1 cup lentils, rinsed and soaked in water in water for 1 hour
• ½ teaspoon sea salt
• Pinch freshly ground pepper
• 1 garlic clove, crushed
• 1 bay leaf
Instructions
1. Rinse then soak the lentils in warm water for one hour.
2. Add 2 cups of water to a saucepan
3. Add the lentils, sea salt, pepper, garlic clove, and a bay leaf.
4. Bring to a simmer. Cover and reduce heat to low. Simmer for 10 to 20 minutes until lentils are tender.
Matbucha Ingredients
• 1 teaspoon ground cumin seed
• 1 teaspoon ground coriander seed
• 1 teaspoon ground Urfa biber or ancho
• ½ teaspoon freshly ground black pepper
• 1 teaspoon pimentón de la Vera, hot
• 1 tablespoon extra virgin olive oil
• 1 box 500g Pomì chopped tomatoes
• ½ cup tomato paste
• 1 teaspoon sea salt
• 1 bay leaf
• 1 sprig fresh thyme
• 2 tablespoons chopped cilantro
• 2 tablespoons crispy fried onions or shallots
Instructions
1. Toast dry spices in a dry saucepan until fragrant and aromatic.
2. Add extra virgin olive oil and infuse with spices.
3. Add tomato paste and stir well to incorporate.
4. Cook over medium heat, stirring constantly and scraping the bottom of the pan to cook out the raw flavor of the paste. Don't skip this step, as it is the foundation of deep flavor.
5. Add chopped tomatoes, thyme, sea salt, and bay leaf and bring to a simmer.
6. Cover and reduce heat to low. Cook for 20 to 30 minutes.
7. Top with crispy fried onions or shallots for garnish.
Sautéed Onions and Instructions to finish the dish
• 2 tablespoons extra virgin olive oil
• 4 sweet onions, sliced thin
• 2 garlic cloves, sliced thin
• ½ teaspoon sea salt
• Pinch freshly ground pepper
• Oil
• Cilantro for garnishing dish.
Instructions
1. Heat large frying pan over medium heat. Add oil.
2. Add extra virgin olive oil then onions and cook on medium-high heat for about 10 minutes until the onions are browned.
3. Add garlic, sea salt, and pepper and cook for another minute, stirring to ensure even distribution and complete cooking.
4. Add cooked lentils and rice. Toss well to fully combine. Cook until mixture is piping hot.
5. Transfer to serving bowl and spoon matbucha over the top.
6. Garnish with chopped cilantro and serve.
Liz Curtis
Liz Curtis, a Bay Area native, is widely recognized as the pioneer of nation wide event rentals. After earning her JD and passing the bar, Liz fast-tracked into corporate litigation. While law was stimulating for this brainy young lady, Liz knew that it did not have her heart. Her true love? Entertaining!
Without professional experience in this new endeavor and with some calculated risk, a lot of homework, and true grit, Liz followed her heart. In 2013, Liz took the leap and founded Table + Teaspoon which became a highly successful catering, events, and design firm with service throughout California. In 2016, T+T relaunched as an e-commerce table setting rental service, with shipping available across the country. The company has received accolades from Martha Stewart, New York Times, Town & Country, Elle Decor, House Beautiful, Real Simple, Forbes, Today Show, the Washington Post, and many more.
In the wake of the pandemic, Liz identified the need to scale quickly in order to service the rise of at-home parties. She sought out Michael Seramin, owner of Abbey Party Rents San Francisco, and the pair saw an opportunity for growth and innovation in the events industry. Merging their businesses, Liz now serves as CEO of the brands under the newly formed Fulcrum Group since May 2020. Most recently, Fulcrum Group added a real estate arm to its portfolio with an exclusive wedding and event venue offering. She is excited to continue disrupting the events industry with her first-in-class team at Fulcrum.
What if I fall? … Oh, but my darling, what if you fly? –Erin Hanson, Australian poet
Q&A
HAUTE LIVING X LIZ CURTIS
HL: You attended prestigious Hastings Law School in Berkley, trained as a litigator, and worked at Quinn Emanuel Law Firm, which is no joke. When was your "ah-ha" moment and why change gears?
LC: My plan in life was never to be a lawyer. I loved law school and my time clerking for a federal judge, but I didn't love being a lawyer. Quinn was my last firm, where I worked on the Apple v. Samsung mobile patent litigation. I realized that if a case that sexy wasn't fulfilling, then the law was likely not a long-term career option for me. Growing up, I watched my father build satellites for NASA, which went to Mars and the sun, and my mother risked everything to pursue her professional dreams. I craved these qualities in my own life: innovation, passion, fearlessness. And that just wasn't corporate litigation for me, so I made the bold and somewhat reckless decision to leave the law and chase my passion: en-tertaining.
HL: Obviously, you're a smart cookie and businesswoman. What inspired you to start Table + Teaspoon?
LC: Everything changed the summer I spent studying at home for the California Bar Exam in 2009. Going stir crazy and craving comfort food, I turned on the Food Network. After that experience, the call of the kitchen sounded fiercely. I started posting my creations on Facebook via my Blackberry (eek!), and similar, culinarily challenged friends asked me to start a blog that made seemingly difficult recipes easy, which is how Table + Teaspoon the blog was born in 2010. Before leaving law, I spent three years hosting meticulously decorated, multiple-course dinner parties for 12 friends every 10 days in my studio apartment's dining room until I was confident that my skill set was on a professional level. Lacking the option for interior design and event planning, I offered my services at cost or insanely reduced rates (think $1/hour) while I was learning the business. I didn't rely solely on trial and error; I also leaned on my friends for guidance. Their tips were invaluable, and I undoubtedly wouldn't be where I am today without their support. With this new idea in mind, I used my entire savings and a loan from my family to bootstrap the vision for a "rent-the-table" business model. I launched in California in 2016, then nationwide a year later. I haven't looked back since!
HL: While celebrating a birthday fête at my home, I took out kitchen utensils in place of microphones and we sang with renowned vocalist Paula West, creating the Kitchen Utensil Singers group. Your powerful voice blew us away! Where did that come from?
LC: What a ridiculously fun night that was! In fact, it was my last dinner party, pre-pandemic. Anyone who knows me well will tell you that I'm a shameless karaoke aficionado. I've had more birthdays at Silver Cloud and The Mint than I can remember. Singing with friends in crowded bars is something I miss terribly. Before karaoke, my vocal outlet came in the form of musical theater growing up. The last play that I was in before college was Gypsy. I played Dainty June, which required singing and dancing in ringlet curls and a hoop skirt with a cow. The song is still stuck in my head 20 years later.
HL: With shelter-in-place, it's a challenge to shop for decorations. Any pointers for creatively making a beautiful holiday tablescape with what we have at home
LC: Employing a theme for your holiday dinner can be as straightforward as a color palette. You may want to up the ante with a more autumnal aesthetic, but make sure you don't go so overboard that guests feel crowded or your table looks forced. For example, just because it's Thanksgiving doesn't mean that you're required to run out and buy pumpkins, corn cobs, pilgrim hats, and a new orange tablecloth. An elegant mix of tans and browns with fresh greenery from your garden can be just as effective. Challenge yourself to think outside the box and simplify your vision by including things that you already love on your table. Sliced agate, bronze stars, boxwood topiaries—whatever you decorate your home with can double as tablescape fodder. The best part of using this method is that your table reflects your personality, which your guests will instantly recognize.
HL: Tell me, what's on your menu for Thanksgiving and Christmas? Who are the beneficiaries?
LC: Sadly, the holidays will look very different this year. Barring a vaccine release in the next couple of months, I'll be missing most of my family on Thanksgiving and Christmas. While we may not have the option to celebrate together, that won't stop me from pulling out my culinary chops to make a meal that I can drop off to loved ones. Here's what I'll be creating for each holiday. Thanksgiving: goat cheese popovers with herbed butter; truffled mushroom bisque; cornbread dressing with sage, apple, and caramelized onion; sweet potato puree; wilted spinach and prosciutto salad; champagne turkey with gravy; and, a pear galette for dessert with homemade cinnamon ice cream and a drizzle of honey. Christmas: caviar with Pop Chips and Meyer lemon crème fraiche; French onion soup with pain au levain from Acme Bread; and hand-cut filet mignon with beurre rouge, crisped onion, and potato puree. For dessert, my mom will make her legendary bûche de Noël, a rich chocolate cake with marzipan filling, rolled to look like a log, and decorated with festive Christmas trinkets.
HL: I want some! What recipes are you sharing and why are they special?
LC: All of my recipes have accessibility at top of mind. Luxurious dishes don't have to mean hours spent in the kitchen, slaving over every aspect of the meal. I've learned tricks over the years that empower anyone to make delicious recipes at home. The first recipe I'm sharing is inherently easy, English lemon pancakes. A cross between American pancakes and French crêpes, the base of this dish requires only a few ingredients: flour, eggs, milk, and a pinch of salt. The pancakes are finished with a sprinkle of sugar and a squeeze of fresh lemon. Both my father and boyfriend grew up in London, making these the ultimate comfort food for Christmas brunch.
The other two recipes each employ a major shortcut. Lobster pot pie is made much easier by using store-bought lobster bisque as a base and frozen puff pastry for the topping. Pumpkin ravioli could take all day if you make the pasta from scratch, but by swapping wonton wrappers for traditional dough, you remove hours of tedious work. Both recipes are autumnal favorites that combat even the dreariest, fog-filled San Francisco days.
HL: I love those tips. Share a memorable holiday moment or story.
LC: Back in 2005, long before the idea of Table + Teaspoon sparked, I decided to attempt my first dinner party during the holidays. Roast salmon didn't seem very difficult, and I knew that my mom would love it. I managed to find all the ingredients at the Marina Market and put the dish together using a recipe that couldn't have been more straightforward. Once I put the fish in the oven, I decided to reward my efforts with a glass of Pinot by the Christmas tree. Fast forward half an hour. I checked on the salmon and found the entire kitchen engulfed in smoke, the fish ablaze in the oven. Before I could do anything, alarms in the building were going off and I could hear the unmistakable sound of fire engines approaching. My family arrived just in time to witness the chaos. Though hilarious now, I was devastated at the time. Hard to believe a mere four years later Table + Teaspoon would be born, and I would find myself hosting dinner parties (fire department-free) nearly every weekend.
PUMPKIN RAVIOLI WITH SAGE BROWN BUTTER, LARDONS, AND FRESS FIG
Ingredients
• Wonton wrappers (12 oz. pack)
• Pure pumpkin puree (15 oz. can)
• 2 tablespoons breadcrumbs or panko
• 1 teaspoon chopped shallot
• Goat cheese (5 oz.)
• ¼ cup grated Parmigiano-Reggiano
• 1 egg yolk
• ¼ teaspoon each salt, pepper, nutmeg, cinnamon
• Canola oil (48 oz. or enough to make an inch in your pan)
• 12 sage leaves
• 1 stick butter
• ¼ cup fresh lemon juice
• Carton of figs
• 8 ounces lardons or thick cut bacon sliced into matchsticks
Instructions
1. Combine pumpkin, breadcrumbs, shallot, goat cheese, Parmigiano-Reggiano, egg yolk, and seasonings using beaters, a food processor, or emersion blender.
2. Place wonton wrappers on a cutting board and drop a tablespoon of pumpkin filling in the center of each wrapper.
3. Using your finger, outline each wrapper with a little water, then do the same on another wrapper with no filling on it. Place the empty wrapper over the one with filling and press together to seal tightly.
4. Fill a deep frying pan with one inch of canola oil and heat over medium-high.
5. Cook two ravioli at a time for 30 seconds per side, then drain on a paper towel-covered plate.
6. In a frying pan, heat lardons or bacon matchsticks until cooked all the way through and set aside.
7. In a skillet, melt butter over low heat and swirl until nutty brown, then remove from heat and stir in sage leaves and lemon juice.
8. Plate a few ravioli, spoon the sage brown butter over them, top with sliced fig and lardons.
Ingredients
• 4 lobster tails
• 2 cups peas
• 1 cup clamshell mushrooms
• 2 tablespoons flat-leaf parsley
• 4 tablespoons unsalted butter
• 2 cups lobster bisque
• 2 sheets puff pastry
• 1 egg whisked with 1 tablespoon water
• ¼ cup dry sherry
Instructions
1. Preheat oven to 400° F and remove puff pastry from freezer.
2. Crack lobster tails, remove meat, cut into 1-inch chunks
3. Remove stems from mushrooms and mince parsley.
4. Heat butter in skillet, sauté mushrooms for 5 minutes.
5. Add lobster, peas, parsley, and sherry. Sauté for 3 minutes.
6. Divide mixture into four 6-ounce ramekins.
7. Pour ½ cup of lobster bisque over each ramekin and stir to combine.
8. Remove paper from puff pastry and place on cutting board. Cut four circles 1/2-inch larger than the ramekins and place one on top of each ramekin
9. Puncture three holes in each puff pastry. Brush the egg and water mixture over the pastry and bake for 20 minutes.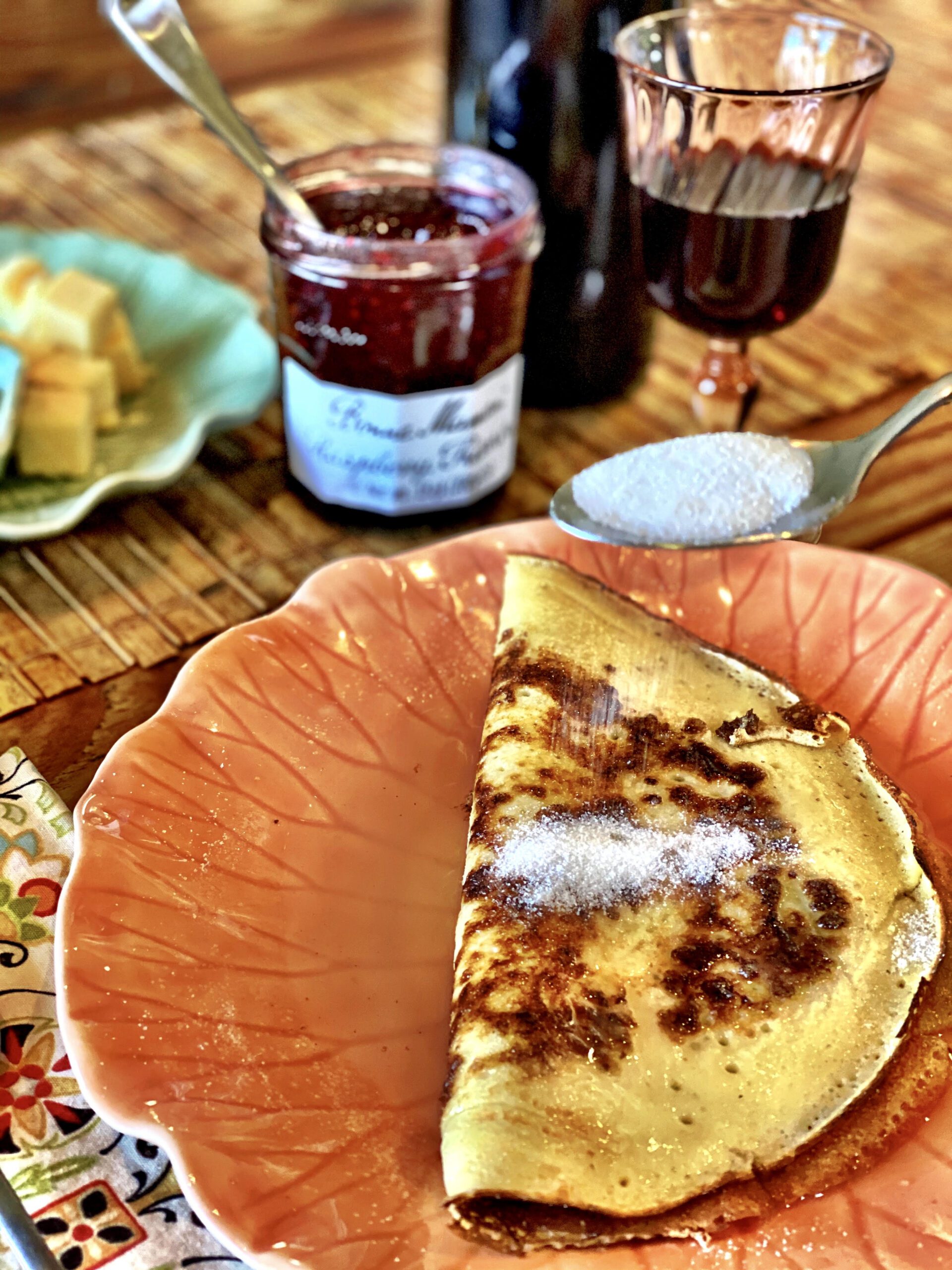 Ingredients
• ¾ cup all-purpose flour
• Pinch of salt
• 1 cup low-fat milk
• 2 eggs
• ½ tablespoon unsalted butter
Instructions
1. Sift flour and salt into a bowl, then add milk and eggs. Whisk to combine.
2. Heat a large frying pan over medium-high heat, then melt butter and spread aroundthe pan.
3. Reduce heat to medium and pour ¼ cup of the batter into the pan.
4. Tilt the pan and swirl to help the batter spread evenly.
5. Cook each side for a couple of minutes until lightly browned.
6. Remove from pan and set aside. Cook the rest of the batter in single pancake increments.
7. Serve by drizzling lemon juice and spooning sugar over each pancake.
8. Optional: Add a spoonful of raspberry jam or lemon curd for a little extra luxe.