Surprises and Delights with Song
When jazz singer Paula West performs, she offers a surprise or two or three. Jazz cognoscenti around the globe seek West's richly sumptuous voice which continues to be a revelation in her home city of San Francisco. Her eclectic choice of material and distinctive interpretations create a sense of wonder for audiences who are delighted to discover a world-class songbird perched in their own backyard.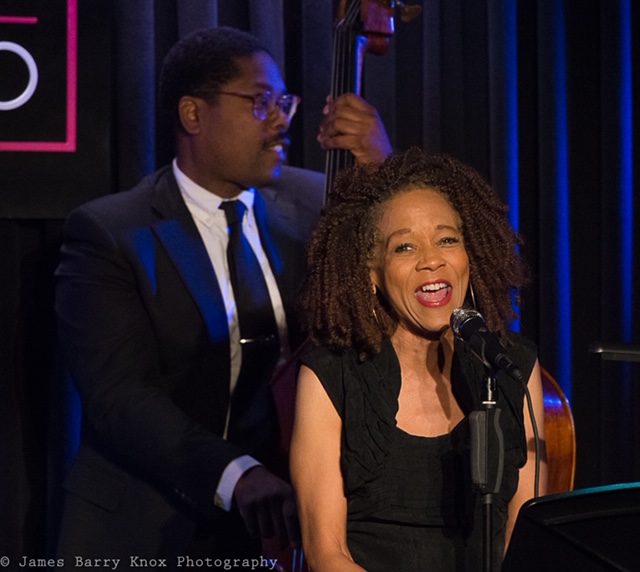 West offers the chance to hear a song anew, with an emphasis on the lyrics. Sometimes, she will offer an unfamiliar piece from well-known composers like Irving Berlin or Fats Waller. Or she will cross genres to include Johnny Cash, Paul McCartney, or her beloved Bob Dylan. West lures the audience into listening with the richness of her contralto, the one The New York Times described as "dark, sticky ropes of chocolate and butterscotch, melded with nuts into a lump of bittersweet candy."
Along with sweetness, West offers strength. Onstage and off, she chooses to focus on the greater good. The current confinement has reaffirmed her commitment to social justice. "Right now, we have to deal with freedom of speech. I never thought I'd experience anything like this in my lifetime. Good and bad, this is beyond anything anybody could imagine." These times compel her to stand up for what she thinks is right.
"Sometimes, there is a romanticism about being patriotic. Patriotism has the right to criticism. Because I live here gives me every right to criticize it. I love it enough to care about it."
Her experience as a black woman informs her experience. "I feel like it's always made me more open to hopefully be empathetic about other people's situations," Paula shares. Spirituals, WWII ballads, and Vietnam-era protest songs all become rich material to mine.
She is planning a new album, an updated version of the American Songbook, and has started a GoFundMe campaign to produce it. The concept came from her SFJAZZ program developed after the 2016 election. "I began with George M. Cohan's, 'Over There.' I talked about censorship and blacklisting, the civil rights movement, and Black Lives Matter. A lot of these songs are still relevant if you can find a link to what's going on now. I do Dylan's 'Don't Think Twice, It's All Right.' That's about ecology." Timely topics reappear in forgotten gems like "Mississippi Goddam" and "The House I Live In," popularized by Paul Robeson. Paula adds, "I'd like to do something dealing with voter suppression. I'm going to research more Odetta, too, because she was political."
Much of her research comes from deep listening. "Back when we still had record stores, I used to hang out in places like Medium Rare on Market Street." Along with familiars, "like Billie, Ella, and love that Peggy Lee," she found buried treasures. "Pearl Bailey, Eartha Kitt, they'd have some risqué material that was fun. I was ready to listen beyond the regular to find obscure pieces by Cole Porter and Rogers and Hart." David Bowie, Laura Nyro, Dolly Parton, and Carole King have all entered her repertoire. But Bob Dylan remains her all-time favorite. "He's such a genius," she enthuses, noting his 2016 Nobel Prize.
Growing up in a military family in San Diego, she was familiar with classical music, but came later to jazz. "I found a passion in my life, which was singing. I was never in a choir as a kid, I played clarinet. It was mandatory in school: choir or an instrument or art. But I always had a love of different music. You might drift away, but it stays with you."
Performance was first an avocation. "I was a waitress for 20 years. One of my early jobs was at American Chow, where I got to wait on Angela Davis. I reminded her of that when I sang at her SFJAZZ tribute. The longest place I worked was at Town's End, but I stopped in 2001 to focus on singing." Her restaurant customers were her first fans. "When you work a breakfast shift, you really get to know people."
Her crooning career began in North Beach. "These small clubs would have jam sessions on Monday, so you could do a couple of songs. Ken Muir was the first piano player I worked with, and then I sat in when he was playing the Mark Hopkins or Stanford Court." Soon she was performing at 1001 Nob Hill, The Ritz, Café Claude, and Asta. "Usually they weren't listening situations, but that's how you got to learn some tunes. I would calm myself down by reminding myself, 'If I screw up, nobody is listening.'"
Live performances also offered an education. "I'm so fortunate I got to see people like Maxine Sullivan and Anita O'Day. Ella was with Oscar Peterson at the Masonic. The weekend I moved to San Francisco, Eartha Kitt was at the Venetian Room, and the cover was $35, but I had to go. I got to see Sarah Vaughn and Blossom Dearie at the Great American Music Hall, where I opened for Little Jimmy Scott. I saw Etta James and Joe Williams at Yoshi's and Max Roche at the Grand Hyatt. Abbey Lincoln, Shirley Horn, and Dorothy Donegan were all at the original Kimball's. Back then you could go to the 11:00 show. It was very intimate."
Paula West has also performed regularly in New York. Collaboration with the late pianist/arranger George Mesterhazy, who previously accompanied Shirley Horn, led to her fourth album, Live at the Jazz Standard. She appeared frequently at the Oak Room at the Algonquin Hotel. Wynton Marsalis selected her to perform his Pulitzer Prize-winning composition, "Blood on the Fields," with the Jazz at Lincoln Center Orchestra. Her New York appearances are consistently covered in the New York Times which celebrated her "probing musical intelligence informed by a cheeky feminist attitude."
Characteristically, West insists that her best performances are collaborative. "I've worked with pianist Kenny Barron and bassist Christian McBride and guitarist Russell Malone. I love my guitar player, Ed Cherry, and my drummer, Jerome Jennings." In San Francisco, her pianist and arranger is Adam Shulman. "We get together or have a little phone thing to figure out a key. You never know how the song is going to turn out. People bring their gifts and then it finally comes together."
Her fantasy gig? "I suppose it would be a dream room, to work the Café Carlisle in New York. But for now, I just would like to work with an appreciative audience. With COVID-19, that's going to be tough."
So West is pivoting online. Her first livestream concert was held in June at St. Joseph's Arts Society, where she was introduced by its proprietor, Ken Fulk. He enthused, "I've known Paula for at least 20 years, first as a fan then eventually as a friend. She's always had this wonderful way to transport you with her song. And if ever we needed the gift of music—I think it's now."
West's local fans include a litany of notables, including Willie Brown, Denise Hale, and Rita Moreno, "who has come to see me numerous times. Of course, each time I introduce her, everyone goes crazy." The same could be said for West herself, whom Christopher Loudon of Jazztimes called, "Quite simply, the finest jazz-cabaret singer around." And that description of Paula West doesn't surprise us at all.