In conversation with Sharon Seto
I "CARROT" about you expressed through the power of food
There is no more instrumental tool than food to connect us all in good times and bad. With shelter-in-place, I find people, including myself, often puttering around in the kitchen. We are cooking side by side, bonding. Others connect with old friends or build new relationships by sharing recipes. Whether you are a professional chef or a home cook, food ties communities, food ties cultures, food ties traditions, food ties memories, and food ties us all together.
Step into Haute Kitchen, a gathering place to meet new friends and to connect and share with one another. Trying new recipes and serving up new plates for family and friends really excites me. Variety counts. To keep it interesting, I will be mixing it up with a variety of people—those from the industry and those who aren't. All have a common ingredient: a big heaping tablespoon of love for food and people!
In our hot Haute Kitchen, here are two fabulous haute cooks who can't wait to dish out some haute stuff for your tables this summer!
TONY GEMIGNANI
Among countless accolades, Gemignani is a 13-time World Pizza Champion as well as Food Network Gold Medalist and owner of the wildly popular Tony's Pizza in North Beach, San Francisco, which is one of his 28 concepts in Northern California and Las Vegas. Tony has appeared on numerous popular shows including Good Morning America, NBC's Today, and The Tonight Show with Jay Leno.
Tony was the first non-Neapolitan to take the "World Champion Pizza Maker" title at the World Cup held in Naples, Italy. Police escorted him to protect him from the local crowds for fear of being attacked. He was instructed not to cheer when he won.
Tony grew up on a local Bay Area farm, cooking in the kitchen beside his mother. Mother and son served only fresh fruits and vegetables straight from their farm. This mindset of using only the freshest ingredients has stayed with him ever since and is reflected in all his dishes.
"Respect the craft." –Tony Gemignani
HL: You are a global pizza legend. What are you sharing in Haute Kitchen?
TG: Insalata grilled pizza, which translates to "salad," and the master recipe all from The Pizza Bible cookbook.
HL: They sound delicious! For each recipe, why this dish is special or meaningful to you?
TG: It's summer and pizzas on the grill can be so amazing. I've been grilling pizzas since I started making them nearly 30 years ago. It's so family-friendly and communal.
HL: Are there under-the-radar tips or secrets for any of these recipes?
TG: When it comes to grilling pizzas and you're using a gas grill with two zones, heat one zone to medium-high and the other to medium. That way, if the pizza cooks too quickly over medium-high zone, it can be moved to the medium side.
HL: You have a long list of accolades as a world class pizza legend. Besides being a pizza master, you're also a multiple pizza acrobat champion. What is your most challenging move and why?
TG: There is a trick called the Gemignani which I did back in the day. It involves two pizzas, one on the right hand and one on the left, that are simultaneously rolled across each shoulder to the other hand. It's a tough trick that I created, and even I can't pull it off every time I attempt to do it.
HL: What is the craziest thing you've ever eaten?
TG: When I judged the world pizza championships in France and the championships in Mexico, I had pizzas that had indigenous fish (that smelled awful) on them and pizzas that had several types of insects as toppings. They were not appetizing.
HL: Oh, my stomach is churning already. Tell me something about you that no one else knows.
TG: I like to wear my hair straight because it's super curly.
Recipes below are reprinted with permission from The Pizza Bible: The World's Favorite Pizza Styles, from Neapolitan, Deep Dish, Wood-Fired, Sicilian, Calzones, and focaccia to New York, New Haven, Detroit and More by Tony Gemignani, © 2014, published by Ten Speed Press, a division of Penguin Random House.
INSALATA GRILLED PIZZA
Makes One 12 – 13 INCH PIZZA: 3 SANDWICH SIZE WEDGES OR 6 SLICES
Sometimes, what you really want is pizza and a salad. This is the pizza for those times. It's a great choice for an outdoor party in the summer.
1 ball dough (9 oz or 255 gm)
Flour for dusting
CITRUS VINAIGRETTE
Makes 2/3 cups (155 gm)
¼ cup plus 2 Tablespoons (85 gm) freshly squeezed orange juice
2½ Tablespoons (53 gm) honey
1¼ teaspoons (7 gm) Dijon mustard
1 Tablespoon (14 gm) extra virgin olive oil
Fine sea salt and freshly ground white pepper
3 ounces (85 gm) whole milk mozzarella cheese, shredded (¾ c)
4 cups (scant 2 oz or 50 gm by weight) loosely packed arugula or mixed baby greens
3 ounces (85 gm) fresh goat cheese, preferably Laura Chenel
16 raspberries
10 salted roasted Marcona almonds, coarsely chopped
Fleur de sel and freshly ground black pepper
Prepare the dough and set up the grill. While the grill heats, make the vinaigrette. In a small bowl, whisk together the orange juice, honey, mustard, and oil. Season with the salt, black pepper, and white pepper. Set aside.
The first grilling: Grill the pizza as instructed in the master recipe.
When the half-cooked pizza is removed from the grill, flip it over as directed, then mound the mozzarella in the center of the dough and use your fingertips to spread it evenly over the surface, leaving a ¾-inch border.
The second grilling: Return the pizza to the grill to cook and lightly and lightly brown the second side and melt the cheese as instructed in the master recipe.
Completing the pizza: In a bowl, toss the arugula with a light coating of the vinaigrette. Mound the salad over half the pizza if you are folding it or over the whole top if you are serving it open faced. Crumble the goat cheese over the arugula and garnish with the raspberries and almonds. Sprinkle with fleur de sel and black pepper.
Fold the pizza in half and cut into three wedges to serve sandwich style or cut the open-faced pizza into six wedges. Serve the remaining dressing on the side.
GRILLED PIZZA MASTER RECIPE
About 1½ hours before grilling the pizza, remove the dough ball from the refrigerator and leave wrapped at room temperature until the dough warms to 60 to 65 degrees Fahrenheit.
This recipe works with a wood, charcoal, or gas grill. Preheat the grill over medium-high heat. If you are using a wood or charcoal, use indirect heat to avoid burning the bottom of the pizza. If you can set up two zones on your gas grill, then heat one to medium-high and one to medium. That way, if the pizza cooks too quickly over the medium-high zone, it can be moved to the medium zone. If possible, set up a station near the grill with a cutting board, a sheet pan, a pair of tongs, your pizza cutter, and all the toppings for the pizza. Sprinkle a wooden peel with flour.
Roll out the dough into a 12 to 13-inch round, press the edges with a rolling pin to keep from puffing on the grill, and dock the surface of the dough. Move the dough to the peel. As you work, shake the peel forward and backward to ensure the dough doesn't stick.
For the first grilling: Slide the dough onto the grill and cook uncovered for about one minute. Lift an edge of the dough with a pair of tongs and check the bottom to make sure it isn't burning. If it is just beginning to brown, lower the edge and continue to grill for another 30 seconds to one minute, until browned and well marked. If it is too dark when you check, rotate the dough 90 degrees and continue grilling for another 30 seconds to one minute until the dough is browned in a crosshatch pattern. If it is not browned enough when you check, increase the heat or move the dough to a hotter spot on the grill.
Lift the dough onto the peel. If you have space on the counter, work with the pizza directly on the peel, otherwise, slide it onto a cutting board. Flip the dough over and press down on the top to flatten it and break any bubbles. Scatter the cheese evenly over the crust, leaving a ¾-inch border. If it was moved to the cutting board, slide it back onto the peel.
For the second grilling: Hold the peel over the grill and use your hand to slide the pizza carefully back onto the grill grate. (Shaking the peel to remove the pizza may cause the cheese to fall off the crust onto the grill.) Cover the grill and cook for 30 seconds to one minute, rotating the pizza as necessary to brown the bottom evenly and melt the cheese. If the bottom browns before the cheese has melted, then move the pizza to the sheet pan and return the pan to the grill just until the cheese has melted.
Transfer the pizza to the cutting board and complete according to the recipe. For a sandwich style pizza, arrange the toppings on half of the pizza, fold the pizza in half, and cut into three wedges. For traditional pizza, cover the entire top and serve open-faced.
AUBREY BREWSTER
A product of his environment, Aubrey Brewster drew his passion and inspiration for cooking and parties from childhood summers visiting his southern grandmother, who, too, had a flare for entertaining. Voted "The Salonnière 100: America's 100 Top Party Hosts" (as featured in Town & Country magazine), Aubrey Brewster has created and hosted some of San Francisco's most magical, exclusive, and legendary private events.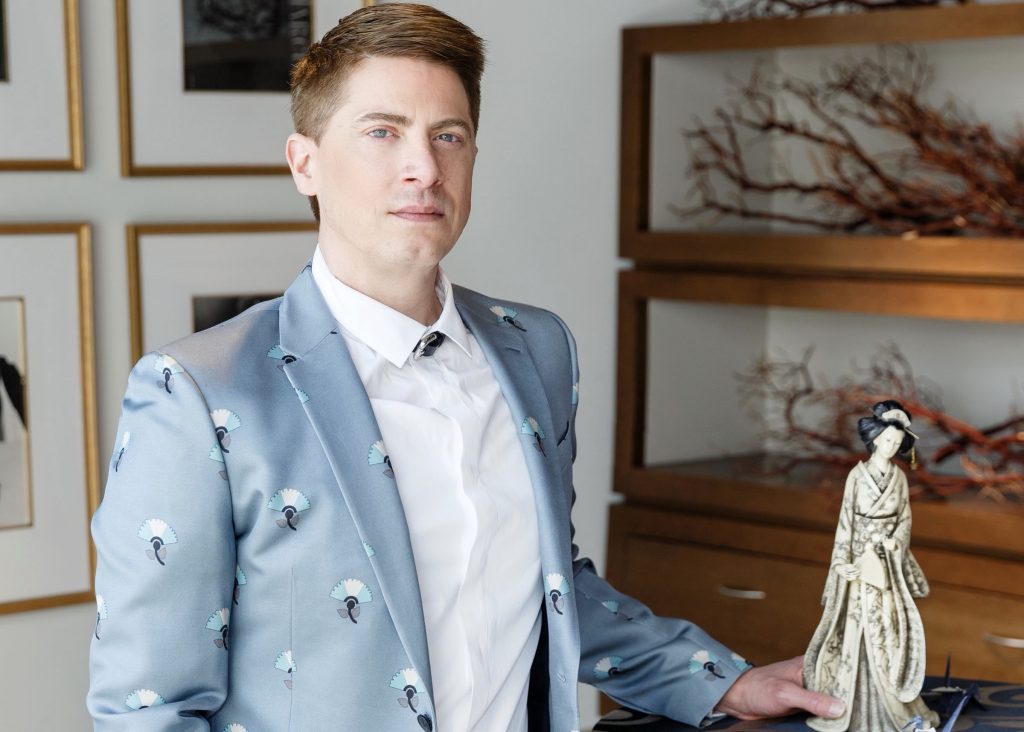 Along with his aptitude for extraordinary soirées, Brewster's incomparable talent and passion for cooking is shared equally. From elegant and whimsically themed, intimate dinner parties hosted at his hometown residence in San Francisco to extraordinary, in-home theatre movie nights with a nostalgic movie house concession stand complete with popcorn, nacho, and hotdog machines, his cooking and entertaining have become legendary. His followers eagerly consume his entertaining tips, recipes, and cooking demos shared on social media.
"Recipes are traditions that we all can share, for food is comfort that brings all of us together … and in times like these, togetherness is crucial for us all."

–Aubrey Brewster
HL: Your kitchen skills are over the top, and I'm not surprised when you told me you can figure out and whip up a dish right after tasting it. With such a huge collection of recipes, what favorite summer recipe are you sharing?
AB: I can't think of a better quintessential summer classic than my Meyer lemon squares, a recipe that originated when friends shared their Meyer lemon harvest with me. What better way to bring people together than such a sharable sweet!
HL: What is your fondest childhood memory?
AB: Cooking, for me, is an expression of love. It's a conduit for shared memories that foster family and community. One stand-out memory of cooking is with my late grandmother, Ruth Ann Brewster, whom I credit mostly for my culinary passion. I fondly remember helping her make her "famous" Thanksgiving potato dinner rolls. I recall being amazed at the process and how the aroma of baked potatoes wafted throughout the house. To this day, the smell of baking potatoes takes me back.
HL: Being named as one of "America's 100 Top Party Hosts" in Town in Country is a huge accolade. Of all the soirees, which tops your list?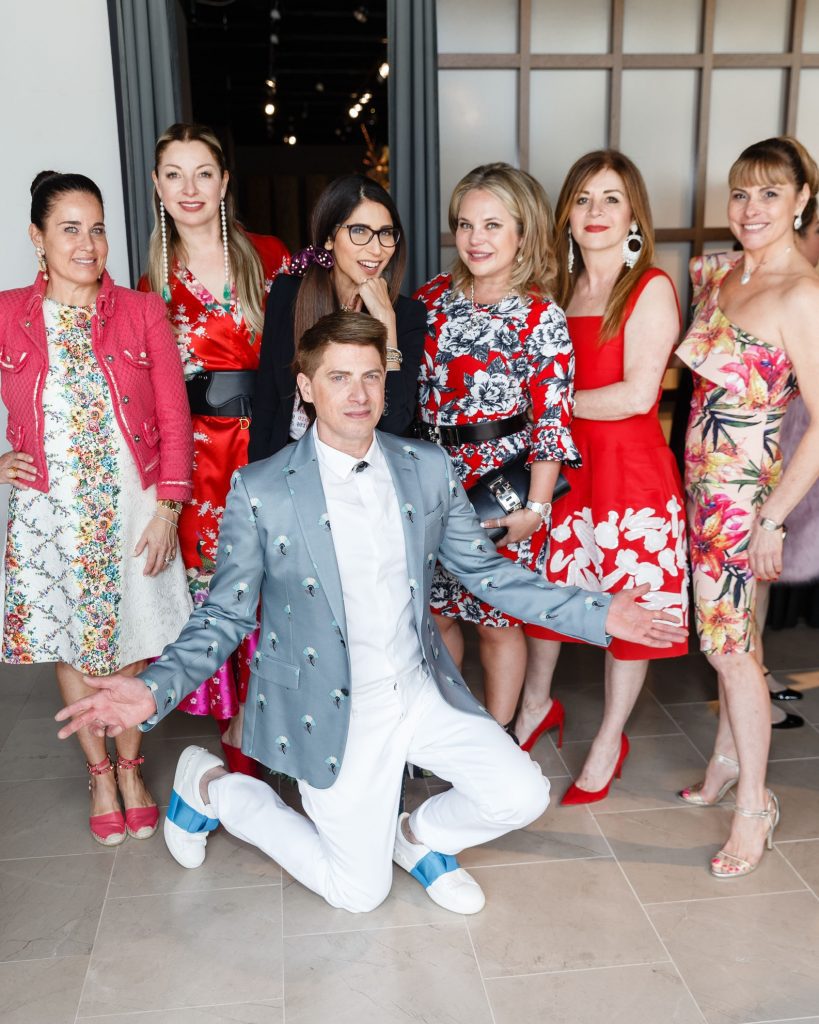 AB: I'm blessed to host some of San Francisco's most interesting personalities, which, (more often than not) leads to some wild, silly, and just plain fabulous times. I'm often asked which event was my favorite; but I'd have to say, right now as we all face the COVID-19 virus and we as a community come together to flatten the curve, my answer would be Anchors Aweigh, which has been postponed for a later date. I say this, because, when we do come out of this—and we will—Anchors Aweigh will take on a whole new meaning as a beacon of how togetherness in a shared spirit is the best reason to celebrate. That, to me, would be the most humbling and dearest memory of all.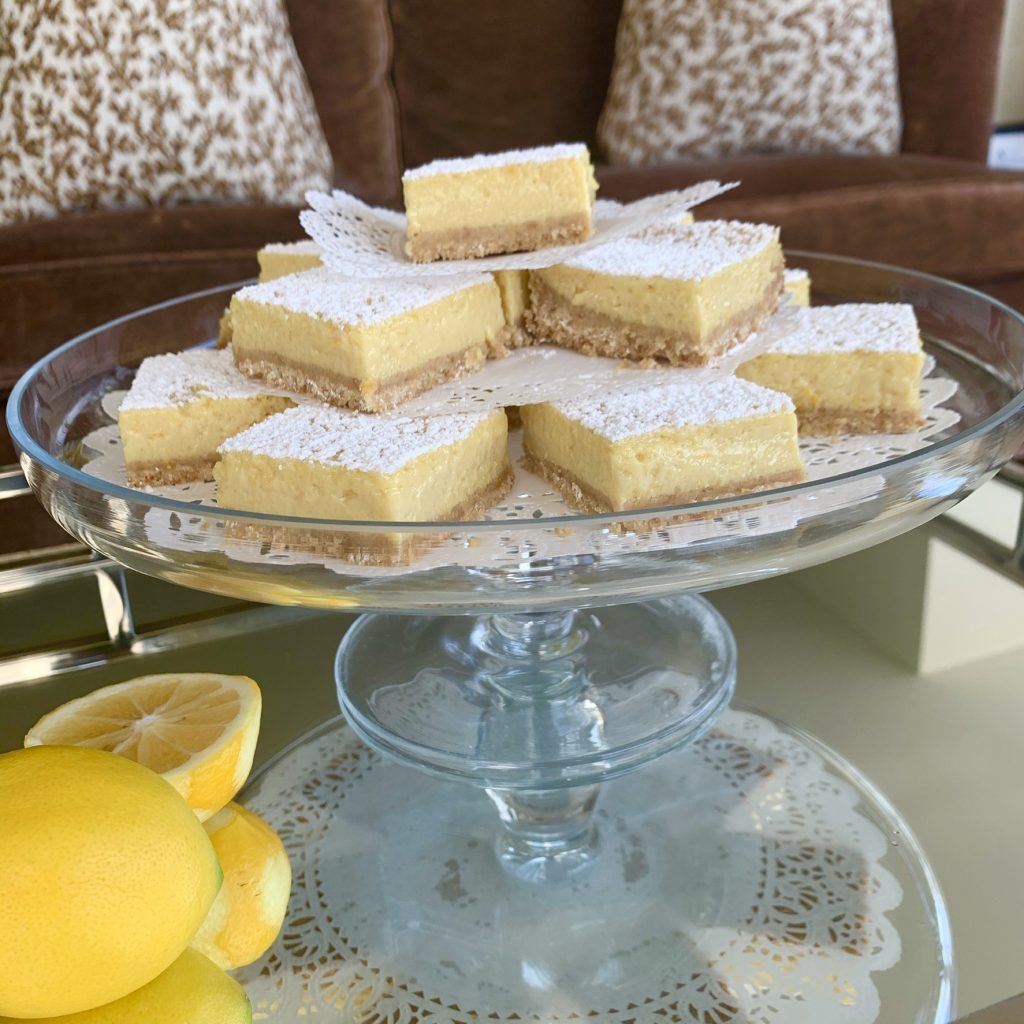 AUBREY'S MEYER LEMON SQUARES
Coconut Cookie Crust:
20 Mother's (brand) Coconut "Cocadas" Cookies, or 2 cups shortbread cookie crumbs
1/2 cup all-purpose flour
1/3 cup butter, melted
1 Tablespoon sugar
Preheat oven to 350 degrees Fahrenheit.
Line an 8X8-inch square cake pan with parchment paper.
To prepare the crust:
Place cookies into a plastic zipper bag and crush cookies into fine crumbs with a rolling pin or bottle.
In a medium bowl, combine cookie crumbs, flour, and sugar.
Stir in melted butter until mixture resembles wet, coarse sand.
Evenly distribute crust mixture in the bottom of the parchment-lined pan. Press crust mixture to compact.
Bake in preheated oven for 12 minutes. Remove.
Allow to cool completely.
Meyer Lemon Filling:
14 ounces sweetened condensed milk
2/3 cup Meyer lemon juice
5 egg yolks
1 Tablespoon Meyer lemon zest
1/2 cup confectioners' sugar

Prepare Meyer Lemon Filling:
Lower oven temperature to 325 degrees Fahrenheit.
In a medium bowl, combine sweetened condensed milk, lemon juice, egg yolks, and lemon zest. Mix well.
Pour lemon filling over cooled crust.
Bake in 325-degree oven for 20 minutes, or until the lemon filling jiggles slightly when gently shaken.
Cool completely to room temperature.
Refrigerate four hours until set.
Gently lift from parchment paper out of pan and onto a work surface.
Through a sifter, evenly sift confectioners' sugar over cooled lemon filling.
Cut into 16 two-inch squares.