Three Bay Area chefs speak candidly about the issues they're facing during shelter-in-place. The one thing they all agree on: the future of dining is in our hands.
Razor-thin profit margins. Sky-high rents. Surviving as a restaurateur is no easy feat in San Francisco, even during a typical year. Adding a global pandemic to the mix is a recipe for disaster. Experts have predicted up to 50 percent of San Francisco's restaurants could close permanently following the pandemic.
I spoke to several local chefs about what happened when they were ordered to shelter in place, how the pandemic has highlighted long-simmering issues in the uniquely vulnerable restaurant industry, and what the future of dining might look like—for better or for worse.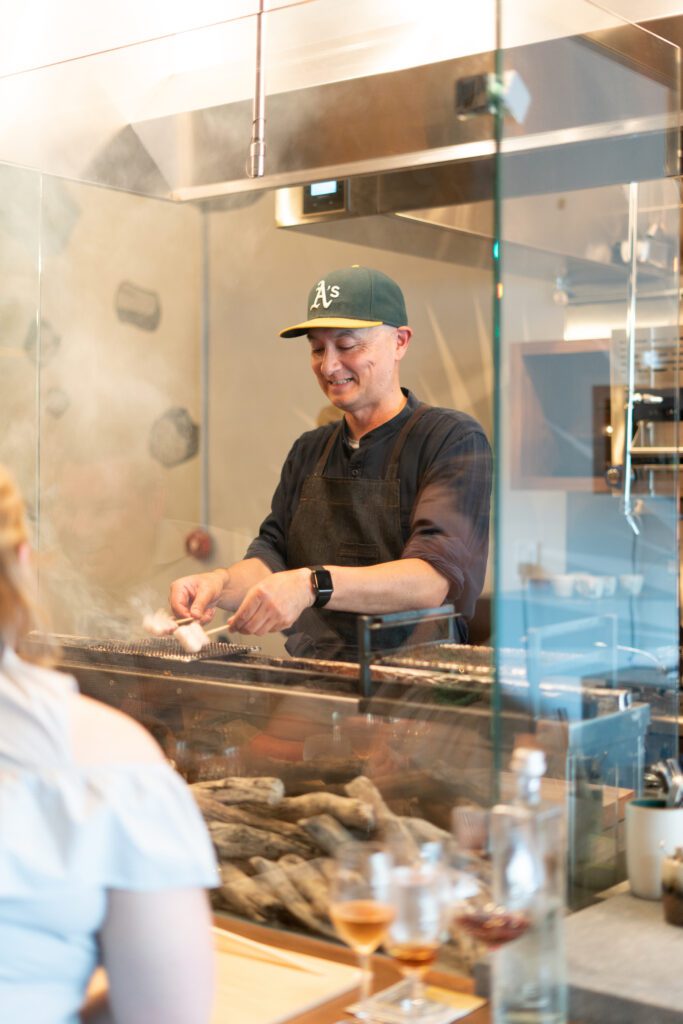 Past
When sheltering-in-place was announced, most restauranteurs were blindsided by the unprecedented order. "I thought it would only last a week or two at the most," says Chef Tommy Cleary of Hina, Bay Area's first yakitori omakase restaurant. "We took time off to see how it was going to play out. Only being able to do takeout or delivery limited what we could do. We had already been working on this other idea of a yakitori bento box concept, so we thought this might be the perfect time to implement the idea and give it a test run. So, we started selling our Torima bento boxes—and people loved them." He and his team now deliver boxes of the binchotan-grilled meats around San Francisco, with the recent launch of a vegetarian option, and have plans to expand the business beyond the Bay Area.
Similarly, Chef Claude Le Tohic of ONE65 in Union Square successfully parlayed his 6-story French dining destination into a takeout hub, complete with the addition of bento boxes du jour. "Our mission has always been to provide an exquisite dining experience to everyone. We have done some incredibly creative, innovative things, including bento boxes, fresh barbeque on the weekends, and sweets for pick-up and delivery." The restaurant has also partnered with the Benefit Tomorrow Foundation, providing meals to frontline workers at local hospitals.
Acclaimed Italian taverna Che Fico went one step further, launching its own charitable initiative: the Che Fico Family Meal Fund. "It started very quickly," says Chef David Nayfeld. "We had announced that we weren't going to open to the public anymore, and one of our supporters reached out to us and asked, 'What can I do to help? I'm down to slide you guys a little bit of money; what can you do with it?' I thought, 'Well … what we do is cook.' I watched what was going around the city, and got the sense of what was going to happen in the country. There are so many people who have no job. Unemployment benefits are not going to kick in for them. None of these people have savings. Going into sheltering-in-place, a lot of them didn't plan or didn't have the means to plan. So, I thought, why don't we just cook food and give it away for free?"
In addition to providing food to the community, Nayfeld was committed to keeping his suppliers afloat. "Making sure that the supply lines don't collapse by supporting them and continuing to use them was super important. I don't think that's something that gets pointed out enough when people talk about what chefs are doing—it's not just the end product. You have to think about the entire throughput, especially here, where we deal with very, very small businesses. A lot of times, these are micro-businesses, in the sense of small farms, small ranches, fishermen." After a beat, he continued. "When you think about a restaurant's place in the economy, there are very few other businesses like it in the sense that there are very few businesses where, when you spend a dollar, around 90 to 95 cents of that dollar is almost automatically recirculated into the local economy."
Nayfeld was at the park with his dog, Cassidy, who interrupted our conversation when he stole a toy while Nayfeld passionately explained the importance of restaurants. "I can't go home because my daughter is sleeping, and I have a tiny apartment," he laughed. A quick apology to the toy's owner, and he dove right back in. "It's important to recognize a restaurant's role in the economy and why it is that, as you watch as restaurants thrive, it's a great indicator whether an economy is thriving. As restaurants struggle, it's a great indicator that the economy is struggling. It's the canary in a coal mine. Why it's important that we, as a group, band around the success of restaurants is because they employ 11 million people nationwide—directly. And the amount of people that they employ in parallel industries, whether it be people in textiles, disposables and plastics, ranching, farming, delivery drivers, salespeople, tech sector … you name the sector, and I can tell you that there's a good chance that restaurants play a pivotal role in their success."
Present
So, what can be done to help our restaurants during the pandemic? During the time these interviews took place, the Paycheck Protection Program (PPP) Flexibility Act had been passed by the House, but still faced approval by the Senate. Fortunately, the bill was signed into law. Unfortunately, its $349 billion in funding was exhausted in less than two weeks and the Small Business Administration stopped taking new applications on April 16 so staff could process the volume of applications. The SBA reopened the application process on April 27.
Cleary's experience with applying for the initial loans was discouraging. "We applied and did not get any of them. The process was a hassle—they came back to us with numbers that weren't even ours, so we had to reapply. It really was a mess."
Focusing on planning ahead, he shared that his main concern wasn't so much with reopening, but the safety and satisfaction of customers. "I just want to make sure that we know more about this virus before we make deeper plans. So, in that sense, it's hard to really think about reopening Hina right now. The things they know about the virus change weekly. Once they get a grip on what it's about, then we can go ahead and make bigger plans on opening up. As it is now, I don't want to charge people $200 and have them eat between glass partitions and have servers decked out like they work in the ER. That's not the Hina experience."
However, even restaurants receiving loans will need more to survive. "The PPP is like a bridge," said Nayfeld. "Imagine building a bridge halfway over a body of water. The other half has to be a restaurant relief bill. If we don't get a specific-to-independent-restaurant relief bill, then we will not make it out of this pandemic, because the PPP was an 8-week solution to an 18-month problem."
He encourages the foodies of San Francisco to do their research. "Congressman [Earl] Blumenauer just wrote a white paper on it, and he's going to introduce the Restaurants Act of 2020. If people really want to know how to help us, it's not buying gift certificates or getting to-go food, necessarily. That's not going to get us out of this. What really needs to happen is that people need to call their representatives and ask them to support the Restaurants Act of 2020 bill. That is what's going to get us through to the other side, because that gives us the ability to pay off vendors and suppliers. It gives us the ability to help ourselves with operating capital. When we relaunch, it will give us the ability to pay utilities and buy disposables. It will give us a fighting chance to get out of this. At the end of the day, everything else is just window dressing."
Future
Discussing what the future of dining holds, Le Tohic is optimistic. "I have very high hopes. People are social by nature and are drawn to the bar, lunch, or dinner table to be together, celebrate special occasions, or just decompress after a long day. I think we will be okay as long as we have each other to lean on."
Meanwhile, Cleary is curious about the unknown. "Post-pandemic success will depend a lot on customer confidence. Are we talking 'we conquered the virus' or 'we still don't know about it, but let's open anyway?' If the virus is controlled, I think things will slowly get back to where it was. A lot of the old places won't be around, but there will be new places to take their spots. If it's the latter, it's safe to assume that fast, casual takeout and delivery will be king. Dining in might be strange and something people have to get used to. Glass dividers and getting your temperature checked will be the norm—like going to the doctor's office. Servers coming by with gloves and masks on, keeping conversations to a minimum and staying distant from you….it's going to be interesting, to say the least."
Asked about what individuals can do to help restore the restaurant industry, Nayfeld explains that the pandemic has shined a spotlight on many deeper issues within the restaurant industry. "I think our public, who wants us to succeed, needs to understand that in order for restaurants to be successful, we have to have a serious conversation about the cost of food and the cost of labor. If we really believe ourselves to be people who believe in a living wage, then we need to recognize the fact that people in our industry need to earn more—and that's from top to bottom. Operators of small restaurants do not earn very much money. When you talk about an entrepreneur and why somebody goes out on a limb and risks their entire livelihood, everything in our lives … well, I have a personal guarantee that could absolutely sink me."
Nayfeld wants customers to consider the risk inherent to starting a business. "You have to recognize that if someone is going to go out on a limb to do that, they have to be able to at very least earn a living for themselves and support their families. Our entire industry has been propped up on free labor for the longest time, and just over the past couple of years, that paradigm has started to shift because the chefs of my generation are making a stand and refusing to pass the buck on to another generation. But where that rubber actually meets the road is in sustainable living [wages]. Making sure that people don't have to work 15, 16 hours a day to barely get by."
Nayfeld knows that it will be impossible for small businesses to be the only ones absorbing the cost of this restaurant revolution. "What people can do when this is over is recognize that when restaurants raise their prices, when restaurants raise their mandates, when restaurants create something called a labor charge or a hospitality charge, that's meant to absorb the cost of doing business—not just absorb the cost and do nothing, but absorb the cost of doing business and pay people more to give people a better life and the ability for upward mobility."
In San Francisco, the wage gap is especially stark—on average, white collar workers in the Bay Area make more than four times the wage of a restaurant employee. "When you look at that discrepancy, we have to recognize the fact that it's because restaurateurs have kept prices artificially low for too long, because we're afraid that people would revolt. Because we were propping it up on free labor. Now, we've made a stand and said, 'That's not right.' We all need to recognize that now is the time that we have to raise our prices. Now is the time that we need to have more transparency about what we're charging for. There needs to be a line item on the bill that doesn't say service, it says labor, or occupancy. As operators and as businesspeople, we have to open up and be more transparent."
Nayfeld is committed to practicing what he preaches, sharing Che Fico's plans to invite employees into P&L meetings and create a profit-sharing program once business resumes. "We're giving the majority of our employees raises when they come back, which is utterly insane. People will think we're crazy to get out of this and go straight into giving people raises, but today, people need raises—and we need the public to support it."